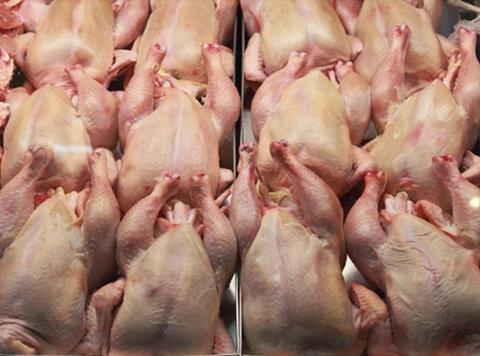 The UK would find it "very challenging" to restrict imports based on food standards from next year, an NFU director has confirmed.
Although the government can negotiate restrictions as part of a free trade agreement, Nick von Westenholz, NFU director of EU exit and international trade, said he doubted whether ethical or environmental concerns could prevent certain foods coming from other countries.
Animal welfare and environmental standards are not currently specified as permissible grounds for import bans - meaning other countries would quickly challenge such restrictions at the World Trade Organization, he warned.
This could include chlorinated chicken and hormone-treated beef if the UK fails to strike a deal with the US.
"In terms of pure trade restrictions, in the short term it is very challenging," von Westenholz told the EFRA committee.
If the UK wants to protect its standards, it should challenge international trade laws preventing countries from banning imports that don't meet their own national standard, he added.
"If Brexit means anything it should mean that the UK takes a bit of leadership in testing some of those rules and challenging them, and over a longer period of time maybe looking to reform them as well," said von Westenholz.
However, Emily Rees, MD at Trade Strategies, cast doubt on the plausibility of WTO reform at the present time.
"This is an organisation undergoing quite an acute crisis that goes way beyond food," she said, pointing to the ongoing closure of the organisation's appellate body, the top court for international disputes, due to Donald Trump's funding restrictions.
"While I can appreciate many of the comments being made, I think it's important to look at the wider context at an international level," she said.
Rees also challenged claims the EU had objectively higher welfare than other countries.
"We have to be careful on what constitutes high and low welfare because it is not that clear-cut," she said. European dairy cows, for example, spend many months inside due to cold weather conditions whereas in warmer regions this isn't an issue, she added.
"What is the higher or lower standard? Can we accept that there is a natural endowment of certain countries to have a higher method of production on the basis of simply climate and availability of resources like water?"