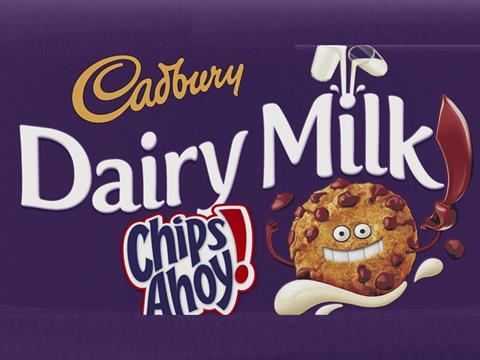 Mondelez has revealed its latest Cadbury Dairy Milk branding partner - a cookie brand many Brits will have never heard of.

Following the success of products teaming Cadbury Dairy Milk with Oreo and Daim, Mondelez is launching a 120g tablet bar combining CDM with its Chips Ahoy chocolate cookies.

While a huge global brand - worth around $570m in the US and over $800m globally - Chips Ahoy is virtually unknown in the UK. It has been sold in Spain and Portugal, and Mondelez said the launch would "tap many consumers' memories of a brand from their travels, while building a greater awareness of our global brand in the UK."

"Combining different products such as Chips Ahoy with the nation's favourite chocolate will excite the younger audience who like to try new products," said marketing activation director Matthew Williams, adding that 67% of sales of the co-brand range had been incremental to tablets, and 41% incremental to total chocolate [Kantar]. "Linking different brands with different personalities helps us land a strong message with our consumers."

Mondelez is backing the launch with a £2m push including outdoor, digital and in-store activity and sampling.

Branding expert Claire Nuttall of agency Thrive Unlimited said it would be difficult to gain the traction and success of previous CDM co-brand launches without existing loyalty or awareness. "If it were in a country where Chips Ahoy is front of mind, this would work, but in the UK I have my doubts," she said.