Savoury biscuits are on a roll! Sales are up 6.9% on volumes up 5%, crushing their sweet siblings, which saw sales fall 0.9% on volumes down 0.2% [Kantar 52 w/e 21 July 2015].
The growth in savoury is being driven by crackers and crispbreads, intended to be eaten with cheese or spread, which racked up an additional £13.7m in growth, as well as by savoury biscuits, which amassed £18.7m in additional revenue.
So what's drawing us away from the sweet side? Are Brits swapping crisps in favour of savoury snacks?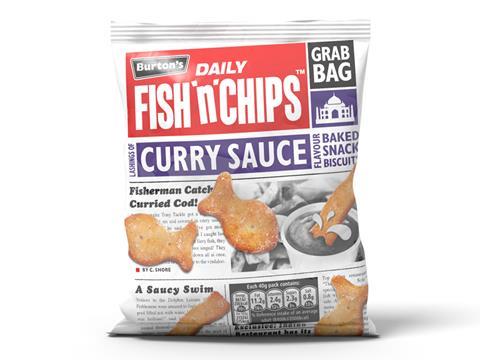 "Savoury biscuits are undoubtedly the star performers within the total biscuit category," says David Costello of Burton's, which launched Pickled Onion and Curry Sauce variants of its Fish 'n' Chips snack in May this year, helping to double value to £13.5m. "The sector is really on consumer trend at the moment, meeting demand for products that consumers regard as both permissible and convenient. The fact they're 'baked not fried' ticks the better-for-you box, and the pack sizes allow for all-important portion control."
Mondelez extended its Ritz brand into bagged snacks this year, launching Crisp & Thin – uncomfortably close to home for its premium crisp rivals, since they're based on potato flour – in four flavours including Cream Cheese & Onion and Sea Salt & Vinegar.
"Savoury snacks are on the up as sales of traditional fried potato crisps decline [Nielsen MAT w/e 5 October 2015], with evidence suggesting that shoppers are switching to formats they perceive to be more permissible," says trade communications manager Susan Nash. "When done right, savoury snacks deliver on taste while offering a less guilty way to snack."
Not all savoury brands are in on the fun – Ryvita, the only non-sweet brand in Kantar's 10 biscuit brands table, is down 6.3% in value – but United Biscuits' Jacob's brand has four of Kantar's top 10 savoury value growth performers and it launched Jacob's Cracker Crisps earlier this year.
"We're extremely excited about the opportunity for this product as a genuine challenger to fried crisps. We are very pleased with its performance to date, having achieved retail sales of £6.1m," says Jon Eggleton, UB UK managing director.
The sector's potential has not been lost on traditional bagged snack players; Walkers expanded its Sensations sub-brand with the launch of Crispy Thins wheat and potato baked crackers. The battle of the bakes is on.
In association with: