Canned food has been put through the wringer in 2012. As the economy lurched into double-dip recession, growing numbers of shoppers turned their backs on classic canned recession-busters and store-cupboard staples. As a result, total value sales of canned fish, beans, meat, pasta, fruit and vegetables climbed just 3%, chiefly the result of rising costs being passed on, while volumes fell 3.5%.

This isn't the familiar story of cash-strapped shoppers switching from brands to own label, either. In fact, own-label value growth was just 2.7%, lagging brands' 3.3% .

The trend is particularly pronounced in canned fish, where own-label value sales were up by just 2.4% by value and volumes dived an eye-watering 11.7%. Brands, meanwhile, managed an inflation-busting 6.4% boost to value sales, and volumes declined a comparatively healthy 3.2%.

Own label, with its lower margins, has felt the pressure of cost increases most acutely, says John West marketing director Jon Walsh. Suppliers of own-label canned fish have been forced to pass more of the cost on. "While the price of canned fish has increased overall, it's the average price of own label that's increased the most, so its price has become comparable to that of brands," says Walsh.

Not that inflation is entirely to blame. "Heavier levels of promotion by brands have narrowed the price differential between own label and branded, driving consumers to switch to brands on deal," explains Nielsen senior client manager Simon Kershaw. He highlights a fall in own-label volume sold on promotion (from 30% to 20% year-on-year) as branded volumes have increased from 50% to 55%.

"People are shopping to a tighter budget and are looking for headline deals," says Princes marketing director Neil Brownbill, who points out that the dominant promotional mechanic in canned fish has changed from multibuy to save "in line with cost-conscious consumers who are no longer stockpiling".

This is the case across all canned sub-categories. In beans, Princes' Branston brand delivered solid growth thanks in part to an increase in promotional activity and deep deals on four-packs of standard beans Heinz also upped its promotional activity, helping to keep the brand in the black.

Deeper deals are only part of the story, however, and NPD has also been vital. "A major factor has been new launches and innovations, such as Heinz Five Beanz," says Heinz marketing controller Katie Bleach. "They've enabled Heinz to provide consumers with more choice and helped retain loyalty to the brand."

Branston also attributes some of its canned beans growth to the development of what Princes calls "higher value products", such as family packs and pots. Similarly, in canned veg Princes-owned Napolina puts some of its 7.6% value growth down to increased distribution and the introduction of new lines including borlotti beans, as well as new smaller can sizes - although these are likely to have contributed to its 3.3% decline in volume sales.

Innovation, combined with greater distribution and improved promotional activity, has also been key to John West's 17.7% value growth and helped the brand reclaim the top spot in canned fish, says Walsh. "Shoppers have become more price and promotion-driven," he explains. "As a result, John West continues to invest in marketing and NPD initiatives to drive the category forward."

Rival Princes has dropped into decline - and second spot - in canned fish, but over in the troubled canned meat market NPD has been vital to the brand achieving growth. "By delivering quality at an affordable price and by launching a wave of new products, we've not only retained our loyal customer base but also attracted new consumers to the canned meat fixture," says Brownbill, pointing to NPD such as microwaveable meals and chicken deli fillers.

NPD, marketing and price promotions don't come cheap, however, and for some product lines the cost has proved unsustainable. Princes, for instance, has made the decision to can its ailing Crosse & Blackwell beans after dismal sales in 2012. And in response to a wobbly performance in canned pasta, where its volume sales fell 23.6%, the company intends to focus more on its new 4Kids pasta shapes in the coming year.

One thing's for sure - if Princes is to fulfil its ambition of making Crosse & Blackwell one of the leading players in ambient grocery in the next five years, it's going to need to dig deep.
TOP LAUNCH 2012
Five Beanz Heinz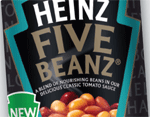 In 2011, Britain went off its beans. Category value fell 4% against a volume decline of 2.7% - and something had to be done. Market leader Heinz answered the call in June with the launch of Five Beanz - a mix of haricot, pinto, kidney, cannellini and borlotti beans in Heinz's trademark tomato sauce. The launch, along with the later introduction of five new flavoured sauces, including curry and fiery chilli, for its standard bean offer, helped boost Heinz's sales by 3.3% in 2012.