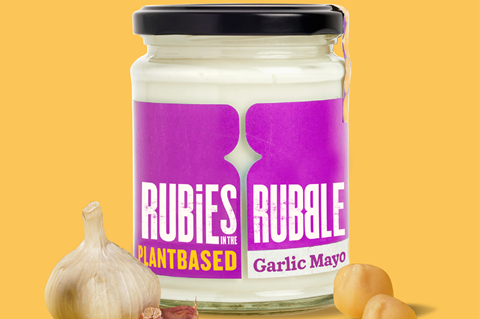 This month we've launched a new, deliciously rich mayo into our plant-based range: drum roll… Garlic Mayo!
Having followed it throughout development, I thought I'd talk through our process for launching new products.
Like every business, at Rubies in the Rubble we have a constant tension between being ruthlessly focused on scaling our current range vs bringing in new products. As you can imagine, being a team of foodies there's always ideas and creations being put forward for consideration.
NPD is led by our brilliant product manager Jo. She starts by reviewing our innovation pipeline and recent submitted ideas and scopes the opportunity (with input from marketing and sales) to get an idea of market interest, and what's in our manufacturing capabilities. Here the opportunity was clear. Both flavoured mayo and vegan mayo are driving category growth – and garlic is a leading flavour in egg mayo.
Next, we questioned its fit with our capabilities and values. We use aquafaba instead of eggs in all our mayos. We knew we could access adequate supply from houmous production, so we moved forward with development.
As a starter on this front, we tasted all the garlic mayos on the market to choose a 'benchmark' and then brainstormed how we could build on this to create Rubies' plant-based alternative. We wanted our mayo to be thick and creamy, spreadable, and appealing to meat-eaters and veggies – regardless of its vegan stamp. We believe a condiment should be packed with punch, so used a generous helping of fresh garlic for flavour!
Then, when we were all really happy with it, it was then down to our community for the final sign-off. More than 200 samples were shared with our dedicated Taste Testers, who in return were asked to give us their honest feedback.
We were blown away with the responses. We have never been so inundated with positive comments, my personal favourite being "You've gone and done it. You're basically drug dealers for garlic mayo." And with that, we knew the recipe was ready to go.
Next stop: labels, test production runs, scaling up and securing listings, and a launch campaign…