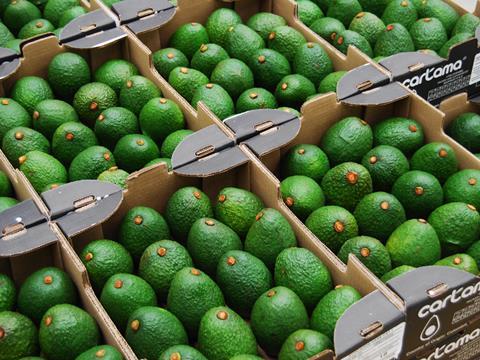 British sales of avocados have surged by nearly 200% over the past five years, as health-conscious consumers and foodies have embraced the on-trend 'superfood'.

Volume sales have increased by 184% since 2013 to reach nearly 38,000 tonnes in the past year [Kantar Worldpanel 52 w/e 28 April 2013 to 23 April 2017].

It comes as the Co-op this week revealed its own sales of the fruit had risen by 45% over the past decade.
"Demand for nutritious products like avocados is helping the fruit and veg category to soar," said Co-op diet and health manager Janet Taylor.

She added the retailer's sales of kale (+69%) and pomegranate (+39%) had also risen significantly.
"Customers are more commonly searching for fruit, vegetables, nuts, seeds and grains to ditch the fad diets and adopt a permanent healthier lifestyle," she added.
"We know that people visit our stores for food on the go and snacks, as well as planning meals for that night, and we need to continue to help educate consumers that health foods and snacks can still be readily available, conveniently."
It comes as Morrisons responded to soaring global avocado prices last week by extending its wonky fruit and veg range with a 39p avocado. The fruit went on sale in more than 350 stores as part of a 650g pack for £1.56.
"Avocados have become one of Britain's most expensive salad items," said Morrisons buyer James Turner. "But our new wonky line means customers will be able to buy this luxury item for a fraction of the price. Apart from being odd shapes and sizes, and with some marks on the outer hard skin, they're the same as normal avocados."