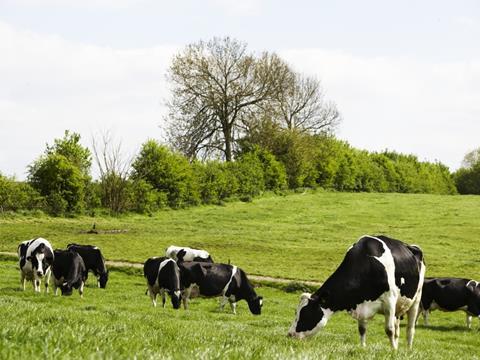 Dairy Crest has bucked the recent trend of farmgate milk price cuts by announcing the first price increase for some of its farmers since November 2013.
Producers on its Davidstow manufacturing contracts will receive 0.25 pence per litre more from 1 August, taking the price to 26.42ppl. Meanwhile, Dairy Crest is holding its liquid milk price at 23.09ppl for the sixth month in a row.
It comes as rivals Müller, Arla and First Milk have all announced price cuts to farmers in the past two weeks, citing the ongoing slump in dairy commodity markets.
Dairy Crest said it was increasing the Davidstow price to reward farmers for achieving new farm standards.
These were introduced in conjunction with producer organisation Dairy Crest Direct in preparation for the production of de-mineralised whey and galacto-oligosaccharide (GOS) for the global infant formula market at the Cornish site, which is set to commence before the end of the year.
On the liquid side, the processor said it was the "right decision" to hold its price despite production remaining at record levels and market indicators providing downward pressure.
"We are acutely aware of the challenges facing our supplying farmers," said Dairy Crest MD of dairies Mike Sheldon. "Having recently met with hundreds of our farmers across a series of regional meetings, we know that they have appreciated the period of price stability we've provided since March."
Reaction
Dairy Crest's move was welcomed by the National Farmers Union, with dairy board chairman Rob Harrison saying it was "encouraging that at last we have seen a positive move on milk prices after a series of negative cuts in recent weeks".
Industry consultant Ian Potter added the processor's actions on price suggested it "wants to stand on its own two feet rather than just following the likes of Arla on price reductions, as much of the industry is currently doing". He added it could also suggest a move by Dairy Crest towards a closer alignment on pricing with Müller ahead of its proposed acquisition of the Dairy Crest's liquid milk division in a proposed £80m deal.
Müller announced this week it would cut its farmgate price for August by 1ppl to 23.15ppl, while Arla announced last week it was dropping its July price by 1.18ppl to 23.81ppl, as it took "significant mitigating actions" to tackle the ongoing slump in commodity markets.
Müller had "worked to maintain a stable milk price to the farmers" through the peak milk production period, said head of supply Martin Armstrong, but now had to "make this adjustment" to tackle the global supply and demand imbalance.
However, he stressed Müller's commitment to continue offering "one of the best non-aligned milk prices available" across the UK. "We cannot buck this market, but we will continue to invest to increase the range of added value dairy products which we supply," he said.
This week also saw further price cuts of 1ppl come into force for troubled dairy co-op First Milk, meaning it now pays out an 'A' price at or below 20ppl, with some members receiving the equivalent of 16ppl when combined with First Milk's 'B' price formula.
The NFU's Harrison added the cuts were a "devastating blow" for dairy farmers. He called on milk buyers to be more transparent in pricing, and on the government to "insist on best practice in the supply chain, look at growing dairy consumption and support more investment in dairy processing in the UK".
Although "there are a few clear formulas employed by milk processors, these are few and far between, we need all processors to improve transparency in pricing and must stop idly following one another to the bottom", he added.