Rising costs and uncertainty over migrant workers post-Brexit finds sandwich suppliers on the front line of an uncertain future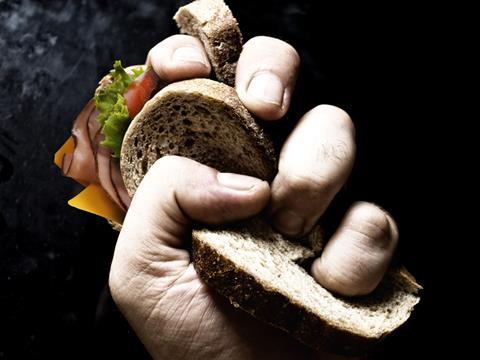 Britain, brace yourself. Sandwichgate was just the beginning. In the wake of Brexit, sandwich manufacturers are staring in the face of dramatic cost increases as the price of imported ingredients shoots up and uncertainty over migrant workers piles pressure on a labour-intensive industry already hit hard by the new national living wage.

The likely upshot? Sarnies are going to become more expensive - and the iconic £3 meal deal may well be on its way out.
Jim Winship, director of the British Sandwich and Food To Go Association, says sandwich suppliers are looking at a 10% plus rise in the cost of ingredients coming through in March or April next year, as well as big question marks over the future of their workforce - a huge headache for a sector that relies far less on automation than other parts of the food and drink industry. "Pressures on the workforce, be it through Brexit or the national living wage, cause massive issues for the industry," says Winship.
Retailers and suppliers will absorb some of the cost increases, but "inevitably there will be a rise in costs for consumers", he predicts.

To what extent shoppers will have to foot the bill is now the big question. After all, prices in some areas of food to go are already on the rise, though that has so far been driven largely by premiumisation. What is clear, however, is that the £3 meal deal - as currently offered by Tesco, Sainsbury's and others - is going to come under enormous pressure. "It's inevitable that will be challenged," says Winship. "It then depends on how the retailers decide to play the game."
So what does the future hold for this lunchtime staple? Will rising prices curb growth in food to go? And what innovations are in the works to keep Brits munching on the go?
While there is no denying the food to go sector faces some mighty pressures, Patrick Coveney of Greencore is keen to retain a sense of perspective. "There is inflation in the market - inflation the industry hasn't had to deal with in aggregate for about six years - and so there is a lot of talk about how that will be managed through and I do believe there will be modest increases for consumers," he says. But the increases coming down the line are nowhere near as high as they were in 2008/9, he adds. Greencore expects raw material and packaging inflation of about 3-4% rather than the 10% or so cited by Winship. "We don't underestimate the potential of Brexit to have an impact on our business but nor do we try to dial this up into some drama bigger than it is," says Coveney. "It's manageable. I think a lot of the apocalyptic talk is about softening people up for price increases."
Coveney may think some of the talk in the market is "apocalypotic" but it's not hard to see why there's anxiety about the future of the sector and its key mechanic: the meal deal.
Food to go at a glance
The food to go market is set to be worth £21.7bn by 2021. Click on the image to see the full data and our infographic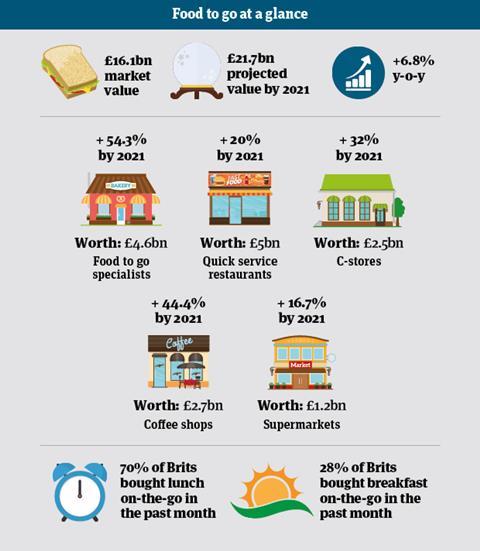 Meal deals are hugely important for retailers and suppliers. They drive footfall but also help stimulate interest and encourage trial for branded drinks and snacks that are bundled up in deals. Soreen, for example, says launching its new Malt Loaf Bar as part of the Co-op meal deal helped it "prove there is a demand for on-the-go single formats of Soreen" and "following its success we plan to roll it out through further convenience channels ". The incentive to keep these deals at attractive price points is therefore considerable on both supplier and retailer side.
But, as Sainsbury's found out when it scaled back its meal deal earlier this year (a move widely believed to have been underpinned by a desire to keep its deal at £3), hitting a price point is only one part of the equation. Shoppers want value for money and a decent level of choice, and overly aggressive price engineering can cause a backlash - in Sainsbury's case, a noisy social media storm under the #sandwichgate hashtag.

Meal deals
Instead of obsessing over price points, some believe retailers should use upcoming Brexit conversations as an opportunity to re-examine their meal deals. "We've been saying for a while that the £3 meal deal might not actually meet the needs of today's consumer, who sees the Boots deal as the best on the market for choice, simplicity and quality, and the best value - and it hasn't been £3 for a long time," says John Want, marketing director at Adelie Foods. (The Boots deal is £3.29.) "The past 12 months have been a sweet spot for upping specifications and quality. Consumers will pay more for the right offer with the widest choice and the best quality."
Grocers can't afford to be complacent when it comes to choice or quality. The competitive set in food to go is vast, varied and constantly changing, with everyone from Gregg's, Pret and Whole Foods Market to Starbucks, Itsu and street food operators wanting a bite of the on-the-go consumer. And while the market is growing at a considerable clip, supermarkets are lagging behind in terms of growth rates (see box).
Pop-up gallery: Innovations in Food on the Go
As grocers try to claim a bigger slice of the food to go pie (and its highly attractive margins), the boundaries between grocery retail and foodservice are increasingly blurring, with retailers of all sizes experimenting with hot food, 'pick your own' options and products freshly made in store. Asda, for example, added Express Diner cafés to its in-store foodservice offering in 2015, while Blakemore launched a foodservice/convenience hybrid (dubbed 'foodvenience') in the form of its Daily Deli service, which has now been rolled out to 50 Spar stores. The Co-op has three trial stores in London, which it recently used to test out new concepts such as 'made today' baguettes, 'create your own' salads and a new hot range. And just last month, Thornton's Budgens teamed up with sushi specialist Maido to offer freshly-made sushi and sashimi through a concession in its Belsize store.
Innovation cycle
Getting these propositions right at scale is no easy feat. "That kind of food to go requires more emphasis on 'fresh' and that means different supply chains and a different way of thinking altogether," says Silvia Rindone, a consultant at Capgemini who has advised several grocers on food to go strategy. "The innovation cycle is much quicker, shelf lives are shorter and understanding the demand patterns is much more challenging. It's why there's a lot of movement of people from food to go specialists to the grocers at the moment. They need those specialist skills."

Increased operational demands aren't limited to foodservice-style offerings. The bar is being raised in the pre-packaged segment too, with sandwich manufacturers like Adelie exploring a move to breads with shorter shelf lives. "Chorleywood method bread is the standard at the moment, but we're expecting growth in alternative breads with much shorter shelf lives," says Want. "We have an exciting project around innovation in bread going on, looking at products with just one day's shelf life. That requires a completely different approach to servicing and supply chain."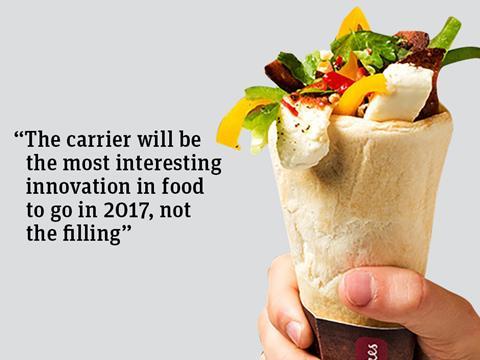 There's every reason for sandwich makers to keep their finger on the pulse. Growth in the commercial sandwich sector is under pressure from changing consumer preferences and the low-carb diet trend, and partly from reduced shelf space as retailers expand ranges to include more salads and sushi.Want, however, is confident shoppers still want bread - just better bread. "People are being educated more and more about bread. That is filtering through to what they are expecting from bread in food to go: the carrier will be the most interesting innovation in food to go in 2017, not the filling."
Indeed, flavoured breads, breads with healthy inclusions such as sprouted grains, and rustic breads from around the world are increasingly appearing on shelves. M&S this year started using Vitamin D-enriched bread in its sandwich range, Asda made its Big Breakfast sarnie with baked bean-flavoured bread, while the Co-op says it has increased the presence of wraps and flatbreads such as khobez in its recently revamped range.
Away from bread, low-carb carriers such as nori wraps (as seen on sale at Pod) and egg crepes used instead of tortillas (as seen in Tesco) are making inroads. Some experts also predict rising interest in novelty options such as bread cones that can be filled with hot or cold sandwich fillings (see box). Whether these innovations will stand the test of time is a different matter. Because while shoppers demand constant 'new news' in food to go, they are surprisingly conservative in their actual buying choices, says Winship at the BSA. "Consumers are excited by new things, but it's still very difficult to get volume out of innovation," he says. "It's quite a challenge for the industry. There's lots of great innovation around, but it often doesn't sell in the volumes you'd expect."
Shoppers hungry for breakfast to take away
If health is food to go's biggest trend, breakfast is the clear number two, with almost 30% of UK shoppers now buying breakfast on the go, according to latest research. Click on the image to read more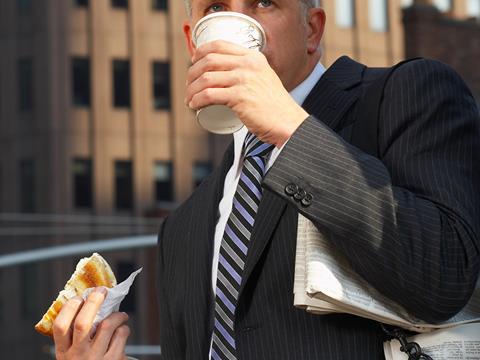 Not that this is going to put retailers and suppliers off trying. And rightly so - in this highly fashion-driven sector, ranges have to be kept fresh and in line with the latest consumer trends. And right now, there's no bigger trend than health, be it in the form of healthier sandwiches, superfood salads, reduced-calorie drinks or portion-controlled treats. "Customers are aware more than ever of what they are putting into their bodies and want healthy, nutritious but also tasty products," says a spokeswoman for Asda's on the go category team, adding health will remain "a massive focus" for the retailer in 2017.

The health angle is also how many branded suppliers are making their presence felt in on the go. Graze reports it's now the third biggest selling food brand in Boots, having capitalised on consumer demand for healthier snacks, while Bounce Foods says it's seen a big uplift in convenience listings and sales this year thanks to the drive to remove confectionery from checkouts. "Till points are almost unrecognisable after their nutritional makeover," says CEO Mark Tanous. "We have seen a real shift from retailers like BP, Boots and Co-op here - long may it continue."
Protein
Meanwhile at Kerry Foods, the focus is on protein. The company has launched a number of on-the-go innovations in the past 12 months, including 60g snack pots of cooked chicken under the Fire & Smoke brand. "Meat snacks were added to the ONS basket of goods and services for the first time in March this year, demonstrating how meat snacking has become a firmly established and viable snacking option for consumers, especially on the go," says category controller Ian Vass.
Suppliers - and their retail partners - will now be hoping the food to go boom won't be derailed by Brexit headwinds. They have good reason to be hopeful. Coveney at Greencore says the underlying fundamentals are strong. "There's incredibly good growth in food to go, which hasn't been impacted at all by Brexit. There are cost pressures and structural issues, but this is still a very attractive market that's producing very good growth."

Higher prices or the end of a retailer's £3 meal deal may well spark another temporary #sandwichgate-style uprising, but the core trends that have underpinned the food to go boom - a drive for convenience, growing desire for healthier, more varied on-the-go options and increasingly time-poor lifestyles - won't disappear overnight.
As Want at Adelie puts it: "People won't magically find the time to make products at home again, but the retailers that prove the best value - not necessarily the cheapest - will win over others."
Feeling the squeeze: food on the go category report 2016
1

Currently reading

Feeling the squeeze: food on the go category report 2016

2

3