Brits are turning their back on classic Old World wines, plumping for Argentinian malbecs and Kiwi sauvignon blancs …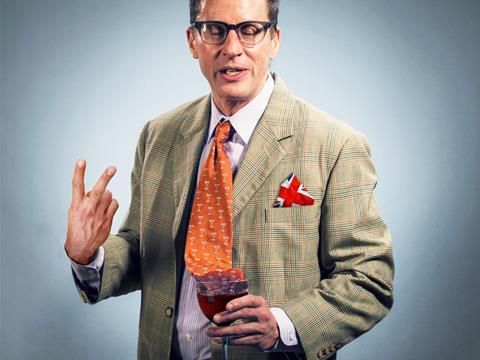 It's official: Britain is mad for malbec. The 'black wine' is booming but we're not buying it from the French, who first harvested the grape in Cahors, southwestern France.

These days malbec is synonymous with Argentina. UK drinkers bought 20 million litres of Argentinian wine in the year to November 2016, according to the Wine and Spirit Trade Association (WSTA). That's almost 27 million bottles - a 32% hike. Value grew 31% to £155m, helping the country top UK off-trade sales rankings for growth.

It's not just a case of 'up yours Cahors!' As Britain heads towards Brexit, we're turning our backs on classics such as bordeaux, barolo and rioja too. Value sales of Spanish, Italian and French wine are down 8.3%, 6.8% and 3.9% respectively [IRI 52 w/e 28 January 2017]. So what's going on?
Data Box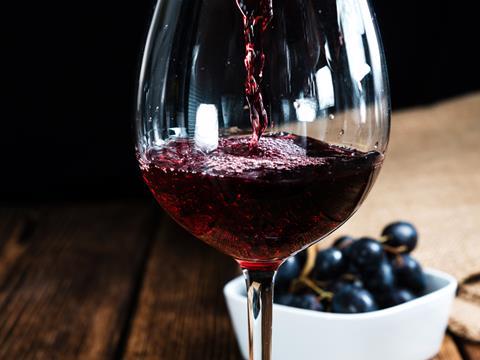 It's unlikely Brexit has much to do with this (though it is impacting the sector in other ways); price is crucial for shoppers in the supermarkets' wine aisles. In spite of Boris Johnson's comments to the contrary, Brits are still quaffing prosecco like there's no tomorrow. Sales are up by nearly a third. Champers is also in solid growth (see right).

Still wine is in long-term decline more broadly, but the fragmentation of Old World regions is impeding their wines' distribution, marketing and visibility on shelf, according to IRI head of BWS insight Toby Magill."New World wines are controlled by a handful of major distributors and Old World wines are still organised by regions," he says. "Retailers want simplicity and efficiency; they're saying: 'Do I really need to deal with half a dozen small players when I can go and speak to one or two bigger operators?'"
New World v Old
As ranges are consolidated, we're witnessing "the rise of the 'super varietal' - pinot grigio, malbec, shiraz - that consumers are familiar with and feel confident buying," says Mark Roberts, head of sales at Lanchester Wines. "Sales of lesser known, but sometimes better value, varietals are being reduced."

Argentinian malbec is now seen as a brand in its own right, adds Pernod Ricard UK commercial director Chris Ellis, pointing to the group's Graffigna brand, up 44% in volume and 42% in value [Nielsen 52 w/e 31 December 16]. "Argentina presents a strong value opportunity for retailers by commanding a premium price point," he says.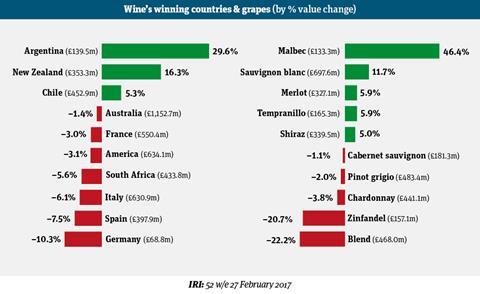 Indeed, with an average price of £7.87 a litre over the past year, of all the major varietals only pinot noir, sauvignon blanc and cabernet sauvignon merlot are more expensive than malbec [IRI]. But with the discounters winning growing share of UK wine sales and turning their focus to New World wine, average prices are under increasing pressure.

The discounters' growth, along with the 'varietal as brand' phenomenon, has been to the detriment of true brands' sales. Still and sparkling brands are down 2% on volumes down 1.2% combined [Kantar], while own label is up 4.4% in value and volume. Lidl, for example, is expanding its exclusively own-label range from 70 to 92 lines over the course of 2017/early 2018 and says the biggest addition will be a collection of New World wines.

New Zealand winemakers specialising in white sauvignon blancs have also seen UK sales surge, by nearly a third in the past two years [IRI]. Sauvignon blanc, which became Britain's most popular grape last year, is up 11.7% to £697.6m in the past year alone. Most retailers report growth in kiwi sauvignons, with Spar claiming a 38% surge.

Sauvignon blanc's gain has been pinot grigio and chardonnay's loss. Pinot's decline helps explain Italian wine's losses (see left), the latter the US's. Spar wine trading manager Matt Fowkes says there's another reason for this, particularly when it comes to US wine, often marketed as fruity and drinkable (such as Blossom Hill, down 14.9%). "We've seen a decline in Californian rosé with traditional customers switching to prosecco as an everyday, fruit-driven drink," he says.
Pop-up gallery: innovations in wine 2017

Prosecco, increasingly stocked in chillers to prompt impulse sales, is winning over drinkers of every persuasion with lower prices, down 4.7% to an average of £8.43 a litre [Kantar]. "The lower price point of sparkling wine, driven largely by the use of prosecco as a footfall driver, has undoubtedly broken down barriers to such shifting," says Tony Baines, Aldi's joint MD of corporate buying.

The prosecco boom helped sparkling wine outperform all other booze sectors in 2016 [Kantar]. Aldi says its prosecco and champagne sales have more than doubled. The Co-op reported its best ever year for wine in 2016, with its four prosecco lines accounting for 65% of sparkling sales. "It's easy to say, easy to drink and it's convivial and affordable," says category buyer Ben Cahill.

It might be affordable, but it still carries a hefty premium over standard plonk (£2.23 a litre, says Kantar). "All the retailers see it as a cash cow," says IRI's Magill, adding that while still wine SKU count has been cut by about 20% since 2015, sparkling has inched up by about 1%. "Sparkling is not growing massively in terms of space, but this is in a world where every other market is being cut."
It's not just prosecco that's cashing in. Champagne is up 9% on volumes up 4.1%. "There is a spinoff from prosecco and people are trading up," says Patrick McGrath, MD Hatch Mansfield, UK distributor of premium wine brands including Tattinger, which has grown 8.7% on volumes up 14.5% [IRI].

Other fizzes, meanwhile, have fallen flat. "The popularity of prosecco along with its competitive prices may have shifted some sales away from cava," says Lidl wine buyer Anna Krettmann. Still, retailers are broadening their fizz ranges. Asda has launched Progrigio, a blend of prosecco and pinot grigio, at £5 a pop, and Waitrose says sales of its 'wallet-friendly' crémant are booming. Lidl, which despite cava's decline still plans to launch a rosé cava later this year, has also launched a crémant.

Diversification is wise, given the pressure prices are facing from the weakened pound, says Magill. "If prosecco can't or won't meet a certain price point, there are a host of sparkling suppliers from other regions who will willingly take up that slack." After all, would prosecco really taste so good if it cost much more than six or seven quid a bottle?