Bottled water sales are up 7% in a sector where people are happy to pay a premium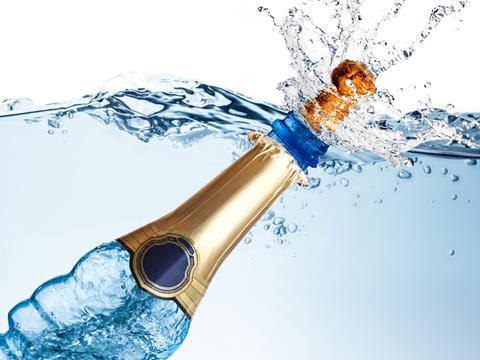 Bottled water is booming. And there seem no bounds to the prices some will splash out on hydrating themselves. The most expensive bottled brands are stealing share.

Glacéau Smartwater, which fetches more than double the average price for unflavoured water [IRI 52 w/e 31 December 2016] is the sector's fastest grower after sales doubled to £38.9m. Super premium brands Sparkling Ice, Vit Hit and Voss all passed the £1m mark last year [Nielsen 52 w/e 10 October 2016]. Growing listings are accelerating growth.
In this report
Then there are the super, super premium bottled products, such as Voss Sparkling's new flavoured variants, carrying an rsp of £2.00 for 375ml, and No.1 Rosemary Water, which sells its product in some formats for more than Champagne.

Overall sales have grown 8.9% to £1.04bn on volumes up 9.2% [IRI]. That means Brits have downed an extra 170 million litres of bottled water in the past year, making it the strongest performing soft drinks sector yet again. Nearly half of all bottled water was drunk at home, with take-home sales up 7.0% to £473m on volumes up 11.4% [Kantar Worldpanel 52 w/e 6 November 2016].

Plain water, accountable for some 76.8% of the total bottled water market, grew 10.6% and delivered £797m in sales on volumes up 10.8% [IRI]. The parity between sales and volume growth is largely down to most retailers being reluctant to drive volume at the expense of value.

"Promotional mechanics have stayed relatively stable over the past year, with some 63% of spend at non-promoted price," says Adam Dobson, category analyst at Kantar Worldpanel. "However, Tesco is placing more emphasis on price cuts, gaining 10% more spend on promotions than they did last year. Sainsbury's and Asda are also performing well; however, there has been even stronger growth - around 25% year on year - within Aldi and Lidl whose water ranges tend to average at around 30p per litre cheaper."

There is also a wider health agenda at play across the total grocery market, with particular significance in soft drinks and bottled water, especially with the looming sugar tax. "Plain water represents the ultimate healthy choice for shoppers with zero calories and zero sugar. Bottled water in general has the lowest level of promoted volume sales versus the other soft drink sectors, making its growth all the more impressive," says Gurdev Lota, insight director at IRI.
Water brands unleash their inner power
New product development
The continuous launch of new and exciting NPD is also a key driver of overall category growth, as consumers are always thirsty for more innovative flavours and packaging. "The rise in health and wellness is here to stay. Bottled water is quietly and confidently taking market share. In 2015 there were more bottled water launches than for the previous four years [Mintel Water Market Global Review 2016]," says Nicola Thomson, account director at brand design agency Hornall Anderson.

Danone-owned Evian sits at the top of the branded plain water pile, having grown sales 5.5% to £153m on volumes up 3.1%. "Evian has a younger and more affluent shopper than its closest premium competitors. The typical Evian shopper is predominantly 35 to 44 years old in a household of two or less, with a disproportionate amount of spend coming from the London region," says John Letford, sales development controller at Danone Waters UK & Ireland.

The aspirational brand has also been proactive with advertising and marketing, coupled with a relentless barrage of instore execution. "A rising number of shoppers are looking for convenient refreshment on-the-go. With this in mind, it's no big surprise small singles continue to be the clear growth driver in bottled water," says Letford. "High street and convenience are the channels providing this increase."
E-commerce
Despite the ubiquity of Evian, Nestlé Waters-owned Buxton continues to snap at its heels with 7.0% sales growth to £110m on volumes up 6.2%. "Buxton is a well-established name within the category, with 92% brand awareness. There is still room for plenty of growth as 59% of people in the UK still only drink just one serving or less of water per day, and 80% drink no more than two servings of water per day [Kantar Worldpanel Food & Drink Usage Panel 52 w/e 21 June 2015]," says Silika Shellie, head of category and shopper development at Nestlé Waters UK.

Like Danone, Nestlé understands the need to get Buxton in front of shoppers both in traditional brick-and-mortars but also online. "Incremental sales can be driven by secondary sitings outside the fixture, and appropriate cross-category activation such as meal deals. The bottled water category is also benefiting from developments in technology and new purchasing behaviours. A key barrier in the past to bottled water sales has related to size and weight, factors that are abated by the growth of e-commerce," says Shellie.
Given the onslaught of these two major plain water players, it may come as no surprise that Highland Spring's sales growth dropped from 6.5% in 2015 to 2.2% in 2016, having delivered £95.6m in sales on volumes up 4.9%. "Highland Spring is the UK's leading producer of natural source water, bottling over 500 million litres a year. Our ongoing partnership with the Lawn Tennis Association will continue with the launch of Tennis For Kids year two in April 2017," says Carol Saunders, head of customer marketing.
Bottled water category snapshot
Fastest grower is Coca-Cola European Partners' Glacéau Smartwater, having landed a tidal wave-sized 93.8% sales growth to £38.9m on volumes up 102%. "Glacéau Smartwater's success in 2016 can be partly attributed to our £5.5m campaign that has increased consumer awareness of the brand," says CCEP operational marketing director Simon Harrison. "Our Life Distilled campaign has helped retailers capitalise on the growing popularity of on-the-go bottled water by showcasing witty slogans alongside the distinctive Glacéau Smartwater bottle."

And it's not just clever advertising that has cemented brand loyalty, as CCEP continues to offer convenient pack formats that resonate with consumer needs. "Instant consumption formats are on the rise, as consumers hydrate while on the go. People are also increasingly stocking up on water for the week ahead, a trend that has resulted in the growth of future consumption formats like multipacks," says Harrison.

Fitting a brand into the increasingly fragmented portfolio of consumer need states is a core tenet of Princes-owned Aqua Pura, where it has tried to cover all possible bases. "After price, the key decider for water purchase is occasion. Consumers ask themselves what size and bottle format they need for the gym, the kids' lunchboxes, the dinner table. At Aqua Pura we've worked hard to ensure we have an offer for key need states," says Jonathan Barr, marketing director at Princes.

Efforts like this are keeping brands' dominant, although own label is growing fast, thanks primarily to the rise of the discounters. "Branded waters still hold the majority of market share, however own-label water is growing considerably faster - 11% year-on-year compared with 4% branded growth. This is largely a result of Tesco's own-label performance. In all three growing own-label water categories - plain still, plain carbonated and flavoured still - Tesco is number one," says Adam Dobson at Kantar Worldpanel. In contrast, flavoured own label scraped a measly 0.3% growth to £78.7m.
Flavoured water
Flavoured water as a whole, accountable for 23.2% of the total bottled water market [IRI], grew at a slower 3.6% and delivered £241m in sales on volumes up 2.2%. This muted pace is largely due to the perception of flavoured water being higher in sugar than plain water. "The main shoppers within flavour waters are predominantly older, and tend to express more concern regarding sugar levels," says Dobson at Kantar Worldpanel.

The biggest player in flavoured water - Danone-owned Volvic - weathered an 1.1% decline in sales to £118m on volumes down 2.3%. "Sugar plays a vitally important role in delivering great taste, which is one of the most important drivers of consumption," says Sian Foulkes, Volvic brand manager at Danone Waters UK & Ireland. "That said, sugar-free variants are seeing accelerated growth. Volvic's entire flavoured range is below the sugar tax levy threshold of 5g per 100ml."
" The flavoured water market is causing concern over sugar and artificial flavours"
AG Barr-owned Rubicon Spring is a brand new entrant to the flavoured water market - having racked up an impressive £3.5m in sales in its first year.

"Rubicon Spring is a new range combining sparkling spring water with fruit juice, with 15 calories or less per bottle," says Adrian Troy, marketing director at AG Barr. "For those wanting a healthier alternative to a fizzy drink or fruit drink, the brand has all the low-calorie and healthier benefits of spring water. And for those coming from water or flavoured water, where taste can often be bland and disappointing, it has a big hit of Rubicon flavour."

Strathmore - also owned by AG Barr - straddles both plain and flavoured water (Twist), with around half of sales delivered in each subcategory. Whilst the brand has grown 2% overall, the flavoured portion of the business has declined 3.3% in value to £3.0m on volumes down 13.4%.

"People have become conscious about the source of their water, in addition to looking for brands that they know and trust," says Troy. "Sourced from Scotland, Strathmore is well placed to meet this demand for provenance and traceability. Strathmore already has a proud history of supporting sport nationally and internationally, and it's incredibly exciting to be able to strengthen this association with sport by supporting the World Para Athletics Championships and the IAAF World Championships London 2017."
Innovations in bottled water 2017
Sugar concerns
It's not all doom and gloom. Despite health pressures and the looming sugar tax levy, let's not forget flavoured water is still in positive growth and some experts believe there is a clear gap in the market waiting to be filled.

"The flavoured water market is causing concern for consumers worried about the sugar and artificial flavours," says Nicola Thomson at design agency Hornall Anderson. "However, opportunities exist for authentic local brands with provenance that offer a truly unique experience with differentiated pack formats, beautifully executed design and a brand experience akin to some of the alcohol brands. With a general desire to drink less alcohol and younger consumers searching for a sense of belonging and identity, premium brands with unique flavour profiles could offer a credible alternative."

One of these brands is Get More, owned by More Or Less Drinks. Their USP is to offer both sugar-free and vitamin-loaded spring water for consumers actively seeking a functional and convenient hydration solution with incremental health benefits. Get More's Vitamin D 500ml bottle alone has delivered over £2m in sales with growth of 67% over the past 12 months [Nielsen ScanTrack 52 w/e 14 January 2017]. "A number of flavoured water brands contain significant amounts of sugar - in some cases upwards of 20g or five teaspoons per 500ml - and this can be misleading for consumers, thinking a water-based drink is always a healthy alternative. Many of the brands containing large amounts of refined sugar have started to offer sugar-free products in their ranges, but whether or not the taste will be to consumers' liking remains to be seen," says Steve Norris, director and co-founder of More or Less Drinks.
Shaping up: why bottle design is so important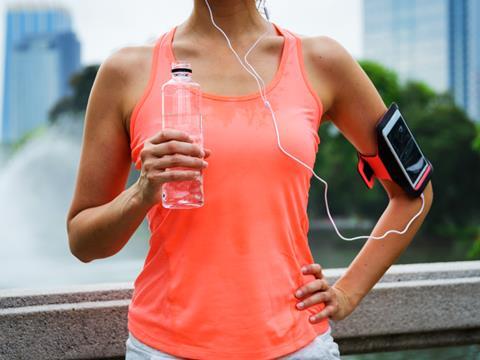 What goes through shoppers' minds when faced with an aisle full of bottled water? According to research conducted by Kantar Wordpanel, taste is in the top three reasons for product choice across all top water brands. Shoppers will typically already have decided whether they want still or sparkling before they reach the main fixture. Once there, many shoppers typically make choices about brand and formats, including the bottle size [Understanding Shopper Behaviour In Bottled Water Category, June 2015].
Indeed, it's the unique taste of a particular type of water that brands are keen to communicate. "Taste is a uniquely personal experience, but different formats also have a role to play. That's why we've focused on offering a wide choice to suit different needs, including 600ml PET bottles and 850ml sports cap packs," says Simon Harrison, operational marketing director at Coca-Cola European Partners.
An array of formats is becoming increasingly typical for most major water brands. But there is a danger of not being able to see the wood for the trees. "Pack size and sports caps are disproportionately important for plain still water shoppers in their decision making. Generally speaking, however, the bottled water segment is being shopped to deliver on the need to quench thirst, and the brands that communicate this best will ultimately increase their chances of growing sales," says John Letford, sales development controller at Danone Waters UK & Ireland.
One brand that has developed a particularly unique design with the aim of capturing shopper interest is Harrogate Spring. "We have invested heavily in producing an iconic bottle design which is recognisable even without a label because of its stylish diamond pattern. Standout appearance is important in a crowded marketplace," says Nicky Cain, marketing manager at Harrogate Spring.
The Acciaroli phenomenon
Healthier, more premium, and more artisanal wonders are waiting the wings, such as the growing array of tree and fruit waters winning listings. Last May What A Melon, a water derived entirely from watermelons (and containing no pulp) hit the UK market.
"Our goal was to get the rosemary plant's health benefits into an enjoyable drink"
The same month, True Nopal cactus water made its UK debut in Boots, aimed at health conscious consumers. "We believe the clean living, natural trend is only set to continue and plant waters are proof of this," says Vicky Morgan, new business controller at Lucozade Suntory Ribena, distributor of the brand.

Then there's No.1 Rosemary Water, inspired by the Italian town of Acciaroli, where it's claimed more than one-in-10 residents live to more than 100 with low incidences of Alzheimer's, arthritis and cataracts thanks to their rosemary-rich diets. "I was so inspired by the story of Acciaroli and visited the town, but I wasn't really looking to eat dried rosemary every day," says founder David Spencer-Percival. "I thought it would be better consumed another way. Our goal was to get the plant's unique and extraordinary health benefits into an enjoyable beverage you could drink every day, and I'm delighted that we've accomplished that."

The brand could be on to something. After all, premium functionality is a key trend in soft drinks right now. Question is, how much will shoppers pay for such claims?