Supermarket fish prices are up 5% yet sales are still flying. Why is Brits' appetite for fish undaunted?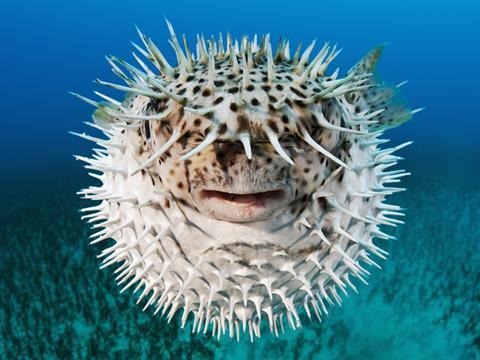 Fish prices are inflating faster than a tetraodontidae right now. That's a puffer fish (above), the species that fills its incredibly elastic stomach with water to make it larger and more imposing to deter would-be predators.

The average price of fresh fish has leapt 5% in the past year [Kantar Worldpanel 52 w/e 16 July 2017]. The price of bestselling species salmon is up 12.1%; mackerel is up 6%; sole 12.3%. In the freezers it's a similar pattern, with frozen fish prices up 4.8%. The age of pile high sell cheap is coming to an end in canned fish too: prices have risen 3.4%.
In this report
Nevertheless, volumes are still on the rise in fresh, frozen and ambient (although the latter has grown by just 0.1%). How come? Why are prices rising so rapidly and how is inflation affecting shopper behaviour?

Brexit-linked inflation has hit fish hard, but Brits are unbowed by the higher prices, with combined volumes of chilled, frozen and ambient fish rising 0.3% to 394.4 million kg, while value is up 4.8% to just under £3.3bn.

Look no further than the weakness of the pound for a key contributor to the rise in prices. But it can't all be blamed on Brexit, says Kantar analyst Nathan Ward, who cites growing demand, a big tightening in supply of key species such as salmon, and a cut in deals in chilled and frozen as significant. "Chilled and frozen fish are both seeing the impact of inflation in key species," says Ward. "Base prices are up and promotions are down 13%, with salmon particularly affected by price inflation - leading to prices rising £1.42 per kilo year on year. Chilled fish accounts for two-thirds of fish spend, but only 53% of volume in fish, as a result of the higher prices in the fresh products."

The spike in demand from British consumers can be explained by the growing health-consciousness of British consumers, he adds. "Health remains an important overall trend and is closely tied to the fish category, with consumers eating fish as part of a healthy meal," says Ward. "This is an important factor in category growth."

Frozen brands have been hit harder by inflation than own label, with average prices up 4.4% compared with 2.1%, and the category continues to have challenges with barriers to purchase, Ward says, "both physical (such as the position in store and the lack of visibility of the product) and mental, as frozen can be perceived as less easy to cook and less convenient".
Frozen fish
Many suggest the ongoing rise in prices could ultimately benefit the frozen sector, with shoppers switching from fresh to frozen. The former is currently almost twice as expensive; fresh weighs in at £11.52 per kilo; frozen £6.77. But if shoppers are to be attracted back to the freezers they will need to be convinced of the quality of what's on offer.

With this in mind, Young's Gastro range has been "hugely successful in overthrowing the quality perception barrier within frozen food" during the past year, says head of frozen Jason Manley, particularly as brands try to compete with own-label rivals. Almost six million households now enjoy the brand's "restaurant quality fish" [Kantar 52 w/e 13 August 2017], Manley says, with Gastro up 5.9% to just over £58m [Nielsen 52 w/e 9 September 2017].

This sales growth was backed by a multimillion pound campaign earlier this year, with NPD including saucy fishcakes (see p53), and a new range of fish bakes containing fish fillet portions and a mixture of sauce and crust toppings. Young's has also seen its Chip Shop brand's sales climb 15% to £34.1m, with its Chip Shop cod fillets becoming the number one line in premium frozen fish, Manley adds.
Popup gallery: innovations in fish 2017
Inflationary headwinds have also failed to push Birds Eye off course, adds marketing director Steve Challouma. He says the brand is having a "great time in fish at the moment", with total Birds Eye sales up 7.1% to £162m and volumes up 3.5% [Nielsen], fuelled by a switch in focus away from the Birds Eye masterbrand and towards individual sub-brands.
Activity has included a return to TV for Captain Birds Eye after a 10-year absence, with further support for Birds Eye's individual sub-brands due in its recently announced year-round TV push. "As a result, shoppers have been re-engaged, with value sales of battered and breaded fish fingers growing 10% during the past year," Challouma adds. "We've also seen lots of growth in the premium tier, and that is also having a positive inflationary impact. Frozen food is having good phase at the moment."

So much has the wind changed in frozen fish that chilled stalwart The Saucy Fish Co entered the category this year (see p50), with the launch of a five-strong range into Sainsbury's in February. It added to the range with a new saucy fishcake in October, while also winning listings with AmazonFresh before being picked up by Tesco this month.

The range has been hugely successful, says Saucy Fish Co owner Seachill's sales director Amanda Webb, with 77% of spend on the brand in Sainsbury's since launch being incremental to the category. "It has attracted a higher proportion of younger, pre-family shoppers who've not previously been engaged with frozen fish," she adds.
Own label
While brands appear to be thriving in frozen, the environment in chilled is very different. Own label dominates the category, with total value sales up 7.3% to £1.8bn on volumes up 2.2%. Branded sales, meanwhile, have fallen 7.8% to just under £88m on volumes down 14.4%, and have suffered due to a switch away from promotions, according to Webb, with spend down 28.4%.

The dominance of own label was demonstrated in July, when Asda ditched its exclusive Young's Funky Fish Kitchen brand after four years, amid a wider overhaul of its seafood and ready meals offer, to be replaced by new focus on own label. And Sainsbury's unveiled its The Fishmonger's Choice range at the start of November.

This kind of activity, along with Aldi and Lidl experiencing 25.8% and 24% increases in chilled fish sales, has contributed to own label's dominance, says Hans Frode Kielland Asmyhr, the UK director of the Norwegian Seafood Council.
Fish category 2017 snapshot
Shoppers are switching away from red meat and towards chilled fish for sustainability reasons, adds Asmyhr, driven by better availability of convenience products, particularly in the discounters.

"We think the seafood industry in the UK is good at developing new and value-added products that give the consumer new possibilities to choose different seafood meals in the week; we're also seeing traction and engagement in 'healthy indulgence'," he says.

While most brands have struggled in the chilled category, Seachill - which was sold by parent Icelandic Group to Hilton Food Group last month - has benefited from an upturn in chilled own-label sales in Tesco. "We've seen growth in coated (market share up from 9.3% to 10.6%), fishcakes (up from 15.1% to 16.9%), salmon (up from 24.8% to 26.2%) and smoked excluding ready to eat, (up from 18.6% to 20.3%, says Webb. "And all these sectors are supplied by Seachill."
Ambient
Brands are also struggling in ambient fish. Inflation has been the main driver in category growth, says Kantar's Ward, and as a result, sales of canned tuna have gone from a 2.1% value decline last year to a 5.6% value increase this year. Range rationalisations in the mults have led own-label canned sales to rise 16% to £214m (on volumes up 13.5%), while branded has fallen 4.4% to £284.4m, with volumes falling even further, by 9.4%.

"A number of retailers have limited the size and variety of branded offerings, and are driving their own-label ranges across ambient grocery," says Princes marketing director Neil Brownbill. "As such we have seen the distribution of own label extended to the smaller store formats in place of brands. This has impacted the overall branded volume decline, and supported own-label's growth."

It's a scenario also experienced by John West, though the brand's sales remain robust, says marketing director Jon Burton, with "many retailers starting to expand their canned fish ranges again this year to include innovation and range extensions".

"Innovation has become the key to growth, better meeting consumer demands for healthy products in portable and convenient packaging," he adds. "Our strategy has focused on no-drain and NPD within the mealtime inspiration sector of the market. These sectors have been in significant growth over the last few years as shoppers recognise the differentiated benefits they deliver - increased convenience, taste and versatility."

Brands would also do well to take note of Brits' increasingly adventurous tastes when it comes to fish. Indeed, the rise of species such as chilled prawns and sea bass, which both carry a significant premium over the market average, is a significant factor in the rising prices punters are paying for their fish in the supermarkets. Changes to retailers' own-label ranges have also been a significant factor in this regard.

Meanwhile, scampi specialist Whitby Seafoods has consolidated its position in frozen, and is now one of the fastest growing seafood brands, says head of marketing Tom Blair. "Frozen fish remains a freezer staple and can deliver convenient solutions to time-pressed consumers," Blair adds, with recent brand perception research by Whitby showing the brand can "complement own label with a differentiated range delivering on British, modern and tasty cues".

More convenient options and added-value products have also boosted chilled fish's popularity. In light of Sainsbury's launch of its Fishmonger's Choice range - which aims to tempt shoppers to try lesser known species from UK waters - future opportunities around the chilled category could come from lesser known fish, adds New England Seafood head of category insight Will Pritchard.
Emerging species
"Most of the growth we see across chilled fish is coming from smaller emerging species such as sea bass, sea bream, tuna, hake and wild salmon. Despite these species only being bought by less than 10% of the UK population, there is a growing appetite and trend for shoppers to consume more of these species."
Canned fish: winners & losers
Another factor could come into play when it comes to retailers' broadening repertoire of fish: climate change. Last December research published by the government's Centre for Environment, Fisheries and Aquaculture Science (Cefas) warned that warming seas could have a huge impact on the types of fish fleets are pulling from British waters.

Tabloid headlines that traditional cod & chips' days are numbered were overblown.Cod sales continue to grow in the UK, on the back of a push into premiumisation, a trawler full of NPD, and a resurgence in North Sea stocks, further boosted by the fishery's classification as MSC-certified in July.

But rising sea temperatures could push these favourite species away from UK shores, Cefas suggested, to be replaced by squid, sardine and anchovy as early as 2025. Squid numbers in UK waters have actually increased significantly in the past three decades. Squid was found at 60% of its North Sea survey stations in 2014, versus 20% in 1984.

Who knows, we might even end up seeing tetraodontidae in these waters. Now that would be apt.