Bored Brits have bought rice by the sackful as they cook up ever more adventurous flavours at home. Noodles are soaring, too
There's a new food-based meme doing the rounds online. It's the phrase 'everyone must enjoy this modern rice' – often accompanied by a screenshot of the sponsored Facebook post that inspired the offbeat gag and featured the same wording.
The 'modern rice' meme made its debut in early July on Reddit. Now thousands of examples appear across Twitter, Instagram and the like. While the reason for its popularity is unclear, its timing is laser-focused. It began flourishing across social media just as actual rice was flourishing in grocery.
Everyone, it seems, is thoroughly enjoying rice, often by the sackful. The fastest value sales rise in the 12 weeks to 14 June has been in extra-large packs – ones weighing more than 4kg. They're up 49.6% in a category that increased 17.9% to £123.7m during lockdown. Volumes grew by 3.7 million kilos as Brits stockpiled the starchy carb [Kantar].
Even better, suppliers have been able to meet that demand from pandemic-weary shoppers, who are seeking out convenience and exotic flavours at an insatiable rate.
Rice Association secretary Alex Waugh says there were few shortages, even at the start. "The rice sector was faced with a steep increase in demand during lockdown but was able to respond quickly to meet the increase. For example, imports of basmati rice are up 25% so far this year, with May seeing a fourfold increase in shipments over 2019."
"Exports to Europe form a small percentage of production, we should have no shortage"
The month Waugh cites is significant. May was when warning bells rang as export restrictions pushed Indian rice prices to a nine-month high.
While importers had begun stockpiling earlier in the year amid concerns over supplies, stocks of basmati – one of Britain's most popular rice products – were nevertheless expected to dwindle quickly. Such a drought would have severely vexed shoppers as they cooked more often and with greater focus on more adventurous world recipes.
Luckily, there's no sign of a shortage three months later. And suppliers are confident there won't be one in the UK's supermarkets. "Exports to Europe form a very small percentage of the total production, and we should have no shortage of basmati," says Sumit Arora, MD of Indo European Foods, maker of the Kohinoor brand. "We have been supplying through the Covid-19 crisis and are ready to meet the market demand.
"Rice harvests across the world have been good," he adds. "The Live Rice Index, an independent body, is quoting steady prices for the key rice types bought in the UK."
Jonathan Calland, head of external affairs at Tilda, is equally optimistic. "Covid-19 presented a health crisis, not a food crisis. In fact, the International Grains Council predicts a record rice harvest of 505 million tonnes this year – an increase of nine million tonnes globally," he says.
"Tilda continues to see steady levels available of both basmati and all other rice grains it imports to the UK, and without any government export restrictions limiting the rice in its supply chain. Tilda has been and remains confident in its own stock levels throughout the recent challenges and beyond."
Meanwhile, Surya Foods says its Laila rice brand, which this year made its debut in supermarkets' main rice segment, had no problem meeting demand. It even "played a pivotal role in shoring up UK rice supplies during the coronavirus pandemic" beyond grocery, according to Surya MD Harry Dulai.
"Tilda remains confident in its own stock levels throughout the recent challenges and beyond"
"Our strong and reliable supply chain enabled us to play a pivotal role in supplying the government rice for its Defra shielding packs, delivering four million packs of rice to the nation's most vulnerable between April and July," he says. Dulai credits Surya's "well-connected global procurement team, with teams on the ground in India" for Laila's successes during Covid-19.
Closer to home, Italian-grown rice has also experienced huge demand "thanks to its long shelf life and versatility as an ingredient" says Lorenzo Fontana, export manager for Bonifiche Ferraresi. In early May, its Le Stagioni d'Italia brand entered the UK with a range including arborio and carnaroli rice, designed for risotto.
"Launching on the cusp of a pandemic was always going to bring its challenges and opportunities," Fontana adds. "Working with our UK distribution partner, Worldwide Food Associates, we were able to quickly secure listings in Asda and Sainsbury's thanks to our ability to utilise stocks and react quickly to tight lead-in times, ensuring our products were on shelf as soon as possible."
Like the burgeoning Le Stagioni d'Italia, Italian rice stalwart Riso Gallo supplies arborio and carnaroli variants – and it too has been quick to respond. The brand was "able to fulfil the majority of the retailers' demand, with the Riso Gallo rice mill continuing to operate 24/7 throughout the pandemic and product brought to the UK on a daily basis," says UK MD Jason Morrison.
"This demonstrated the ability of Riso Gallo to adapt to the changing environment to ensure availability throughout."
So if there's one thing Brits haven't been short of, it's rice. A good thing, too, considering it's been a staple of the pandemic. Locked-down Brits have been "trying to replicate their favourite restaurant dishes at home" notes Calland at Tilda. The rise of cooking at home has accelerated the trend of exploring more adventurous flavours. "Global cuisines such as Thai, Vietnamese, African and Middle Eastern have become more popular over the last five years and many of them include rice," he says.
Such popularity has doubtlessly benefited the largest rice sector: ready-to-heat. It's up £7.3m [Kantar], thanks to its offer of world flavours at the touch of a microwave button. Take number one brand Uncle Ben's, which added £10.2m in the 16 weeks to 20 June [Nielsen] after launching unveiled Indian-inspired Onion Bhaji and Chinese-style Chicken Fried Rice in October.
That's something of turnaround for the Mars Food brand, which last year lost £9.3m in the face of cheaper own-label rivals and consumer worries about the environmental impact of microwave rice's plastic pouches [Nielsen 52 w/e 30 December 2019].
Second-placed Tilda has also seen significant gains for its ready-to-heat rice during the pandemic. Its value has shot up 17.8%, aided by "consumer communications activity, which included its sponsorship of Channel 4's 'Escapism' package of nature and lifestyle programmes", says Calland.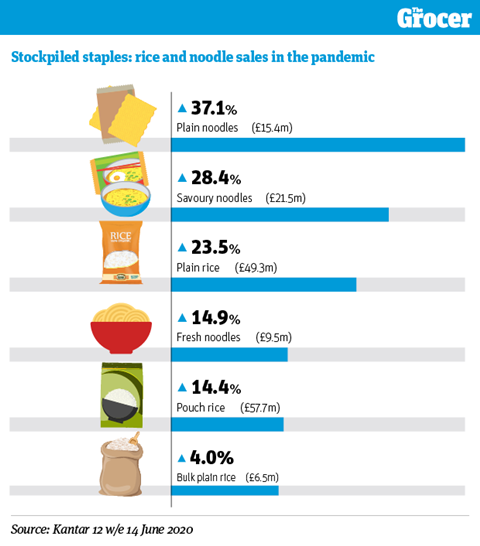 Rice and noodle value sales have grown 17.9% in the latest 12 weeks, as shoppers have stockpiled cupboard staples and eaten more meals at home.
Volume growth has been slower at 9.9% as fewer in-store promotions meant brands grew almost solely through higher prices.
Own label prices remained static at around £2.04 per kilo, while branded prices rose by 18.4% to £3.53/kg primarily due to promotional sales being heavily reduced.
"The biggest price rises were seen on the dry rice side," says Kantar analyst Joe Oxlade. The sector is "most likely to be stockpiled as it is cheap, versatile and has a very long shelf life".
Own label "vastly outperformed brands from a volume point of view, growing at 16.5%, driven primarily by dry and pouch rice" Oxlade notes.
As a result, own-label has grown to have a 61% share of category volume, compared with 57% in the same period last year.
The only area of decline was in the chilled side of the market as shoppers focused on ambient goods with longer shelf lives. Plain chilled rice, for instance, fell by 26.5% – albeit from a small base of £700k to £500k.
Noodles boom
So rice has been the star of the show in starchy sides. But it'd be unwise to ignore its close rival, noodles. The sector's £10.2m gain over Kantar's 12-week period is worthy of applause – and, as with pouched rice, much of its popularity has stemmed from its convenience and world flavours.
"With more people working from home and families looking for mealtime inspiration, instant noodles have become the perfect, quick and easy lunch option. Time-poor consumers are looking for solutions without compromising on quality," says Ennevor Yap, director at Wing Yip, the specialist Asian grocer. "Noodles have become more of an everyday option for meals. Whereas previously, they were seen as a weekend, restaurant or takeaway treat," he adds.
Yap's claim is backed up by Adam Woolf, brand director for quick meals, snacks & soups at Premier Foods. The Batchelors Super Noodles owner has "seen strong (10%) category growth in the lunchtime occasion" he says.
"The convenient nature of our Batchelors range means we have experienced growth across different formats, including Super Noodle Pots, which traditionally have been enjoyed as part of the 'food to go' occasion. That being said, it is our Batchelors Super Noodles blocks that are performing particularly well, up an impressive 27%."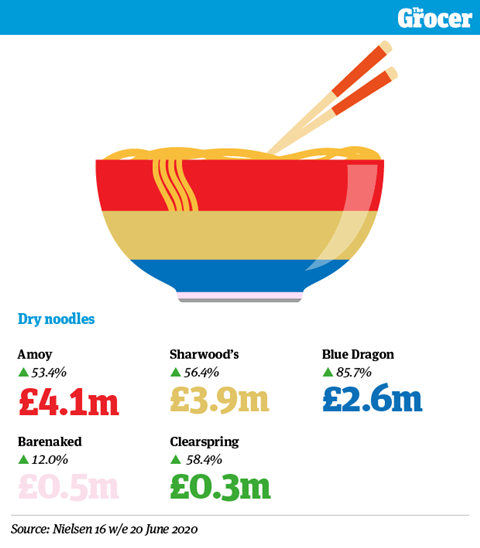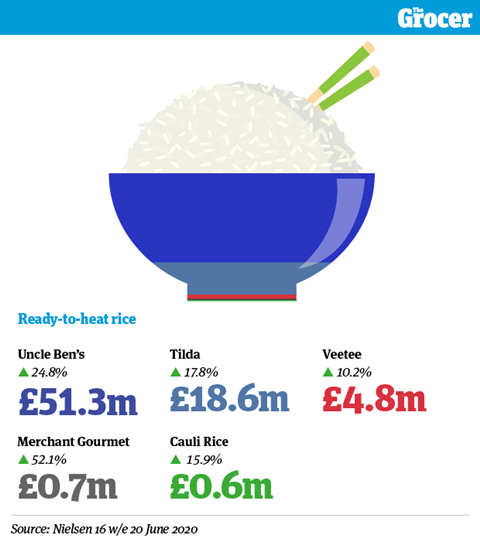 The majority of ready-to-heat rice brands in the top 10 enjoyed double-digit growth over the 16 weeks to 20 June – primarily driven by shoppers stockpiling ahead of lockdown.
Seeds of Change is the only top 10 brand declining in both value (45.3%) and volume (48.8%). "This is notably due to range contraction," says Nielsen analyst Juliette de Nettancourt.
Number two brand Tilda has experienced a 5% fall in volumes but secured 17.8% value growth through a rise in average price.
In fact, prices have increased across the entire top 10. Tilda and Twisted Flavour Co have led this "in absolute price terms" notes de Nettancourt.
"The drop in promotions during the period also contributed to the overall price increase we are seeing," she adds.
As with rice, noodles have enjoyed a strong performance that was driven by stockpiling.
Again, value gains were driven by the decline in promotional activity and resulting price increases.
The top three noodle brands have benefited the most. Amoy, Sharwood's and Blue Dragon are up in value by 53.4%, 56.4% and 85.7% respectively.
The usual innovation has been hard to come by in noodles, says de Nettancourt, as focus switched to supply. "New items launched this year remained small and accounted for only 0.8% of the total value."
Taste of overseas
Andre Burger, VP for foods & refreshments at Pot Noodle owner Unilever, says noodle products are particularly appealing to staycationers. "With many trips abroad on hold, we're all going mad for flavour right now, seeking a taste of the exotic. Cuisines from across the globe are tickling our tastebuds and flying off the shelves as we attempt to create the perfect fakeaway moment," he says.
And it's not just holidays Brits are missing. Natalie Sugarman, marketing director for grocery at Itsu, says the brand's instant noodle pots "are the perfect restaurant-quality lunch option" at a time when Brits are cutting back on eating out of home. "The noodle cups can be enjoyed on their own or used as a base for a meal, creating a variety of dishes by simply adding any leftovers, fridge staples or store ingredients." Plus, she adds, the range is "under 230 calories, gluten free, low in sugar, and three of the four flavours are suitable for vegans".
"With many trips abroad on hold, we're all going mad for flavour, seeking a taste of the exotic"
Health is perhaps not a subject associated with instant noodles, which came under fire in a 2016 Action on Sugar report that warned of "dangerously high" levels of salt in some brands. Times change, however. Better-for-you is becoming a trend. While Itsu touts its calorie credentials, Premier will this month expand its Batchelors Super Noodles Low Fat lineup with a new variant after the original duo delivered £1.3m in the past year.
Meanwhile, posh pot noodle brand Mr Lee's is focusing on veganism "to tap into appetite for a wider range of products that allow consumers to choose a more environmentally conscious diet". That ties in with a focus on clean ingredients, which are important to health-conscious noodle shoppers, insists brand founder & CEO Damien Lee.
"As well as dietary requirements, we've noticed that this market is also attracting consumers that are concerned with exactly what they're putting into their bodies in terms of chemicals and additives," he says. "Anyone in the food industry that wants to be successful needs to take note of such trends."
It's sound advice. Because like internet memes, food trends have a habit of spreading very quickly.
Innovations in rice & noodles 2020


Daniel Selwood is The Grocer's special projects editor, managing Britain's Biggest Brands, Britain's Biggest Alcohol Brands, The Dairymen and Top Products – as well as contributing to news, analyses and category reports.

He joined the magazine in January 2016 as food & drink editor, having been at financial & legal publisher LexisNexis for eight years.

He began his journalism career in the mid-1990s at a general interest magazine in Sheffield.

Follow Daniel on Twitter: @danielmcselwood