Sauces and condiments are no longer just a supporting act at mealtimes. Exotic, adventurous NPD is stealing the limelight
Sauces have typically been the bit on the side. The thing you dollop on the side of your plate, the afterthought in your meal planning. If they were in the film business, they would have played a supporting role.

Now that's all changing. Sauces and condiments are coming out from behind the sidelines to become the star of the show.

See the boom in restaurants specialising in weird and wonderful mayos for proof. Brighton's BeFries is less about its twice-cooked Belgian fries and more about its 20-strong range of sauces (including black truffle and dill & gherkin mayo). In London, Caravan's menu includes a fancy saffron mayonnaise, and Zelman Meats is targeting chilli heads with its fiery Holy F*** Mayo.

It's not just chip accompaniments. Punters rave about the rubs, marinades and sauces used at trendy barbecue joints such as Bodean's, South Bank's The BBQ Club and Red's True BBQ, the operation behind the eponymous brand of sauces and rubs listed in the big four.

So, how is all this playing out in the supermarkets? Which brands and retailers are cashing in on growing demand for show-stopping sauces and condiments? And who is being left on the shelf?

Every trend has its winners and losers. In this scenario, it's traditional sauces that are losing out. Ketchup, brown sauce and salad cream have all either stagnated or lost value [Kantar 52 w/e 19 May 2019].
"Brits are moving away from traditional sauces to more exciting and versatile products"
"We're seeing a fundamental shift in consumer demand," says Hazel Detsiny, VP of marketing foods at Unilever UK & Ireland. "Brits are moving away from these traditional sauces in favour of more exciting and versatile products, such as flavoured mayonnaise and hot chilli sauces."

These more exciting sauces are emerging as this year's winners. Nando's was the fastest-growing of the top 10 sauce brands, up 20% in value [Nielsen 52 w/e 13 July 2019]. The brand attributes that largely to a 53.2% increase in sales of its Peri-Peri mayos, which have topped £8m.

Blue Dragon is also reaping the rewards of demand for something a little more adventurous with a 15.7% gain, the second-largest of the top 10. The brand is looking to build on that success with its new Sriracha Mayonnaise.

The trend is inspiring brands to push boundaries with ever more daring and premium fare. Take challenger brand Tiptree, whose new truffle mayonnaise costs almost a fiver per jar.
Innovation in mayo
All of the above examples have one thing in common: mayo. And that's no coincidence. For mayo has stepped forward to become the focus of sauce innovation. No longer is it simply a choice of full-fat or lighter variants. New flavours, formats and brands are making mayo an exciting place to be.

It's the perfect proposition for increasingly experimental shoppers, says Deborah Milroy-Kent, condiments marketing controller at AB World Foods, owner of the Blue Dragon brand. "Consumers are looking for safe ways to try new flavours and inject some excitement into their food without overwhelming their dishes, and flavoured mayonnaises are the perfect way to do that."

It certainly seems to be doing the trick in terms of sales: mayonnaise grew a staggering £16m last year [Kantar]. Considering the entire category growth stood at £27m, that's no mean feat.
"Consumers are looking for safe ways to try new flavours and inject some excitement"
This momentum is being driven by both small and large brands. On the smaller side, we've seen Levi Roots' Caribbean-inspired Reggaenaise and flavoured mayos from startup The Foraging Fox, launched in September. The Foraging Fox says these mayos now account for 70% of its total online sales. That success inspired it to bring out a new spicy turmeric mayo, set to join the lineup next month.

Over in larger brands, Hellmann's is the one pushing boundaries. In July, it launched a four-strong range of luxury mayos into Waitrose, including new flavours Truffle and Aioli. That followed last September's launch of Hellmann's vegan mayo, now worth more than £1.2m. It was named the most successful NPD of the past 12 months by Nielsen, having been responsible for 32% of all new product sales in sauces in that period. All of which helped Hellmann's bounce back from its fresh competition with Heinz Seriously Good - competition that saw it lose more than £3.5m across its mayo lines last year - to post 0.7% growth in its mayo sales. Which brings us to another benefit of this innovation: price. Most of these new propositions carry a higher price point than your standard mayo. Hellmann's new luxury mayos cost £2.15, a step up from the brand's original £1.50 product. The vegan mayo also comes at a premium of £2.15 for 270g at Tesco.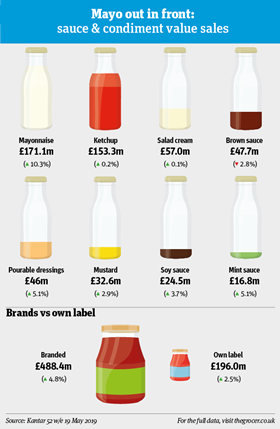 These higher-priced products have mitigated declining volumes. For Hellmann's mayo only managed to edge back into the black this year through average price hikes of 10% [Nielsen]. That's partly down to its innovation, and partly a reduction in promotional activity. Hellmann's volume on deal sales dropped fairly substantially from 72.5% to 65.6% over the past year.

In essence, it's hoping to put an end to the price war with Heinz, which prioritised volumes over value. Still, that has come at a cost. Heinz Seriously Good mayo has swiped shoppers directly from Hellmann's, according to Kantar. That helped the Heinz brand rack up a 23.9% value gain to £25.1m [Nielsen].
Heinz is clearly pleased with the result. "The launch of Seriously Good Mayonnaise just a few years ago has been genuinely category disrupting," says Lucy Cooke, junior brand manager at Heinz Sauces. "In the past year it's reached more than 4.7 million households, and its share is now at 16.4%."

It's not just mayo. Heinz has plenty to smile about in ketchup, too. The leading brand has added £2.4m to its sales, despite the overall slump in the sector. What's more, arch rival Hellmann's has given up the ghost. The brand pulled its range of premium ketchups, which included a Red & Green Tomatoes and a Honey Sweetened variant, in a move that will allow Unilever to "focus our efforts on innovating in mayonnaise and salad dressings", according to Detsiny.

Heinz has been quick to fill the gap. The brand launched its own range of premium Gourmet Ketchups in July, comprising Roasted Garlic & Sundried Tomato, Balsamic Vinegar & Sun Ripened Tomato, and Aromatic Herbs & Sun Ripened Tomato variants. "Each flavour features the familiar, much-loved taste of Heinz Tomato Ketchup with an adventurous twist and inspirational flavour combinations," says Cooke.

This all ties in with rising demand for premium ketchup. Rick Sheepshanks, founder of Stokes Sauces, says consumers are prepared to pay more for high-quality fare. That much is proven by his brand, which retails at £2.49 for 100g in Waitrose - nearly 75p more than a 460g bottle of Heinz. Even at this higher price point, consumers are biting. Stokes has grown 1% to £481k, cementing its position as the fifth-biggest ketchup brand [Nielsen].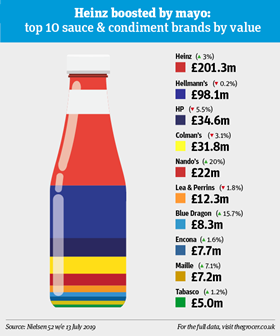 So on the face of it, Heinz is on trend. However, Sheepshanks doubts whether massive brands like Heinz can corner that market. "The bigger sauce players are trying to innovate with more upmarket launches, but ultimately their scale of operation means they'll never be able to match the quality of smaller brands like ours," he says. "Shoppers are working that out."

That's perhaps why Heinz's previous efforts didn't quite hit the mark. The brand's premium Special Blend tomato ketchup vanished from shelves in April 2009, just one year after launch. Heinz similarly struggled with its second attempt four years later - a Tomato Ketchup with Balsamic Vinegar, Basil & Oregano and a Tomato Ketchup with Roasted Garlic, Thyme & Honey - that hasn't been seen in supermarkets since 2014.

By contrast, smaller brands are reaping the rewards of premium fare. It's not just Stokes. Tiptree and Mr Organic both posted double-digit value gains of 13% and 46% respectively, equating to an extra £158k combined.

Still, you can't fault Heinz for trying to bring some innovation into ketchup. Will Breakey, founder of all-natural condiment brand Dr Will's, believes the lack of new options is hampering the performance of ketchup, which lingered around the £153m mark this year [Kantar]. The same goes for salad cream, which stagnated at £57m, and brown sauce, which lost £1.4m.
Excitement sought
"There's been a definite lack of excitement in these sectors," says Breakey. "Over in mayonnaise there's been an explosion of innovation, from spicy and avocado variants to vegan offerings, which hits the mark for the increasingly foodie consumer. The likes of ketchup just aren't at that level."

At least, the big brands aren't at that level. The challengers have noted the gap in the market. And they're innovating at a pace that would give mayo a run for its money. In The Buff, for example, expanded its protein ketchup range earlier this year with new Turmeric Fusion and Chipotle Spice flavours. Founder Nick Briggs believes this is what is needed to reinvigorate flagging ketchup sales.

"There just aren't enough alternative ketchup offerings that offer something truly innovative," says Briggs. "If you look at the big names in the sector, no true innovation has come from any of them save for the odd healthy variant."

Big names that fail to innovate are paying the price. They are losing sales to ambitious challenger brands, which are lining up to take their place with more exciting credentials. The BBQ market is a prime example. HP's BBQ lineup lost 20.1% of its value this year. Yet its Bull's-Eye BBQ range, positioned as a challenger brand, enjoyed £1m in extra sales. Similarly, startup brand Sweet Baby Ray's delivered 39% growth to £555k.
"If you look at the big names in ketchup, no true innovation has come from any of them"
This trend is influencing ranging and shelf space in the sauce aisle. Sweet Baby Ray's is increasingly prominent on shelf in Tesco and Sainsbury's. It's not the only challenger enjoying the spotlight. Across the mults, challenger brands like Mahi and Levi Roots are being pushed forward, while traditional brown sauce and Worcestershire brands are relegated to the bottom of the shelves.

Plus, Mahi and Levi Roots have an added benefit beyond their challenger status. Their spicy and exotic credentials play into another trend: growing demand for world flavours.

Blue Dragon is one brand that embodies that demand. Sales of its hot and spicy Asian sauce range reached £8.3m this year, with volume increases of 22% [Nielsen]. Keen to build on that growth, the brand rolled out a new range of modern Asian sauces in spring, targeting 'less confident cooks who are hesitant to include world sauces in their everyday repertoire'.

The new range includes an Indonesian Satay and a spicy Korean Gochujang. "We've seen consumers welcome the opportunity to add the delicious flavours of modern Asia to their everyday meals as easily as a drizzle on a chicken wrap or squeeze on chips," says AB World Foods' Milroy-Kent.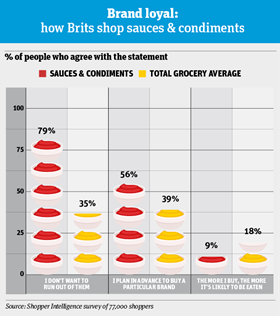 "Sauce shoppers are influenced by the food they're experiencing on holiday, as well as in high street restaurant chains and street food, which is driving desire for more adventurous flavours," she adds. The key to attracting these shoppers is through "providing adventurous but accessible flavoured sauces that allow consumers to add exciting flavours to their everyday dishes," she says.

Ben Ansah, founder of Korean food brand Yogiyo, says authenticity is another important factor for these shoppers. "What we're seeing now is a more discerning consumer who is looking for authenticity on shelf. There are a lot of products out there that are Korean-inspired, for example, but that aren't based on real, authentic Korean recipes. Shoppers want to buy the real thing, and they understand the difference between a big brand's world-inspired sauce and an authentic product these days."

It pays to get it right. For these sauces are appealing to a wide range of demographics. "We've found that well-travelled millennials are the most receptive to trying new sauces, but they're not the only age group we're seeing driving these new flavours," says Bing-yu Lee, general manager for Japanese sauce brand Kikkoman UK. "Shoppers with more disposable income, particularly the over-60s, are also willing to experiment with new flavoured sauces, and often have more time to browse the fixture."

Even dressings are getting more experimental. Demand for new flavours inspired RH Amar's Mary Berry brand to expand its dressings range in June with Blue Cheese and Fruity Pomegranate variants.

"We introduced the new products in response to shoppers trading up and exploring new flavours and experiences this year," says Anne-Marie Cannon, senior brand manager for Mary Berry's. Its existing range is also benefiting from consumers who want a touch of the exotic. The brand reports sales of its Honey & Balsamic and Mango, Lime & Chilli dressings are up 38% and 73% respectively in Ocado.
Brands lead the way
If all of this seems focused on brands, there's a reason. They have been the driving force of innovation in the market. That's paid off with a 4.8% increase in branded sales, equating to an extra £22.4m. It far outpaces the 2.5% - or £4.8m - gain in own label.

These numbers have even been enough to persuade the typically own-label heavy discounters to tweak their strategy. "A common misconception is that the discounters are driving performance solely through private label," says Kantar analyst Radhika Dhamecha. "However, it was the introduction of more brands in the sauces and condiments category that drove growth for Aldi and Lidl this year."
"It was the introduction of more brands that drove growth for Aldi and Lidl this year"
A look at the figures tells the story. Lidl and Aldi grew their sauce and condiment value sales by 17% and 8.4% respectively [Kantar]. Brands are the reason behind both of those increases. In Lidl, brands were up 54% while its own label range declined 2%. In Aldi, branded sales rose by an even more staggering 84%, compared with a modest 7% growth in its own lines. "Where private label has traditionally performed better in hard discounters, sauces and condiments are changing the game, and we're seeing Aldi and Lidl introduce more branded products as a result," explains Dhamecha.

The discounters' growth can largely be attributed to big-name brands like Colman's - the biggest branded driver for Lidl - and Hellmann's, which was the biggest driver for Aldi. However, discounters are quickly wising up to shopper interest in challenger brands. Lidl is now stocking Sweet Baby Ray's BBQ sauce, for example.

Which means big names had better watch out. For as sauces take a leading role, the battle for the limelight is only set to intensify. And challengers may not be content to be the supporting act for long.
Innovations in sauces & condiments 2019