Poor imitations of a regional curry will no longer cut it. Today's consumers want their world cuisine to be true to its origins
Brits are wising up about world cuisine. Not so long ago, the chicken tikka masala (rumoured to have been invented in Glasgow) and the balti (definitely invented in Birmingham) were considered the height of Indian gastronomy in Britain. And the spag bol was everyone's favourite Italian dish, despite the fact no self-respecting Italian would pour a ragù sauce over spaghetti (it should be served with fresh tagliatelle).

Nowadays, though, people are starting to demand the real deal. Just look at the blasting Sainsbury's got for putting a Persian 'curry' on the front cover of its magazine. M&S faced a similar backlash this summer over its Bengali Turmeric Curry Kit and Punjabi Pilau Kit, described by one food writer as "at best upsetting, and at worst, offensive and callous" for being totally inauthentic. And few could forget the furore caused by Jamie Oliver's 'Punchy Jerk Rice', which lacked the ingredients traditionally used in a Jamaican jerk marinade. So what's driving this quest for authenticity? How is it shaping supermarket world food aisles? And which retailers are hitting the mark with their meals?
Download the PDF version of this report
---
After a small dip in 2014 and 2015, the world food market has returned to growth over the past two years, according to Mintel's 2018 World Cuisines UK report. Retail value sales are estimated to have reached £1.64bn in 2017, which is 8% higher than in 2015. These extra sales are primarily coming from more 'exotic' cuisines. Although Italian still dominates the chilled ready meals category, for example, Mexican and Thai meals are leading the way in growth, with value sales up 15.7% and 14.2% respectively.
"As travel has become more accessible it has opened consumers' eyes to more exotic food"
"Consumer demand for new and different world cuisines has continued to grow in recent years with new options and formats being launched in response to this strong interest," says Jason Beaumont, director at PWbrands, which owns Urban Noodle and Epicure. "As travel has become more accessible to the wider population, it has opened consumers' eyes to more exotic food. Retailers have recognised this trend and looked to meet demand by continually enhancing their ranges on offer as well as stocking brands that deliver great taste and authenticity."

Indeed, there was a 68% increase in the number of holiday trips abroad taken by Brits from 1996 to 2016, according to ONS data. Even consumers who don't travel much have plenty more opportunities to broaden their culinary horizons. "Social media influencers and bloggers, TV cookery programmes, celebrity chefs, magazines and the internet also play a huge role in encouraging consumers to recreate international dishes themselves at home," says Tasneem Backhouse, joint managing director of EHL Ingredients. Perhaps the most significant influence, though, is coming from Britain's vibrant eating out scene. "Street food, market stalls, casual dining outlets and restaurants are bringing more world foods to UK consumers, making them available easily and for different eating occasions - formally and informally," Backhouse adds.
Regional differences
Going out for a curry, for example, certainly isn't what it used to be. While the curry house has long been a staple of the British high street, the arrival of fine dining restaurants and hip cafés serving authentic Indian fare is a more recent phenomenon. "The move from curry houses to fine dining establishments has been incredible," says chef and meal kit maker Hari Ghotra. "You only have to look at the queues outside restaurants such as Hoppers and Dishoom to realise that the love affair with Indian food continues. There are more Indian restaurants opening every day."
Consumers' view of Indian food is changing as a result, with a growing appreciation of the regional differences in the country's culinary culture. "There is now a realisation that Indian food is so different from region to region across India," Ghotra adds. "Not just the dishes but the local ingredients and styles of cooking are all important."
"The move from curry houses to fine dining establishments has been incredible"
This has inspired manufacturers and retailers to focus on regional recipes, which "deliver authenticity for consumers and showcase how varied and interesting cuisines can be", says Adarsh Sethia, MD of the The Spice Tailor. "The UK would fit into India 13 times and India has 20 times the population so imagine the variety of regional cooking that can be found," she stresses.

Chinese has undergone a similar revival on the back of the UK's eating out scene. "There has been a lot of experimentation with regional Chinese", says Tom Lee, editor of Food Spark. "Everyone has been blown away by how successful the Taiwanese bao has been - recently adapted by School of Wok into a meal kit sold by Tesco. Given the column inches dedicated to the recent opening of Xi'an Biang Biang Noodles in London - as well as the fact Sichuan's numbingly spicy delicacies and Xinjiang's Uighur specialities are appearing on menus and TV more and more frequently - there's definitely a growing awareness of the diversity of Chinese food."
As Lee mentions, this is translating into the supermarkets. Sharwood's launched a range of regional Indian and Chinese cooking sauces in late 2017, including Spicy Goan Curry, Kashmiri Creamy Curry and Hunan Smoky Chilli Sauce. "As supermarket shoppers widen their repertoire, we have an opportunity to attract younger shoppers to the cooking sauces aisle," says Daniel Jalalpour, brand director for cooking sauces at parent brand Premier Foods. "They have been exposed to a wider range of cultures and cuisines than previous generations, so innovation in this area needs to excite them."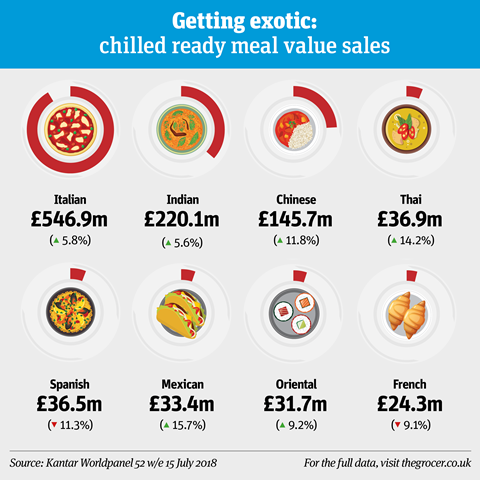 Find the full data at the bottom of this report
Street food
Another "huge trend" in the UK at the moment is street food, says Paul Watmore, marketing director at AB World Foods, which owns Blue Dragon and Patak's.
Asda and Waitrose both tipped Indian street food as a major trend for 2018, but Iceland was the first retailer to tap the trend with The Mumbai Food Company. The range hit shelves in January 2018, comprising 16 Indian "small plates" ranging from Goan Pulled Pork to Calcutta Kale Bhaji. Mintel predicts others will follow suit. With "vibrant vegetarian and vegan dishes ripe for exploration", it believes Indian street food is "a massive opportunity for NPD" amid the ongoing shift towards plant-based diets.
"The street food phenomenon is without doubt the main driver of growth for Thai options"
Innovative market stalls are also giving a boost to other Asian cuisines. "The street food phenomenon is without doubt the main driver of growth for Thai options, opening up more and more inspirational cooking ideas for consumers to replicate at home," says PWbrands' Beaumont. "Plus, the rise in recipes and cooking methods coming over from the likes of Indonesian and Malaysian cultures is ensuring diversification is here to stay."

It has inspired a boom in pan-Asian noodle and rice pots in the ambient aisles, with the likes of Naked Noodle and Urban Noodle tapping demand for authentic world food on the go. "As consumers continue to be intrigued by different cultures and cuisines - demonstrated by the explosion in street food vendors and restaurants offering diverse world cuisine - we're seeing demand for experimenting with new flavours and ingredients in the home in a simple and convenient format is also on the rise," says Beaumont.
Perhaps the biggest street food success story, however, has been Mexican. Once content with Tex-Mex fajitas and a bowl of Doritos, Brits are feasting out on everything from chipotle beef burritos to sea bass ceviche - and looking to recreate the experience at home. "The emergence of mainstream casual dining chains over the past few years has given far greater visibility to Mexican food," says Ben Jackson, founder of Capsicana, which recently expanded its range with two new seasoning mixes: Mexican Smoked Cumin & Chipotle and Brazilian Smoked Paprika & Spices, as well as a Mexican guacamole mix and Mexican Tangy Tomatillo. "Manufacturers have identified the opportunity to create ranges of retail products that satisfy this growing market."

Old El Paso was quick to seize on the street food trend with its Mexican Street Market range, which includes White Corn Tortillas made using a unique process it claims dates back to the Aztecs and two new soft taco kits - Smoky Chicken Tinga and Chargrilled Beef Carne Asada. All About Food, meanwhile, has overhauled the Wahaca retail range, launching three new meal kits with soft tacos that are "closer to the tacos we would see within the Mexican market". Mexican was also the focus of Iceland's latest addition to its street food range, featuring dishes such as Chicken Tinga and Chipotle Chilli Cauliflower Cheese.

Alongside these efforts, supermarkets are giving space to smaller brands with authentic Mexican heritage. Take Gran Luchito, which last year launched a four-strong range of cooking sauces, handmade in Mexico using high-quality local ingredients such as smoked chipotle peppers. Then there's Holy Moly, which launched a duo of fresh guacamoles made with hass avocados grown in a family orchard in rural Mexico.
As Brits get more experimental, Mexican is opening the door to other Central and Latin American cuisines. Peruvian, Brazilian and Cuban flavours are starting to make their way on to supermarket shelves. Fast-casual chain Las Iguanas launched an eight-strong range of ready meals into Sainsbury's last month, while last year Santa Maria launched its Latin American Kitchen range of sauces, rice, wraps, mixes and toppings.

"2018 welcomed a surge in popularity of Latin American food," says Capsicana's Jackson. "Vivid colours, bold flavours and a new wave of convenient and tasty cooking sauces and seasoning mixes make Mexican an appealing proposition. Mintel's data reveals scope for even greater growth for South American food, with 53% interested in eating it at home - the highest of any region."
The world cuisines seeing growth in the UK's 'spice race'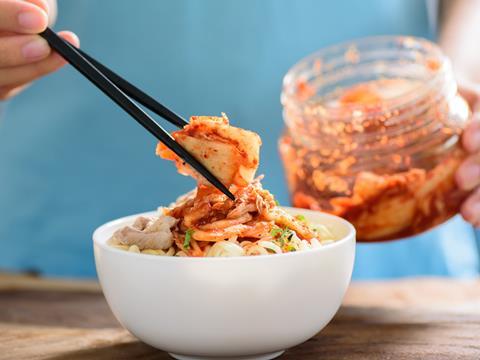 As British consumers get more adventurous, spicy and fermented foods have been tipped as big trends in the world food aisles. "As a nation we are tolerating more spicy foods so there is a bit of a spice race going on," says Hamish Renton, MD of HRA Global. "Fermented foods are also starting to percolate their way in - things like kimchi, sauerkraut and miso."
Kimchi - a fermented, spicy cabbage that taps the gut health trend (pictured above) and the desire for spicier foods - is particularly prevalent in Korean cuisine, which has "really been picking up steam" in big British cities, says Food Spark editor Tom Lee. "There have been several Korean-influenced product launches, including Schwartz's Korean BBQ seasoning, Yogiyo's sauces and Giraffe's Fiery Korean Wings," he adds.
Food from the Philippines could also make a splash in the UK this year, Lee predicts. "There's no doubt that the nation's purple yam, ube, is everywhere, colouring Instagram feeds purple, particularly in ice creams (pictured below) and the baked category," he says. "Filipino fast food chain Jollibee has just opened here, so it'll be interesting to see what effect that has on uptake, since their menu seems to soft sell Filipino tweaks to pretty standard American eats like burgers and fried chicken."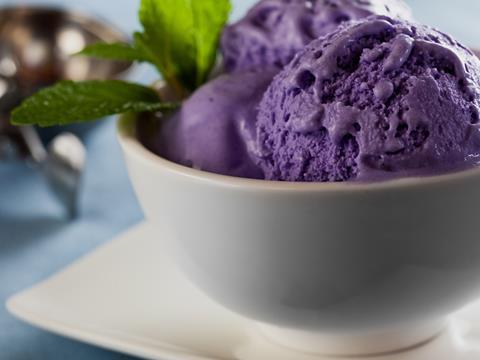 Caribbean cuisine is also growing in popularity, driven by "the rapid growth and visibility of Caribbean through restaurants such as Turtle Bay and Street Food outlets recognising the demand for authentic punchy world flavours", says Paul Watmore, marketing director at AB World Foods.
African food is another "one to watch", according to Jag Singh, marketing manager at Tropical Sun Foods. "With over 50 countries on the continent, there is certainly a lot to choose from. Nigerian and Ghanaian foods are most evidently making their way onto menus in the out-of-home space," he adds.
Making a meal of it
As more Brits seek to recreate these authentic world-inspired dishes at home, meal kits are rising in popularity. "Meal kits are seeing strong growth with 54% value increase in the last year in Oriental and 19% growth in Indian [Nielsen Scantrack w/e 6 October 2018], due to their ease of use and versatility," says Watmore of AB Foods.
Meal kits appeal to shoppers looking to "take back control" in the kitchen in a way ready meals don't, says Ghotra. "Street food is showing us the theatre of cooking is becoming important again so using real ingredients rather than processed sauces will give so much more," she adds. "This is why subscription box meals like Simply Cook are winning. These boxes make it easy but allow consumers to experiment and actually cook."
Crucially, they take the hard work out of experimenting in the kitchen, and make world cuisine accessible to everyone, says Jeremy Pang, founder of School of Wok. "By gathering together specialist ingredients and flavour combinations that would otherwise be expensive or impossible to find, meal kits allow all UK customers to achieve real, authentic flavours - no matter their distance from niche world food supermarkets."

They also have an important educational value that cooking sauces don't, he adds. "Provided with only sachets of spices or a box of raw ingredients, meal kits rely on customers engaging with the cooking process behind different dishes - and therefore they can be a gateway to learning about a whole new cuisine."

School of Wok's Bao Bun Kits - featuring flour mix, pickling salts, dry rub and glaze along with step-by-step instructions on creating four to six bao buns in 30 minutes - were just one of many new innovative meal kit products to hit shelves this year. Blue Dragon also recently expanded its range of meal kits into Japanese and Vietnamese cuisine with Katsu Curry, Ramen and Pho three-step meal kits. "With consumers travelling more often, and a variety of cuisines and flavours increasingly accessible through out of home, the challenge for world food brands is how best to deliver these new exciting cuisines for in-home consumption in an easy, convenient and accessible way," says Watmore.
Avoiding pitfalls
In the rush to develop new recipes and formats, however, brands and retailers should be mindful of the growing desire for authenticity, suggests Ghotra. "There have been some real slip-ups with supermarkets creating products for marketing purposes rather than authenticity," she adds. "M&S's Bengali Turmeric Curry Kit is a prime example of jumping on the turmeric bandwagon and giving the product a name that is actually all about marketing rather than authenticity."
This won't fly with the increasingly savvy British consumer, agrees Jag Singh, marketing manager at Tropical Sun Foods. "Some of the faux pas we've seen over recent times appear to be due to a lack of understanding on the part of some brands around the origins and traditions of some recipes and dishes," he adds. "This could easily have been avoided with further research and development and by engaging expert chefs with knowledge of the history and region."
"Dishes should make a nod to authenticity but should be adapted for a British palate"
One retailer doing just that is Iceland. "It has kept the focus on the dishes it knows will sell and these are the classics - korma, biryani, tikka and jalfrezi - but made them authentic by getting proper Indian chefs from some of the top restaurants in India to curate the recipes," says Ghotra. "This feels real, rather than creating dishes that don't have any Indian origin."
There is, of course, also a danger with trying to be too authentic. As Hamish Renton, MD of HRA Global points out, Brits are adapting to spicier food but they aren't quite ready for the full punch of flavour some cuisines deliver. "Choosing a dish that is completely polarising is a road that leads you on sales for 12 weeks and then you are out," he says. "So dishes should make a nod to authenticity, and perhaps have one or two signature ingredients, but ultimately they should be adapted for the British palate."

Pang agrees, pointing out the majority of the UK's successful, new-wave restaurants remain "fixated on fusion" because they need to cater to the tastes and trends of the UK mass market. "One hundred per cent authentic, traditional food won't always sell - in restaurants or in groceries," he says. "Certainly in the fmcg sector, we will need to continue to cater to the popular tastes of the public before we can explore more authentic (and therefore more adventurous) products."

So there may be mileage in the chicken tikka masala just yet.
Innovations in world cuisine 2018
Click on an image to expand