Jerky, scratchings and dried sausage brands rely on pubs and on-the-go snacking for much of their trade. So how have they fared in lockdown?
Lockdown is tough on us all. If you're a hyperactive sausage with an attitude problem, like Mr Peperami Man here, it is especially so. He's been telling us he's a 'bit of an animal' since 1993. And everyone knows animals can't be kept indoors for too long.
There is a serious point to this. Peperami positions itself as a protein hit for teenagers who are out doing whatever it is teenagers do these days, with YouTube videos of its posterboy performing parkour and visiting Thorpe Park. Fridge Raiders' recent ads use the tagline 'powered by protein' and feature commuters strutting to the office channelling all the power of 1980s stockbrokers.
Trouble is, our teenagers haven't been doing much of anything in 2020 and most of us have forgotten what the office looks like. With pubs (a key outlet for pork scratchings and beef jerky) shut for much of the year and growing numbers of consumers dodging meat, you might assume 2020 has been a write-off for meat snacks. So, has it?
It depends where you look. In retail, meat snack sales are up 12.1% to £19.1m on volumes up 6.6%, according to Nielsen [52 w/e 5 September 2020]. Not bad, you might think, but context is everything. Much of this is driven by average price rises and, in volume terms, the market's growth has slowed considerably since last year, when we reported growth of 11.2% on volumes up 9.7% [Nielsen 52 w/e 8 September 2019].
These numbers, which cover the multiples' EPoS but not the discounters, only tell part of the story. Out-of-home sales have dipped by 2.4% but volumes are up 5.5% [Kantar 52 w/e 4 October 2020]. This is impressive, given that pubs, restaurants and food-to-go outlets have been shut for much of the year. Pub closures hit many brands hard – pork snacks brand Serious Pig says up to two fifths of its sales dried up overnight – but the shutdown of schools, colleges and offices benefited many by driving growth in snacking.
"During the lockdown period there were 148 million more snacking occasions a week"
"During lockdown there were 148 million more snacking occasions a week," says Fridge Raiders brand manager Beth George, citing Kantar [4 w/e 19 April 2020]. "Snacking was highest amongst 16 to 24-year-olds, with 99% saying they've snacked in lockdown."
Healthier options particularly benefited from that. George notes a 110% increase in searches related to 'healthy snacks' in April [Prima]. She says growing demand for options that aren't stuffed with sugar and/or saturated fat helped drive 11.5% growth on volumes up 6.2% for Fridge Raiders, the second bestselling brand in the market.
"Consumers are trying to find inspiration for healthier options," says George, pointing to the April launch of Fridge Raiders Katsu Chicken Bites as an example of how the brand is trying to inspire. "Chilled food-to-go options allow people to get the nutrition they require in a world where breakfast, lunch and dinner are often not the norm."
Bestseller Peperami saw even higher growth of 15.2% on volumes up 9.5% [Nielsen]. Laura Trivulzio, marketing director for Peperami and Jack Link's, agrees that has been heavily driven by shoppers continually opting for higher protein and lower-sugar products (although it should be noted both Peperami and Fridge Raiders are relatively high in salt). With many consumers still living under Covid-19 restrictions, there is "increasing demand for nutritious, high-protein, energy boosting snacks".
So it makes sense Peperami is keen to cement its image as a healthy snack for active people. The brand roped in famous faces including boxer Anthony Joshua, presenter Maya Jama and singer Lewis Capaldi for its social media Love at First Bite campaign designed to highlight its range and the use of its Chicken Bites as a cooking ingredient, as well as a snack. Trivulzio says marketing campaigns such as these, retail presence and promotions are helping to raise awareness of the brand at a time when shoppers are making "emotional connections" with products.
"The category has become more about healthy convenience in the home"
Of course, smaller brands don't always have the luxury of big marketing budgets or a wide presence in retail. And with the supermarkets looking to drive efficiency as grocery sales boomed during lockdown, many have found themselves in a precarious position. Adapting to survive is the name of the game for a number of these players.
"Covid-19 has really accelerated brands looking to own their direct relationships with customers," says Nick Coleman, CEO of the Snaffling Pig pork scratchings brand, describing a "rush" in meat snacks players developing their own direct to consumer (DTC) platforms. He says his brand has long been omnichannel, selling everything from a pork scratchings Advent calendar to gifting jars via its website. "We've made sure we had a strong presence across all our channels and, through product innovations – snacks, gifting, beer and our Advent calendars – we've been able to de-risk the brand."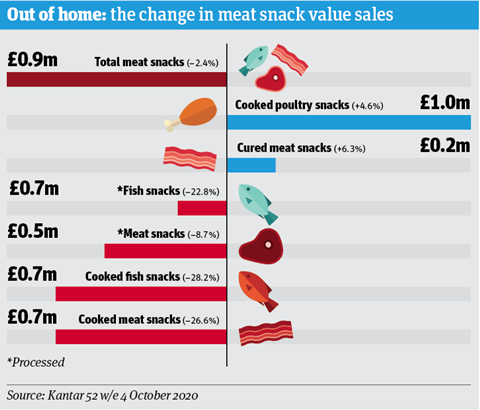 DTC platforms
In many cases, that diversification has been vital. Serious Pig founder George Rise says he saw between a third and two-fifths of sales disappear overnight owing to March's pub closures. To counteract that loss, the brand decided to take the pub to punters' homes with its Pub in the Post boxes available via its website. These are made up of a selection of its snacks, such as its bestseller snacking salami and Snackingham classic air-dried ham, with booze supplied by the likes of BrewDog and Sipsmith. "The boxes are really popular," says Rice. "We're even doing a Christmas version with branded stockings and a festive selection."
Craft jerky brand Billy Franks took DTC a step further by opening its Craft Beer & Snack Shack on the Bermondsey Beer Mile in October, following a Kickstarter campaign. "The closure of pubs and bars definitely hit us hard," says Lauren Yates, sales & marketing director for the brand, which supplies its range of pork, turkey and boozy jerky to a number of off and on-trade customers, including the BrewDog bar chain.
"We lost a big chunk of business. But the way the public got behind smaller, local businesses is so encouraging. We've seen a big increase in sales through our website and Amazon and people locally buying on click & collect. Our products are meant to be consumed with beer, so it made perfect sense to go direct to consumers with the shack."
Fellow craft jerky and pork puffs brand The Curators reports similar success. "We've always sold via our website but this year we've taken it to the next level," says co-founder Ed Huack, who says a third of his sales are now online. "At the start of the year, before Covid, we took the decision to invest more on learning the dark arts of Amazon. Since then our sales on Amazon have grown by more than 1,000% and we are the number one meat snack on there."
There is one possible challenge to all this: the growing number of people reducing their meat intake or cutting it out altogether. In response, The Curators has branched into nuts and Billy Franks and Australian meat snacks supplier New World Foods have launched vegan jerkies. "Our vegan jerky has quickly become one of our bestsellers," says CEO James Newitt.
Question is: could a certain 'bit of an animal' ever go vegan?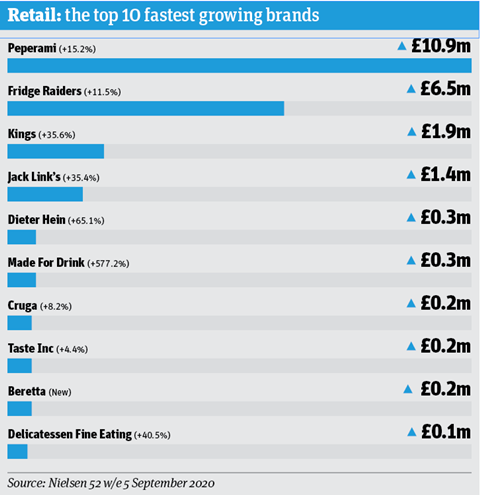 Innovations in meat snacks 2020