Pre-lockdown panic buying pushed Brits to the free-from aisle in droves, leaving shelves naked for those with dietary requirements
The free-from category can be many things. Free from gluten, free from dairy, free from allergens, or – as we've seen in the throes of the pandemic – free from stock. Because value sales of free-from foods have gone into hyperdrive since coronavirus struck. The category gained £33.8m over the four weeks to 16 May – a 17.6% rise compared with the same period last year – on volumes up 12.5% [Nielsen].
That massive rise in demand caused anxiety among shoppers with dietary requirements. "Those following a coeliac or gluten-free diet had concerns that issues over availability in regular core lines would also be reflected in the free-from category," says Wessanen UK marketing & category director Bryan Martins.
In some cases, those fears were founded. Coeliac UK experienced a 500% increase in calls to its helpline in the early weeks of the crisis, says CEO Hilary Croft, and up to 35% of those were concerned about not being able to find gluten-free goods due to the higher number of purchases among 'regular' shoppers.
"Those following a coeliac or gluten-free diet had concerns over availability issues"
Now the initial panic has calmed down though, a more regular pattern of consumption is emerging. And not all free-from brands are winning in this new era.
As was the case before Covid-19, dairy alternative brands have reaped the biggest value gains. Sales of free-from market leader Alpro hit £64.8m over the 12 weeks to 16 May – a 25% increase on the same period last year – while the trendy Oatly saw sales accelerate by a breakneck 123% to £21.1m, an £11.6m gain.
Alpro attributes its growth "to a combination of our existing shoppers stocking up on their favourite plant-based products to avoid running out, and new shoppers buying alternative products in the absence of their usual choice being on shelf". But she makes another key point: "Shoppers were understandably looking to long-life options that they could store easily at home."
Nielsen senior analytical consultant Kate Goodman also hammers home the appeal of free-from milks, which tend to have a longer life than their dairy counterparts, to shoppers who are stocking up.
It goes to show that the free-from boom was driven more by necessity than personal tastes. See other areas of the free-from market for proof. The home-baking boom meant Doves Farm gluten-free flour, for instance, went out of stock in Sainsbury's and Morrisons.
Of course, this was more problematic for coeliacs than your regular bakers. "Finding safe and suitable meal and snack solutions in normal times is already harder for these individuals as product choice in store is more restricted. In times like these, it can be extra challenging," said Doves founder Clare Marriage at the time.
"Finding safe and suitable food in normal times is already harder for these individuals"
In the face of that rampant demand, Doves Farm launched direct-to-consumer food boxes to keep shoppers stocked up. Other brands were also forced to do things differently. Free-from ambient ready meal startup Fiid had to "plug gaps in our supply chain", says founder Shane Ryan.
"It gives me post-traumatic stress just thinking about it," he says. "Given the nature of our product, it lent itself to stockpiling; our retail sales alone were up 100%. We are only 18 months old, and don't hold a lot of stock."
Still, Ryan describes it as a "very positive challenge" overall. "We went out on the road filling shelves and merchandising, and we were able to fill gaps left by other brands," he says. "There were many cases where brands were not able to supply, and we were able to go in just to maintain a bit of normality."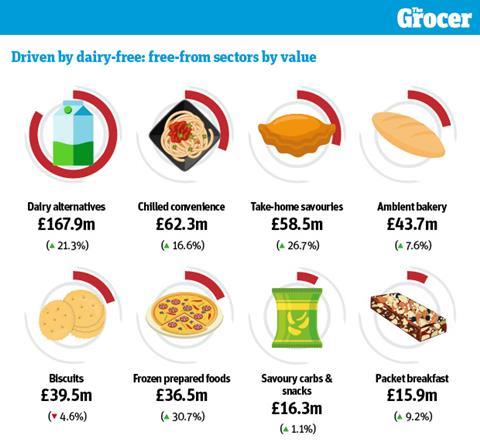 By far the largest sector of free-from, dairy alternatives shifted an extra 17.4% in volumes in the 12 weeks to 14 June.
At the same time, they added £29.5m more than in the same period last year.
Over the past year, dairy-free products brought in the biggest spend, adding £102m [Kantar 52 w/e 22 March 2020].
This was largely driven by purchase frequency: free-from shoppers made 29.1 trips on average, a rise of 14%.
Average price has risen, by 1.3% across the total category. At subcategory level, chilled convenience and frozen prepared foods saw the highest increases: 10.4% and 13.5% respectively.
The market is led by brands, but own label is holding its own, suggests Kantar analyst Bianca Draghici. "The Aldi private label range should definitely have a mention here, as it manages to bring the most spend contribution to the market overall".
Tesco has the strongest own label range of the big four, she adds. "However, Morrisons outperforms the other big four private label ranges in terms of growth, but from a smaller base".
Challenging perceptions
Big brands also did their best to be agile. Birds Eye significantly ramped up production of its free-from range "where it was possible and safe to do so". "As part of our response to the situation, products meeting dietary requirements – such as gluten-free ranges – were prioritised to meet demand while ensuring social distancing," says Birds Eye marketing director Sarah Koppens.
Barilla also upped its game. "Our gluten-free pasta products were included in our collection of 'essential' products identified during the Covid-19 crisis," says Barilla marketing manager for export markets Alberto Costella. "We put extra measures in place to deliver this range to retailers – such as increasing load capacity in transit and greater local sourcing."
He believes this short-term stockpiling could reap long-term rewards. Even if shoppers only bought the brand because there was nothing else on the shelves, it will help destroy the perception that free-from alternatives are lacking in taste, he suggests.
"Since March, 70,000-plus conversations around the topic of gluten-free pasta have been tracked on social media," says Costella. "Many discussions have been based around consumers purchasing gluten-free pasta as the regular alternative was out of stock and subsequently reporting surprise at the high taste and quality."
Costella's point is salient. Free-from brands have been working hard to improve quality and taste. In doing so, they have been making gradual inroads into the mainstream. The pandemic could speed things up by alerting shoppers to what's out there. "There doesn't need to be a compromise," stresses Meatless Farm chief growth officer Michael Hunter.
Debbie King, commercial sales & marketing director at snack maker Cofresh, owner of the free-from Eat Real brand, points to how far things have come. "Taste and quality have significantly improved to the point that a lot of the time people wouldn't even guess that what they're eating is free-from," she says.
Covid-19 buying habits haven't had a completely positive effect, though. As social distancing restrictions leave supermarket shoppers less inclined to browse the aisles, they have stuck with the familiar where possible. Dave Knowles, MD of Alpine Account Management, says shoppers "are much less likely to try something they've not heard of or spend time perusing, checking it out".
"A lot of the time people wouldn't even guess that what they're eating is free-from"
Indeed, March alone saw 71% of the UK's number one brands gain share in their respective categories, according to Kantar. For Birds Eye, this is understandable. "Shoppers have faced much uncertainty and new challenges over the past few months, so it's no surprise we've seen so many shoppers turn to the products that provide a degree of familiarity and comfort," says Koppens.
So smaller free-from brands won't necessarily reap quite the same rewards as the big boys. That effect is demonstrated by Nielsen data, which shows £27.7m of the £29.9m growth in the category over the past 12 weeks came from the top three brands.
There's also bad news for those that rely heavily on impulse and on-the-go occasions. Take Nakd, which includes a number of gluten-free lines among its cereal bar portfolio. Its sales were down almost a quarter over the 12 weeks to 16 May [Nielsen].
Fewer shoppers have been buying cereal bars "due to both fewer impulse on-the-go and planned consumption occasions as consumers work from home" says Nakd senior brand manager Louise Cullinane.
However, Nakd remains "confident consumers' desire for better-for-you and free-from remains strong and as we go back to normal, we will see consumers return, with Nakd having year-to-go retailer plans to support recovery, including our new Drizzled Chocolish bars".
The return to normal will, of course, represent a slowdown of the massive sales uplifts seen at the start of the pandemic. Prior to Covid-19, free-from was coming to the end of its growth spirt, points out Kantar analyst Bianca Draghici. "Free-from is becoming a mature market now, as it reaches a penetration limit, especially in brands, where there isn't much headroom for growth when it comes to shopper numbers," she says.
"Key to growth this year was increasing the number of trips shoppers made to pick up free-from lines. This should remain a focus for next year as well, considering that frequency is clearly a bigger driver for free-from than penetration."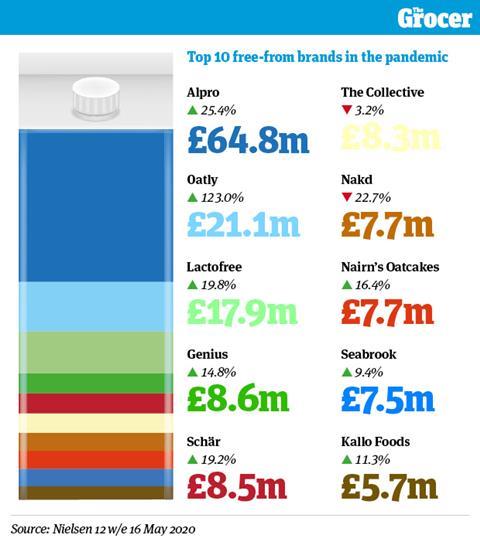 Sales of the top 10 free-from brands were up £29.9m over the 12 weeks to 16 May, compared with the same period in 2019.
Locked-down Brits have gone nuts for dairy alternative drinks, splashing out £27.7m more on top three brands Arla, Oatly and Arla's Lactofree alone.
Much of the growth for dairy alternative drinks came from shoppers who do not typically purchase free-from but bought into the category because of its longer-life credentials.
Arla may have racked up the highest absolute gain of £13.1m, but Oatly's was the biggest in percentage terms. The Swedish brand more than doubled its value.
Not all Oatly's success was from drinks, however. It launched ice cream in October. "Widening the breadth of categories is a trend many leading brands, have already done, and continue to do so, as a way to unlock growth opportunities," says Nielsen senior analytical consultant Kate Goodman.
Gluten-free breads also benefited from panic-buying, with Brits stocking up with whatever was on shelf – gluten-free or not.
But value rises are the results of more than just than panic-buying. Goodman says shoppers are "looking for a balanced diet and overall improved wellbeing" and are turning to free-from to satisfy that demand.
As Nakd's £2.3m decline shows, brands that are strong in on-the-go and impulse have suffered from the absence of commuters.
Crucial NPD
That maturity will have a knock-on effect on innovation, which has always been a driving force in the free-from market. In the past year alone, the number of free-from ranges has grown from 766 to 836 across the mults.
As the market becomes more crowded, it will become harder for those new products to gain ground. "Any new brands or brand extensions will need to justify their point of difference, as competition is strong in this market and there is constantly NPD hitting the shelves," says Draghici.
Plus, there is the impact of range rationalisation to take into account. Since coronavirus hit, supermarkets have been busy honing back their SKUs. There are now 13,724 fewer product lines in the top six supermarkets than at the start of March [Assosia w/c 15 June 2020 vs w/c 2 March 2020], a net fall of 9% – presenting obvious challenges for new listings.
Even if the mults are receptive, the looming recession could make it tough for businesses to invest in new products, warns Fiid's Ryan.
"It's going to be very hard to raise capital, especially for those whose channel strategies have been affected – such as in convenience or travel retail. And there are a huge number of young brands like this in free-from, particularly in snacking," he says.
"Everyone was basing their forecasts on consistent growth because that's all we've seen. Many who have raised big sums now cannot meet their KPIs. Anyone that was banking on a very different environment is going to find it difficult."
It's not all doom and gloom, though. In a more positive view of the future, Ryan believes the proliferation of free-from products could indicate a move away from dedicated fixtures. "There has been a normalisation of free-from as it becomes more commonplace in mainstream categories. We don't even sit in the free-from aisle," he says.
Retailers are increasingly positioning the category in line with broader health trends and less as a specialist need, he adds. "I think for a long time that segmentation was important because it was needed for people for whom free-from wasn't a choice, such as being gluten or lactose intolerant. They needed a place in store to find solutions. Now in snacking, retailers are incorporating it more and more into their offering. I think we will probably see a phasing out of free-from for a more health-focused aisle."
What's likely, he adds, is that there will be more of "a distinction between free-from health and free-from junk, which at the moment is all bunched in together. We are currently seeing this in plant-based at the moment: a huge division between health-focused and indulgent food."
Pricing dilemma
Not everyone wants free-from to be integrated into mainstream ranges, though. "I don't think that would work – because of how serious it can be if you have a dietary need," insists King of Cofresh. Those shoppers "will look at the products and they go to the free-from aisle because of the reassurance that the buyer has put it there," she says.
Plus, rate of sale could be affected, King adds. "While the category is good and in growth, from a buyer's perspective it might not sell as much."
This is in part because prices for free-from tend to err on the higher side. Stocking them alongside their regular counterparts will only serve to highlight that difference. Sadly, free-from brands can't afford to compete on price, says King. "Cost is the biggest challenge. In order to be free-from, whether you're in bread, pizza or snacks, you have to implement good controls.
"If you're free-from you need extra checks, and that adds cost which has to be passed on"
"You need to put in extra checks, dedicated production lines, extra testing," she says. "Everything is about control, which adds cost and has to be passed on to the retailers."
In any case, the massive increase in sales during lockdown has made King optimistic for the future. "I hope – and this is a massive hope – that retailers will continue to increase space, reducing categories that no longer meet consumer needs as ours grows with more unique brands."
If that does happen, the free-from growth spurt may not be over just yet.
Innovations in free-from 2020