Supermarkets are taking on coffee shops in food-to-go as Brits move away from everyday sandwiches to more premium offerings
A barista-staffed bar. Speciality drinks spanning honeycomb lattes and black forest hot chocolates. A range of hot paninis prepped speedily for the busy lunchtime crowd. When it comes to a coffee shop environment, Sainsbury's could give the likes of Caffè Nero and Costa a run for their money. Its 1869 coffee shops, rolled out as a trial across six stores at the end of last year, mark a departure from its tried-and-tested tactic of opening concessions from specialists such as Starbucks. Now it wants to beat the coffee shop giants at their own game.
Download the PDF version of this report
---

Sainsbury's isn't the only one. Morrisons has opened 17 more barista bars this year, taking the total number across its estate to 65. Serving 100% arabica coffee alongside a selection of pastries, cakes, sandwiches and salads, they have clear ambitions beyond your standard supermarket café.

The move into coffee shop territory is no coincidence. Because in the food-to-go market, up 4.1% to £25.1bn this year, supermarkets are losing share. "There's clear evidence of shoppers switching their lunchtime spend out of the multiples," says Tolga Necar, consumer insight director at Kantar Worldpanel. Instead, customers are plumping for more premium options from coffee shops, quick service restaurants and food-to-go specialists.

So how are supermarkets fighting back? Can coffee shop formats really win over choosier consumers? And what else are the mults doing to make their wares appeal to the ever-evolving lunch crowd?

The focus on coffee in the likes of Sainsbury's 1869 bars isn't a bad shout. For hot drinks enjoyed the second-highest value gains across food to go this year, beaten only by cold drinks. Sales of coffee, tea and hot chocolate climbed £258.6m to total £7.7bn [Kantar Worldpanel 52 w/e 9 September 2018]. On top of that, hot drinks account for the most annual trips - a whopping 3.5 billion - of any sector within food to go.

Coffee shops are the natural winner in this market. But early signs of the Sainsbury's experiment are positive. Four months after opening an 1869 concession at the Crawley West Green branch, the store manager said it had performed "above expectations". The openings also play into a major trend identified in a report by Allegra World Coffee Portal in the summer: the emergence of 'non-specialists' in the coffee shop arena. Thanks to the emergence of ever-more sophisticated coffee machines, a well-crafted cup of coffee is no longer the preserve of the experts. "From vending machines to hotels and supermarket cafés, technology is enabling non-traditional operators to become coffee destinations in their own right," said Allegra content manager Tobias Pearce at the time.

Fiona Speakman, food client director at out-of-home insight consultancy CGA, adds the introduction of supermarket barista bars is "likely to increase the competition in an already crowded market".
Coffee shop crossover
The success of these supermarket efforts could prove important, as the likes of Costa aren't just winning in hot drinks. "Cafe and coffee shop operators have really focused on improving their food of late, with many relaunching or extending their ranges with new products," says Kantar Worldpanel's Necar. "Advertisements for lunchtime menus have been a lot more present both in store and out on the high street, which encourages consumers to consider them more as a potential food option rather than just somewhere to pick up a coffee."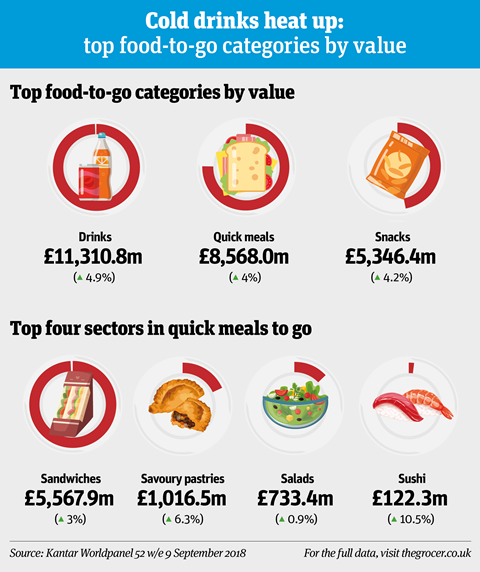 Find the full data at the bottom of this report

Indeed, latest menus from coffee shops include a Turkey & Emmental Shimmer Brioche at Costa, and a Butternut Squash, Falafel & Mixed Grain Salad at Caffè Nero. The message is clear: food is now on an equal footing with the hot drinks menu.

Supermarkets are also facing stiff competition from increasingly innovative food-to-go specialists. Pret a Manger boasts on-trend options such as a Protein Box and Almond Butter Bites, while Eat's offering includes such propositions as a roast in a Yorkshire pudding wrap with turkey, sage & onion stuffing and crispy bacon. This is food for consumers looking for far more than the standard cheese & pickle on their lunch break.
Counterintuitive as it may sound, the rise of the lunchbox has helped drive the success of these outlets. Brits have eaten 216 million more home-prepared lunches compared with the same period in 2017 [Kantar Worldpanel]. So when they do splash their cash on a food-to-go offer, they want it to be worth the dosh. "Brits were more selective with their money this year, saving food-to-go spend for fewer, more expensive occasions," says Kantar Worldpanel analyst Catriona Stewart. "The quick meal market is dominated by sandwiches, where many consumers traded up from standard triangle sandwiches into more premium options such as wraps and baguettes this year."
"Brits were more selective, saving spend for fewer, more expensive occasions"
This move towards premium options was the only thing saving the sandwich from a fall from grace this year. Despite a 0.9% drop in volume, a rise in average price pushed up the value of the sarnie by 3% to £5.6bn. "This year the average person spent £511, up 4% from the previous year," explains Stewart.

Supermarkets are capitalising on this shift away from functional, everyday lunches towards more occasional indulgence with ever-more experimental, luxurious food-to-go offerings. Tesco's food to go aisle features everything from a gin hot smoked salmon bagel to a turkey, avocado and emmental pretzel. M&S has world-inspired delights such as a roast chicken and chorizo sandwich on red pepper bread. The discounters are making similar efforts. Lidl's in-store bakery offers sweet chilli and a goat cheese & pesto focaccias to go, while Aldi's Specially Selected sandwich range includes pastrami and emmental cheese on rye bread.

This inventiveness has ramped up yet another gear as we approach to the festive season, typically home to the most bonkers supermarket creations. This year has spawned offerings such as a three-course sandwich offering from Tesco and a Sainsbury's Big Beef Christmas Sandwich, featuring rare beef, gravy mayonnaise and an entire Yorkshire pudding in a white roll.
Going vegan
Then there's the innovation inspired by the vegan movement. Both Asda and Tesco kicked off this year with new plant-based food-to-go ranges. While Asda's includes delicacies such as an Onion Bhaji Wrap with Mango & Apricot Chutney, Tesco's Wicked Kitchen range boasts a Moroccan-inspired bowl and a Sweet Potato Pakora Wrap. The range is set to double by the end of the year. "We're hoping to attract an even wider audience, including customers looking for on-the-go delicious snacks such as a plant-based sausage roll, pie or pasty as well as dessert lovers," says Tesco's product development director Kate Ewart. Co-op, meanwhile, waded further into vegan waters with new salad and sandwich SKUs, including a Smoked Almond Super Green Salad and a Coronation Chickpea sandwich, and Morrisons plant-based offer includes a vegan sushi pack for £2.
"We're hoping to attract customers looking for snacks such as a plant-based sausage roll"
While these own-label offerings make up the majority of sandwich sales, supermarkets are also increasingly open to more experimental branded options. See Jake & Nayns', whose four-strong range of ready to eat, curry-filled naan bread wraps Naansters have gained listings in Co-op, Spa and Londis in the past two months.

Still, it's not all about sandwiches. That much is evidenced by the performance of sushi, the fastest-growing sector in quick meals with a 10.5% rise in value to £122.3m on volumes up 5.4%. Indeed, sushi counters are becoming hot property in supermarkets. Waitrose has Sushi Daily concessions in more than 85 of its stores, Sainsbury's has rapidly rolled out its offering, M&S has a partnership with Wasabi, Asda launched its first Sushi Daily counter in October, and Tesco is testing out a partnership with Yo Sushi. Luisa Fernandez, marketing director at Yo Sushi, says the popularity of sushi is down to the benefits of health and convenience. "Shoppers are looking for a convenient, speedy solution for lunch that's easy to eat, and sushi can satisfy all of those needs."

Now supermarkets are starting to branch out beyond sushi into more experimental cuisines and formats. Sainsbury's in particular is pushing boundaries with its new Selly Oak store, unveiled in November. The bold new layout includes its first eat-in Food Market concept, featuring various branded and own label counters including Wok Street, Little India Kitchen and Fresh Kitchen. "Sainsbury's distinctive food is at the heart of our store and we hope people will try out our new Food Market," says Tom Balay, store manager at Sainsbury's Selly Oak.
Need for speed
Among all this culinary innovation, it's important to remember food is only part of the equation. There is a more practical reason why out-of-home players are winning over supermarkets: speed. "Time optimisation is coming into play more in food to go," says Rhian Thomas, head of shopper insight at IGD. "Food-to-go shoppers are prepared to invest their time in parts of the shopping journey that they enjoy, but they want to reduce the time spent in the more functional element of the trip, which is usually the transaction."
"Shoppers are looking for a convenient, speedy solution, and sushi can satisfy all those needs"
So the idea of navigating a busy supermarket can be off-putting. "There are so many options now on the high street. Most consumers want to spend nine out of the 10 minutes they spend shopping picking the food or waiting for it to be prepared. Long queues and distances between the food-to-go aisle and tills can cause shoppers to go elsewhere."

Speed is something many out-of-home players have nailed. It's a key priority for Japanese restaurant chain Itsu, for one. "We have a minimum of six tills in our smaller stores and often eight in the larger sites," says operations director Nicolas Barnoin. "We aim to serve our customers within 60 seconds of arrival, and ensure each till can process 22 transactions in 15 minutes. We also have automatically generated reports which measure our speed of service, so we can continually learn and improve."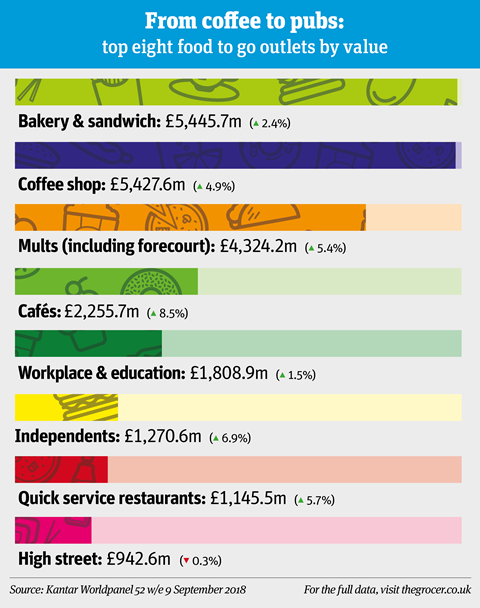 Find the full data at the bottom of this report

Others have turned to technology to make transactions smoother. Caffè Nero, for example, launched an app last April that allows customers to pay for their order and gain a stamp on their electronic loyalty cards in a matter of seconds.
Faster payments
Several retailers are now making similar moves to speed up the payment process. Last September, Sainsbury's trialled the latest queue-busting version SmartShop app at its Euston store, where customers walk in, scan items on their phones, pay for them via Apple Pay and leave. That project has since been extended to other stores.

Now rivals are dabbling in similar checkout-bypassing projects. In October, M&S announced the rollout of a scan and pay mobile app across six London stores to help shoppers skip queues during busy periods. "The app saves time on the payment experience, which also means we can have more colleagues where our customers want them, on the shop floor making sure the fresh sandwiches are out," says Lauren Stratton, foods manager at the store.

That same month, Asda trialled a mobile phone version of its Scan & Go shopping service, geared towards its smaller, high-footfall stores.

Pay and go apps could be money well spent for retailers in the year ahead, as the number of consumers prioritising speed shows no signs of slowing. "In the last year alone there has been an additional 224 million consumption occasions where someone has cited speed as a reason for selecting food or drink product," says Kantar's Necar.

Then, of course, there are the rumours that Amazon Go is coming to the UK. In October, the behemoth was reported to be seeking property to launch its checkout-free concept store in the UK. The first store in Seattle has a strong focus on food to go, offering a range of ready-to-eat breakfasts, lunches, dinners and snacks made by its chefs and local kitchens and bakeries. If the concept comes this way, supermarkets may soon have an even more fierce competitor in their sights.
Innovations in food to go 2018
Click on an image to expand