Sugar is a demon, or so health lobbyists would have us believe. Jamie Oliver's calls for a soft drinks tax may have fallen on deaf ears, but the industry still says it's at war with the white stuff: Morrisons and M&S are the latest to scrap sweets from tills, for instance.

It might then come as a surprise that sales of cakes & biscuits are holding up pretty well. Brits have forked out an extra £43.2m on them; the market is up 1.2% to £3.8bn on volumes up 0.5% [Kantar 52 w/e 21 July 2015]. Granted, the growth is hardly blistering, but it's going in the right direction. A year ago we reported growth of 1.1% on volumes up 0.3%.

That growth has accelerated in a year characterised by price deflation, range rationalisation and growing concern over sugar and health in general is impressive. Some sectors, such as savoury biscuits and sweet treats for special occasions, are up by double digits (see p58). Why? And how long will it last?

For some sectors, growing concern over health has, in fact, helped. Take savoury biscuits, sales of which are up 6.1% to £153.6m on volumes up 4%. According to Kantar, the sector's 1o fastest growers have put an extra £32.4m through the tills in the past year, making it one of category's star performers.

The savoury snacks boom is partly driven by health concerns, says United Biscuits MD Jon Eggleton. "Baked products are very much perceived as better for you than a fried product," he says. "If you look at savoury, a lot of the growth is in snacking products. People aren't switching out of sweet; they're switching out of fried (crisps) into baked. That's a great opportunity for us and a great opportunity for the market."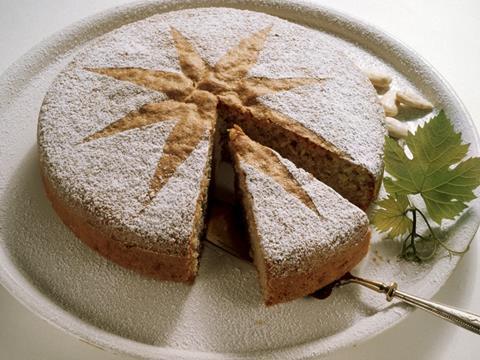 Biscuits is in 0.5% value growth, but there are huge contrasts between sweet and savoury. Savoury grew 6.9% in value while sweet declined by 0.9%.
Brands are driving growth, but prices are flat for the first time in five years. No longer can brands grow by passing higher prices on to shoppers.
In sweet biscuits, prices have been driven down by retailer price competition.
Looking at the retailers, M&S, Lidl and Aldi have seen the strongest growth. In M&S's case its performance was founded on a strong Christmas. These retailers also performed strongly in cakes.
Overall, cakes are doing better than biscuits, with value up 2.4% on volumes up 2.2%. Own-label small cakes, malt loaf and whole cakes are the biggest contributors to this growth.
Similarly to biscuits,the category overall has stayed clear of major price fluctuations.
Cadbury Swiss Roll, Soreen Malt Loaf and Mr Kipling Fruit Tarts are some of the biggest growers.
Elliott Beekhoff, Kantar Worldpanel
Baked snacks

In short, the development of baked savoury snacks in on-the-go formats is driving much of the growth by stealing sales from crisps, the traditional king of British snack time. For example, in the past year Walkers has expanded the Sensations sub-brand with Crispy Thins, a range of baked crackers, while Mondelez has rolled out Ritz Crisp & Thin.

The Grocer can claim a small part in the success of the sector's fastest grower, Fish n Chips, which was relaunched by Burton's Biscuit Co in January 2014 after consumers identified it as a brand they'd like to see return in our Bring Back A Brand campaign. Value sales have surged 165% in the past year [Kantar] and Burton's hopes to sustain growth following the May launch of pickled onion and curry sauce flavoured variants.

"The Fish n Chips business over the last year has been worth over £20m, which is new revenue to Burton's. We are also driving 42% of total savoury biscuit growth, according to Nielsen figures," says Burton's head of customer category management David Costello. He adds that the decision to move into savoury snacks had nothing to do with health. "We were looking at areas that are going to drive growth, and savoury was the biggest trend. That is an area that played to our strength in being a baker of great tasting treats."

Emphasis on the word 'treat': there's nothing explicitly 'healthy' about the marketing of Fish n Chips or the rest of Kantar's fastest growing savoury snacks, which include Jacob's Crispbreads (up £6.7m) and Ritz Breaks (up £4.7m). It's noteworthy that Ryvita, which has always been marketed on health grounds, is struggling. According to IRI, value is down 7.2% on volumes down 6.1% [52 w/e 15 August 2015].

Ryvita's decline is contrary to the solid growth in the wider crackers & crispbreads sector identified by Kantar. To an extent it mirrors the general trend in grocery away from products formulated to be 'healthier' (there's a growing perception that less processed foods are better for you); the brand's £4.5m loss is also the result of growing competition from the likes of Jacob's.

Ryvita is looking to compete, partly with a packaging revamp aimed at showcasing the products' versatility (packs bear pictures showing the crackers with a variety of toppings) and by giving them a more premium feel with the addition of the word 'Deli' to the core crispbread range.

On the go

A greater focus on on-the-go formats could well pay off for the struggling brand (currently Ryvita's only on-the-go offering is the Minis range, available in salt & vinegar, sweet chilli and cream cheese & chives). Its rivals are certainly paying this area greater attention. In May, UB launched Jacob's Cracker Crisps in Sea Salt & Balsamic Vinegar, Thai Sweet Chilli, and Sour Cream & Chive variants.

"It's no coincidence that a lot of the healthier products you have seen in the last five to 10 years are 'on the go' portion packs," says Eggleton at UB, whose Go Ahead range of healthier biscuits also comes in on-the-go packs and is pitched as biscuits 'you can take anywhere'. Boosted by a recent relaunch, the Go Ahead range has seen value sales climb 3.7% on volumes up 8% in the past year [IRI]. "On the go is still a big opportunity," stresses Eggleton.

Border Biscuits also claims great success with its Luxury mini packs, which contain two biscuits wrapped for snacking occasions. "The snacking market has grown significantly in the past few years due to busier lifestyles creating a demand for consuming food 'on the go'," says Lesley Ann Gray, brand & marketing manager at Border Biscuits. "Over 22 million of our Mini Packs, featuring favourites from the Classic range, are sold every year, which is a 15% increase year on year."

It's not just in biscuits that on the go is driving growth. Last month Finsbury Group unveiled a new range of Thorntons-branded cake bites. Thorntons Little Temptations - clusters of chocolate, cornflakes and fudge in milk and dark varieties - went into retailers including Tesco, Asda, Morrisons, The Co-operative Group and Nisa, in 110g zip-lock bags, which Finsbury said was a sector first.

"As market leader in the cake bites segment, we know what works well," said Finsbury Food Group brand manager Natalie Nairn at the time of the launch. "We are excited to be launching the first cake bite into the market that is packaged in a fantastic re-sealable bag. Increasing numbers of consumers want treats that can be shared in and out of home and we believe the format of Little Temptations fits this perfectly."

Meanwhile, UB reports strong growth in its McVitie's Cake Slices, and Kantar figures show that value sales of Mr Kipling Slices have surged 5.8%. Soreen, meanwhile, says its Lunchbox Loaves have seen strong growth, helping drive the malt loaf sector's 7.7% rise on volumes up 5.4% [Kantar].

"We observed a need for a more convenient, portable format in 2008 and this led to the development of the pre-buttered snack packs, mini loaves, lunchbox loaves and most recently Breakfast Bakes," says Soreen marketing director Beth Brown. These on-the-go breakfast bars, released in September, come in three flavours: Original Malt, Apple & Cinnamon and Fruity Five (rsp: £2 for a pack of five). "Fifty five per cent of adults now eat breakfast out of home and this rises to 75% of 25-34s," adds Brown. "On-the-go breakfasting is becoming more commonplace."

If you need more proof of how breakfast is fast becoming one of the most important times of the day for the sector, just look at the continuing growth of Belvita, which has enjoyed a 10.6% surge on volumes up 7.7% in the past year [IRI]. Brand owner Mondelez puts the growth partly down to the launch of new variants including Belvita Tops and Belvita Soft Bakes, backed by an £8m marketing investment earlier in 2015.

"We believe these new additions to the Belvita range answer category needs, therefore driving incremental sales as well as attracting new consumers to the category by offering both a different taste and texture experience," says Rick Lawrence, biscuits, crisps & snacks category lead for Mondelez International UK and Ireland.

Portion control

The development of smaller snacking formats has another benefit in this increasingly health-conscious age: portion control. And with the health lobby and tabloid press scrutinising the sugar content of food & drink, providing more tightly controlled portions is preferable to going down the reformulation route, says UB's Eggleton.

"The reality is we have looked at reformulation and we've never cracked it," he says. "If you take out sugar you have to replace it with something else that will add in calories. That doesn't really help with obesity and secondly it fundamentally changes the taste.

"We don't have a magic solution to taking out sugar, reducing calories and maintaining the taste of our products. We can either offer portions of biscuits in two or three, we can reduce the pack sizes of our products and we can, if we wanted to, reduce the size of our biscuits as an alternative, although I am not suggesting we would change the sizes of our big products."

Burton's Costello has a similar view. There are no plans to reformulate Burton's existing brands for similar reasons - because consumers do not want to compromise on taste. "It is no longer the case that people are looking for weight reduction products; it is more that people realise snacking is a treat and want to make sure they control how much they eat and when they eat it," he says. Burton's has offered more portion control options in the past 18 months on its products, in particular Cadbury Fingers and Maryland cookies, in response to this consumer demand.

Others are looking to develop products using ingredients perceived as more wholesome. For example, Cadbury Dairy Milk Oat Crunch racked up £1.3m at the tills in its first five months following its launch earlier this February [IRI].

Premier Foods says it is looking to incorporate oats in new recipes for its Mr Kipling and Cadbury Cakes, made under licence from Mondelez. The company hasn't ruled out reformulation either, thought it says it will be taking a "slowly slowly" approach with this.

"The best way to do it is gradually so people can get accustomed to lower sugar levels rather than big step changes," says Phil Ellis, marketing director for sweet treats at Premier Foods. "We want consumers to have clear information on the choices they make so we have instigated front-of-pack labelling and think we are the only branded cake that does that."
Treats
That's not to say health is necessarily at the front of shoppers' minds when they are buying cakes & biscuits, says Eggleton; they are still seen as treats, after all. "If you eat biscuits as part of a balanced diet they are not like other categories in terms of calories or sugar," he says. "Realistically if you eat two or three biscuits it is very different to drinking a can of fizzy soft drink."

This helps explain the resilience of many core sectors in cakes & biscuits. For example, biscuits such as McVitie's Chocolate Digestives, Jaffa Cakes and Oreo - categorised as 'everyday treats' by Kantar - have stood their ground over the course of the past year, with value dipping 0.8% to £381.4m on volumes that have inched up 0.6%. Hardly a stellar performance, granted, but it's worthy of note that this is a stronger showing than the everyday biscuits sector, covering products such as plain Digestives, Rich Tea and Custard Creams, which has seen value fall 1.2% and volumes fall 0.9%.

It seems a growing number of Brits prefer their Digestives with chocolate these days. Chocolate Digestives have been the stand-out winner of the everyday treats sector, according to Kantar, with value sales surging 6.7% to £72m on volumes up 11.8%. UB says this is down to a combination of distribution gains, particularly in the convenience sector, and greater use of volume driving deals. Analysis from Assosia reveals that the McVitie's master brands has enjoyed a 13% rise in featured space deals in the past year [52 w/e 31 August 2015] and further insight from Kantar shows that 81.6% of Chocolate Digestive sales have been on promotion over the past year.

No wonder average prices are falling in the category. Kit Kat, for example, has enjoyed some of the strongest growth in biscuits of the past year, putting an extra £12.2m through the tills [IRI], thanks partly to a 3.2% fall in average price driven by a sharp spike in volume sold on deal from 69.2% to 76.3% over the past year [Kantar].

A crucial factor in the ongoing price deflation is the discounters' growing strength in cakes & biscuits. According to Kantar, Aldi and Lidl overtrade significantly in this sector (see p61), and with both retailers in strong growth, the multiple grocers are being forced to be more aggressive on price, says Eggleton at UB, which pulled out of Aldi last year because of the retailer's focus on cut-price own label over brands.

Innovation

"We concentrate on the multiple grocers and bargain stores, which is our growth model," says Eggleton. "There is a lot of talk about the discounters and they have indeed had some good growth in all categories, including biscuits. But by 2018 they will represent just under 10% of the biscuit market. Grocers are always looking at innovation and over the last two months we have been presenting our 2016 plan to all customers and we have had a great response as these brands include incremental opportunities."

One brand that's looking to put value back into the sector is Tuckey's Proper, launched in 2014 by former McVitie's marketing director Simon Tuckey to challenge mainstream brands that Tuckey claims "have taken the good stuff" out of their recipes. This month the brand was given a revamp and rolled out into 130 Waitrose stores. "We are trying to reverse many years of quality and price degradation in biscuits," said Tuckey earlier this month. "It's not a quick job."

Value-added NPD will be vital if retailers and brands are to avoid a race to the bottom in terms of price, particularly in light of ongoing range rationalisation exemplified by Tesco's Project Reset, which has so far seen a number of high-profile brands, including Carlsberg, removed from its shelves. Indeed, Tuckey's Proper was the victim of what the brand describes as a "major cull of brands" at Sainsbury's in June.

Some are looking to justify their place on shelf by developing new flavours that appeal to consumers' changing tastes. In August Bahlsen expanded its Pick Up biscuit brand with new Dark Chocolate and Choco & Caramel variants. A month earlier, Burton's added a peanut flavoured biscuit to its Maryland Gooeys range.
Bonne Maman Madeleines Christmas Tin

Manufacturer: Bonne Maman 
Launched: October 2015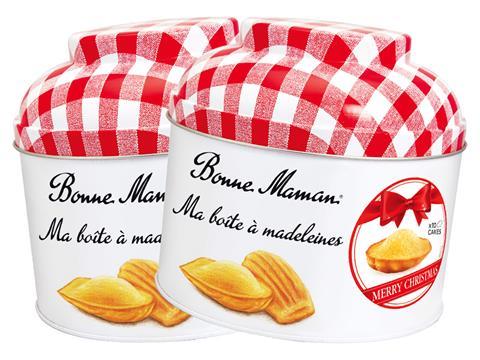 Merry Christmas, or should that be Joyeux Noël from Bonne Maman as it launches its alternative Christmas tin designed to capitalise on consumer desire for special treats over the festive season. The limited-edition tin (rsp: £3.99) will contain 10 individually wrapped Bonne Maman Madeleines, all made from an authentic recipe of almond, vanilla and light sponge. Launching in time for the Christmas rush, they'll be available in Waitrose, Ocado, Londis and Budgens.

Chocolate Christmas Gift Range

Manufacturer: Border Biscuits

Launched: August 2015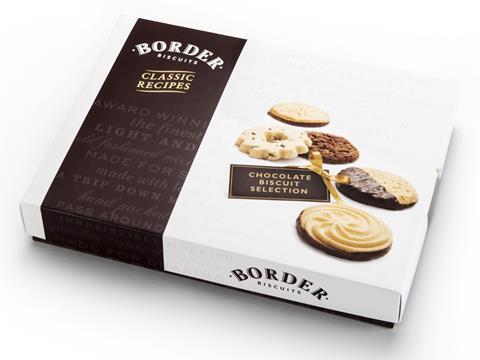 Bringing the best of its Classic range together, Border Biscuits has a new assortment box for 2015. The 500g pack (rsp: £9.00) is on sale in Debenhams and comprises Choc Chip Shortbread Rings, Divinely Chocolatey Cookies, Devilishly Dark Chocolatey Cookies, Light & Chocolatey Viennese and Chocolatey Oat Crummmbles.

McVitie's Victoria Sapphire

Manufacturer: United Biscuits

Launched: September 2015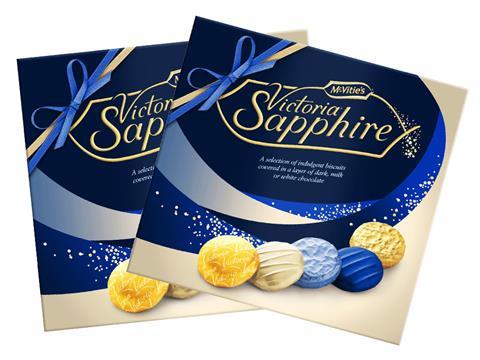 United Biscuits is extending its number one premium assortment range with a festive addition. Victoria Sapphire (rsp: £6.50) offers an indulgent selection of fully coated shortcake and cream biscuits in milk, white and dark chocolate in a 385g pack. The foiled biscuits are presented in a pack with a mirror-effect finish.

Belvita Soft Bakes

Manufacturer: Mondelez

Launched: August 2015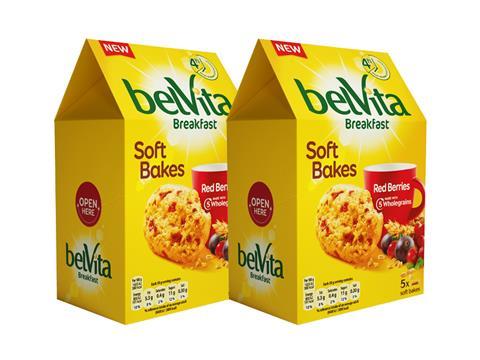 BelVita has been shaking up the healthy biscuit category for some time. Its latest launch, Soft Bakes, is no exception. Available in two flavours - Red Berries and Golden Grain - the packs tap the on-the-go occasion and are sold in 250g packs that hold five individually wrapped Soft Bake biscuits (rsp: £2.79).
Range rationalisation

Such innovation is vital in the current climate, says Costello. "There is a lot of simplification of range to make it easier for shoppers," he says. "It is a very competitive area and the market has gone through a period of battle to retain shoppers. This has been driving a lot of volume but a lot of value out of the marketplace. What we are effectively seeing is this reversing and the market getting back to positive value growth. Retailers are recognising that what people actually want is added value."

They also want to be indulged, it would seem. One of the fastest growing sectors in cakes & biscuits of the past year has been what Kantar calls 'special treats': products such as selection boxes that are given as gifts or consumed on special occasions. Value sales have risen 22.2% to £170.1m on volumes up 22.1%. Contrary to the rest of the market, it's own label that's driving most of the growth in treats, with tinned selection boxes from retailers helping to send own label sales up a whopping 61.5% on volumes up 52.7%. In the meantime, brands are up 4.2% on volumes up 6.9%.

One such brand that's enjoying growing demand for its indulgent treats is Thomas J Fudge, which reports value growth of 14% across its sweet range and 34% growth year on year on its Florentines. Earlier this year the brand launched Salted Caramel Florentines and Mini Florentines in a bid to sustain momentum.

It's not just in biscuits that things are getting more indulgent. Premier Foods has recently launched Hot Cakes to expand the Cadbury cake offer, along with a giant French Fancy called the Fabulous Fancy to widen the product's use. "The challenge for us is finding the right format so people can buy it more often and add value into the category by adding indulgent products," says Ellis at Premier Foods. "Cadbury Hot Cakes were launched because it stretches the occasions when people might want to eat a cake."

Competition looks set to heat up in cakes, if the glut in recent NPD is anything to go by. Kantar highlights Cadbury Donuts, which were launched in 2014 and have so far racked up £3.3m, as one of the stand-out innovations of the past year. September's UK launch of two new flavours (banana and chocolate) of Twinkies, one of the biggest cake brands in the US, could also ruffle a few feathers.

"Consumers' insatiable appetite for all things American is growing," says Vishal Madhu, director at importer and distributor Innovative Bites, which currently supplies Twinkies to a host of retailers including Tesco, Sainsbury's, Ocado, WH Smith and Selfridges. "It made perfect sense to bring Twinkies to the UK in new flavours."
Festive favourites in need of value boost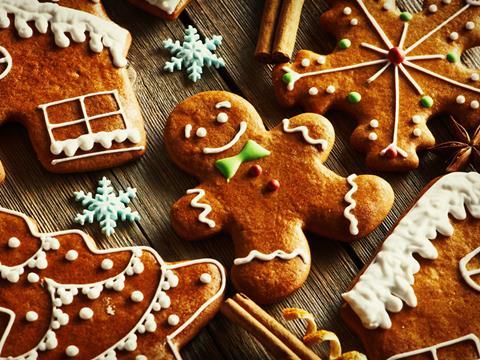 Things aren't looking so jolly for seasonal biscuits, suggesting they've been put on the naughty list.
Sales have crashed by 17.7% in value on volumes down 13.5%, as own-label volumes have plummeted by nearly a quarter [Kantar 52 w/e 21 July 2015].

Brands have fared little better, with a 14.8% drop in value and a 6.1% fall in volume.

The figures show a crying need to add value, says Burton's David Costello. "Last year the retailers that did well were the ones that stepped back and added value. It wasn't the ones who sold purely on price to drive volume.

"We need to get back to the basics of Christmas. It's all about excitement and delighting people," he adds, noting impulse and special occasions are key to seasonal purchases.

United Biscuits' Jon Eggleton agrees there's a wealth of opportunity in the seasonal market.

"From our point of view we had a fantastic Christmas last year," he says. "Our seasonal product Victoria is worth over £11m and it grew 6% in value and more than that in volume over the year. Family Circle is worth £9m and grew massively last year."

The Victoria brand ran its first TV ads in 30 years last year and has launched premium Victoria Sapphire to appeal to more indulgent biscuit eaters.

It's not just sweet treats that get a seasonal boost. "We get a huge uplift in our share of the market because of Jacob's Crackers and the big selection cartons," says Eggleton. "Christmas is still very traditional and people want what they've always had. Twiglets and Cheeselets are massive brands."

Christmas is also a big opportunity for cakes. Premier Foods' Cadbury Cakes grew 6% last year and it sold over 43 million Mr Kipling mince pies. "We see a lot of interest in new packaging formats we bring to market," says Premier Foods' Ellis. "We have a Christmas cracker with the Cadbury Mini Rolls, which is seen as a way of adding value to the category."
Festive treats
Of course at this time of year the sector starts looking forward to its biggest sales opportunity: Christmas. And the biggest players in cakes & biscuits are pulling out the stops this year after sales of seasonal biscuits slumped 17.7% on volumes down 13.5% [Kantar], although Mince Pies did hold steady with value inching up 0.2% on volumes up 1.8%.

Soreen is looking to give mince pies a run for their money with a Festive Loaf (see left) and UB wants a bigger slice of the seasonal pie with the return of Galaxy Mistletoe Kisses and Penguin Yule Logs. It's also taking Chocolate Digestives into cakes with Chocolate & Orange and Chocolate & Mint cake slices and giving Jaffa Cake bars a seasonal makeover with a cranberry variant.

Even Jacob's is getting a Christmas makeover with Cream Crackers being rebranded as Christmas Crackers and embossed with festive messages such as 'Have A Cool Yule' and 'A Very Merry Christmas.' With initiatives like that, it could well be.
Fabulous Fancy

Manufacturer: Premier Foods 
Launched: September 2014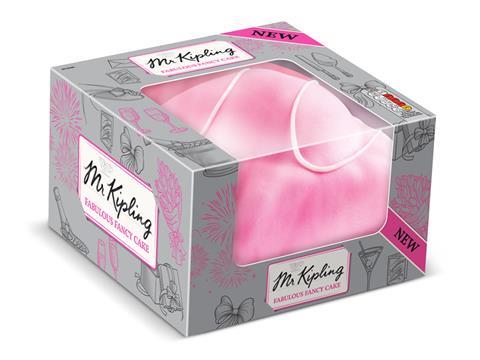 What's better than a French Fancy? A jumbo-sized French Fancy also known as the Fabulous Fancy (£4.99). This giant version has a jam and vanilla-flavoured filling below the iconic pink icing and follows the successful Big Pink French Fancy available over a year ago. The new version of the well-known cake aims to tap the indulgent treat category and coincides with a packaging revamp across the Mr Kipling portfolio.

Cadbury Hot Cakes

Manufacturer: Premier Foods

Launched: September 2015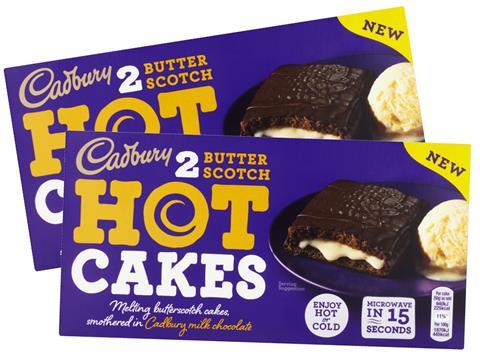 Cadbury has entered new territory with its after-dinner dessert treat Hot Cakes (rsp: £1.79 for two). Available in two flavours - Double Chocolate and Butterscotch - they take only 15 seconds in the microwave to prepare, offering an ideal solution for time-poor consumers or those in need of a quick after-dinner treat. They can also be enjoyed cold.

Soreen Festive Loaf

Manufacturer: Samworth Brothers

Launched: November 2015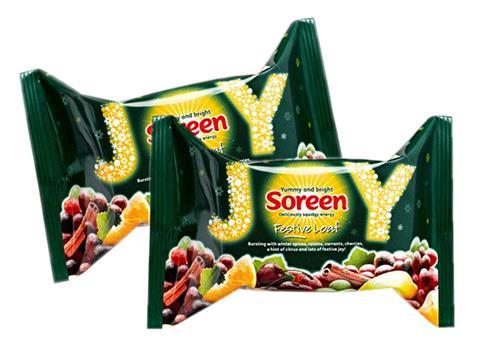 Santa deserves something different, according to Soreen, which is hoping to replace his mince pies with a rather fruitier offering. Soreen's Festive Loaf (rsp: £1.00) is bursting with raisins, currants, cherries, citrus and winter spices. This limited edition is ideally accompanied by a hearty dollop of brandy butter, custard or cream.

Wonderful White Chocolate Flapjacks

Manufacturer: Thomas J Fudge's

Launched: October 2015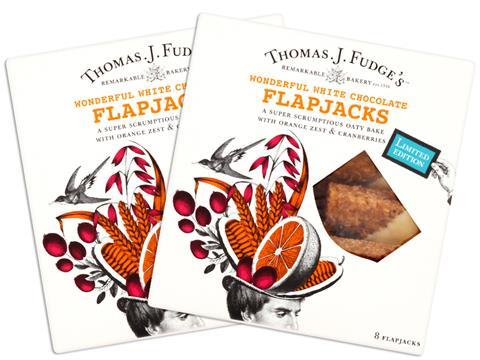 Thomas J Fudge is launching a limited-edition white chocolate and cranberry flapjack (rsp: £3.25). The chunky squares of buttery oatiness are laced with sweet cranberries and individually hand-dipped in a coating of white chocolate and a hint of festive orange zest. Available until February 2016 in Waitrose and Ocado.