Breakfast ain't what it used to be. Demand for food that can be eaten on the move - or at a desk - is transforming the market, with breakfast biscuits having grown into a £91.4m market [IRI 52 w/e 4 January] in the four years since Belvita's UK launch.
In the past year alone, Special K's breakfast biscuit sales have grown 339.7% to £10.4m and Weetabix's have racked up £4.5m since January 2013 [Nielsen 52 w/e 12 October]. Now cereal brands, also motivated by concern over sugary kids' cereals, are eyeing another growth opportunity: breakfast drinks. Last month, Weetabix unveiled three breakfast drinks it hopes will replicate the success of similar products in Australia and the US.
It's little wonder they're looking to tap into on the go, when it is growing so rapidly - and is arguably the key factor behind hot cereals' 17% hike in value sales and their rise of 8.5% rise in volume. Convenient poridge pots are driving much of the growth in hot cereals.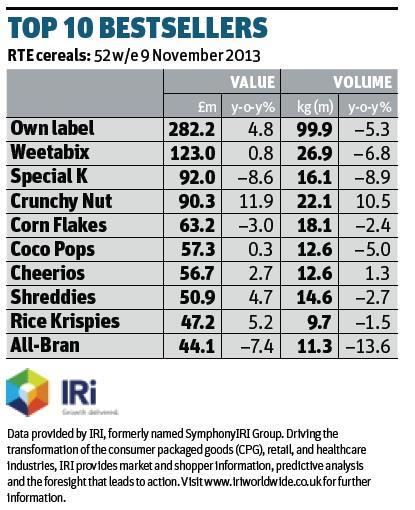 While still commanding the biggest share of the breakfast table, traditional ready to eat cereals, on the other hand, have grown a far more modest 3.4% to £1.4bn in the past year on volumes that have actually slipped 1.6% [Kantar Worldpanel 52 w/e 10 November].
The big RTE brands have fared worst, with eight of the 10 bestsellers experiencing a slump in volumes. So are there any chinks of light in this otherwise gloomy market? Or is it time more brands took the breakfast biscuit to market - or indeed looked to the nascent breakfast drinks sector?
The RTE market has clearly not been helped by a 5.1% hike in average price, driven by a significant cut in deal activity according to Kantar. Volumes have inevitably suffered: we have got through almost nine million fewer 750g boxes of the cereal in the past year [Kantar].
Hot cereals, conversely, have proved more resilient. Despite average price climbing 7.6% to £2.69/kg [Kantar], volumes have continued to climb. The price rise is largely down to the growth of porridge pots, which carry a higher volume price than loose oats. For example, Oat So Simple have fetched an average of £6.01/kg in the past year, while Quaker Oats cost an average of £1.94/kg [IRI]. Shoppers will pay more for convenient oats, it seems.
Muesli & granola
But not all RTEs are in volume decline. One sector that's going from strength to strength is granola, which has seen value sales soar 105% on volumes up 96%, albeit from a small base [Kantar]. "We have seen consumers moving away from RTE healthy and adult cereals and into muesli and granola," attests Dorset Cereals' head of marketing Mandy Cooper.
Kellogg's has even reversed a decline in Crunchy Nut sales with the help of a granola: following the launch of its Crunchy Nut Glorious Oat Granola range in December 2012, the brand's sales have risen 11.9% in value on volumes up 10.5% [IRI 52 w/e 9 November].
"A big trend at the moment is for granolas and mueslis as they're seen as wholesome and filling," agrees Kellogg's UK sales director Colin Bebbington. "Companies need to make sure they include products like these in their offering, as well as traditional cereals."
"A big trend is for granolas and mueslis as they're seen as wholesome and filling"

Colin Bebbington, Kellogg's
Particularly when traditional cereals marketed explicitly on Health grounds appear to be falling out of favour with consumers. Kellogg's Special K has fallen 8.6% in value on volumes down on 8.9% (though it's worth noting that its decline has slowed since the rollout of a new recipe last April) and All-Bran is down 7.4% on volumes down 13.6% [IRI].
It's inevitable in such a high penetration market that heritage brands will suffer, especially if they fail to innovate. However, the growth of muesli and granolas also reflects a wider shift in grocery towards foods perceived as more natural and less processed.
Demand for healthier cereals could help to arrest or even reverse the category's volume decline, believes Cooper, and next month, Dorset Cereals will roll out a range of lighter mueslis in a bid to meet such demand.
Meanwhile, Morning Foods has rolled out a host of new products to boost the health credentials of its Mornflake muesli and granola lines. The business says its Mornflake Oatbran Cereal Pouches - a range of seven products combining muesli and granola with oatbran (rsp £2.79/500g) - are now worth more than £1m after 12 months on the market.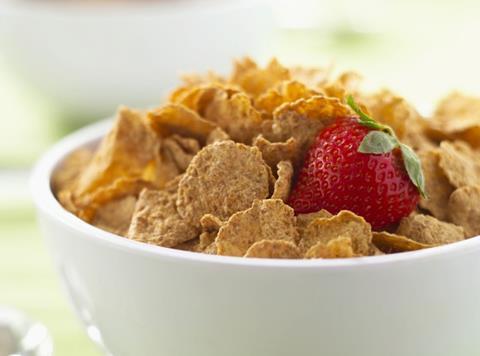 Cereals are in 5.1% value growth, ahead of total grocery's 3.7%. The difference between value and volume, which is flat, is down to fewer deals, hot cereals' growth and changing patterns of consumption.
Hot cereals (14% value share) are growing strongly, while RTE cereals (86% share) face volume issues.
Price has grown strongly across both hot and RTE cereals. Reduced promotional activity has been a key driver with more volume sold at full price this year than last.
Own label has grown share of cereals this year by 2ppts. Strong growth within Aldi is likely to be a key driver of this trend.
In the past year we've seen new listings for leading manufacturers (Kellogg's and Cereal Partners) in Aldi it will be interesting to see how these new relationships develop.
Hussein Hussein, Kantar Worldpanel
One sub-sector also generating a lot of noise is bircher muesli, an old Swiss recipe in which oats are soaked in water, juice or milk before yoghurt or fruit is added, and eaten cold. While Kantar says overall muesli sales are up just 2.9% on volumes that have dipped 0.7%, anecdotal evidence suggests bircher is enjoying something of a boom.
Bircher booms
A number of bircher brands have won listings lately as retailers have sought to cash in on a trend that reflects just how quickly breakfast is evolving. Few had heard of the stuff a few years ago and cereals were strictly confined to the ambient aisle today brands are winning growing chiller space with their cereal and yoghurt mix pots.
"Bircher muesli has grown in awareness significantly, creating a new sub-category," says Tom Mercer, MD of Moma, which started out selling RTE bircher pots through kiosks but is now listed in Tesco, Sainsbury's and Waitrose. The next item on Moma's to do list also reflects how far the brand has come from its days as an impulse-led product.
"We're launching a multipack which will enable consumers to get value for money and stock up their fridges - either to enjoy at home or take to work with them," says Mercer. The packs (rsp: £2.99/4x125g) landed in Sainsbury's and Ocado this month.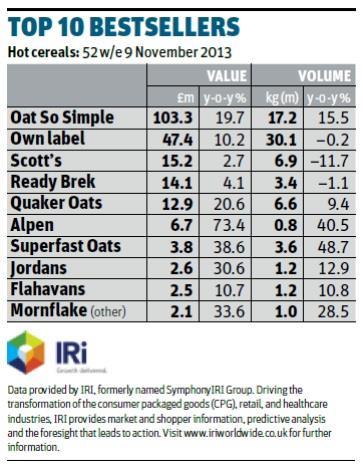 As part of a relaunch, fellow bircher brand OSO - launched in November 2012 and now available in Waitrose and Ocado - this month added two new variants: rhubarb and forest fruits, as well as a 450g fridge fill pack to appeal to a broader family market. And, proving that there's scope for premium brands in the burgeoning sector, Cuckoo's range of five bircher pots - including apple & Cinnamon Spice and Mango & Coconut (£2.49/190g) - are now on sale in Selfridges and Daylesford Organic after its September launch.
The success of products such as granola and bircher muesli suggests there is still a strong future for cold cereal if suppliers are willing to evolve. Such products strike a chord with consumers and offer a more compelling health message than some of the 'healthy' brands of old, say converts.
The strong health positioning is a key reason porridge and granolas are outperforming other parts of the market, agrees Rude health co-founder Nick Barnard, who claims his company's RTE cereals have grown 40% year on year thanks to the brand's health credentials. "We don't add any salt or refined sugars and use grains that haven't been extruded or over processed," he boasts.
Porridge has particularly benefitted from being perceived as a healthier cereal. PepsiCo has been banging the health drum in its marketing of Quaker and Oats So Simple for some time. Last month, it ratcheted things up a notch, rolling out multigrain Oat So Simple variants, fortified with rye and barley in original, honey and fruit muesli variants.
Porridge
"We expect the health credentials of the grains will attract a slightly younger audience than the typical porridge consumer," says PepsiCo group marketing director Patrick Kalotis. But health isn't the only factor driving growth price is too. Quaker Oats in 500g price marked packs are selling particularly well to top-up shoppers, he says. "It's driving penetration in smaller, younger households."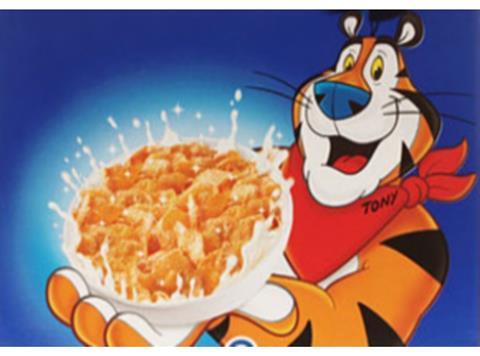 Sugar debate has been oversimplified claim cereal brands
The recent furore over foods deemed too sugary - such as Frosties, with its four teaspoons of sugar per 30g - has left many cereal players feeling unfairly demonised.
"Nutrition science is complex and it is important not to portray foods as being 'good' or 'bad' on the basis of single nutrients," says Jordans Cereals category activation controller Rob Lemon. "We're committed to reducing added sugar levels."
The emphasis is on the word: 'added'. "It's vital to distinguish 'refined' sugar and 'naturally occurring' sugars from dried fruit," says Dorset Cereals' head of marketing Mandy Cooper, who's keen to avoid being tarred with the same sugary brush as Frosties, sales of which have been tanking for years - and have slumped 11.9% to £25.7m in the past year [Nielsen] - as the brand has laboured under a kids ad ban and growing concerns over obesity.
This has prompted many to reformulate. Sugar Puffs' sugar content has been cut by 38% since 2006 and, last January, Kellogg's launched four new lower sugar wholegrain kids cereals. Bear also wants to get parents on side with its launch last summer of Alphabites, a cereal sweetened with coconut nectar rather than sugar.
But some still feel like scapegoats. "Even some of our more 'indulgent' cereals contain less sugar than you'd find in a glass of orange juice," says Kellogg's Colin Bebbington. With everyone from cereal to fruit bar brands under fire, it's a debate that's sure to rumble on.
Given the strong growth in hot cereals, it's little surprise the market is attracting so many newcomers. Alpen went into porridge in 2011, an extension that has racked up £6.7m in the past year for brand owner Weetabix and grown 73.4% in value and 40.5% [IRI]. Last summer, Special K followed suit, launching Multi-Grain Porridge in pots and sachets in the hope of offsetting its losses in cold cereal.
There's plenty more potential in porridge, says Kellogg's Bebbington: "Research shows us that one in three people are still not buying a porridge product so there's lots of room to explode this category further."
The opportunities aren't just for cereal brands either. Porridge's growing popularity has been cited as a key reason for the surge in honey sales and Whitworths is looking to cash in with its new Breakfast Additions range, which encourages shoppers to customise their cereal with mixes of dried fruits, nuts and seeds and rolled out in September.
Retail
Most agree that the big brands need to show a similar aptitude for thinking outside the cereal box. "Cereal needs to be seen as a versatile food that can be eaten in different ways with different things," adds Bebbington, who puts Crunchy Nut's market-busting growth over the past year to a steady stream of NPD (the new granola was joined by a chocolate variant in the summer) and big ad spend.
The right product is only part of the equation however. It also needs to be listed in the right retailers, says Andrew Pyne, public affairs manager at Cereal Partners, which makes Cheerios (the other top 10 cereal in value and volume growth - IRI) and Shreddies.
"When looking at the IRI data, we think it's important to recognise this excludes an important sub-set of the market in the growing discounter channel," he says. Indeed, Kantar puts Aldi's value growth in cereals at a massive 38.3%, making it the biggest retailer in the category relative to its size.
"We've seen growth in the number of discounters and the number of consumers shopping there. Kantar data reports a far lower volume decline, versus IRI, as it accounts for this fast-growing channel. Through continued innovation and finding the right offering for the right channels - such as online, convenience and discounter stores - the industry is responding to changes already."
After all, it's not just breakfast that's changing, but where we're buying it.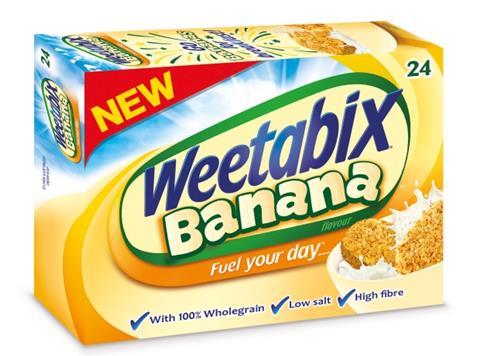 Weetabix Banana
Launched: January 2014
Manufacturer: Weetabix
Following Weetabix Chocolate (launched in 2010) and Weetabix Golden Syrup (2012) comes Weetabix Banana. "We have done extensive research with mums and kids and Weetabix Banana tested particularly well with kids aged four to eight as banana is a flavour they are very familiar with," says brand manager Ciara O'Connor. The chocolate and golden syrup variants tend to appeal to a slightly older age group. The new flavour is now in Asda and will roll out at an rsp of £2.69 for a pack of 24.
Nestlé Toffee Crisp cereal
Launching: February 2014
Manufacturer: Cereal Partners
Chocolate-loving adults are to get their first chocolate cereal aimed at them rather than children with the launch of Nestlé's Toffee Crisp (rsp: £2.49). Cereal Partners claims that half of consumers who buy chocolate cereal have no kids in the household and yet there are currently no chocolate brands that specifically target the over-35s.
Golden syrup porridge pot
Launched: January 2014
Manufacturer: Perk!er Foods
Gluten-free food manufacturer Perk!er has added a golden syrup variant to its porridge pots. "Golden Syrup is the lead variety in mainstream porridge pots," says Ann Perkins, co-founder of Perk!er. Available in Asda and Ocado, the 60g pots (rsp: £1.25) just require hot water to be added and are high fibre, low sat fat and low GI.
Special K Granola
Launching: February 2014
Manufacturer: Kellogg's
Special K is set to roll out its first-ever granola for slimmers in raisins & red apples, and cranberry, pumpkin seeds & almonds variants (rsp: £2.99/370g bag). The five-grain recipe comprises oats, barley, wheat, spelt and rye - and claims to contain 30% less fat than other granolas. It is also fortified with six B vitamins and iron.