Tinned food has shaken off its dowdy image and is appealing to younger shoppers. How can it stay on trend as lockdown lifts?
Cans are back in fashion. No longer taking a back seat to cooler chilled lines, they've earned a place in the front row of grocery. Sales in the past year have rocketed 19.6% to total £2.8bn [Kantar 52 w/e 21 February 2021].
That stellar success is illustrated by canned giant Heinz, which netted an extra £73.8m alone [NielsenIQ 52 w/e 22 February 2021] as locked-down shoppers filled their cupboards with longer-life fare.
It's the type of behaviour that tends to rear its head in times of upheaval such as Covid. "Tinned food always seems to do well in a crisis. If you're uncertain about the future, you're safe buying ahead with cans," says Robert Fell, CEO of Canned Food UK (CFUK).
Plus, the value-for-money credentials of canned products don't go amiss at a time of recession and ongoing economic uncertainty.
But as Britain starts to emerge from the shadow of the pandemic, can canned products hold onto those newfound sales? Or will they find themselves once again relegated to the unfashionable corner of the supermarket?
"If you're uncertain about the future, you're always safe buying ahead with cans"
The past year has certainly given canned food a stronger position. It has not only attracted lapsed shoppers but won over a host of new cohorts, says Rob Fullerton-Batten, business director at media company PHD Manchester.
Now brands are turning their attention to keeping that momentum going. Heinz is a case in point. In February, Kraft Heinz's Northern European president Jojo de Noronha told The Grocer there would be an upcoming swathe of NPD under its so-called Beanz Liberation Exercise. Part of that means moving its flagship product out of the category – Beanz made its chilled debut in January with Protein Pots – but that spirit of innovation will undoubtedly extend to ambient lines.
It all signals a clear need to keep moving. "The key to future growth of the category will be staying relevant to the recipes people are using and maintaining the purchasing habits which have contributed to this uplift," argues Kantar analyst Louis Grove.
On the recipe front, canned brands are doing their bit. Heinz has instructions for a host of dishes on its site including a Baked Beanz shakshuka – an approach that is mimicked by many of the category's other big hitters.
More importantly, they're getting some credible outside help. CFUK is working with 'Tin Can Cook' author Jack Monroe on nutritional and wallet-friendly recipes for its latest #Ways2Use campaign. It showcases how basics like canned sweetcorn can be transformed into a fancier dish of roasted sweetcorn houmous.
It comes after the trade body partnered with former MasterChef finalists Billy Wright and Jack Layer in 2018 to rustle up vegan dinner party dishes. The aim was to show that canned food is "so much more than just baked beans and canned veg" and is working with other influencers to show "a whole new generation the versatility of canned food".
"More of us have been seeking inspiration from foodie and celebrity chefs"
Princes, which has grown 13.8% to £144.1m [NielsenIQ], is taking a similar tack. Having seen an uplift of younger shoppers seeking recipes using ambient ingredients, it partnered with celebrity chef Miguel Barclay to create recipes including a rainbow tuna bowl and prune & oat breakfast muffins.
It makes sense for brands to turn to well-known culinary names at a time when Brits are scratch cooking more frequently. "More of us have been seeking inspiration from foodie and celebrity chefs and using better quality ingredients to recreate restaurant-quality dishes at home," says Dhiresh Hirani, UK country manager at Mutti.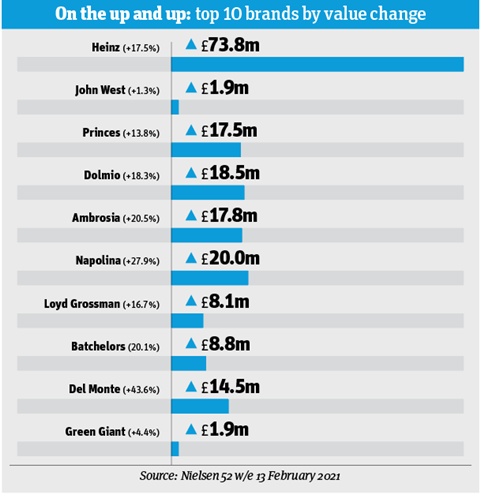 Stockpiling combined with more at-home meal occasions drove value gains for numerous canned and ambient brands during the pandemic.
Indeed, all top 10 brands are in growth, adding £182.8m between them.
Del Monte was the fastest grower, with an uplift of 43.6%, after Brits snapped up its fruit products as a convenient way to get vitamin C and their 5 a day.
Napolina's growth of 27.9% was down in part to it "getting products to shelf during the early part of the year" as panic-buying hit, says NielsenIQ senior analytics consultant Nick Corlett.
Marketing and NPD helped Ambrosia achieve a 20.5% gain. It also attracted 1.3 million new shoppers "as people looked for the quality we are known for and the long shelf life ambient desserts offer" says Dan Jalalpour, brand director for desserts at owner Premier Foods.
Despite canned fish growing over 13%, John West was unable to match this with only around 1% growth," notes Corlett. He adds that the brand "lost distribution, indicating possible issues with getting stock to cover the increased demand".
As lockdown eases, there may be a dip in sales across the category as Brits revert to previous shopping habits, predicts Corlett.
But with working from home likely to continue, "levels could well be higher than they were in prior years" he adds.
Younger shoppers
Looking ahead, brands are seeking to communicate this message to younger consumers in particular. Del Monte, for example, is working with influencers on channels such as TikTok, where younger shoppers "go for inspiration" when cooking.
"We have a responsibility to shout loudly to new and younger groups," says Sam Bennett, marketing controller UK at Del Monte Europe. "We're looking to work with content creators on quick recipes across all of our channels."
Baxters, too, has "invested heavily" in recruiting younger consumers who are "typically lighter shoppers" of canned soup. "Social media continues to be a powerful tool for engaging younger consumers and we have seen great results working with influencers, like nutritionist Rhiannon Lambert, to shift consumer perceptions of the convenience and nutritional quality of our canned soups," says marketing communications manager Sarah Knowles.
"Social media continues to be a powerful tool for engaging younger consumers"
Napolina has similarly put money behind activity such as its Cooking With Napolina YouTube channel, in which influencers demonstrate how to cook authentic Italian food.
It comes amid a successful year for the brand, which has grown 27.9% to £97.1m [NielsenIQ] as canned tomatoes won big in the home cooking boom.
Napolina is now looking to build on those culinary credentials with a more premium approach. Next month, it will roll out its premium Selezione Speciale line to target "a more discerning consumer". At £1.50 per can, it's significantly more expensive than standard Napolina chopped tomatoes, which retail at 60p in Tesco.
But canned brands are clearly confident they can go beyond trading on price, despite the economic climate. See rival Mutti, which believes it can bring "continuous growth to the UK market for the next five years" through its planned NPD around new tomato varieties, backed by collaborations with leading chefs and influencers.
Health credentials
These premium cues are just one way canned brands are looking to hold onto their value. Health has also emerged as a key strategy.
That's illustrated by Del Monte, the fastest growing brand in percentage terms with a 43.6% rise to £47.6m [NielsenIQ]. Its UK marketing controller Sam Bennett says fruit has benefited from health credentials in the past year – a factor she believes will remain important beyond Covid. "I'm hopeful people will use this current situation as a springboard for a greater focus on their health," she says.
Encouragingly, the perception of canned as less healthy than fresh seems to be diminishing. Princes says it saw a "significant trend" for tinned fruit as Brits sought easy ways to get their 5 a day during the pandemic. Now it's trying to cement those habits for the longer term. "It's one of the areas the brand is focusing social media around," says commercial director Dean Towey.
"Increased demand has led to exciting innovations within the canned category"
It's not only fruit reaping the rewards of a health halo, either. Windmill Organics reports increased demand for its organic Biona brand, which markets itself on health credentials. Brand manager Kelly Stalker says average monthly sales have grown by 55% in Waitrose over the past year. "Increased demand has led to exciting innovations within the canned category and a rejuvenation of this aisle that will keep shoppers coming back," she adds.
That rejuvenation is particularly evident in an area of the market that often goes hand in hand with health: plant-based. Stalker says Biona's jackfruit grew 30% in the past six months, arriving in M&S and Ocado.
Other vegan lines have seen similar success. Kantar highlights Tesco's Plant Chef Tomato & Basil Soup as one of last year's highest-performing NPD. And Baxters says its plant-based soup has been one of its most successful products, netting more than £1m since its launch last April and attracting "younger and lighter shoppers".
That's inspiring brands to take the plunge with vegan innovation. This summer, Princes is set to launch a plant-based ready meals range to target the same demographic.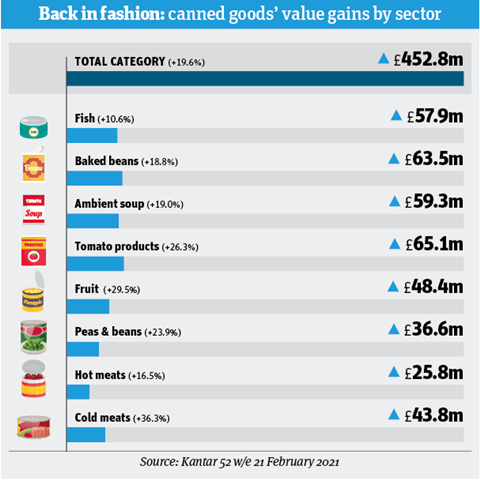 The canned goods category is worth £2.76bn total, after seeing value rise by 19.6%. That's an extra £452.8m, with every sector in value and volume growth.
Over the past year, a total of 631.1 million more packs of canned food have gone through grocery tills.
"The ambient canned goods category has some of the greatest uplifts of any category we've seen," says Kantar analyst Louis Grove.
Canned fish has retained its position as the largest sector. It's now worth £603.4m despite its growth of 10.6% being the slowest.
Tomatoes and baked beans added the biggest absolute gains at £65.1m and £63.5m respectively.
The top-line performance of branded and own-label was roughly the same: 18.5% versus 20.9%.
This suggests that the category's strong growth was more demand driven than as a result of brand or own-label strategy, says Grove.
In terms of average price per pack, canned pasta experienced the biggest rise at 15.2%, while soup fell the most at 15%.
While the trend for at-home cooking is likely to continue as the country emerges from (what is promised to be) the UK's final lockdown, the true key to the category's future growth lies in staying relevant to the recipes that have won Brits over during the pandemic, Grove suggests.
Sustainability
These younger, plant-based shoppers are also likely to be receptive to the growing sustainability messages around canned produce.
A reduction in food waste is one touted benefit. CFUK's Fell highlights a 2015 report commissioned by Crown Packaging Technology and the University of Delaware. It found the use of canned food in North America and Canada avoided 340 million litres of food going to waste each year. "If you assume the saving is the same for food cans all over the world, that's over one billion litres of food waste avoided per year, just at the consumer stage," he says.
Plus, the recyclability of cans means the packaging is seen as sustainable. And brands are working to make it even more eco-friendly. In January, Heinz announced a £25m initiative to roll out paperboard 'eco-sleeves' for its multipacks, claiming it would save 550 tonnes of plastic a year. Biona takes a similar approach in its multipacks.
It all forms part of a greater awareness of sustainability in the category. "Younger consumers want to know the brands they're buying are doing the right thing, that they're not damaging the environment and are looking after their workers," says Del Monte's Bennett.
With that in mind, cans might well be in vogue beyond this season.
Innovations in canned 2021