The law of diminishing returns refers to a point at which the level of profits or benefits gained is less than the amount of money or energy invested. For a real-life illustration, look no further than the cheese aisle where consistent, downward pressure on prices has further commoditised a category in which brands were already struggling to get a return on their investment.

A number of suppliers have relaunched their brands as they desperately seek to cling on to supermarket listings, but there is little evidence that consumers are responding in kind by trading up within the category.

On the contrary, price currently remains the only game in town, with the result being that both average selling price and value sales have fallen during the past year [Kantar 52 w/e 16 August 2015]. The one small chink of light at the end of the tunnel is that volume sales have risen slightly thanks to the price competitiveness of cheese against other protein sources.

"Because penetration is flat and because frequency is flat one of the only levers left to turn is price, and you can see that in the value figures in relation to volume," says Mike Harper, Adams Foods' director of brands.

Suppliers fear that ongoing rationalisation of retail ranges and further cuts to the price per kilo of cheese will encourage continued commoditisation of the category and drive out value. "We have seen examples from other categories across the store that prolonged depressed prices stifle innovation and investment," says Stephen Cameron, Dale Farm group commercial director. "It will make investment in new product development, from packaging to product innovation, by the branded houses much more difficult."

So just how sustainable is the retailer tactic to slash prices, and what are brands doing to add value back into the cheese category?

There are two major factors behind the fall in average price per kilo of 2.1% to £6.60 [Kantar]. On the one hand, the depressed commodity price of liquid milk and the strength of the pound against the euro are making dairy imports relatively inexpensive. At the same time, the cheese category has been a key battleground in the supermarket price wars, a situation exacerbated by the continued growth of the discounters, which offer tight, competitively priced cheese ranges and have been strengthening outside their traditional base of Continental cheeses with the introduction of more British varieties. "We will continue to actively source more and more British cheese, not only for Lidl within the UK market, but also for our export market where we have seen phenomenal opportunity and growth for British products," says Lidl senior buying manager Matthew Poulton.

A shift in retailer promotional plans has also contributed to the deflationary environment. "An increase in temporary price reductions has resulted in an increase in discounts and promotional giveaways," says Katie Bleach, marketing director for cheese at Arla Foods. "We're seeing retailers promoting shallower and more frequently versus the bogofs we were seeing a year ago."

All of this has combined to make consumers reluctant to pay more than £4 for a block of cheese, regardless of the name on the pack. "There was a bit of price resistance when prices were really high at around £4 or £5 a pack," says Wyke Farms MD Rich Clothier. "I think that at a retail level around £2.50/£3 per unit is a more comfortable opening price point for the shopper."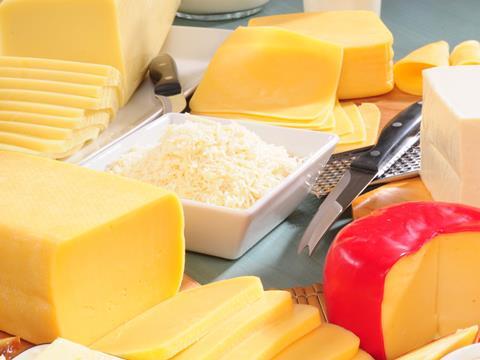 With 98.6% of homes buying into the category, on average 36 times per year, cheese is a staple for British shoppers. Volume sales have grown by 1.1% (roughly in line with population growth) but spend has fallen 1.0%. This reflects the increasing impact of price wars.
The average price paid per kilo is down 2.1% year-on-year to £6.60. Branded Cheddar prices have fallen 5.8% in a year, leading to value sales decline in spite of volume growth.
Deals remain prominent in cheese with 45% of purchasing on promotion - the emphasis has shifted to price cuts.
Cheddar accounts for 54% of all cheese bought in the UK. Within this, sliced continues to gain traction as consumers look for an easy sandwich solution. However, grated has seen sales stall as the price gap to block has narrowed.
Own label accounts for 62.8% of cheese volume sold, and this has increased in 2015 with particularly strong growth through Continental and soft white cheeses.
Silvia Perini, Kantar Worldpanel
Brands maintain price advantage

Branded cheese still maintains a healthy price advantage over own label - although the gap is narrowing in Cheddar - and suppliers are determined that this remains the case

"From our perspective, branded is the key to driving the category - we want growth in branded but it's just making sure it retains the correct price per kilo in relation to own label," says Harper.

Consumer research undertaken by Adams Foods suggests about a third of consumers will only ever buy branded Cheddar, a third of people will only ever buy own label, and a third in the middle will switch between the two. "There's a multitude of reasons why that third are quite promiscuous," says Harper. "You could argue that brands historically haven't done enough to persuade these consumers that there's a difference between branded and own label, and that it's worth paying for."

Harper says there is evidence that some consumers have switched back to Adams Foods' Pilgrims Choice on the back of a major relaunch in January supported by a £3m Pilgrims Choice Chosen campaign in May; however, he also concedes "there's a price piece in there too that when a brand drops down to £2, which ourselves and Cathedral City have been doing, then switching occurs".

Yet for all their negative effect on average price, promotions remain a key driver of incremental purchases within the cheese category. "It is a fundamental truth that a large proportion of consumers are deal shoppers," says Amy Fisher, senior shopper marketing manager at Dairy Crest.

"They bring the incrementality to the market - without deals they would walk away. It is therefore not simply a case of stepping away from promotions as the reduction in volume sold, even at a higher price, would dramatically shrink the market."

Retailers have been ruthless in culling perceived duplicate cheese lines during the past year as part of ongoing range rationalisation strategies.

One supplier source points to extensive range rationalisation on branded cheese throughout 2015, particularly by Tesco and Sainsbury's, while Cathedral City and Anchor remain the dominant brands in Asda, leaving little space for challengers.

Asda has also continued to undertake 'rollback' activity throughout the category, with a particular focus on its Extra Special range to better compete against the discounters.

In this context, the battle among brands to remain on shelf has been fierce. "It's a tough place to be for me-too brands and brands without a clear proposition and point of difference," says Hamish Renton, MD of HRA Food & Drink. "Own-label quality is broadly good, so the brands need to offer something special to survive."

Some branded suppliers are unconvinced that hollowing out ranges will prove an effective weapon for the supermarkets in addressing the threat posed by the discounters. "The biggest weapon the major multiples have over the discounters is their level of choice," says Clothier. "I think some of the major retailers in their battle to compete with the discounters are actually losing one of their major assets and their biggest point of difference, which is choice and interest."

Wyke is one of the suppliers seeking to address the assault on brands by updating its brand identity.

In October, it relaunched its core range of Wyke Farms Cheddar (Mature, Extra Mature and Vintage) with new packaging and a new design aimed at highlighting its environmental and family farming credentials. "The feedback we've had has been fantastic," says Clothier. "We've seen from our rebrand that if you get the proposition right and you get the look and the feel of the brand right, shoppers will pick the product up and it will drive a bit of loyalty."

Wyke is also targeting an uplift in sales through its successful export business and has set an ambitious target to achieve a four-fold increase in exports in the next 12 months. The export range has recently benefited from a revamp that sees Wyke clearly communicating its British premium luxury credentials.
Cathedral City volumes look strong
Cathedral City remains cheese's powerhouse brand, with volumes looking healthy. However, value sales are flat despite ongoing investment in value-added innovation including the expansion of its core block range.
Philadelphia delivered strong value growth despite a slight dip in volumes. It has established cross-category partnerships with Kingsmill and New York Bagel Co to inspire new lunch ideas.
Arla's Anchor has invested in a new £6m campaign (right) and continues to go from strength to strength. It is getting close to catching up on Seriously, which has lost sales despite a new push aimed at highlighting its Scottish provenance.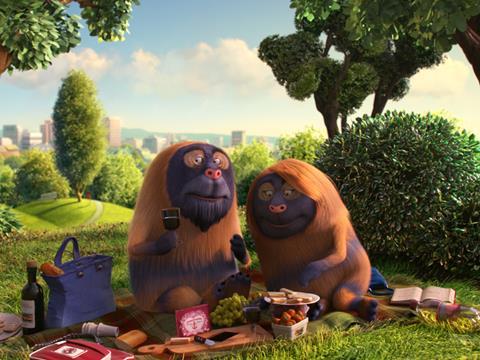 The top of the Cheddar charts

Elsewhere in the Cheddar category, Cathedral City remains unchallenged as the giant of the fixture. Value sales of the brand have held firm over the past year [IRI 52 w/e 12 September 2015] while volumes have advanced significantly, owing in part to Cathedral City's status as Cheddar's biggest promoter.

Unusually for Dairy Crest, the brand has not unleashed game-changing innovation during 2015, with Cathedral City focusing more on picking up listings and expanding the number of SKUs.

The Cathedral City flavoured block range comprising Smoked, Sweet Chilli & Caramelised Onion was launched in late 2014 in Asda and has subsequently been rolled out to Sainsbury's and Morrisons from May 2015, and Tesco from June 2015.

Dairy Crest also expanded the Cathedral City range to include 550g Mild, 550g Mature Lighter and 550g Extra Mature. Fisher says these larger formats offer increased value for money to families looking to use block Cheddar in multiple meal applications.

Dale Farm is another Cheddar supplier looking to offer consumers improved value through larger pack sizes with the addition of a 600g SKU for its Dromona brand; a move Cameron heralds a "great success".

Meanwhile, Pilgrims Choice has maintained its status as the number two brand in Cheddar [IRI]. Despite a slight dip in value sales, volume sales have progressed by over 5% in the past year - a respectable result in light of the deflationary environment.

Harper, however, admits there is work still to do if Pilgrims Choice is to eat into Cathedral City's market share. "We have cemented this second position in the category and we're really proud of that, and for the future growth of the brand we need to look at the market leader, but we also need to have a very clear proposition of our own."

The Pilgrims Choice Chosen campaign aimed to highlight the difference between rival Cheddar brands and Pilgrims Choice, which Adams is positioning as being free to select the best quality Cheddar. Harper says it's intent on hammering home that message to consumers with renewed vigour.

"We've probably been guilty in the past of doing a campaign and then being quiet for a few years. We acknowledge ourselves that to take the fight to Cathedral City and drive branded Cheddar we need to be consistently communicating, so our TV campaign is definitely back for next year, we'll be doing more social media and communicating why we're truly different to everybody else."

One of the highest-profile casualties of the race to the bottom that has characterised the Cheddar category over recent years was First Milk's Lake District Cheese Company brand, the value of which plummeted from a high of over £45m in 2012 to just over £10m in 2014 following the loss of listings in Asda, Sainsbury's, Waitrose and Tesco. Rumours have been circulating that Adams Foods, which packs and distributes the brand, was planning a relaunch for 2015 but the long-term future of the brand remains uncertain.

Another struggling Cheddar brand that has undergone a refresh in 2015 is Seriously Strong, which has seen its value sales fall almost 20% to below £40m.

Brand owner Lactalis McLelland is looking to revive Seriously Strong's fortunes and achieve a doubling of sales over the next five years with new packaging that focuses on the brand's Scottish provenance and gives shoppers clearer cues about its taste and texture, as well as through a TV ad that ran throughout the early spring and featured a voiceover from Scottish actor Dougray Scott.

In the context of the exacting trading environment within Cheddar, the Anchor brand appears to be operating in a bubble all of its own, having delivered another year of triple-digit growth, albeit from a base of zero in 2013. Arla launched a new £6m marketing campaign for Anchor Cheddar in June with the aim of reminding consumers that the brand is about more than just butter. The strategy appears to have worked.

"Anchor Cheddar has seen strong repeat rates, demonstrating the brand's great taste and quality," says Bleach. "41% of buyers have bought Anchor Cheddar more than once in the past year, which is above the average fmcg repeat rate."

Arla has recently sought to cement Anchor's taste credentials with the launch of Anchor Vintage in Asda, and Bleach promises a range of new activity from the brand in 2016 with the aim of building awareness and trial of the brand.
Grated and sliced seek to create new occasions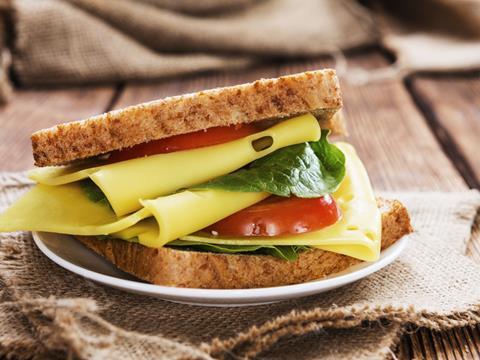 The need to grow incremental cheese sales outside traditional blocks has seen significant NPD, most notably sliced and grated. Nevertheless, sales of grated are stalling as the price gap with block cheese has narrowed, says Kantar.
Grated cheese has built a loyal following for its convenience as a meal accompaniment or sandwich filling, but there's a sense that creating genuinely new usage occasions in this area remains a challenge.

When Adams Foods launched Pilgrims Choice Crumbles in April 2014 - a three-strong premium range of grated Cheddar with additives such as black pepper designed to offer better meltability - it envisaged more experimental consumers using Crumbles as an accompaniment to fish and chicken dishes.

Yet Adams withdrew Crumbles last year as part of its strategy to focus on growing the core Pilgrims Choice brand. Crumbles were "maybe too far in the future" says Mike Harper, Adams Foods director of brands, but he remains convinced there are opportunities.

Slices have had no such problem in meeting evolving consumer needs. In June, Leerdammer rebranded its Toastie as Leerdammer Toastie & Burger, with updated pack design, to tap the gourmet burger dining trend. "Since then we've seen a 20% increase in the base sales," says Steve Gregory, marketing director for brand owner Bel UK.

Arla Foods has also capitalised on the burger trend, with claims its Castello Burger Blue melts evenly across a patty and stays on the burger during cooking and consumption.

Yorkshire Wensleydale, meanwhile, says it has created the world's first crumbly cheese slice.

"There's been a huge increase in demand for cheese that is more convenient to use in everyday meals," says marketing manager Sandra Bell. "Sliced cheese has become a household regular in weekly baskets."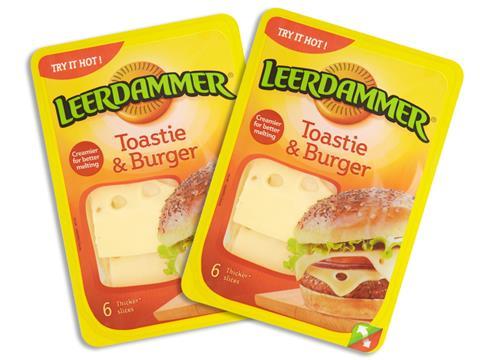 Processed keeps up show of force
Sales of processed cheese appear to have been shielded somewhat from the downward pressure on Cheddar prices judging by a 1.3% increase in value on a 3.4% drop in volume sales.

Hopes for manufacturers of lunchbox staples such as Dairylea and Cheestrings were raised earlier in the autumn when rumours began to circulate that chancellor George Osborne was preparing to scrap support for the government's universal free school meals policy; however, David Cameron has since reiterated his support and it is not expected to be a victim of the cuts set to be announced in Osborne's Autumn Statement.

Kerry Foods has steadfastly backed its Cheestrings brand despite that contraction in one of its biggest consumption occasions, particularly through the continuation of its Brave Bones campaign. The brand enlisted TV celebrity Steve Backshall to head up this summer's Cheestrings and Yollies A Year of Adventure campaign that aimed to encourage children to get outside and involved with adventure alongside their parents.

Cheestrings also partnered with the Star Wars franchise ahead of the November release of Star Wars: The Force Awakens with the launch of a Star Wars themed on-pack promotion across the Cheestrings portfolio. The limited-edition packs feature character imagery and include collectable cards and Cheestrings packaged to look like lightsabers. "We've created a fun, relevant and exciting campaign, which we believe will not only give our existing consumers lots of reasons to buy Cheestrings more frequently, but that will also have the power to attract new fans of the brand," says Tom Willcock, kids' dairy snacks marketing manager at Kerry Foods.

Kerry is also looking to exploit more adult snacking occasions through investment in its LowLow brand. This year, Kerry rebranded its LowLow Snack Packs range as Snack Bites in an effort to target on-the-go consumers. "Since launching the LowLow Snack Bites range we have seen a growth in sales of more than £3m, with 65% incremental to the cheese category," notes Lee Willett, dairy category controller at Kerry Foods. The brand has also been relaunched with an improved, natural recipe and a packaging redesign aimed at emphasising the health credentials of the range.
Big brand ad spends are seriously up
The top 10 cheese brands almost doubled their spend on the previous year with Pilgrims Choice and Anchor launching major TV campaigns.

Heavyweight campaigns for Philadelphia's core range and new Deliciously Whipped ran across TV, digital and social through the year, reaching 95% of the target audience on TV in 2015, says Mondelez.

Bel UK's Super Cheese campaign for Mini Babybel marked a shift in communication strategy. targeting older consumers.

Cheestrings' spend fell slightly despite continued support for its Brave Bones campaign, for which Kerry Foods enlisted the support of TV celebrity Steve Backshall.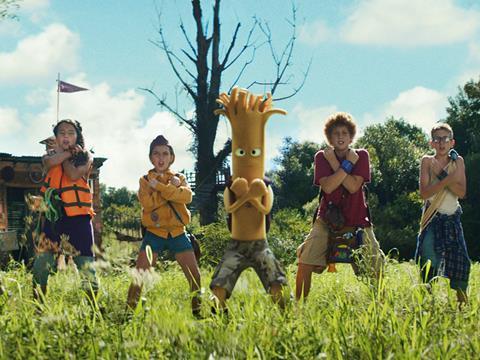 The health challenge

Health remains a challenging sell in the cheese category, but there are signs that it is re-emerging as a consumer trend several years after the first wave of 'healthy' new product development. In October, Cheddar maker Cricketer Farm secured its first national supermarket listing with The Co-op Group for its Cheeky Cow half-fat mature cheese, now available in more than 390 of the retailer's stores nationwide. The cheese was launched in 2013 as a Cheddar alternative for health-conscious consumers and has since picked up regional listings in Tesco and Asda in the South West of England.

Despite a number of low-fat and lighter products on the market, Harper believes the opportunity to link health to cheese remains relatively untapped. "One of the key barriers to Cheddar is perceptions of health and perceptions of taste of healthier varieties of Cheddar, so there's a big opportunity to grow penetration within the healthy segment, which has not been fully optimised at present."

A more bona fide consumer trend is for different flavour cheeses, something that Mondelez has looked to tap with innovation in its Dairylea brand. Two new flavours - Dairylea Cheesy Cheddar and Dairylea Cheesy Bacon - have been added to the range in a spread format, while Dairylea Cheesy Cheddar with Ritz crackers and Dairylea Cheesy Bacon with Jumbo Tubes have bolstered the Dairylea Dunkers portfolio.

Flavour extension has also been on the menu for Bel UK, whose The Laughing Cow Light range has benefited from a new Cheddar variant. One of the year's most eyecatching launches was that of adult snacking product The Laughing Cow Mini Cravings, which boasts flavour combinations ranging from blue cheese and smoked cheese to ham & herb and garlic & herb.

"Mini Cravings is one of our biggest launches for the last five years or so and we're very happy with the reception from the trade and the results so far," says Bel UK marketing director Steve Gregory. "We know we've landed on something - we've just got to keep going and turn this into a major SKU in the market."

Bel UK has invested in campaigns for each of its five core brands during the past year - The Laughing Cow, Mini Babybel, Leerdammer, Boursin and Port Salut - a strategy that Gregory suggests the company will continue to pursue. "We're only a branded company so we recognise the value in investing in the brands and continuing to build that trust and loyalty with our customers."

One of the other standout pieces of innovation during the past year has come from Mondelez, whose launch of Philadelphia Deliciously Whipped in April helped contribute to a 7.9% increase in value sales for the brand [IRI].
Dairylea replaces Cathedral as most prolific promoter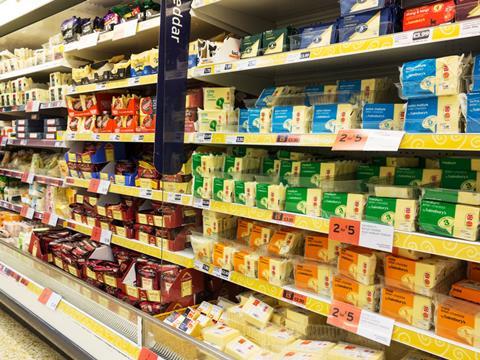 The past year saw a slight dip in promotional activity across the cheese category as a whole; however it remains a fundamental truth that a large proportion of cheese consumers are deal shoppers, shopping purely on price.

"This sector is large and important as they bring the incrementality to the market - without deals they would walk away," says Amy Fisher, senior shopper marketing manager at Dairy Crest. "It is therefore not simply a case of stepping away from promotions as the reduction in volume sold, even at a higher price, would dramatically shrink the market."

Dairylea replaced Cathedral City as the category's most prolific promoter, following a 24.6% increase in featured space activity. Philadelphia and Babybel, meanwhile, also ramped up their number of deals year on year as did Boursin.

Pilgrims Choice and Cheestrings, on the other hand, were among those to cut down on activity in this area.

Bogofs continue to fall out of favour as a promotional mechanic in cheese, replaced with price-driven deals such as half-price and 'save', a trend reflected in Bel UK's own promotional strategy. "We've always preferred to stick with mechanics that, while they can be deep cut, really drive trials on the brands," says Steve Gregory, marketing director at Bel UK.

"That's because it's a category where you can have high wastage if you're not careful. We try not to load up shoppers but give them a good deal and remind them to carry on buying our brands."

Territorials: a bleak future?
And what of territorials? So long the problem child of the cheese category, there is little evidence that a turnaround in fortunes for the likes of Double Gloucester and Red Leicester is around the corner. Nevertheless, there are pockets of optimism to be found within the supplier base, not least among The Wensleydale Creamery. Its multimillion pound project to upgrade its creamery is due for completion in 2016.

"Wensleydale is the only cheese in the crumbly cheese category showing growth, which is also reflected in sales of our Yorkshire Wensleydale cheese," says Sandra Bell, marketing manager at The Wensleydale Creamery. Bell says the company has benefited from a strategy of building strong Yorkshire partnerships, including through its sponsorship of Yorkshire County Cricket Club, and has also increased its focus on branding and packaging to maximise the impact of product labels at point of sale.

"The European PGI logo has now been rolled out across all Yorkshire Wensleydale cheese packaging, being prominently displayed on the front of packs, to further endorse and reassure our customers of the quality and authenticity of our cheese, and to distinguish it from other cheese made elsewhere around the country," says Bell.

Another regional cheesemaker optimistic about the future of the subcategory is Colston Bassett Dairy, which has been making Stilton and Shropshire Blue cheeses for over a century. In April this year, the company completed phase one of a 10-year investment plan that has enabled it to increase maturation capacity so it can manage demand better. Consistency continues to be the company's goal, says dairy manager Billy Kevan.

"From April to October we make on average of 175 cheeses a day - by hand. If we compromised quality in the process of trying to increase production we would not be able to guarantee that our cheeses would remain so sought after."
Dairy Crest free to focus on a world of possibilities
The £80m sale of Dairy Crest's liquid milk operation to Müller is set to consolidate the pool of liquid milk suppliers in the UK. But what does it mean for the company's branded arm, and in particular its cheese business?
Dairy Crest CEO Mark Allen says the deal leaves the company well positioned for long-term, profitable and sustainable growth. Hamish Renton, MD of HRA Food & Drink, says it's easy to see why. "Dairy Crest will be more focused and able to divert all its resources behind its world-class cheese business," he says. "The product is excellent, the supply chain is slick and the new whey stream ensures full value is extracted from the milk. The only missing element is a larger export business - the product is good enough to command attention in global cheese markets."
As part of its three - year plan - Dairy for Life Dairy Crest believes there are five drivers that could unlock £289m growth for the cheese category. These are: care for me/my family, meal makers, positive snacking, value the versatility, and excite my senses.
"The vision aims to change perception of dairy from simple fridge filler to daily inspiration, and specifically within cheese, to encourage consumers to make more of cheese," says Amy Fisher, senior shopper marketing manager.
Brands Cathedral City and Davidstow are at the forefront of this, with Dairy Crest reviewing its innovation pipeline to deliver the against the new drivers. So far, this has resulted in the launch of Cathedral City Selections in a PMP bag to facilitate growth in adult cheese snacking, as well as the flavoured block range to meet consumer needs for 'taste and indulgence'.
But the strategy requires change across the board if it is to deliver. "All the growth areas require consumers to change their behaviour, which means retailers and manufacturers will need to act differently in turn - in communications, at fixture and in NPD," Fisher adds.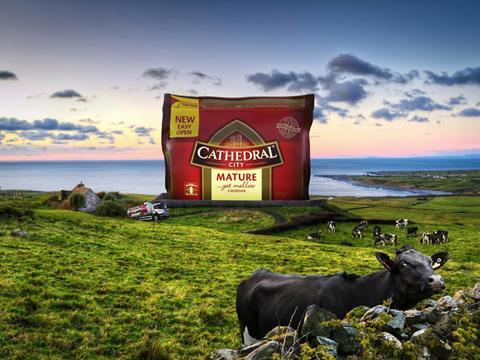 Continental's growing appeal

At a category level, territorials have been losing out to the growing demand for Continental cheeses among British consumers, sales of which rose 3.9% in the past year on volumes up 6.2%. Continental cheeses lend themselves to a wide variety of tastes and textures, and their versatility makes them popular as an ingredient in cooking, suggests Howard Newmarch, MD of Eurilait. "TV chefs espouse the virtues of products such as Taleggio in cooking as well as firm favourites like Parmesan or Grana Padano," he says.

Certain cheeses such as halloumi and feta are also attracting interest as meat substitutes, adds Newmarch. "With the recent announcement that some processed meats are regarded as carcinogens there will inevitably be a movement towards cheese as one potential replacement."

Suppliers in the Continental cheese category are seizing the moment and investing in marketing support for their brands. Castello launched a Smorging campaign earlier this year, inspired by the Scandinavian buffet-style meal, as part of which it gave away 10,000 'smorging' kits each day at train stations and shopping centres as well as giving live on-site demonstrations of how to create the perfect Smorgasbord. "As a result, Castello's growth has continued to outperform the market," says Bleach at Arla.

Norseland, meanwhile, unveiled an integrated marketing campaign for its Jarlsberg cheese this autumn in an effort to drive awareness and showcase the versatility of the cheese of Norwegian origin. Launched under the banner Make a Sandwish, the activity, running until the end of this month, was spearheaded by a social media campaign to tap into the current 'food mash-up' trend, which sees well-known foods merged in unique ways to create new dishes.

Norseland has also sought to target a young audience for its British-blended Applewood and Mexicana cheeses. In the case of Mexicana this has involved sampling at festivals to reach young male and female consumers, coupled with sampling at universities to drive sales among the student market.

For Applewood, Norseland has focused on the core barbecue occasion with a summer campaign aimed at encouraging consumers to incorporate the cheese into burgers, salads and other party foods.
Range resets hit branded Continental cheese lines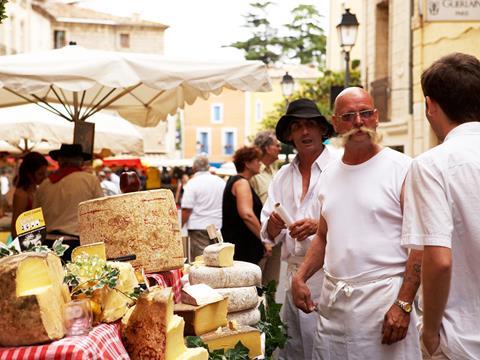 The growth of Continental cheeses has been a rare success story in the category in recent years as British shoppers continue to broaden their repertoire outside Cheddar to include, say, Grana Padano as well as Parmesan. Own label is driving this growth, with value up 7%, compared with a 7% decline for Continental brands.

Brits are developing a taste for niche, imported cheeses. "From the perspective of a small, specialist cheese importer and wholesaler, the most visible trend is an increased awareness of the quality of artisan made Spanish cheeses," says James Robinson of Spanish food retailer Brindisa. "Where previously customers did not show a great deal of interest beyond French and British, there has been increased consciousness of other choices available."

Own label has historically dominated this sector, generating four in every five sales, but in the past year rationalisation of branded lines and investment in own-label price has exacerbated the difference. Sainsbury's, for instance, has recently slashed prices on a large swathe of its cheese lines as part of a strategy to simplify the way it sets prices and promotions, including on its own-label Parmigiano Reggiano.

The category has also been disrupted by the impact of the discounters on other retailers, says Eurilait MD Howard Newmarch. "Tesco have obviously reduced a lot of lines in their category but suppliers are far from convinced they are making the right choices as new launches appear to have less sales potential."

Despite the oppressive environment, branded owners believe they continue to have a strong role to play in the category. "A brand like Castello can add value by helping to engage and educate a 'cheese-blind' shopper, encouraging a broader repertoire and more frequent purchases," says Katie Bleach, marketing director, cheese, at Arla Foods.
Cheese is in on the adult snacking revolution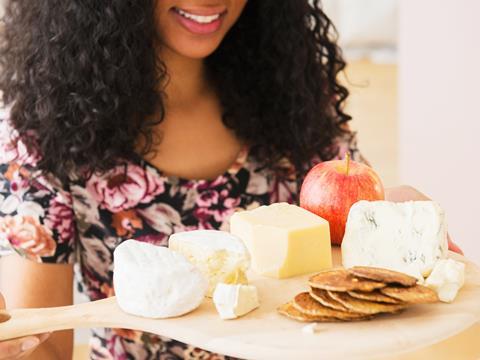 Free school meals for children and the seemingly irreversible decline in popularity of the cheese sandwich have heaped pressure on suppliers to come up with new occasions for the consumption of cheese.

Adult snacking aligns perfectly with changes to consumer behaviour, say suppliers. "The average commute for UK workers is now 54 minutes, and nearly 20% of full-time workers are putting in more than 45 hours per week," says Katie Bleach, marketing director, cheese at Arla Foods. "With a move away from more traditional mealtime routines, spontaneous snacking has become part of daily life."

Cathedral City was one of the first brands to populate this space with the launch of Cathedral City Selections in 2012, and the range has recently been extended with a price-marked £1 mini bag for the convenience sector.

The growth in adult snacking was also the key insight behind the launch of The Laughing Cow Mini Cravings in March. The packs of 24 individually wrapped cubes of soft cheese are available in three versions: Original, Herb and Cheese. Bel UK research revealed female snackers were much more demanding over flavour and taste. "There had been a period when there had been a real split between indulgent and healthy snackers," says marketing director Steve Gregory, "but we've recently seen a merging of the two whereby indulgent snackers are demanding taste first and health as a reassurance."

Home baking and cooking is another occasion suppliers are looking to exploit. "The Great British Bake Off is driving consumer interest in cooking from base ingredients," says Wyke Farms MD Rich Clothier. "Our cheese for tea campaign online is about trying to grow the category by getting Cheddar to be centre of the meal occasion. If we're going to grow the category we do have to try to get cheese seen as the protein centre of the meal."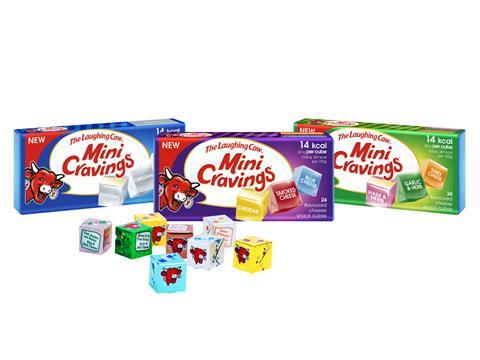 Backing British
Targeting young consumers may be one strategy suppliers choose to adopt as they strive to turnaround the fortunes of the cheese category over the coming year.

Other opportunities for growth may come from consumer desire to support products of British origin. In the wake of the milk price crisis, the NFU has been pushing for clearer country-of-origin labelling on products containing milk, such as cheese, so consumers can be sure they are supporting British farmers.

Part of environment Secretary Liz Truss's package of measures to help the dairy sector is to develop proposals across the food supply chain to better label and promote British dairy. Cheese suppliers are, on the whole, supportive of such moves. "Since the horsemeat scandal, people are more predisposed to look for products produced in Britain because they know they can be confident in how they've been produced," says Clothier. "I've had numerous conversations with Liz Truss saying we really need clear origin labelling on dairy products because it's what shoppers want."

Further opportunities could come in the shape of more UK-focused public sector procurement. The government is promising a review of buying habits across the wider public sector, including hospitals, schools and prisons that will identify where local dairy producers could be better supported.

But such changes and commitments are unlikely to resolve the structural challenges facing the cheese category, which are making life so uncomfortable for suppliers. The deeply competitive market has seen them dragged into a battle for shelf space as well as consumer attention.

Crumbling under the pressure won't help and, perhaps surprisingly, Clothier remains optimistic about the category's prospects. As the economy recovers he hopes to see brands dig their heels in and fight back to re-establish some much-needed growth.

Whether suppliers are prepared to put their necks on the line to find out remains to be seen, but as the big cheese squeeze gets tighter they will have to utilise all their assets to defy it.
Applewood Nibbles and Mexicana Hot Shots

Launched: September 2015 
Manufacturer: Norseland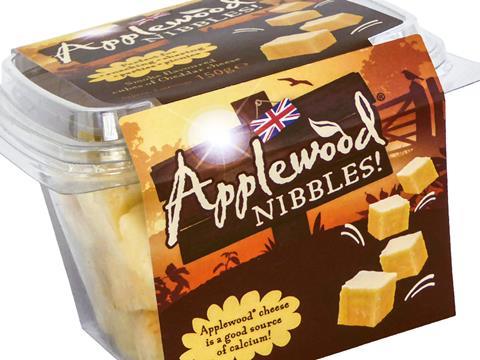 Speciality cheese supplier Norseland has added new cheese snack products to its Applewood smoke-flavoured and spicy Mexicana Cheddar ranges. Applewood Nibbles and Mexicana Hot Shots are designed for sharing and are positioned as an easy addition to mealtimes, or for grazing. "Perceptions of saturated fat are shifting and consumers are looking to cheese snack options as an alternative to the traditional 'elevenses'," says Lisa Harrison, brand manager at Norseland. Rsp: £2

Brimi

Launched: November/December 2015

Distributor: Eurilait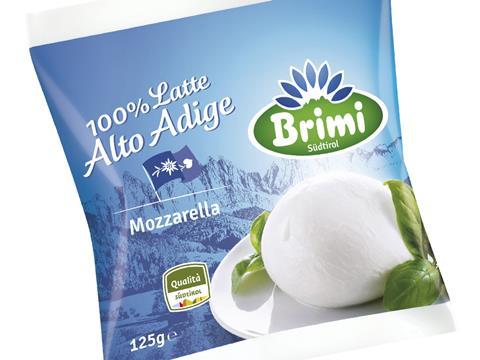 Eurilait is aiming to capitalise on the increasing popularity of Continental cheeses by launching its premium Italian cheese brand Brimi into UK retail, introducing mozzarella, ricotta and mascarpone cheeses under the co-operative brand. Brimi milk comes from mountain dairy farmers in the Alpine region of South Tyrol in Northern Italy.

Philadelphia Deliciously Whipped

Launched: April 2015

Manufacturer: Mondelez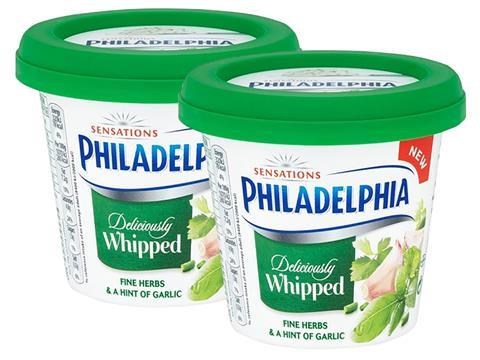 Mondelez has strengthened its Philadelphia range with new whipped cheese variant Philadelphia Deliciously Whipped. The newcomer is available in Original, Fine Herbs and a Hint of Garlic, and Black & Green Olives and is designed to have a fluffier, more delicate texture than regular soft cheese.

Cheestrings Strong!

Launched: April 2015

Manufacturer: Kerry Foods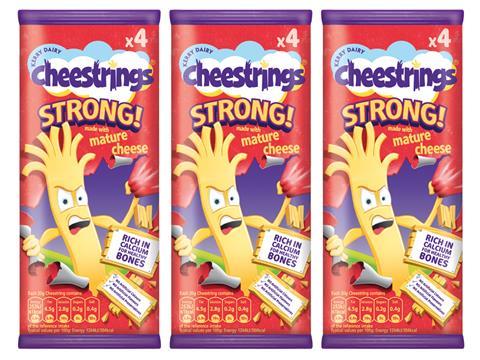 Cheestrings Strong! is a more mature cheese aimed at children over nine who are increasingly comfortable with fuller flavours. "Cheestrings is using its brand strength to help grow a limited kids' cheese snacking category," says Tom Willock, kids dairy snacks marketing manager at Kerry Foods. Rsp: £1.5