The cheese snacking sector has come of age. Brands are evolving from children's lunchbox staples to innovative adult snacks
The cheese snack sector is maturing. Once largely confined to children's school lunchboxes, cheese snacks finally graduated into the adult market this year, contributing more than 9% of the cheese category's £104.1m growth this year along the way. Not bad, considering the cheese snack sector holds just 4% of the total cheese market.

It's been quite the turnaround for cheese snacks. Back in 2017 the future of the sector looked bleak, with cheese losing a hefty 49 million snacking occasions [Kantar Worldpanel 52 w/e 15 June 2017].
Download the PDF version of this report
---
Fast forward to 2018 and mini portions are the fastest growing sector in cheese, up £9.2m (8.7%) in value on volumes up 7.2% [Kantar Worldpanel 52 w/e 12 August 2018]. Cheese snacks have become so popular in the past 12 months they're actually outpacing the total snacking market (up 1% year on year), with 2% growth year on year [Kantar Worldpanel].

So, how have cheese snacks worked their way into adult snackers' pockets? How are brands looking to push the cheese snacking trend even further forward, and how have other cheese sectors fared this year?

A lot of snacking cheeses' success this year can be attributed to the perfect storm of rising demand for protein and Britain's ongoing war on sugar. "Consumers are looking for lower sugar snacks, but they don't want to compromise on taste," says Gaëlle Vernet, group brand manager at Bel UK. "Cheese is benefiting from consumers seeking out healthy snacking options, with 54% associating cheese with being a source of calcium and 38% regarding it as a good source of protein."
"Consumers are looking for lower sugar snacks, but they don't want to compromise on taste"
Several brands in the category clocked that movement and put substantial cash into repositioning their mini portions as a healthy adult snack alternative. July saw Kerry Foods inject serious money into transforming its Fridge Raiders brand to encompass all of Kerry Foods' high protein snacks. The newly collated range, which includes former GoGo cheese snacks among others, received a packaging overhaul and a new, health-focused 'Powered by Protein' tagline.

"The previous positioning of Fridge Raiders targeted teenagers who, together with kids, represent 15% of snacking occasions," explains Victoria Southern, snacking marketing director at Kerry Foods. "However, we see a great opportunity to widen its appeal amongst adults, capturing the broader 85% of snacking occasions."

The brand also forked out £3m on an above-the-line 'Get a Taste for Power' campaign to promote the new adult look and range of Fridge Raiders, and launched two new Combos SKUs in September. The new 55g packs, each containing bite-sized cheese pieces and a mixture of beans and rice puffs, come in BBQ and Chilli flavours and packaging that emphasises their high-protein credentials.
Repositioning
The Laughing Cow was another to invest in its snack offer this year, undergoing a total brand relaunch aimed at "positioning the brand as a convenient snacking solution for all the family" in June.

The launch included a new 'Snack Like You' campaign, highlighting the versatility of the brand's various cheese products in snacking, from spreading a Laughing Cow triangle onto a multigrain cracker to dipping a pepper into Laughing Cow spread. The campaign, which included TV, digital and PR, reached 14 million shoppers according to the brand, culminating in a pop-up café in London's Spitalfields market in August.

Meanwhile, Cathedral City invested in several packaging redesigns and NPD this year, starting with its Cathedral City with Crackers & Pickle packs. The SKU received a packaging refresh back in April as well as a name change to 'Lunch Pack'. "The makeover more overtly targets the lunchtime occasion and improves the portability of the pack, while also reducing shelf footprint and improving shelf efficiency for retailers," says Nigel Marchant, cheese marketing controller at Cathedral City.
Six months later, the brand splashed out again on new Caramelised Onion and Sweet Chilli flavours for its Snack Bar range alongside a new pack design highlighting the 100 calories, high protein and low sugar credentials of the 30g snacks.

These sizeable investments by some of the biggest players in the category strongly indicate that the adult cheese snacking trend isn't going anywhere soon. Across the (cheese) board, brands are scrambling to reposition their snacking offering to target Britain's new wave of adult cheese snackers. And it seems to be paying off.

Cathedral City reported a 25% rise in its total adult snack sales this year to £12.9m, including triple-digit growth of its newly extended Snack Bar range, now worth more than £800k. Similarly, Kerry Foods states the Fridge Raiders' Snackbites cheese range has seen a 72% rise in volume sales year on year.
Kids snacks
While the majority of snacking innovation in cheese this year targeted adult shoppers, child-centric brands still reaped substantial rewards from snack NPD.

Mini Babybel achieved £2.8m value sales growth this year [Nielsen 52 w/e 8 September 2018 including discounter sales], which the brand attributes to the introduction of new Mini Babybel Organic in June, which it claims is the UK's first branded organic snacking cheese. The brand is set to innovate further in the New Year with new Mini Babybel Spirolls, positioned as a "natural cheese snack, containing no artificial colours, flavours or preservatives".

Fellow lunchbox player Dairylea's snacking NPD also raked it in this year. The brand reports its two new Snackers SKUs Mini Oreo and Mini Chocolate Cookies accumulated £1.5m in retail sales since launching in April, representing 76.9% of Dairylea's total sales growth this year [Nielsen 52 w/e 8 September 2018 excluding discounter sales].

It's not just the bigger brands in cheese concentrating on snacking NPD. The past year saw the entry of several smaller brands introducing cheese snacks into the market, among them Odysea, which launched new snacking feta packs (rsp: £2.65/ 5x30g) in May. Snack brand Serious Pig is another smaller player entering cheese snacks this year. The brand introduced its first cheese SKU, Crunchy Snacking Cheese, in September, consisting of 100% hard Italian cheese Quattrocento.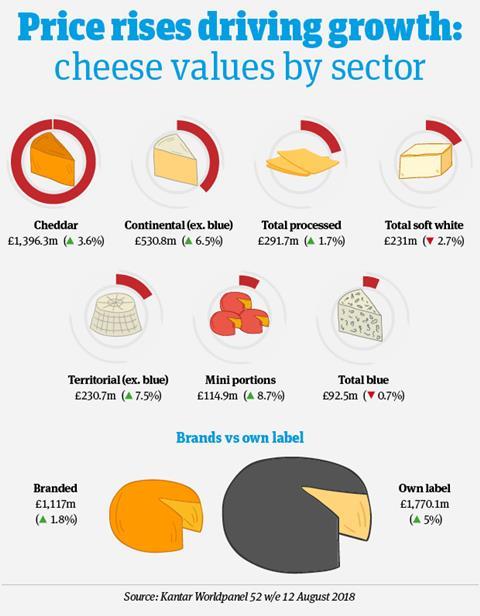 Find the full data at the bottom of this report
Occasion growth
Snacking may be the comeback kid in cheese, but it's not the only eating occasion enjoying strong cheese growth. Consumption of cheese in the evening meal rose 5% this year to more than 97 million occasions, and lunchtime occassions for cheese grew 3%.

The raft of branded NPD and marketing this year targeting lunch and evening meal times has been integral to this consumption growth. Philadelphia is just one of the brands looking to up cheese's lunchtime status, launching a £1m 'Upgrade Your Lunch' campaign in October across TV, digital and in-store activity, and introducing two new spreads in spring, Philadelphia Salmon and Philadelphia Caramelised Onion.
The brand is set for some strong competition for lunchtime cheese shoppers. Italian milk production chain Granarolo's new Cheese Crumbles range is due to hit retail shelves next spring, comprising of three high-protein cheese and seed sprinkles for soups and salads.

Meanwhile Seriously stepped out of its block and spreads comfort zone this month with new Melting Pots. The range of Scottish cheddar dipping cheeses is available in Original and Caramelised Onion flavours, aimed at consumers' "lunch, early evening or 8pm sofa moments".

Wyke Farms' #CheeseForTea campaign is also working to endorse cheese in the evening, reaching 65 million Brits this year. "The campaign offers ideas on how to cook with our cheddar and use it as an alternative protein source, tapping trends such as #MeatfreeMonday," says marketing manager Jen Gray.
The flexitarian trend
Another driver of lunch and dinner cheese consumption is the number of Brits restricting their meat consumption. "There has been a significant increase in consumers changing to vegetarian or flexitarian diets and, as a result, looking for other sources of protein this year," says Svitlana Binns, customer relationship manager at Dairygold Food Ingredients. "Cheese is perfectly placed to meet this need."
"Consumers are looking for other sources of protein - cheese can meet this need"
The rise in consumers opting for meat-free meals may have proved highly beneficial this year, but the category is still far from reaching its potential according to Mike Chatters, sales director at Lactalis McLelland. "Consumers are on the lookout for tasty and nutritious meat alternatives. As well as being a natural source of protein, most cheese is suitable for a vegetarian diet, but that message isn't communicated very much. More needs to be done to drive home the protein message in cheese."
It could also serve to boost the category's volume sales, which grew just 0.6% this year. "Volume per trip and frequency are down -0.1% and -0.2% respectively," says Kantar analyst Michael Ndukwe. "The majority of category growth has been driven by average price increases."

Those average price rises, the result of inflation and a drop in promotions, are likely the reason behind the current boom in larger pack sales. Intent on getting more bang for their buck, shoppers this year increasingly opted for heftier sizes, fuelling the drop in frequency of sale and volume per trip.

Those thriftier shoppers drove sales of 400g and 500g cheese blocks up 60% and 41% respectively year on year, making them the fastest growing pack sizes across cheese [Kantar Worldpanel]. That equates to an additional £45.4m spend in 400g packs and £42.3m in 500g packs year on year, whilst the largest grossing pack size (350g) lost £47.1m (11%) in value sales over the same period [Kantar Worldpanel].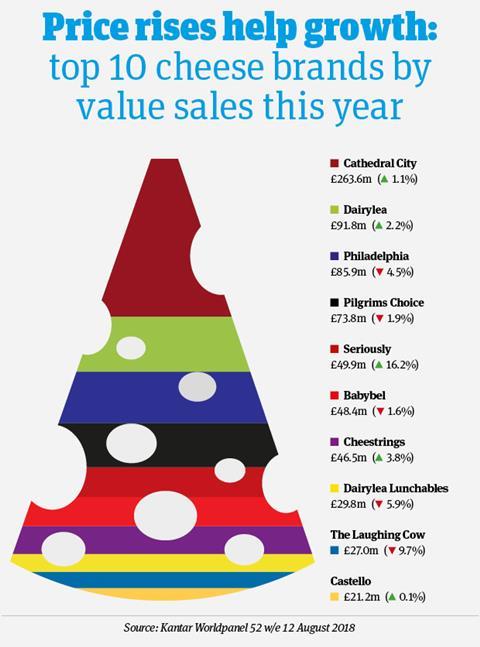 Find the full data at the bottom of this report
Brands vs own label
Shoppers looking to squeeze more value out of their cheese purchases have made for a tricky year for brands. Despite every branded sector (with the exception of soft white cheese) being in growth this year, total branded value gains were a relatively stunted £20.1m (1.8%), less than a quarter of own label's £83.2m (5%) sales growth [Kantar Worldpanel].

The growing popularity of own-label cheese is hardly surprising when you consider the price differential, says Kantar's Ndukwe. "Branded cheese costs more per kilo than own label and its prices are also growing at a more rapid rate. The average branded cheese is up 30p since last year to £7.60 per kilo, compared to the 17p average increase in private-label cheese, which now sits at £5.89 per kilo." That makes own-label cheeses on average 29% cheaper than their branded counterparts.

Not only are cheese brands more expensive than own label, they're also more reliant on price hikes. In total, branded cheese volume sales dipped 2.3% year on year [Kantar Worldpanel], meaning brands' 4.2% overall average price increases were the sole driver for total value sales (up 1.8%).
"Brands have found it difficult to compete in 2018 as retailers have rationalised ranges"
If you ask Lactalis' Mike Chatters, retailers have a lot to answer for in branded cheese's comparatively slow growth this year. "Brands have found it difficult to compete in 2018 as retailers have continued to rationalise their cheese ranges and are increasingly getting behind their own-label offerings." Brands' growth this year has been further impeded by branded NPD "not universally receiving the support it desperately needs from retailers to succeed" adds Chatters.

Lactalis blames retailers' reduced promotional activity in cheese and the growing price differential between branded and own-label products for its Galbani brand's 5.4% (£0.9m) dip in value sales this year. And it's not alone in pointing the finger at retailers. Wyke Farms' value sales were down £6.1m this year, more than 45% of the brand's total value. "We attribute this decline to the loss of listings in Sainsbury's & Waitrose, driven by range rationalisation," says managing director Rich Clothier.

Wyke wasn't the only cheese brand hit by Waitrose's range reset this year. The retailer has cut 73 pre-packaged cheese SKUs from its shelves since May, 52 of which were branded. The mass exodus includes seven of Cathedral City's 14 listed lines as well as losses for Bradburys and Belton. Sainsbury's has gone down a similar route, reducing the SKUs in its cheese range by 19% this year.

Cheese isn't the only category to be slimmed down by both Waitrose and Sainsbury's, of course. The past year has seen both retailers commit to range cutbacks across the board, but range rationalisation in cheese has been especially pronounced.

It's not hard to see the appeal of slimmed-down ranges. The comparatively limited cheese ranges at Aldi and Lidl both achieved double-digit growth this year (21.4% and 11.1% respectively). No wonder retailers are shedding SKUs.
How cheese brands are getting experiential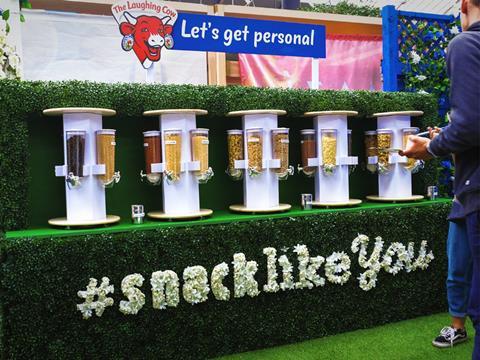 Modern consumers love an experience - especially younger consumers. According to research conducted by consulting service RSM, today's shoppers are increasingly 'replacing buying with doing', prioritising spend on experiences over everyday necessities.
The rise of the so-called experience economy is creating new challenges for food brands, but also opening up fresh opportunities. And cheese brands are increasingly happy to get involved.
Several cheese players are now using experiential marketing involving special, curated experiences to boost brand awareness, encourage sales and promote new products.
One such brand is Wensleydale Creamery. Its visitor centre (pictured below), which offers cheese demonstrations, a viewing gallery, a gift shop and a restaurant, has seen more than 300,000 visitors over the past year. "We've found the centre benefits the brand in numerous ways," says marketing manager Sandra Bell. "We sell a lot of cheese through the experience, and it also inspires our shoppers to think of new ways of eating or cooking with cheese, which drives incremental sales and benefits the category as a whole."
The Laughing Cow was another to employ a cheesy experience to attract customers this year. The brand launched a two-day pop-up café in London's Spitalfields market in August as part of its 'Snack Like You' campaign.
The event (pictured above) saw 4,500 cheese fanatics stream into the café to sample chef-created dishes including mac & cheese and raspberry & white chocolate pudding, each showcasing a use for a Laughing Cow product.
Cheese brands looking for yet more experiential inspiration could do worse than look at the likes of South Korea's 23-acre Ismil Cheese Theme Park, which provides cheese-themed rides, a cheese making tutorial and even a cheese castle for over 200,000 visitors a year.
Trend-spotting
Still, success in cheese this year hasn't all been about offering fewer and cheaper SKUs. "Spotting trends and listening to customer feedback is key to maintaining growth in the category," says Julie Ashfield, managing director of buying at Aldi. "We also work to support British cheesemakers and farmers to deliver quality cheese sourced in the UK."

Among Aldi's big cheese wins this year was the relaunch of its Burger Melts in summer to capitalise on the barbecue trend, with sales climbing 20% year on year. The retailer also reported strong sales for its new Mini Cheddar Sticks, which Ashfield states was introduced in July "in response to consumer desire for a more adult-targeted snacking range".
Strong own-label snacking NPD is set to add further pressure on cheese brands. Snacking remains one of the few areas in cheese currently dominated by brands, which account for 89% (£101.5m) of the £114.9m mini portion sector [Kantar Worldpanel].

Though own label made a comparatively small £13.4m in mini portions sales this year, it was still the fastest growing sector across private-label cheese, up 49.2% year on year [Kantar Worldpanel].

"This could be the first sign that private label is making a serious move into the sector," says Kantar's Ndukwe.
Brand innovation
Growing price differentials, range rationalisations in favour of own-label lines and the potential proliferation of private label into cheese snacks doesn't paint a pretty picture for cheese brands.

But there are ways for brands to fight back, says James Millward, managing director at farmer cooperative Eurilait. "The issue is that most brands don't offer enough differentiation to standard own-label cheese, and therefore can't justify the higher price point. Brands need to innovate and create excitement around products."

Several brands have done just that, and Cathedral City is one. "There's an opportunity in the market for brands to engage with younger shoppers through differentiated, value-adding propositions that fit their lifestyle needs," says marketing controller Marchant. "That includes areas such as convenient formats and free-from."
Accordingly, the brand extended its sliced cheese range in May to include The Big Slice, designed to fit a slice of bread for maximum convenience, as well as new 200g Lactose Free Cheddar Blocks, launched in October.
Other brands have also prioritised innovation to justify their space on shelf. Norseland-owned Applewood, for example, is targeting millennial vegans with its new Vegan Smoky Cheese Alternative, set to hit the dairy aisle in January.

The vegan launch is notable as it will sit under the main Applewood brand as opposed to a separate sub-brand created specifically for plant-based variants.

If brands are to keep fighting off the threat of own label and retailer range rationalisations, they are going to have to ensure their innovation pipelines stay busy in the months ahead.

With one kilo of branded cheddar costing £1.25 more than own label, brands need to think outside the box with NPD that validates the price tag.

They could do worse than focus on younger shoppers - maybe cheese brands could benefit from being a bit less mature after all.
Innovations in cheese 2018
Click on an image to expand