Rice & noodle brands are in a cat & mouse game with own label as it copies NPD and undercuts on price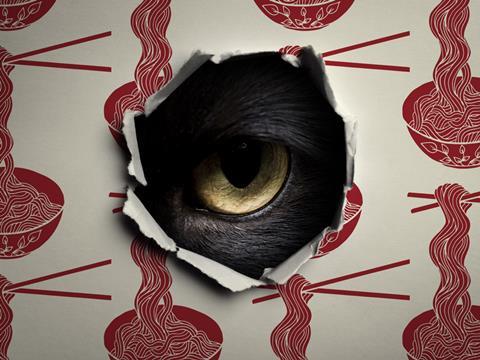 Britain's best-known household names are under attack. In rice, noodles and hot snacks, the top three brands are down by a combined £12m [IRI 52 w/e 20 May 2017] as retailers ramp up support for own label.

The losses of Uncle Ben's, Sharwood's, Pot Noodle and others (of £5.3m, £3.1m and £3.6m respectively) are only part of the story. Prices are tumbling as own label wins share. Own label is up 7.8% on volumes up 8% [Kantar Worldpanel 52 w/e 23 April 2017]. Brands have lost 2.2% in value; volumes have sunk 1.5%.
The greatest growth for own label was in pouched rice (see p40). With a kilo of own-label pouched rice fetching almost half the price of brands (£2.23 versus £4.21), pouches have seen the greatest price deflation of all the major rice & noodle sectors, of 6.2%.

Nevertheress, pouches have had most absolute growth in the sector, of £14.9m (8.2%); volumes are up 15.4%. Some say the growth of own label at the expense of brands is threatening to devalue the category.

"The rice & noodles market is driven by fast-paced commoditisation," says Gauthier Boche, head of strategy & innovation at brand design agency Webb deVlam, which lists VeeTee among its clients. "Any major NPD quickly gets copied, so it's a cat-and-mouse game between brands and retailers."
Category snapshot 2017
So who are the fattest cats when it comes to own label? How are retailers driving growth of their own-label lines? And how can brands claw back the sales they've lost?

Brands pioneered pouches, but own label is now cashing in, says Tilda head of marketing Anna Beheshti. "Microwave or ready-to-heat rice, as we call it, is only 10 or 12 years old but it's seen a phenomenal rise to the extent that it's now the biggest subsegment in rice," she says. "Own label has really focused on this, driven by Sainsbury's and now Tesco. All others are now seeing huge growth."

It's not just the big guns. All retailers are cashing in on demand for convenient carbohydrates, says Caroline Hughes, head of marketing and innovation at Fiddes Payne, which manufactures the Jamie Oliver brand. "Own-label options across all retailers have seen significant growth and share has been won from the big branded players."

Microwaveable rice accounts for 59% of Spar rice sales, up from 49% three years ago, according to the retailer, with the Uncle Ben's pouch range a particularly strong performer for it, at 12% growth. Spar also relaunched its own-label dry rice offering in April, including new SKUs.
Convenience
So convenience is king and the pouch is prince. It's perhaps no surprise that convenience retailers such as Spar and the Co-op, suited to providing a quick evening meal for shoppers looking on the way home from work, are increasing their pouched rice ranges.

"We've increased space for microwave rice lines to capitalise on the convenience market," says Adam Williams, rice & noodle buyer at the Co-op. "It's essential that we have the ranges to meet the demands of time-poor shoppers looking for convenient and tasty solutions. Microwave rice pouches are the ideal product to fit this need."

In recent years the push into pouches has driven value into the category with such products selling for an average of more than three times the price of bulk rice, according to Kantar. Hughes at Fiddes Payne cites Kantar data showing that consumers will spend an average of 28% more to cut cooking time."The continued push by manufacturers across the board to assist in reducing the time from pack to plate has driven further growth in the family staple and store cupboard essential of microwave rice," she adds.

Own label's push into microwave rice is a turning point for the sector because it is forcing prices down again. "Own label has always been the key rice in the dry sector and in the last year has grown very well in the ready-to-heat microwave rice as well," says IRI insights manager James Dawson, whose analysis puts own label's growth in pouches at 70% over the course of the past year.

The growth in own label isn't just down to price and growing share of shelf, however. "Own label's got better and better at showcasing innovation, whether that's packaging or flavours", says Rich Ford, director of new business at retail & branding consultancy Sherlock Studio. "So brands need to make sure they're absolutely ahead of the curve and giving the consumer something new and something they might want to pay more for than the basic own-label products."

Riso Gallo has found an innovation on this front with the planned launch of a frozen base that aims to enable the preparation of risotto in under five minutes. "The demand for convenience is shaping our NPD plans," says Gallo MD Jason Morrison.
Health
Yet the pouch may continue to provide a solution, if its convenience factor can be combined with another key shopping and eating trend: health. "The rice category has been quite clever in looking to some of the so-called superfoods like quinoa and things like that, and mixing those in with the rice in the pouches," says Ford.

And it is paying off for some brands. Tilda, for example, has defied the downturn of many of its peers with sales up 2.1% on volumes up 1.2% [IRI], thanks partly to growth for its range of basmati & quinoa and pulses & rice pouches, which generally carry a higher price than more standard offerings.
Rice Brands: winners & losers
Others point to Seeds of Change as brands leading the charge, and UK grocery trading manager for Spar Louisa Radford says the launch of Uncle Ben's Rice & Grains range earlier this year has been "really well received". This month also sees Riso Gallo add four ready-to-heat Pronto varieties to its range of wholegrain and supergrain blends.

In noodles, Sharwood's cites IRI data showing 26% growth in wholewheat as it rolls out its own variety. Yilmaz Erceyes, brand director for cooking sauces at manufacturer Premier Foods, says the launch is "targeting busy shoppers who want to cook with healthier alternatives but still require products that are quick to prepare."

Health is becoming a growing concern in the £250m hot snacks category, dominated by noodles. "We know that negative perceptions around artificiality and poor nutrition are stopping new consumers from entering", says a spokesperson for Nestlé, which manufactures the Maggi Fusian brand.

Striking this sweet spot in the centre of the Venn diagram between convenience and health is critical to attracting what Boche calls "a key consumer target for this category": millennials. Health and image-conscious, and seeking adventure and authenticity, they could be the key to delivering the innovation necessary for brands to stay ahead of own label, as well as to grow the category.

"Heat-and-eat can now be healthy, authentic and tasty - and especially appealing to time-poor but food-savvy millennials," believes Boche. Enter brands such as Naked Noodles, Kabuto and Itsu, which market themselves on a combination of health, authenticity and convenience.

Free-from
Three millennial health trends are already having - and are forecast to continue to have - an impact in the market: free-from, particularly gluten-free; zero or low-carb, including vegetable alternatives; and protein. "Rice & noodles have huge potential in free-from," says Riso Gallo's Morrison. "Rice by the nature of it is gluten-free, but there is still an education piece around this needed for some consumers to realise it."

Tilda's Beheshti agrees that education in this area is key, citing data that suggests 70% of consumers do not know that rice is naturally gluten-free. "Overall, over 65% of UK households have bought into free-from in the past year," she says. "Hence it is clear that gluten-free has become mainstream and shorthand for healthier products. However, we still shop free-from less than once a month - signalling headroom for further growth."

Rice & noodles could be crucial in driving this growth, according to Itsu, which has been making waves in the market since moving in from the high street. It's added £0.8m to its value in hot snacks in the past year to hit £3.4m. "Free-from is having increasing importance to the UK consumer, with retailers dedicating more and more space to free-from products," says Itsu grocery marketing director Natalie Sugarman. "There is certainly a lot of potential for free-from in instant noodles. We expect to see more and more brands developing their gluten-free offering."

Tiger Tiger certainly is. "Our developments and growth in dried noodles all sit in extending the supply of noodles from wheat-based noodles to those made of rice, bean and high-protein soy," says head of Tiger Tiger Nigel Parrott. "Consumers are trying to reduce their gluten consumption and it is this that is driving alternative noodle consumption."

Meanwhile, Chadha Oriental Foods is "working on a gluten-free range with a new partner" focusing on rice noodles, says Faizal Fulat, buying director at the supplier of Nissin Noodles.

Retailers are already seeing the impact of these developments, with Williams revealing that Co-op consumers are "leaning towards options that are gluten-free, from quinoa to bulgur wheat". He adds: "When it comes to noodles, there is demand for different varieties other than egg and non-egg. Shoppers are looking for wholewheat, gluten-free, protein and soba noodles."

Low-carb diets
Gluten isn't the only issue here. For some shoppers, carbs just aren't cool. "Things like quinoa, couscous, the impact of the spiraliser… these are all taking on rice & noodles head to head with credible and sometimes more interesting alternative to the carbs in traditional rice & noodles," says David Martin, joint MD at retail consultancy M Worldwide.

In response to this and the growth in vegetable rice & noodles such as cauliflower rice and courgetti, some brands are developing no-carb noodle products mostly based on the konjac tuber, including: the Dragons' Den-famous Barenaked; Itsu, which launched its Zero Noodles in June; and Tiger Tiger, with its Yulo brand set for launch in October.

Then there's the high-protein trend, with Ford highlighting newcomer brand Oomi - whose fish-based noodles hit the market starting in Tesco in September and moved into Morrisons online last month - as "an example of a noodle brand that's actually doing something around the low or no-carb angle. That really ticks that box perfectly."

But millennials are not all health and no joy, and another angle that rice & noodles can take to attract these youngsters is a sense of adventure. "With global-inspired street food being one of the top five influences on UK menus, this shows us that consumers are becoming more adventurous with their tastes," says Erceyes, citing the MCA Menu & Food Trends Report 2017.

Amoy brand manager Mimi Williams agrees: "A rise in travel and eating out has led to consumers being more excited and interested in cooking different ethnic cuisines. Customers are returning from places such as Thailand and Bali, and visiting the growing number of Asian restaurants, inspiring them to replicate what they have eaten abroad or in restaurants."

Perhaps because the desire for increased cuisine variety comes from travel - and therefore having experienced the real thing - one factor that crops up again and again when discussing the future of rice & noodles is authenticity. "Retailers are continuing to grow their ranges of authentic world food meal solutions," says Beheshti, citing Tilda's most recent limited-edition ready-to-heat pouch variety Caribbean Rice and Peas.
---
---
Authenticity
But authenticity is most noticeably a driver in the hot snacks market, in which the own-label advance is not just less pronounced but going backwards, with a £2.7m loss in the past year. "It's never been as own-label focused as the other two categories, rice and Chinese noodles, and it's always been built primarily around Pot Noodle and Bachelors," says IRI's Dawson. "There's always been that historic strength of the brand in this sector."

Pot Noodle remains the largely unchallenged market leader, despite losing £3.6m in the past year. However, smaller brands are on the march, albeit from a lower starting point. This is thanks to authenticity-led NPD. Dawson highlights Naked Noodle as a growth brand as it leaps from the eighth to the third biggest in the past year, almost tripling in value.

"They've seen that sales growth coming from the authentic flavours," says Dawson. "Most of the big growth has been from Thai sweet chilli, Japanese teriyaki, chow mein, hoi si min Peking duck, Singapore curry and beef pho, for example. So rather than your curry, sweet and sour, it's getting a bit more sophisticated and that seems to be driving the growth."
Pop-up gallery: Innovations in Rice & Noodles 2017
Itsu and Kabuto are up for similar reasons, with both brands namechecked by a number of commentators. "The instant hot snacks market is seeing huge growth and posh pots are leading that drive," says Boche. "Kabuto and Itsu, for example, have instant noodle lines but they've elevated them from drab student fare and given them restaurant-style sophistication."
Spar's Radford agrees: "Instant noodles are again delivering good growth and we are beginning to see consumers buy into a more premium branded offerings. Consumers have been seeking inspiration within the category and new entrants such as Kabuto and Itsu have brought some welcome disruption."

And so average price per kilo in the hot snacks category is up 5.8%. "The unit price has actually fallen by about 1% and volume price is up by 8%," says IRI's Dawson. "This will be driven mainly by premium NPD with smaller pack sizes, more convenience and a similar price point."
Price and pack size
This, perhaps, is the surest sign of premiumisation in the once humble noodle pots sector: the emergence of brands that consumers are prepared to pay more for, despite the fact they will get less for their money. Lads' favourite and market leader Pot Noodle (once billed as the 'slag of all snacks') is taking a different tack: pushing bigger packs and flavours familiar with takeaway regulars.

"Sticky Ribs and Chinese Chow Mein have been growing in popularity, which is why last year we decided to add them to our fast-growing King Pot range," says Pot Noodle marketing manager Monique Rossi. "This is a key growth driver in the instant hot snack category, helping to trade consumers up from 90g to 114g by offering them a bigger portion of their favourite flavours."

Others make similar observations. Kabuto founder Crispin Busk suggests its pots "could go sumo-size" in future and Spar's Radford says some shoppers are trading up to larger bags of bulk rice. "We are also seeing consumers buy larger pack sizes, especially within rice where customers are trading up into 5kg and 10kg bags from the traditional 500g or 1kg," says Radford.

This partly reflects the growing imp0rtance of religious events such as Ramadam and Diwali to retailers. It also suggests that bulk rice could benefit from the sort of premiumisation seen elsewhere in the sector, with brands trading on the provenance of their produce. "There have been a lot of provenance stories, ethical stories attached to coffee that you don't necessarily see with rice," says Ford. "With all its health benefits and all its exotic provenance and origin, there is a lot that could be done with rice & noodles."

This sense of adventure and authenticity could allow for more upmarket products, says Tony O'Connor, director at rice manufacturer MAP Trading. "This expedition lends itself to a potential premiumisation of the area, where consumers will upscale for quality and differentiation," he adds.

Nevertheless, wider trends do not favour bulk rice, what with the rise of smaller households and demand for convenient formats. "Consumer shopping habits of little and often with the need for quick and easy meals are set to continue, and so the evolution of meal kits and single-serve products will be key for the categories," comments Radford.
Promotions
Single-occasion and single-portion purchasing is also being driven by changing promotional strategies, with Kantar noting a decline in x-for-y deals from 17% to 9% of spend in the past year, and a rise in simpler temporary price reductions. "This change in promotional mechanics has also resulted in average [pouch rice] prices dropping," says Kantar analyst Bianca Draghici.

Spar's Radford concurs: "We are moving away from multibuy deals into single price point promotional offers as we know our customers prefer to shop in this way."
Hot snacks brands: winners & losers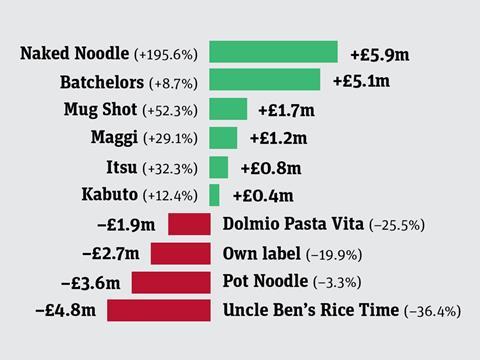 Fulat describes promotion in hot snacks as "aggressive". Riso Gallo's Morrison is concerned about how the opposing pulls of authenticity/provenance and price are going to play out: "The ongoing price war in the pouch category has put huge pressure on brands that deliver quality, premium grains that simply cannot be retailed at £1.00."

Of course, investment in product and format innovation combined with savvy marketing will be key if brands are to avoid being chased down by own label. And if the innovation panels make one thing clear, it's that brands are doing just that.

For example, Tiger Tiger's October launch of Japanese-inspired diet noodle brand Yulo will be backed by a £500k marketing investment . "This is aimed squarely at women who want the convenience of a pot snack but without the taste or calories," says Parrott. "The hot eating snacking category under-indexes with women as they consider the category to be unhealthy and high in calories."

Tiger Tiger's is certainly an interesting launch, with the potential to open up a sector to new consumers, but all brands will have to stay fleet of foot to stay ahead of own label. "With the new flavours, the new packs and to an extent the new varieties as well, I'm sure own label will follow suit," says IRI's Dawson.

Perhaps what this cat & mouse needs is a tiger?