No longer are ready meals simply a guilty pleasure. The new wave of products promise a quick fix of nutritious, virtuous fare
It's not often you hear the words 'ready meal' and 'clean eating' in the same sentence. In nutritional terms, a microwaveable chicken tikka masala generally comes with a big side order of guilt. That these meals typically arrive in black plastic trays - recycling public enemy number one - doesn't help ease the conscience.

But change is coming. A new wave of virtuous ready meals are emerging with impressive nutritional content and recyclable packaging to boot. From Deliciously Ella's vegan dahl to Bol's sweet potato katsu curry in packaging derived from sugar cane, these couldn't be any further away from a black-plastic-encased tikka masala. They are hoping to reinvigorate the ready meal by tempting the healthy, environmentally conscious crowd.
Download the PDF version of this report
---
The change in tack makes sense. For ready meals are suffering a serious image problem. At the tail end of 2017, Public Health England identified ready meals as one of the high-calorie foods contributing to the obesity crisis. As brands are challenged to cut their calorie content, consumers are set to become more conscious of what's in their meals than ever. That hardly bodes well for sales of the traditional high-salt, high-fat or high-sugar stuff. Criticism of unsustainable packaging such as black plastic trays has also reached its peak. All of which is making ready meals ever less palatable for today's consumer.

Amid this controversy, there are signs growth is slowing. This time last year, ready meals were up over £220m -or 6.2% - in value [Kantar Worldpanel 52 w/e 6 November 2017]. Over the past year, that has slowed to an extra £89m or 2.3% [Kantar 52 w/e 7 October 2018]. Brands that trade on their guilty pleasure credentials are stagnating. Rustlers only managed a 0.4% increase in value to £88.6m over the past year, while Feasters was down 0.1% to £21.4m [Nielsen 52 w/e 8 September 2018]. So, arguably, it's time for a rethink of what's on offer.

Enter a range of NPD that deserves its own halo. In September, Deliciously Ella unveiled a five-strong range of frozen vegan dinners ranging from a Sweet Potato & Black Bean Shepherd's Pie to a Five Bean Chilli. That the dishes come in at 184 calories and 140 calories respectively per 200g portion will no doubt be music to the ears of Public Health England.

Then there's plant-based brand Bol, which started the new year with the launch of its Dinner Boxes. Providing a healthy twist on classics, its sweet potato katsu curry contains two of the 5 a day and under a fifth of the recommended daily calorie intake.
"Traditional healthy ready meals in the past have been focused on calorie control"
Never one to miss a trick, Charlie Bigham's unveiled a range of healthy grain-based dinners in spring. With dishes ranging from a Goan fish curry with sweet potato, kale and turmeric to a roasted aubergine and halloumi dish with butter beans and bulgur wheat, the brand hopes to provide an alternative to the "traditional healthy ready meals, which in the past have been focused on calorie control and didn't look or taste terribly appetising", says CEO Patrick Cairns. That much of the brand's latest NPD is suitable for vegetarians was also a carefully considered move to "suit consumers that have made the decision to go meat-free or reduce their meat intake". The strategy seems to be working. Charlie Bigham's achieved the highest value gain of any ready meal brand last year, up £11.4m to £65.7m [Nielsen 52 w/e 8 September 2018].

Premium brand Cook says the idea of wellness will sell among today's consumers. To that end, it invested in a total rebrand this month including a new 'Love Eating Well' banner. "It's the first time we've had a consistent message across our whole range rather than just the lower calorie products," says director of brand James Rutter. "Shoppers today are looking for balance, mindful eating and products that fit into their lifestyle rather than a crash weight loss plan."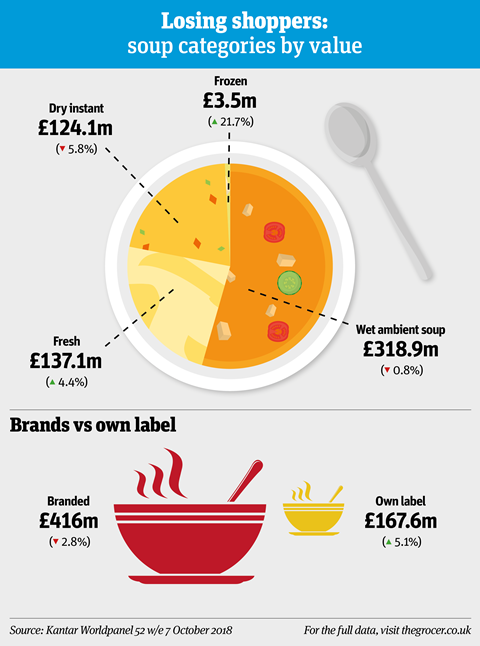 Find the full data at the bottom of this report
Retailers go healthy and vegan
The dominant players in this market - the retailers - are thinking along similar lines. Like many of the brands, they are ensuring their healthy options also tap the growing plant-based trend. But these aren't the kind of vegan items that have come under fire for being overly processed - they would gain approval from the clean eating brigade.

Take the ready meals in the M&S Plant Kitchen range, launched this month. The Thai Green Curry contains butternut squash, broccoli stems and edamame beans, while the Roast Aubergine dish is also packed full of veg. Tesco has added to its Wicked Kitchen range with dishes such as its Big Bros Enchiladas, a mix of sweet potato and beans in tortillas with a tomato sauce, sweetcorn and pepper salsa. Waitrose is expanding its vegan range with an extra 11 SKUs, including such virtuous dishes as a beetroot risotto made with spelt & pearl barley.
That Waitrose is also looking to ditch black plastic from its ready meals - it trialled fibre-based, widely recyclable trays in May - forms part of the same trend. For in this next generation of ready meals, it's not just what's on the inside that counts. The outside has to be just as virtuous. So retailers have been scrabbling to find more sustainable alternatives to black plastic. Everyone from Tesco and Sainsbury's to Lidl and Iceland, which last January launched its new Mumbai Street Co and Hungry Heroes ranges in pulp and paper packs, is revamping their ready meals to make them more Attenborough-friendly.
"There's been a massive change in knowledge and interest around non-sustainable packaging"
The new wave of ready meal brands are doing the same. Deliciously Ella's products are packaged in recyclable plastic and paper. The packaging around Bol's Dinner Boxes is 95% plastic-free, made from offcuts of the sugar cane plant that would have otherwise gone to waste. Young's Seafood was keen to ensure its Simply Steam range, launched in September with a high protein content, no artificial ingredients and a full green traffic light GDA, came in widely recyclable trays. This forms part of a wider aim for the business. "By 2020, we have promised to reduce the use of plastic in our packaging by 10% and have aimed for 95% of our packaging to be widely recyclable by 2025," says head of frozen Jason Manley.

Quorn also strengthened its ethical credentials by pledging to eliminate all non-recyclable plastic from its supply chain in June. The brand, up 22,4% in value to £13.6m [Nielsen 52 w/e 8 September 2018], has since switched from black plastic to clear and white trays for its chilled ingredients and ready meal lines. "We've saved 297 tonnes of non-recyclable plastic from reaching landfill," says marketing director Peter Harrison.
Cook has similarly made a public pledge to ditch black plastic. It rolled out its kids range in cardboard in December, while the rest of its range will make the move this summer.

Amid the plastic backlash, this kind of effort could prove a robust selling point. "There's been a massive change in knowledge and interest around non-sustainable packaging in shoppers recently," says Phil O'Driscoll, innovation director at packaging solution brand Parkside Flexibles. "While that has been building slowly for years, the main push came from Blue Planet II last year."

Charlie Bigham's, which has used compostable wooden trays for its ready meals since its debut, agrees on the power of the proposition. "The fact that our products don't use plastic packaging is something our customers really connect with," says CEO Cairns.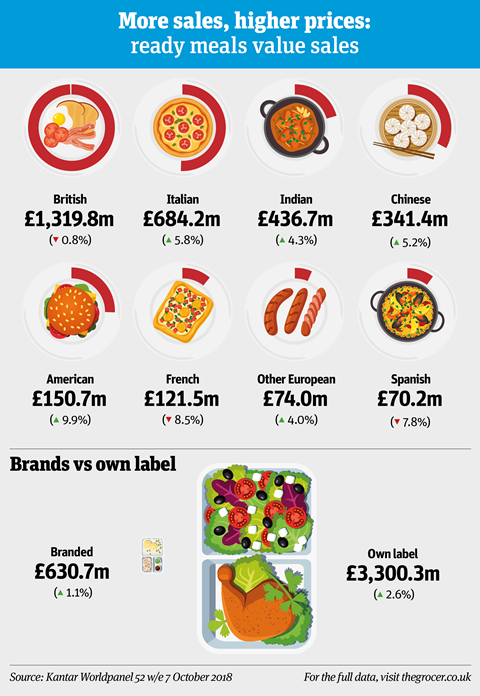 Find the full data at the bottom of this report
Food waste
For this newly eco-conscious consumer, plastic isn't the only issue. There is also growing awareness of food waste. That was the driving force behind the relaunch of Boxed ready meals in September, just six months after debut. The meals were already in recyclable paperboard trays (owner Nomad Foods is looking for a recyclable alternative to the plastic film topping the products). But in a bid to reduce food waste, what started out as two-person meals were cut down to one-serving packs in a bid to cater for smaller households.
Food waste was also a key consideration in the development of Deliciously Ella's ready meals. As founder Ella Mills explains, the aim was to fire on all guilt-free cylinders. "Veganism is cited to be the biggest thing you can do as an individual to benefit the planet, and on top of that our ready meals are frozen, so food waste is minimal," she says.

Indeed, that the Deliciously Ella and Boxed lines are both frozen is no coincidence. On the face of it, growth in this corner of the market is lagging behind chilled. Chilled ready meals racked up growth of £80m, or 2.5%, over the past year to be worth £3.2bn. The smaller frozen market edged up £9.1m, or 1.3%, to £686.2m.

Yet there is evidence to suggest frozen could emerge from the shadows. In chilled, almost all value growth has come from a 2% rise in average price [Kantar Worldpanel]. Shopper penetration remained static at 91.9%. In frozen, however, shopper numbers are growing.
"Eating out occasions are declining at 0.4% year on year - 17 million fewer occasions"
There are also a growing number of shoppers who don't want to fork out more for a chilled ready meal. Kantar identified Tesco's Hearty Food Co chilled ready meals as the most successful new range this year, and price was a key factor. A 400g Lamb Hotpot costs 65p and a full roast beef dinner comes at £1.59. "Hearty Food Co has been a success as shoppers were drawn in by lower prices," says Kantar analyst Jennifer Fletcher. "Young consumers, in particular, are resistant to price rises, with 26% of them saying they would rely less on pre-prepared food to save money."

This mentality could prove a win for the cheaper frozen sector, where ready meals cost an average of £3.98 per kg, compared with £7.22 in chilled [Kantar].

When consumers do splash out on a ready meal, they expect plenty of bang for their buck. And so high-end, restaurant-emulating ready meals have emerged as another area of growth this year. "M&S is seeing success with its chilled Gastropub 'The Collection' range growing strongly, and Iceland has seen very strong growth with their frozen 'Luxury' range, engaging new shoppers who are buying more products, more frequently," says Kantar's Fletcher.

Part of this trend has come from Brits eating out of home less frequently, she explains. "Eating out occasions are declining at 0.4% year on year, equating to 17 million fewer occasions. Consumers this year increasingly looked to replace eating out with premium in-home occasions."
Restaurant ready meals
Spotting this opportunity, a spate of restaurant brands have ventured into ready meals. Restaurant chain Giraffe entered grocery for the first time in September with two starter dishes and four main meals including Tamarind Duck Noodles and Harissa Spiced Lamb Kofta. In the same month, Bella Italia launched 10 Italian starters, mains and desserts into Tesco freezers. "It made sense for us to expand our brand into this growing market," says head of brand Marc Saunders. "We're restaurant operators at heart, but we also have a wealth of experience that can be utilised to tap into other markets, such as retail, and we're determined to evolve."

Latin American chain Las Iguanas followed suit in October, introducing its range of eight dishes inspired by its restaurant menu into Tesco. "We're pleased to be introducing adventurous diners to some more unusual new dishes that they can experiment with at home, like the variations of our Brazilian Xinxim or Moqueca," says brand director Lucy Harwood.

Ruby Bell, founder of new premium ready meal delivery service ByRuby, believes this high-end trend is a key opportunity for brands. "Own label will always have the lead in competitive price points, but the number of consumers who are willing to pay more for premium and artisanal products is increasing."

If those products can also tout clean eating credentials and recyclable packaging, they could be on to a winner.
Innovations in ready meals & soups 2019
Click on an image to expand