Cold drinks are getting hot. But who will best take advantage – established brands, soft drinks specialists or new players?
The UK is in a fever. A cold fever, that is. For today, the hottest growth areas in coffee, tea and hot chocolate are in the chillers.

A quick glimpse at the supermarket aisles serves as proof. No longer are cold coffee ranges confined to a couple of iced lattes. Instead, the shelves are bursting full of innovative fare from salted caramel cold brews to oat milk RTDs. In the world of tea, healthy iced teas and cold infusions are emerging as a hotbed of activity. Even hot chocolate isn't exempt. As the US embraces cold brew chocolate, the UK is tipped to follow suit.

One thing is certain: cold is the new hot. While the hot beverages market is stagnating - up 0.1% to £2.2bn [Kantar 52 w/e 19 May 2019] - their chilled counterparts are posting double-digit growth. In 2018, coffee shop sales of iced beverages rose 14.3% to £395m, according to coffee research specialist Allegra. It estimates the iced market will reach £449m in coffee shops by the end of this year. And where out-of-home tastes go, retail sales tend to follow.

It's good news for traditional hot beverage players, who are spreading their wings into new, faster-growing areas. So lucrative is the market that major soft drink players are getting in on the act, too. But it's no easy win. These chilled brews are home to some fierce competition - and some are proving more bankable than others.

At present, the most bankable is cold coffee. All figures point to it being a huge area of growth. Out-of-home cold coffee sales shot up 53.4% to £160.2m in the past year [Kantar 52 w/e 16 June 2019]. In retail, iced coffee gained an extra £22m [IRI 52 w/e 30 December 2018].
"RTD coffee is part of Coca-Cola's vision to become a total beverage company"
Its potential is evidenced by the sheer number of large players who have entered the market of late. It's no coincidence that an iced RTD range was the first fruit of Costa Coffee's $4.9bn (£4bn) deal with Coca-Cola. The soft drinks giant clearly sees cold coffee as a priority for the future.

Simon Harrison, VP of commercial development at Coca-Cola European Partners, says RTD coffee sales are up 36.5% in retail. That figure makes it an integral part of the company strategy.
"At the beginning of last year we unveiled our vision to become a 'total beverage company', in order to reach more consumers by offering more choice across a wider variety of drinking occasions," says Harrison. "As part of this, we ventured into the RTD coffee category for the first time in the UK with the launch of Honest Coffee." That 2018 launch was initially confined to the out-of-home arena. In March, Honest expanded into retail.
At the same time, CCEP was gearing up the Monster brand for a coffee makeover. The energy drink's Espresso & Milk and Vanilla Espresso lines hit shelves on a trial basis in November. By March, they were ready for a full rollout.

That fast pace is arguably necessary. For CCEP isn't the only soft drinks giant that sees potential in the market. In July, PepsiCo joined forces with Lavazza to produce an RTD iced cappuccino. The activity is unlikely to stop there. PepsiCo West Europe Beverages' head of marketing Mark Kirkham suggested this was just the start of joint innovation that would be "based on consumer insights and preferences".
Established brands
If Coke and Pepsi seem a little late to the party, it's because they are. Plenty of iced coffee brands have already built a loyal following in retail. The Starbucks RTD brand is already worth £54m. Emmi has sales of £17m [Nielsen 52 w/e 29 December 2018]. And in April, Crediton Dairy said its Arctic Iced Coffee brand had reached £3.9m on the back of increased distribution, strong rates of repeat sales and new consumers.

But the new offerings are promising to be far more than 'me-toos'. Lavazza is making a point of its "high-quality coffee sourcing and roasting". CCEP says Honest has "a less sweet taste profile" on top of organic credentials. The Monster offerings are designed to appeal to the energy drink crowd. And the Costa RTDs promise to contain 30% less sugar than many of its rivals.
Of course, Costa has something else in its favour. According to Allegra, Costa is the second-largest coffee shop chain in terms of iced beverage sales, behind Starbucks. So Allegra founder Jeffrey Young believes the Coca-Cola deal with Costa could be a "game-changer" despite all the existing competition. Coke's distribution expertise could ensure there is an iced Costa product in "almost every fridge in the country," he says.

Plus, not every area of the iced coffee market is full to the brim with competition. There remain some less developed avenues to explore. One is cold brew coffee. Its sales remain "a fraction of" the hot beverages market, according to Allegra. Yet 45% of the industry leaders polled by Allegra identified cold brew as the most significant opportunity in iced beverages.

In the out-of-home arena, cold brew has arguably hit the mainstream already. Costa, Starbucks and Caffè Nero all have their own versions. In Starbucks, there are as many as five options to choose from. There's the traditional cold brew and a cold brew latte, alongside a trio of options using nitro, which adds an element of creaminess to the mix.

In retail, however, it's a different picture. There are plenty of people experimenting with cold brew - see the nitro blends by Minor Figures or the range of flavours offered by Califia Farms - but it's not the giants. Instead, smaller brands are leading the way.

Sandows was one of the first to market with its cold brew, which landed in the UK in 2014. Co-founder Hugh Duffie expects the "wave to break properly" in the next three to four years. "There is a big opportunity for [cold brew coffee] to become a mainstay category because the drink itself has nothing to hide," he explains. "There are so few drinks with truly clean nutritional panels that actually have any flavour and it's obvious that this is where the consumer is headed."
Is hot chocolate the next cold brew sensation?
It's not just coffee getting the cold brew treatment. Hot chocolate is the next beverage tipped to benefit from a chilled makeover.
As with the entire cold brew market, the US is leading the way. Cold brew chocolate first emerged in New York and San Francisco in 2015. Two years later, Starbucks cemented its mainstream appeal with the launch of an RTD Cold Brew Cocoa & Honey drink into selected US stores.
That same year, Mintel picked up its potential to make waves in Europe. Its research in France, Germany, Italy and Spain found at least 50% of consumers would be interested in chocolate-based products that retained the nutritional value of cacao beans. That's something that cold brew chocolate can offer in spades.
The production process is key to that nutritional content. Cold brew chocolate is made in largely the same way as its coffee counterpart: freshly ground cacao beans are steeped in water for between 16 to 24 hours. The result is similar to cold brew coffee, boasting a notably reduced acidity and a more intense sweetness to the flavour.
The resulting low levels of sugar and carbohydrates have made cold brew chocolate a hit with consumers mindful of their calorie intake.
Plus, cold brew chocolate has the added health benefit of being free from caffeine. Instead, cacao contains theobromine, a mood-enhancing stimulant that doesn't affect the nervous system in the same way – namely, it doesn't give you the coffee jitters. What's more, cacao also contains beneficial minerals such as magnesium and iron, which could add further appeal to a health-conscious crowd.
Mintel's global food and drink analyst Alex Beckett says the health appeal could be boosted further with some tweaks to the standard recipe.
"For brands looking to take the cold brew cocoa concept to retail, using a dairy-free milk alternative like almond milk could lend the drink a contemporary appeal along with a complementary nutty, subtly sweet flavour," he says.
"Meanwhile, adding whole milk could convey a more taste-oriented, creamy appeal."
Dairy-free, low in sugar and a caffeine-free boost? Sounds like something that would go down a treat with the UK's chocoholics.
As he suggests, cold brew plays into another key trend: health. Allegra's Young says cold brew "matches trends towards people living healthier lifestyles". Sandows is sugar-free, and many of its rivals boast similar credentials. That presents a huge advantage over iced coffees, many of which are sugar-laden. A Starbucks Seattle Latte, for example, contains 8.5g of sugar per 100ml.

This health aspect was a key reason why dairy-free brand Califia Farms went into cold brew. Its range is largely unsweetened, and the most indulgent variant contains 5% sugar. These credentials seem to be winning a mainstream following. Califia won listings in Tesco for its 750ml Mocha Cold Brew and XX Espresso products in July. And it has delivered 40% value growth at a total brand level [IRI MAT March 2019].
"Big brands launching and discussing cold brew coffee is a really positive thing"
Califia Farms CEO and founder Greg Steltenpohl believes its health credentials are a driving factor behind that growth. "As consumers have increasingly asked for lower sugar in the food and beverages they consume, Califia Farms has not only met, but exceeded, that demand - while continually innovating on great taste," he says.

These attributes could make cold brew a solid next venture for the iced coffee giants. And it's a distinct possibility. Starbucks, for example, has a cold brew RTD available in the US. So a UK version could feasibly be on the cards soon.

Kadie Regan, founder of cold brew brand Far Side Coffee, says there will "certainly be more to come" in terms of larger cold brew brands. She sees this as a potential driver of further growth. "We believe that big brands launching and discussing cold brew coffee is a really positive thing - without them, there wouldn't be the current level of market education," she says.
Tea going cold
Still, it's not just coffee having all the fun. Tea is also getting in on the cold act. At this year's London Coffee Festival, tea brand Novus was debuting nitro cold brew tea (see video, above). Granted, that's a pretty niche concept - but it goes to show the growing buzz and activity around the cold cuppa market.

Healthy iced tea is one area of particular focus. Again, the soft drinks giants have emerged as a driving force. First off the mark was CCEP, which launched low-calorie iced tea brand Fuze in 2018. At the time, Harrison said iced tea was "going to explode in Britain".

Now Lucozade Ribena Suntory (LRS) is following suit with MayTea, which is similarly looking to appeal to health-conscious consumers. LRS head of innovation Victoria Morgan said the launch was timed to coincide with a growth in UK iced tea sales, which she expects to reach £23m by 2022.

Traditional tea brands are also getting in on the thirst for a cold cuppa. They have largely focused on cold infusions - a market already worth £7.8m, according to Nielsen. These innovations have started to "excite shoppers again", say Nielsen senior client analytics executives Robin Tahiri and Tom Newman.

A look at brand performance serves as proof. Many tea brands are suffering from the long-running decline in black tea. But those who have innovated in the cold space have managed to keep afloat.

Twinings took the accolade of leading tea brand from PG Tips this year with a £3.9m gain [Nielsen 52 w/e 13 July 2019]. Nielsen said this was down to both its Superblends and its Cold In'fuse line, which launched last April as the first cold infusion on the market. The brand seems to be reaping the rewards of being a pioneer. Twinings accounts for eight of the 10 bestselling cold infusion products, according to CGA research.
"Convenience and wholesale customers are beginning to explore the category's potential"
Still, Tetley isn't doing too badly either. It launched its cold infusions line just two months after Twinings made its debut. Tetley says its product is now worth over £1.3m, accounting for a fifth of the cold infusions market. "Sales and distribution have been growing steadily since launch," says Cassie Shuttlewood, marketing manager for Tetley Cold Infusions. "With sales established in the multiples, convenience and wholesale customers are beginning to explore the potential of this exciting new category."
That potential is leading other players to get involved. Lipton launched a five-strong cold brew tea line in February. And Teapigs unveiled its take on the trend in June.

Similarly to iced tea, health credentials are proving a driving force behind the cold infusions boom. All of the above contain barely any calories, and are free from caffeine, artificial flavours, added sugar or sweeteners.

It sounds pretty unstoppable. But there is one factor that could put a spoke in all this cold action: the weather. Consumer research suggests there is still a seasonal appeal to cold beverages. Over half of UK iced tea consumers drink more in the summer months, found a poll of 541 shoppers in August by research company Him.

Allegra's Young admits "more work is needed to widen seasonal demand" of cold coffees and teas. Still, his figures reveal some reason for optimism. Allegra's research found young people are driving the boom in cooler drinks - nearly half of under-30s who drink iced beverages make a purchase every week. Those younger consumers are more likely than the average punter to do so outside the months of June to August, when iced fare makes the largest portion of its sales.

So perhaps the nation's cold fever could last beyond summer. Here's to the start of the cold season.
Can cold brew coffee dominate out of home?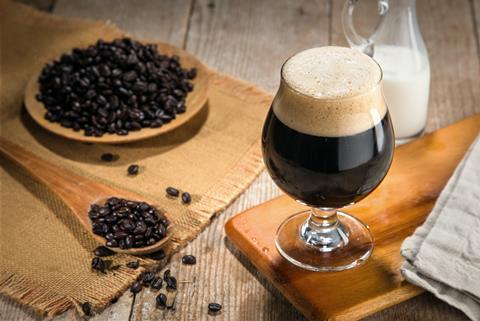 Could pubs and bars be the next frontier for cold brew coffee? It certainly has the visual appeal.
Nitro cold brew can be served on tap in the same way as a beer. And the creamy head and smooth pour means it could easily be mistaken for a pint of Guinness.
At the moment, nitro cold brew is still relatively small in the UK. But in the US, where the cold brew coffee market is at its most mature, it's big business.
So UK players are hoping to replicate that success on these shores. An early adopter was London-based coffee chain Grind, which collaborated with Sandows to produce a nitro draught product as early as 2015. The chain now has 10 locations across the capital, each of which transforms into either a bar or restaurant as the day goes on.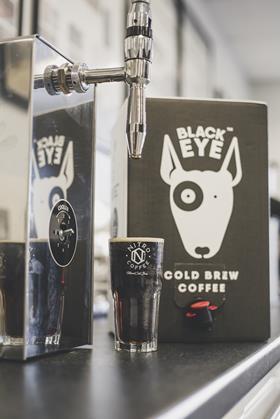 In the later hours, the cold brew has another purpose: as a base for espresso martinis.
It's not just Sandows getting in on the pub and bar trade. Own-label coffee supplier Lincoln & York is betting big on the trend with its first branded product, Black Eye cold brew (left).
Lincoln & York pitches its cold brew product to the licensed trade as a healthy, tasty and versatile alternative to many of the soft drinks on the market. It can be served as a standalone drink over ice, on draught as a nitro brew, or used as a mixer in cocktails such as the famed espresso martini.
Not long ago, it may have been challenging to persuade a pub or bar to remove an alcoholic drink from its taps in favour of a cold coffee. Today it's looking like a far more palatable proposition.
The non-alcoholic beverages sector is at a record high and growing at a rate of 39%, according to Nielsen figures. And Kantar figures show the out-of-home cold coffee market is growing at an even faster rate of 53.4% [52 w/e 16 June 2019]. So it may not be long before a pint of Guinness has a new rival on its hands. Cheers to that.
Innovations in cold brew 2019