Boris Johnson has thrown confectioners into a spin with a get fit quick plan that bans certain ads and promos. Can they shape up?
The government's obesity strategy came as something of a curveball in July. Boris Johnson's get fit quick plan for Britain – which includes a ban on certain ads and promotions for high fat, salt and sugar (HFSS) foods such as sweets and chocolate – went further than anyone expected.
It includes a ban on HFSS brands advertising online (as well as on TV before 9pm), plus a ban on HFSS volume deals and display promotions in high-footfall areas such as checkouts and aisle ends.
Health campaigners are ecstatic. On the flip side, suppliers say the measures are 'draconian' and claim they will cost the industry as much as £1.2bn when they come into force at the end of 2022. Some described the online ad ban as a "bolt from the blue".
For confectioners, these measures were far worse than a curveball – rather a wrecking ball that smashes many of their key sales drivers to pieces. So what impact will the plans have on the confectionery market? And how are confectioners trying to shape up?
The plans are undeniably at odds with earlier statements made by the PM. In July 2019, Johnson vowed to halt the expansion of 'sin stealth taxes' such as the soft drinks sugar levy. "If we want people to lose weight and live healthier lifestyles, we should encourage people to walk, cycle and generally do more exercise," he said last year.
"Visibility is key – and this is where confectionery starts to have problems"
To be fair, a lot has changed since then and Johnson's posturing was likely a bid to curry favour with right-wingers in the build up to the Tory Party leadership contest. That Britain has the highest death rate from Covid-19 in Europe is linked to the fact that we also have one of the continent's highest rates of obesity, so Johnson clearly has to be seen to be doing something to address our collective weight problem.
And if he wants to hit confectioners where it hurts, the ban on TV and online advertising, bogofs and other volume-driving deals and featured space promotions is the way to go. Thirty-four per cent of sweets and chocolate purchases are made on impulse, versus a grocery average of 21%, according to research by Shopper Intelligence. So, securing prominent spots in-store is crucial.
"With such a category, visibility is key," says Shopper Intelligence MD Chris Adkins. "And this is where confectionery starts to have problems. In our observational data, we see only 35% of shoppers go down the confectionery aisle (versus a market average of 38%). Given what we know about the impulsive nature of this category, this is a big miss."
In other words, brands can't rely on shoppers visiting the confectionery aisles. That's why they spend so much on securing space at gondola ends and till points for eye-catching deals on sweets and chocolate.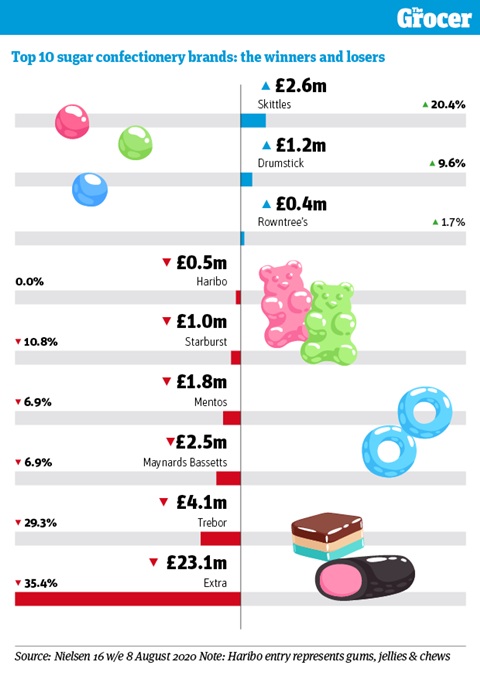 Gum has come unstuck, with Extra (Britain's biggest chewy brand) suffering an eye-watering £23.1m decline in sales in the past four months.
"The seismic shift in buying habits created by Covid-19 drove consumption inside," says Nielsen client team leader Charlotte Oakley. "Brands that were in a position to leverage the increase in in-home occasions fared better than those reliant on out-of-home formats."
Trebor suffered a similar fate as Extra, falling £4.1m (29.3%), as Brits found they had less cause for sweets to freshen their breath with before meetings.
Skittles scored the highest growth in sweets, with sales up £4.5m (20.4%). Drumsticks grew by £1.2m (9.6%).
Brands need to buckle up for a bumpy ride to come. "There are many headwinds that brands will need to navigate," says Oakley. "The shift online, potential range reductions to improve efficiency, the obesity strategy and Tesco's move to GPED will all impact impulsivity."
Promotions matter
Those display promotions are typically combined with pricing offers. Price promotions accounted for over a quarter of sugar confectionery sales in the 12 weeks to 12 July, according to Kantar. In the case of sweets, the share of sales on deal rose by nearly two percentage points versus last year. This bucks the general trend in grocery of a dramatic reduction on promotions during lockdown.
The actual number could be even higher. Kantar's numbers (derived from a demographically representative panel of 40,000 consumers) only cover take-home sales. They do not cover impulse sales, usually driven by heavy promotions at convenience retailers and petrol forecourts. Although these sales understandably fell during lockdown, when on-the-go occasions dropped dramatically, they are now starting to recover.
"These huge food and drink companies have not been acting in our best interests"
Then there is the final tool in the box of confectioners: advertising. Analysis by the Obesity Health Alliance found confectionery, soft drinks and crisps brands were forking out £143m a year on advertising space in 2017 – nearly 30 times greater than government spend on its anti-obesity campaign at the time. The sector also spends big on online advertising. So the bans on these ads, alongside in-store promotions, are likely to hit them hard.
It's therefore little wonder health campaigners are jubilant about the government's plans. They say letting confectioners have free rein is a key reason why Britain is one of Europe's fattest nations, with nearly two-thirds of adults and a third of primary school leavers overweight or obese.
"We're delighted the government has finally recognised these huge food and drink companies have not been acting in our best interests when they advertise and discount their heavily processed HFSS food and drinks," says Action on Sugar campaign director Katharine Jenner. "This will be hard to stomach for many, but for more responsible companies this is an opportunity to build… making and promoting healthier options."
'Healthier' sweets
Manufacturers say they're doing just that. "Unless snackers are looking to completely revamp their personal snacking habits, our understanding is they are ideally seeking a healthier version of what they are already eating," says Mark Roberts, trade marketing manager at Perfetti Van Melle, owner of Chupa Chups, Mentos and Smint.
Roberts points to IRI numbers that show PVM is Britain's biggest manufacturer of so-called 'better for you' confectionery, giving it a 30% share of the £36m market [52 w/e 18 July 2020]. "We recognise health is high on shoppers' agenda and will remain there, so over recent years we have created sugar-free and less-sugar products giving 'better for you' options across all our brands," he adds.
PVM is not alone. Jon Hughes, MD of Haribo, points to his company's efforts to wean Britain off sugar. "Our approach is supported by the large variety of pack sizes available and our sugar-reduced product, Fruitilicious, which contains 30% less sugar than regular fruit gum sweets.
"Consumers are ideally seeking a healthier version of what they are already eating"
"Since its 2018 launch, Fruitilicious has secured sales of £8m and continues to outperform all other reduced sugar and many regular sugar products," he says, citing IRI data for the 52 weeks ending 14 June.
Haribo's Starmix, Tangfastics and Supermix have the lowest sugar content in IRI's list of Britain's top 10 bestselling sweets, he adds. Nevertheless, it should be noted that these products are still 47%, 50% and 55% sugar respectively. Even though it's the jewel in Haribo's 'better for you' crown, Fruitilicious contains a sizeable 33% sugar.
These don't sound like the sort of 'healthier options' Action on Sugar's Jenner is hoping the government's obesity plan will inspire. Plus, the £36m in sales of healthier sweets is a pittance next to the £1.1bn Nielsen says sugar confectionery was worth last year [52 w/e 8 September 2020].
Some contend that tighter regulation will act as a stimulus for reformulation and greater investment in marketing healthier confectionery, similar to the way the sugar tax prompted soft drinks manufacturers to move away from full-sugar pop. But, given the falling sales and outrage that brands such as Irn-Bru and Lucozade faced after they changed their recipes, it's understandable if confectioners are treading lightly.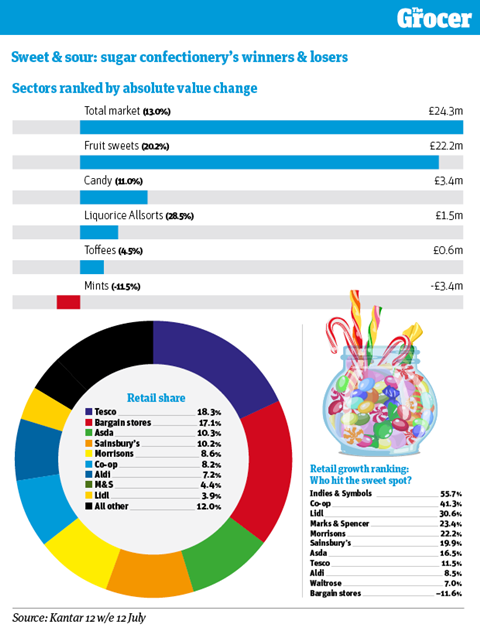 Brits have been buying more sweets since lockdown. Take-home sales surged 13% to £211.7m on volumes up 12.5% in the 12 weeks to 12 July [Kantar].
"The market has benefited from lockdown as shoppers – especially families – seek in-home treats," explains Kantar analyst Sacha Francis. "The sales increase has not come from new shoppers buying into the category but repeat shoppers buying more each time – approximately two extra packs."
That this data only covers take-home sales and does not include sweets bought and consumed on the go should be noted. Nielsen's numbers, which are based on EPoS data rather than a consumer panel, paint a far gloomier picture, with sales down 6.8% in the four weeks to 8 August. The decline reflects the fall in consumption outside the home.
What Kantar and Nielsen have in common is the steep decline in mints, equating to a £3.4m drop in Kantar's read (it also shows a lukewarm performance from toffees). "Mints and toffees traditionally attract older shoppers, who we know were less likely to be shopping around over this time," says Francis.
Reformulate?
"Reformulation needs to be considered with caution, especially among brands where nostalgia is so closely linked with taste," says Kantar analyst Sacha Francis. For her, the gloomy economic outlook adds another layer of risk to the process. "'Health traditionally drops down shoppers' priority lists in a recession," she points out. "This provides an interesting dynamic when combined with the current pandemic and renewed government focus on health."
Others voice similar views. "There's no doubt that this is, and will continue to be, a challenging market," says Haribo's Hughes. "There are many challenges ahead. Our raw material and commodity costs continue to rise and while we have always taken a responsible approach to marketing, future restrictions may impact on how we promote our products."
This is why Hughes takes issue with a blanket ban on primetime advertising. He rejects any suggestion that Haribo, which uses TV ads starring adults voiced over by children chewing on and discussing the brand's sweets, has ever been marketed irresponsibly. "While we know that shoppers purchase our products for the whole family to enjoy, we market our range to the gatekeeper, as opposed to children," he says, quoting IRI data for the year ending 14 June.
"There's no doubt that this is, and will continue to be, a challenging market"
"We believe in choice, in the fact that consumers recognise confectionery as a treat and that they can make informed decisions about what is right for them," Hughes adds. "Our top-selling products already offer the lowest sugar content per 100g (compared to other sugar confectionery products) and are supported by a range of formats. Our mini bags continue to be a popular choice, selling in excess of 150 million units each year. Starmix mini is just 16g and less than 55 calories."
Still, the mini bag format hasn't been doing so well of late. With most of the country spending more time at home, and living under constant fear of spreading the virus by going out – or "killing our grannies", as Matt Hancock would put it – there is simply less need for portable formats. "Sugar confectionery singles are having a tough time, declining at 6.3% – they have been heavily impacted by lockdown restrictions," says Roberts at PVM.
On the flip side, larger formats are growing in popularity, says Hughes. "Format growth is being driven by value and comfort – in chocolate this has come from block chocolate and in sweets the sales have been driven by medium bags," he says. "We are also growing the medium bag format, with sales up almost £5.5m in the year to date [IRI 16 w/e 14 June 2020]."
Mints and gum
So for sweets, lockdown has been a case of swings and roundabouts. For mint and gum, on the other hand, Covid-19 has been an all-out disaster.
Kantar shows an 11.5% loss for take-home sales of mints. That's partly because gum and mints are mostly about freshening breath or reducing stress in social situations. Trouble is, we're socialising far less than we were before March and, when we do, we're keeping a safe distance and wearing masks.
"Mints and gum have certainly struggled in lockdown," says PVM's Roberts. "With such dramatic changes to our lifestyles – no commuting, no travelling, working from home – key occasions when mints and gum are consumed have declined."
It's also partly because mints tend to be bought more by older people, who are more likely to have been shielding over the period this data reflects. The combined losses of Trebor and Mentos, Britain's two biggest mint brands, stand at nearly £6m in the 16 weeks to 8 August, down 29.3% and 23.7% respectively [Nielsen].
"With such dramatic changes to our lifestyles key occasions for mints and gum have declined"
Gum has found itself in a particularly sticky spot. IRI numbers suggest the already-struggling gum category was sent into a tailspin by Covid, with market value halving in the 12 weeks to 14 June.
"As we have all spent more time at home, our consumption patterns and needs have shifted," says Nick Reade, sales director at Mars Wrigley, whose Extra brand has suffered an eye-watering 35.4% decline in recent months [Nielsen].
"But gum has stayed central to lots of consumers – even at home," Reade maintains. "Forty-two per cent of gum consumers said their top reason for chewing gum was to feel relaxed, with 30% of gum occasions taking place whilst relaxing in the afternoon or evening [Kantar Usage]. This occasion most often occurs around common activities like watching TV, browsing the internet and socialising, and it is characterised by unwinding and taking a break."
And PVM has gone as far as creating its own, Covid-19-specific occasion. The manufacturer wants to convince people that smelling your own bad breath behind a mask is just as bad as inflicting it on other people with its Fresh Behind the Mask campaign for Smint, which it claims has so far reached five million people on social media.
"This area has been affected more than many others by Covid-19 and lockdowns preventing people going to work or school or college," says Roberts. "But we are on a mission to revitalise the category."
Will a 'junk' ad ban really help in the obesity battle?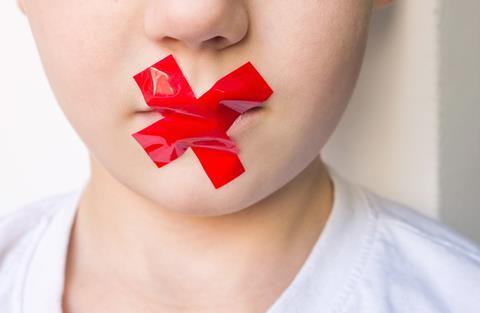 Confectioners are facing a gagging order. The government plans to ban junk food TV advertising before 9pm and all online ads for high fat, salt and sugar (HFSS) food and drink as part of the obesity strategy announced in July.
The move follows years of campaigning by health charities. "Obesity is a complex issue with many causes, but one of the biggest influences is the world we live in," said Cancer Research UK cancer prevention policy officer Malcolm Clark in response to the announcement, pointing to factors such as confusing nutrition labelling, larger portions, bogof deals and "ubiquitous" junk food advertising. Almost half (47.6%) of all ads on TV are for junk food such as chocolate and sweets, according to a Cancer Research UK study. That number rises to 60% between 6pm and 9pm, when children are more likely to be watching TV.
"The 9pm watershed ad ban will reduce a child's calorie intake by the equivalent of half a Smartie"
The industry has reacted with a mix of dismay and derision. Silencing TV ads has been on the cards for years, but the online ban was described as a "bolt from the blue".
Sue Eustace, director of public affairs at the Advertising Association, says: "The government's own research has shown that a 9pm watershed ban on HFSS advertising will reduce a child's calorie intake by a minuscule 1.7 calories per day – the equivalent of half a Smartie."
The details of the ban are not currently clear. All we know is that the proposals are due to come into force by the close of 2022, along with measures such as removing HFSS food and drink from high footfall locations in store such as gondola ends.
"We don't know at this stage whether the proposed ban on confectionery advertising and promotions will include products like our better-for-you lines," says Mark Roberts, trade marketing manager at Perfetti Van Melle. "However, as we see it, ultimately cutting the opportunity to support these offerings in store will mean shoppers have less choice, and less awareness of these alternatives."
Revitalisation
Others are thinking differently about how best to revitalise gum and the wider sugar confectionery category. Gum brand Blockhead launched what it claims was the UK's first chewing gum infused with CBD (or cannabidiol, a non-psychoactive compound derived from cannabis that's purported to have calming properties) last October, for example. "Chewing gum is a really fun and enjoyable way of getting CBD into the body," CEO Danny Lowe told The Grocer at the time.
Given what Reade says about the growing use of chewimg gum at home to relax, the idea might have legs. Still, there are probably safer horses to back. "One of the biggest adult trends we see continuing to grow is flexitarianism and veganism," says Roberts at PVM, which expanded the Fruitella range with a line of on-trend vegan, gelatine-free sweets last November.
"One of the biggest adult trends we see growing is flexitarianism and veganism"
Others are banking on premiumisation, claiming that the so-called 'lipstick effect' – the growth in spend on affordable luxuries such as make-up and indulgent food and drink during times of economic uncertainty – will benefit the category. Paul Hargreaves, CEO of fine foods distributor Cotswold Fayre, tips the Natural Candy Shop, which produces a range of retro sweets made from 'natural' ingredients, as a brand to watch.
"The lipstick effect is certainly true," he says. "When times are bad, consumers seek out small luxuries, and speciality food certainly falls into this category. In light of recent events, this has certainly been true, but we'll see the real impact of this over the coming months in terms of uplift of 'treat' sales.
"We've also seen growth of local shopping, which means products that used to be bought in supermarkets, like larger sharing bags, are now being bought closer to home from convenience retailers."
Innovation
Ultimately, innovation is what is needed in this category. "Staying relevant in an ever-changing market is key for brands to thrive within sugar confectionery," says Nash at Mondelez, who adds that Maynards Bassetts' gelatine-free Fizzy Fish soft jellies were the biggest launch of 2019 in sugar confectionery, according to Nielsen.
"Whether they offer consumers authenticity, quality, lower sugar content or simply a great core line from a brand they know and love, brands must ensure their products embody these trends to stay ahead of the curve," she says.
"The key will be continuing to provide consumers with those joyful moments they seek from the category – through innovation or products they love and trust. In uncertain times, consumers seek out brands they know and love, that deliver on familiarity and taste."
"The lipstick effect is true – when times are bad, consumers seek out small luxuries"
Trouble is, these particular times are more uncertain than most of us can remember. For example, a University College London study published in July found that more than half of Brits didn't understand what the rules were regarding social distancing.
But one thing that is certain, according to the World Health Organization and others, is the link between obesity and the significantly increased risk of dying from Covid-19.
It will take more than some Werther's Sugar-Free – or even a sugar-free gob stopper – to quieten the people who are currently making decisions for Britain. "Sugar confectionery has always been behind chocolate in terms of its rate of innovation," says Kantar's Francis.
So now is the time for confectioners to step up and send some curveballs of their own.
How candy flavours are getting more exotic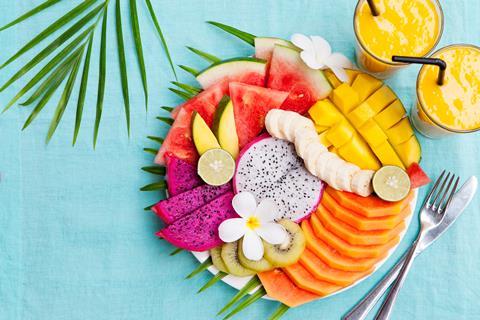 Anyone who's had the misfortune of eating the booger-flavoured Bertie Bott's Every Flavour Bean or a vomit Bean Boozled Jelly Bean will agree sugar confectionery flavours have got rather weird of late.
Of course, nobody is meant to enjoy these revolting confections. Both are packaged alongside tastier flavours. Bott's are aimed at mischievous Harry Potter fans looking to trick unwitting parents; Bean Boozled is a stomach-turning game of jelly bean Russian roulette. So, what about new flavours we're supposed to enjoy?
"What was exotic is now very much mainstream," said Julie Laughter, confectionery manager at flavours supplier Fona International in a presentation on flavour trends at Chicago's Sweets & Snacks Expo last year. She pointed to a surge in US launches flavoured with mango, dragonfruit and yuzu and tipped floral flavours as a rising trend.
Recent US launches include Mango Candy Belts from Dorval, Bazooka Strawberry Kiwi Juicy Drops and a campaign from Moringa America asking shoppers to choose a new addition to the Hi-Chew range, with options including lychee, yuzu and persimmon. The last new addition was dragonfruit.
The UK typically lags behind the US, the spiritual home of candy, when it comes to flavours, but NPD has taken a more exotic tack in recent months. In January, Beneo launched a range of hard candies inspired by far-flung cuisines, including Yuzu Candy, orange blossom, hibiscus & blood orange Tropical Blossom and, finally, the lemon, lime & mint Garden Chills. February saw the launch of Maynards Bassetts Super Fruit Jellies, in flavours including papaya and pomegranate.
Mondelez launched the range to attract millennials to the market. Not only does this demographic typically bring greater disposable income to the sector, they also should have grown out of booger-flavoured jelly beans.
Innovations in sugar confectionery 2020