As sales of block butter edge into growth, can the BSM market benefit from changing consumer attitudes about dairy health?
Like Anthony Joshua before his big win against Wladimir Klitschko in April, butters and spreads are down but not out. Despite value and volume sales continuing to struggle, there is still some fight left in the category.

BSM has lost more than £30m in value over the past year, with a 2.4% drop in sales to £1.26bn [Kantar Worldpanel 52 w/e 26 February 2017]. Volumes fell 3.8% in the period. But health trends, the free-from boom and even Brexit have softened the blow.
While last year all BSM sub-categories were struggling, this year there is hope - for butter especially.

Block butters have edged into growth, with year on year volume sales up 0.7%, compared with a 5.8% slump during the previous 12 months [Kantar Worldpanel 52 w/e 28 February 2016]. Spreadable butter volumes are also up, by 1.6% to 95.3 million kgs.

The same cannot be said for dairy spreads, which took substantial hits over the year, including the announcement Unilever is set to sell its spreads division. Dairy spreads and margarine sales both fell by 12% in value, sunflower spread values were down 10.1%.
So, how has butter managed to retake ground in the category? Can the growth in sales last, or perhaps even increase? And is there any hope spreads can do the same?

"Spreads have struggled against macro consumer trends towards more natural products, which has been a key factor in shoppers switching to butters and spreadables," says Gareth Turner, interim BSM category marketing director at Arla.

Health benefits as a driver for using butters and spreads has grown 3.9% year on year, and the desire for more natural and less processed products is up 10.3% [Kantar].

The top-selling butter brand remains Arla's all-conquering Lurpak, which crossed the £300m value mark last year, making up almost half of the sector's £680.6m value. Its value sales rose by 1.8%, while volumes were slightly down at 0.6%, which Arla puts down to a "change in promotional strategies" [IRI 52 w/e 22 April 2017].
Butter Bestsellers
Smaller brands, such as Kerrygold, Graham's the Family Dairy and Willow have shown the most growth. Volume sales of Ornua's Kerrygold were up 18.4% over the year, with an 11.1% increase in value, bringing sales to £24.9m, while Dairy Crest's Willow saw value sales increase by 7.9% on volumes up 20.5%.

"Some of the macro trends we've seen in the market are totally aligned to our core proposition," says Mike Harper, marketing director at Ornua. "We're seeing significant increases in consumers wanting more natural, less processed butters, and Kerrygold has a USP of being predominantly made from grass-fed, small herd size cows.

"The most compelling thing is that we're growing despite having one of the highest price per kg in the category," adds Harper. "On average we have a 9% price premium to the average block butter."
Own label butter boost
Own label fared especially well in butter's tentative resurgence. Values were up 12.6% over the year, on volumes up 2.4%, after a change in pricing strategy to close the gap between own label and branded butters.

"Own label block butter has reversed the price deflation seen last year (-12.7%) into price inflation of 3.8%," says Kantar analyst Ali Loughlin. "This price inflation has also helped own label outperform brands in this sub-category, and increase its overall share of BSM, now sitting at 22.8%."
Butters and spreads category snapshot
The reason own label is doing so well is the occasion consumers are using it for, argues Nicola Thomson, account director at branding agency Hornall Anderson. "The explosion in home baking has led to increased consumption for the nation's bakers and this is where own brand wins. When butter is an ingredient rather than an addition, why pay more? Price promotions and the discounters offer product perfectly fit for purpose," she says.

But there has also been a decline in promotions over the year, with the value sold on promotion down from 53.5% to 49.6% [Kantar].

Much of that is due to wholesale prices, which are up 88.8% [Mintec]. The price per tonne for butter was £3,775 on 3 May 2017, compared with £2,000 on 4 May 2016. This is thanks to strong demand and tightened supplies across Europe, where butter production fell by 5% year on year.

"Prices got so low in 2016, and it wasn't profitable for farmers to make as much milk. So, they started to cut back on their dairy cow numbers," says Mintec analyst Michael Liberty. "Butter supplies are now really tight across the whole of Europe and the UK, so anyone trying to buy butter is struggling."

Michael Oakes, NFU dairy board chairman, says a growing belief that a balanced diet should include dairy products has also contributed to the increase in wholesale prices, as demand for butter rises.

"Some of it is related to the power of the media almost, and that piece in Time magazine in 2014," says Oakes. "It blew out the science behind dairy being wrong, and actually dairy is good for you. Companies like McDonald's in the US moved back to butter, and that trend appears to have carried on."

The wholesale costs have affected retail prices, as Oakes suggests, especially own label. Tesco, which holds the highest category value share in the BSM category, has increased the price of its slightly salted 250g English butter block by 53% to £1.30.

Asda's budget salted 250g butter block is 35% more expensive at £1.08, while the Waitrose 500g salted butter block is up 43% to £2.38 [Brand View 52 w/e 19 May 2017].

These increasing wholesale butter prices are where the hope lies for dairy spreads, especially because Brexit threatens to keep commodity prices high.

"It's quite likely butter will remain expensive as a commodity [because of Brexit], and that means margarine will probably linger in the category longer than it might do otherwise, because of the price," says Hamish Renton, MD of consultancy HRA.
Pop-up gallery: innovations in butters and spreads 2017

Lee Willett, marketing director at Dairy Crest, agrees Brexit will provide a lot of "headwind" for butters, and opportunity for spreads. "You never know, if butter prices continue to rise, the migration could end up coming back the other way again," he says.

The success of Utterly Butterly, up 21.7% in volume over the past year, is partly due to its value offer in the current economy. "The category is changing and things are moving around because of input costs. There's a role for a great spread at a value price. And it's not just the role of commodities, it's the whole challenging economic times," says Willett.

Utterly Butterly, which is one of only two brands in the top 10 dairy spreads to see growth, fell by 19% in price over the year to £1.14 on average [Brand View].

The only other brand to grow in the top 10 spreads is Vitalite, which had a packaging and recipe refresh in March 2016, to highlight the brand's dairy free credentials.

"We've seen a full year of that packaging now, which has really helped and brought it up to date," says Willett.

Vitalite isn't the only brand to jump on the dairy-free bandwagon. Following its so-called 'Sprexit' announcement in April, where Unilever confirmed the business was looking to sell or de-merge its spreads business, the Flora maker launched three new dairy-free variants of Flora Freedom in May.

"With plant-based diets now a mainstream lifestyle choice, earlier this year we added three unique variants to our popular Flora Freedom range," says Caroline Jary, UK & Ireland director at Unilever.
Spreads seek USPs
Some analysts believe 'Sprexit' confirms the need for spreads to adopt new unique selling points and abandon the low-fat, 'we're not butter' label completely.

"Unilever wouldn't be selling Flora if it was a great business to be in," says HRA's Renton. "When the big boys start bailing out, that's a sign - not that it's the end of the road, but that this has run its course and we need to find a new horse we can jump on.

"The lowest of the low used to be the soya spreads, rice spreads and non-dairy. Those were the ones that taste-wise were poor. But they're growing so fast, it's now margarine that's seeking to adopt the free-from label."

I Can't Believe It's Not Butter tried to find that new horse in January, with a rebrand to I Can't Believe It's So Good to help "drive awareness of its versatility and great value". But the Unilever brand has still seen sales plummet, losing about £14m in value, and 30.7% in volume during the past year [IRI].

Renton says this idea of highlighting a USP in margarine is nothing new. "Margarine always had to attach itself to something in order to sell. So there was olive oil margarine, buttery style margarine, plant sterols margarine, and now there's free-from margarine."

Alongside falling sales, some spread brands have also dropped marketing spend over the past year. The core Flora brand spent 43.7% less on advertising, while Flora ProActiv's investment fell by 87.2% [Ebiquity 1 April 2016 to 31 March 2017]. Bertolli's spend fell by over 90%, and Clover's by almost 67%.
How butter is lagging behind milk & yoghurt on organic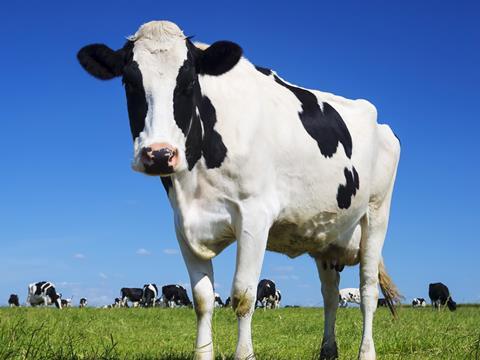 Within dairy, organic is growing. Sales of organic dairy products rose by 3.2% from 2015 to 2016, according to the Soil Association's 2017 market report.
Almost 3% of total dairy is now organic, with over 4% of fresh milk and over 8% of yoghurts organic. Yet, in butters and spreads the figure is just 1.2% [Kantar Worldpanel 52 w/e 26 February 2017].
So, are butters missing a trick? Catherine Fookes, campaign director at the Organic Trade Board, says yes. "There doesn't seem to be much innovation in the supermarkets for organic," she says. "You've only got Yeo Valley and Rachel's, and then there's also Calon Wen in Wales."
Yeo Valley, which is listed in Tesco, Waitrose, Sainsbury's and Asda, produces salted, unsalted and spreadable formats. It thinks the organic sector will continue to grow. "Shoppers are looking for more natural products which they trust, health is becoming increasingly cool, and organic is intrinsically linked to this," says Dan Rusga, marketing director at Yeo Valley.
And Fookes says there is potential coming through independent retailers. "If you go into the independent sector, you've got a huge array of other types of spreads, such as Biona and Suma."
One example is in As Nature Intended, which stocks 13 lines on its butters and spreads shelves, 70% of which is organic.
"Organic butters within the dairy department account for 16% sales, as opposed to last year which was 7% of sales," says Alex Oliveira, chilled and frozen buyer for the retailer.
Ornua's marketing director Mike Harper says the reason organic is still so small in the butter category is due to the strong provenance credentials already in the market.
"Probably the onus is on brands such as Kerrygold, where we have got such a strong story," he says.
If organic is to make any real impact on butters and spreads, it needs to differentiate itself from butters already on offer.
Butter brands, however, increased marketing over the year, with Kerrygold in particular tripling its advertising spend to £1.6m. Arla's Lurpak and Anchor brands also increased investment by 46% and 13% respectively.

Anchor's spend is set to continue into 2017, with a TV ad over the summer to highlight Anchor's "butter credentials", and to show off the new packaging launching in June.

Though butter might look strong compared with spreads in both investment and sales, there's still a fight to claim back consumption occasions for the whole category.

Consumers aren't eating as much bread as they used to, which also means they aren't spreading butter as much. Compared with two years ago, bakery products are now consumed at 450 million fewer occasions - a decline of 3% [Kantar 52 w/e 1 January 2017].

Moreover, sales of home baking ingredients have started to fall, despite the popularity of TV's Great British Bake Off. Value and volume sales were both down by 3.8% over the past year [Kantar 52 w/e 26 March 2017].

"BSM has struggled from the decline of its traditional hosts like sandwiches and the diversification and decline of the traditional in-home breakfast," says Arla's Turner. "This trend feels likely to continue."

However, Willett from Dairy Crest believes it's not a permanent shift, with the increased focus on sugar content in cereals and other breakfast products. "It seems that the sugar reaction to people having more cereals means people are going back to bread and toast, and therefore spreads," says Willett.

"It's a pivotal moment. People change what they perceive to be healthy. It was low fat, now it's more about fitness, exercise and healthy food, and we don't know where that consumer journey will go next."

Chances are, butter and spread brands have their fingers crossed for a more sugar-conscious consumer.