Wrapped loaves have been flying off shelves, but in-store bakery sales have died a death. Can they be resurrected post-pandemic?
The pandemic has transformed Brits' relationship with baked goods. Lockdowns and home-working have delivered double-digit growth across the category, which soared to £4.5bn.
But in-store bakery (ISB) has dropped off a cliff as lower footfall and hygiene-related closures of fixtures reduced value sales by around 15% [Kantar 52 w/e 21 February 2021].
"Throughout the pandemic, the main shift in shopper behaviour has been frequency, with consumers turning to a 'one big shop' mentality," says Paulina Gorska, marketing manager at Lantmännen Unibake UK. "With fewer opportunities for on-the-go or top-up missions, this has had the biggest impact on ISB, as a fresh category best consumed on the day of purchase."
So how can retailers hold on to last year's gains? And what role will ISB play in this, particularly in light of the news last month that Asda stores would stop baking from scratch, following similar action by Tesco last year? Is the in-store bakery really dead, or can it take on a new lease of life post-pandemic?
With ISB scratch-baking typically focused on traditional loaves, the closures of bakeries in Asda and Tesco are a reaction to consumer preference for a wider variety of baked goods, particularly artisanal breads.
"Within in-store bakery, 49% of shoppers will walk away if they can't find what they want"
Asda's switch to an ambient bakery model will see trad loaves increasingly replaced by speciality breads, wraps, bagels and pancakes, it says. The move will also broaden the range of products offered, with fresh items baked several times a day.
The change from scratch-baked to bake-off and finished products might seem drastic – but it's arguably also canny. After all, Lidl and Marks & Spencer have proved Brits will embrace such fixtures.
Their survival, however, is predicated on them perfectly suiting shoppers' needs, suggests research by retail analyst Shopper Intelligence. Of shoppers surveyed, 53% said one of the reasons they go to a particular store is because of its in-store bakery. On average, supermarket categories score just 22%.
"Failing to understand different shopper needs across the bread and baked goods category presents risks," says Shopper Intelligence MD Chris Adkins. "Within in-store bakery, 49% of shoppers will walk away if they can't find what they want."
That's advice to be heeded as the UK emerges from the pandemic. Retailers and suppliers are confident ISB will bounce back as Covid-related restrictions continue to ease, albeit with changes from pre-virus trading.
"Packaging bread up or keeping it covered and highlighting hygiene practices are ways to boost consumer confidence, and we expect this will become a permanent feature," says Philippa Knight, marketing director at bakery ingredients specialist Puratos UK.
It's a view echoed by own-label bakery supplier Rich's, which last year accelerated plans to launch fully-wrapped retail products.
"Increased footfall has a direct correlation with ISB sales as part of a top-up or food to go mission"
"Our sweet bakery products are now available in retail-ready wrapping to help retailers cater for the increase in indulgent in-home snacking, as well as providing solutions for safe product display for out-of-home operators," says Rich's sales, marketing & R&D director John Want.
Hygiene concerns aside, Lantmännen's Gorska says conversations with retailers suggest Brits will return to pre-Covid shopping habits. That's good news for ISB. "Increased footfall has a direct correlation with ISB sales as part of a top-up or food to go mission, so we are positive that category sales will recover as frequency increases," she adds.
Marks & Spencer ISB buyer Martyn Doble is a little more cautious. He says recovery depends on whether working from home remains a trend. "There are some products that may be slower to recover, such as pastries and rolls, while our sourdough and speciality breads continue to perform well."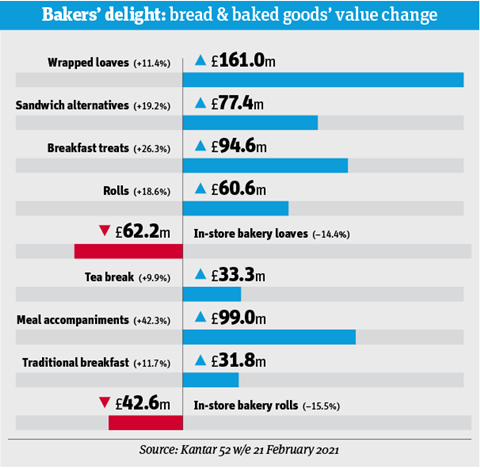 Bakery's take-home value sales have reached £4.5bn during the pandemic, following a rise of £453m.
Volume sales are up 7.3%. That's an extra 328.2 million packs that have gone through tills.
With at-home meal occasions rising significantly in lockdowns, meal accompaniments such as flatbreads and naans have rocketed. They're up by 42.3% in value, adding £99m.
Breakfast treats have also grown at a pace. The likes of crumpets, muffins and pancakes are up by 26.3%.
Despite the pandemic, innovation has been strong across bakery, notes Kantar analyst Lewis Kain.
"Brands have launched 224 NPDs over the last year, which have been worth £64.5m to the category and have accounted for 3% of overall spend on brands," he says. "Own label lines introduced 367 NPDs, worth £163.6m to the category, accounting for 6.9% of spend on own label bread and baked goods."
With a clampdown on HFSS promotions set for next April, suppliers must "start thinking of ways to make sure their products fit the restrictions or face a ban on promotion on gondola ends in store" Kain warns.
Wrapped bread
When it comes to performing well in bakery, wrapped bread is the sector setting the best example. It's recorded an 11.4% value increase – a £161m gain driven by the increase in at-home toast and sandwich occasions.
Innovation has also played a notable part. Take speciality bread. Seeded loaves are driving much of the sector's growth. Kingsmill is hoping to accelerate this by appealing to young families, who typically eschew seeded. The brand has expanded its 50/50 lineup with Multi-Seed – baked with sunflower, pumpkin and linseeds – and No Bits Multi-Seed, which has had its seeds milled for a soft bread without any 'bits'. Owner Allied Bakeries hopes the launches will boost the brand's value sales, which, following distribution losses, have remained static as its rivals' have risen.
Of those rivals, Hovis has seen the biggest increase in value – up 15.7% (£46.6m) [Nielsen 52 w/e 21 March 2021]. Much of this growth came from the convenience market rather than innovation. The supplier says it's grown unit sales by 87.3% in c-stores – equivalent to 20 million loaves.
Yet Hovis has also innovated by unveiling Bakers Since 1886, a premium lineup that includes white and seeded half cob loaves, made from a 36-hour starter dough. It's a clear grab at Brits' demand for fancier lines.
Other suppliers have kept cash flowing by pivoting when foodservice clients shut down. St Pierre Groupe, for instance, shifted foodservice brioche burger buns and sliced bread into supermarkets to help meet soaring demand in the early days of the pandemic. Lantmännen, meanwhile, launched its first consumer products in the shape of the Schulstad Bake At Høme pastry range and Pret a Manger-branded ready-to-bake croissants into the frozen aisles of 700 Tesco stores.
This allowed shoppers to enjoy OOH-style goods at home – something they've been very keen to do. Warburtons, for example, has reported a surge of demand for muffins as people made their own McMuffins.
"It is unlikely grocery sales will return to pre-Covid levels as working from home continues"
Others have been reaching for bagels, according New York Bakery Co marketing head Christina Honigfort. "Bagels have long been a staple for breakfast and this continued to grow during the pandemic. However, we also saw an increase in popularity at the lunch table," she says.
St Pierre Groupe is tapping the bagel boom by extending its longer-life Baker Street brand with soft white bagels – which it hopes will continue to drive interest in baked goods as a key element at mealtimes.
"At-home lunches have historically been a low-value, low-interest event, but during the pandemic, lunch and other mealtimes have become even more important," says Baker.
That revived importance of mealtimes is driving innovation. Take Twisted Sourdough from Jason's Sourdough, which makes its debut in Ocado this month with an Olive & Basil loaf described as coming "just in time for summer and al fresco dining".
It's reflective of the optimism across bakery. Many feel the current climate will continue to benefit retail. "It is unlikely grocery sales will return to pre-Covid levels as working from home is expected to continue for the medium to long term," says Warburtons sales director Colin Bebbington.
So, supermarkets look set to hold on to their thicker slice of the bakery market. There could be life in ISB yet.
Health claims pick up pace in bakery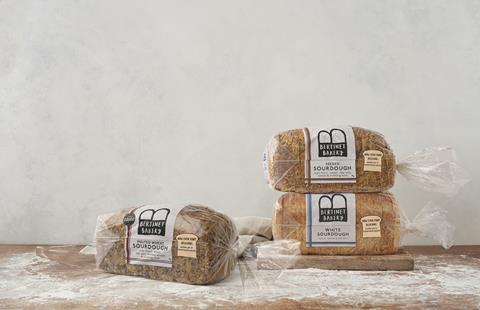 As many Brits abandoned healthy eating during the pandemic, brands and retailers innovated with indulgent bakery options.
Take M&S's Yumnuts. Its launch was one of the retailer's success stories of 2020. Meanwhile, foodservice supplier Rich's says it expects to see increasing demand for treats, especially premium lines "worth the calories".
They'll face a challenge from better-for-you options – because healthier bakery is back on the menu.
Later this month, Roberts will kick off the regional launch of white sliced loaves with added vitamin D, rolling them into 80 stores across the north west and North Wales. It will tap huge demand for vitamin D, which the NHS advised Brits to take when lockdowns prevented them from getting enough sunshine – the main source of the vitamin.
Which explains why Hovis rolled out a new recipe for its Best of Both loaves earlier this year with a 'Rich in vit D to help your immune system' strapline.
Not that bread fortified with vitamin D is a new concept. M&S added it in 2015, and Kingsmill launched its 50/50 Vitamin Boost loaf in 2018.
Superloaf, on the other hand, is cutting edge. It's the world's first 'smart loaf' claims owner Modern Baker. Support for the immune system is a key selling point of the sliced and seeded loaf – launched in March. Billed as 'the best thing since veg', it contains a blend of soluble, insoluble and fermentable fibres.
Similarly, Bridor this year added the Amibiote baguette made with seven vegetal fibres, claiming to have three times the fibre content of a standard baguette. It was followed by Bridor's Legumi loaf made from a mix of lentils, beans, and dried peas for a high protein content.
Both the Modern Baker and Bridor lines contain sourdough, which is continuing to gain popularity partly due to its perceived benefits for gut health.
In March, Bertinet Bakery launched 'softer eat' sourdough loaves,designed to encourage everyday consumers to switch from regular white bread.
"Concerns about over-indulgence during lockdown have accelerated the trend towards healthier eating, heightening awareness of simple, natural ingredients," says Bertinet MD Dean Arbel.
"Sourdough ticks all the boxes in terms of taste and health."