On-the-go sales of dairy drinks have taken a tumble. So can the sector succeed in punching its way back to recovery post-Covid?
On-the-go dairy drinks have taken a beating. As Brits hunkered down at home, impulse occasions staggered to a halt.
That much is evident in the figures. While take-home value sales soared by 15.5% (£81.3m) to £606.1m, impulse fell by almost £107m to £206.3m amid the cycle of lockdowns [Kantar 52 w/e 27 December 2020].
As such, big brands with a strong on-the-go presence suffered black eyes. The value of Weetabix's breakfast drinks fell by a bruising 30.5%, a loss of £4.3m, while Mars' drinks shed £1.7m (12.8%) on volumes down 15% [Nielsen 52 w/e 2 January 2021].
And Müller's milkshake brand Frijj, which was already on the ropes before the pandemic, was slammed with a 28.8% loss (£9.3m) in value and 35.5% decline in volumes [Nielsen].
"The commuter and school child were important to dairy drinks in retail"
Such blows are unsurprising given the travel restrictions for the best part of the past 12 months, with schools frequently closed and many offices in a year-long shutdown, says Kantar analyst Beth Jackson.
"The office worker, commuter and school child were important to dairy drinks' performance in retail," she explains. "Now the need has disappeared, so too has the appetite for the category."
But brands refuse to be knocked out. Müller, for instance, responded to Frijj's performance by tearing up its operating model in January, moving it from the supplier's Milk & Ingredients division to the more brand-centric Yogurt & Desserts arm – a strategy it is "confident" will revive the brand.
It's the sort of bullish attitude typical of dairy drinks brands as they look to the end of the pandemic. The fight-back is on. So, what makes them so gutsy?
The answer is two-fold. First, they believe the impending return to some sort of normality will help revive on-the-go occasions. Second, the performance of take-home drinks is a promising indicator for suppliers that a thirst for the category not only remains, but has potential to thrive. This is particularly true for brands, which have nabbed an extra £74.8m, with own-label dairy drinks taking the remaining £6.4m [Kantar].
It's the buoyant in-home market that has kept on-the-go ranges such as Weetabix's breakfast from suffering any more than a 30% hit to sales.
"We're starting to understand this notion of busy rather than on-the-go breakfasts"
Emma Varlow, Weetabix general manager for on-the-go, says the brand has managed to keep 70% of last year's business by tapping the change in Britain's daily routines. "We're seeing the benefit of a truly convenient breakfast is one that works when consumers are busy and not just on the go," she argues. "We're starting to understand this notion of busy rather than on-the-go breakfasts."
The notion can be further understood with the help of data released in February by business support company NordVPN Teams. It found UK workers have increased their working week by almost 25% since Covid-19 hit, equating to an extra two hours a day.
Breakfast occasions for dairy drinks grew by 41.2% year on year, almost 10 times the rate of the growth of total drinks (4.9%).
This included an extra 33 million snacking occasions for dairy drinks, with the most popular time of day, the afternoon, rising by 49.9%. Breakfast was second at 41.2%.
Health needs have been key to the category's growth, contributing to consumers enjoying 112.9 million more servings than the previous year, according to Kantar analyst Katie Roberts.
Take-home dairy drinks recorded double-digit growth (15.5%) in the past year, driven predominantly by frequency and bigger baskets. Among the mults, Tesco in particular has driven this growth.
"It's clear shoppers have been trying to replicate the out-of-home experience in-home, with coffee flavours doing particularly well," Roberts says.
Looking ahead, she suggests dairy alternatives will continue to increase their presence, with consumers moving away from traditional milk. "Despite the relatively small size of this sector, manufacturers should not ignore this growing trend in consumer preferences and innovate in this area."
Coffee hits
With Brits finding themselves busier than ever, they've adopted new drinking habits – ones that suppliers expect to continue after the country reopens post-pandemic.
Coffee drinks have become a core part of the home working day, for example, as Brits look for something to fuel those extra hours.
"That ritual of having a coffee fits nicely into the working day at home. There's still that moment when you need a pick-me-up. Nipping to your fridge for a coffee break will probably stick," says Simon Harrison, VP of commercial development at Coca-Cola European Partners GB. Its nascent Costa drinks have done well out of that trend, with a surge in value of 763% (£6.8m) [Nielsen 52 w/e 5 September 2020].
That surge is part of the reason why CCEP – which also supplies Monster Espresso – is confident of a £183m incremental revenue growth in iced coffees for its retail customers over the next five years in the UK alone, Harrison adds.
A reason behind his projection is that big players like Costa, which launched into the category in June 2019, have "credibility and awareness" he says. And that is especially important in a growing market, which according to research carried out by CCEP, features 100 SKUs, only five of which are stocked in all the major supermarkets.
This apparent dominance by a small few is benefiting Arla. Its ubiquitous and category-leading Starbucks drinks have racked up value sales of 24.7% (£15.8m) [Nielsen 52 w/e 2 January 2021], building on the momentum that knocked FrieslandCampina's Yazoo off the top spot in 2019.
Starbucks is now worth £79.8m. That's down to its logo being "instantly recognisable" and "synonymous with quality coffee" insists Arla head of beverages Adam Hacking. That puts the brand in a strong position to entice consumers into its RTD range, he adds.
Other suppliers are catching on to the lure of iced coffee, too. This month Weetabix is rolling out a limited-edition coffee-flavoured drink, and kefir brand Biotiful has eyed an opportunity for a health-orientated iced coffee, which will hit shelves in April.
This widening of ranges is set to continue, believes FrieslandCampina business unit controller for grocery Dan Chesbrough.
"Brands that will continue to win are flexing to shoppers by having a breadth of range and innovation across all key occasions, both in home and on the go, and providing a solution for every consumption need."
Iced coffee: nailing the 'impulse-led segment'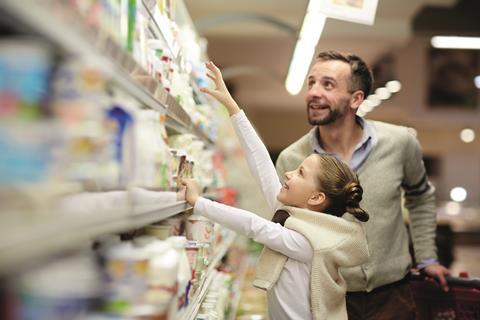 Covid ripped up the rule book for all categories as consumers spent more time on bigger grocery trips in back of store – far from the front of store where coffee RTDs typically sit.
No wonder Coca-Cola European Partners GB, supplier of Costa and Monster Espresso, is hedging its bets with dual-siting in store, both front and back. "You've got to get that on-the-go consumer, but lots of consumers pick a coffee up from back of store to consume on the way home or at home," says Simon Harrison, CCEP's VP for commercial development.
It's been a challenge for some brands. "It went against everything we were trying to do to get front of store," says Abigail Kelly of Crediton Dairy, whose Arctic Iced Coffee is positioned in dairy aisles.
Despite new shopping habits, front of store isn't dead. CCEP says 35% of RTD coffee shoppers have continued to buy from there during lockdown. It's why Costa and Monster have appeared at aisle ends and in front-of-store in Asda stores and M&S forecourts.
"It's an impulse-led segment. We've got to make sure we've got great standout and space on shelf, as well as points of interruption throughout the store," Harrison explains.
Other brands suggest targeting front-of-store space in different ways to attract impulse shoppers as lockdown eases.
"The way you shop for iced coffee in the UK is still dairy-driven because retail space is within the dairy fixture rather than the soft drinks fixture," says Laura Graham at Emmi UK. She suggests trialling an "iced coffee impulse area" at front of store during summer months.
There is also potential for iced coffee to feature in meal deals, says Emma Varlow, general manager for on-the-go at coffee RTD debutante Weetabix. "There an opportunity for retailers to create a breakfast meal deal and bring in shoppers to that front-of-store fixture."
And it could keep coffee drinks at the front of shoppers' minds.
In-home formats
Chesbrough's point about breadth of range is pertinent, given how suppliers are introducing larger formats for the at-home market. Take Crediton Dairy, which last spring added a one-litre carton to its Arctic Iced Coffee brand, going on to grow its value by 32.5% [Nielsen 52 w/e 5 September 2020].
Others are taking a slightly different approach to targeting the at-home market. Iced coffee maker Jimmy's isn't ready to move into larger formats in retail yet because "there are still a lot of new entrants to the category who will want to purchase a single drink first" claims its grocery channel manager, Rob Owen. However, the brand began selling packs of 12 single-serve coffee drinks via its online store last summer, in recognition of the demand for multipacks.
The multipack route was also taken by Costa earlier this month. Its pack of four cans will capitalise on the "big opportunity" presented by in-home occasions, Harrison says. "If you look at our wider soft drinks business, multipack cans are the fastest-growing format," he explains. "They're convenient to store in your house, take out in your car or on your commute."
"If you look at our wider soft drinks business, multipack cans are the fastest-growing format"
Amid worries about the plastic pollution and the obstacles to recycling cartons, cans could be increasingly attractive to brands, he suggests.
They've already appealed to Jimmy's, which switched from Tetra Pak cartons to "infinitely recyclable" cans at the start of this year. Still, there is debate over which format is better. Crediton head of marketing & insight Abigail Kelly suggests cans aren't the silver bullet many think.
"Because aluminium can be recycled infinitely, people think it's brilliant. But the energy required to recycle them makes their carbon footprint far worse," she says. "People's minds are focused purely on plastic, and our cartons have an element of that. But if you look at the bigger picture, [aluminium's] not the right environmental move."
"The energy to recycle aluminium cans makes their carbon footprint worse than plastic"
It could be why other brands have decided to stick with plastic bottles but introduce a proportion of recycled material. In November, for instance, Weetabix launched a 100% recyclable bottle with 30% recycled plastic.
It'll be followed this summer by The Collective's new bottle, made from 35% recycled plastic from coastal areas at risk of ocean plastic pollution.
Online opportunities
A greater focus on sustainable packs is surely wise. Because although on-the-go volumes may have fallen, they are likely to recover soon as Covid restrictions ease – meaning more packaging waste. And volumes are soaring in other areas. In retail, unit sales are up by 14.3% [Kantar].
Online has enjoyed a surge, too. An additional 1.1 million shoppers have bought dairy drinks online over the past year compared with the previous 52 weeks [Kantar].
Yazoo has been one of the brands to benefit. FrieslandCampina's Chesbrough says the brand saw e-commerce sales across its one-litre lines climb 334% year on year, citing Amazon as one platform that "has really paid dividends for our brands".
As well as helping simply shift more packs, online retail also offers opportunities for brands to introduce new formats that better suit consumers, notes Varlow at Weetabix. "We use different pack sizes with Amazon – bulkier packs than our retail offering. They give shoppers a chance to plan for being busy and get better value for money by doing that."
"DTC will never be our biggest online channel but it's giving us insight into our customers"
The advantages of online don't end there. Those that pivoted to DTC in the pandemic say they have been able to form closer, more valuable relationships with shoppers.
The Collective, for example, offers six-packs of its 500ml kefirs through its online store. "It will never be our biggest channel but it's giving us insight into our loyal consumers and allows us to engage with them in an ongoing way," says general manager Sarah Smart.
There has been a similar approach at Jimmy's, which also operates a 'subscribe and save' option via its web store – a channel the brand says has seen a 30% month-on-month growth in subscribers. That its product is ambient has been "critical" to its success, says Owen, both in terms of delivery and for storing at home.
"Our customers still want to maintain their iced coffee routine, despite the fact their routines have changed and they have been on the move less," he adds. "Customers have been purchasing cases of 12 – meaning they can still get a quick grab and go fix, even if it is just grabbing from their kitchen fridge and going to their desk in their spare room."
Earlier this year, Jimmy's implemented Trustpilot reviews that are displayed across its website and mailers. These help to support and reassure customers who are new to the brand and to "sense check" that their needs are being met.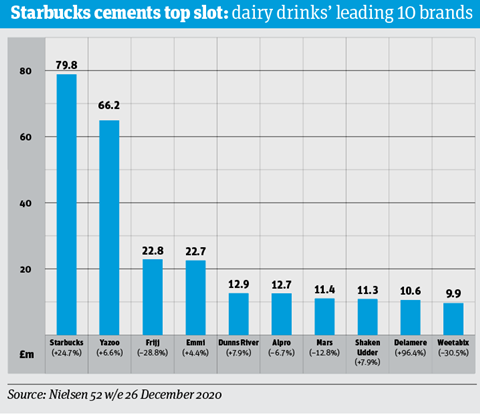 The UK's top 10 dairy drinks brands have added a total of £11.7m over the past year, with category leader Starbucks making an extra £15.8m on volumes up 24.7%.
Brands seeing the strongest growth offer value-added benefits and functionality to meet shopper needs such as health and fortification, says Nielsen client analyst Vanessa Pollard.
However, drinks "synonymous with kids' lunchboxes and on-the-go/convenience or extraneous to core needs have seen sales suffer" she adds.
That would explain the slumps for Frijj, Mars and Weetabix, which have shed £15.3m and 7.3 million units between them.
Brands are seeing increasing price erosion due to initiatives such supermarkets matching discounter prices, as well as the continued growth of own label, Pollard warns.
NPD will be key to brands' future successes, she predicts. Those that fail "to innovate and evolve will continue to lose shelf space to more innovative brands that deliver more incremental value to retailers".
Online grocery
Still, brands can't rely too much on DTC. While it may provide a mutually beneficial relationship with shoppers, it's simply not as lucrative as the mults' online platforms, insists Biotiful MD Natasha Bowes.
At least 80% of success on these sites lies in getting the basics right – such as ensuring pack shots are clear and consumers can easily find what they're looking for, she says. "At the more sophisticated end, it's about suggesting the right substitutes and additional items at the right time on the shopping journey – as opposed to blunt advertising."
Her faith in the mults' platforms is reinforced by Alpro's actions. The plant-based giant – up £31m (20.9%) to £182m [Nielsen 52 w/e 2 January 2021] – has been collaborating with Tesco to offer recipe ideas to web users. Although that may not be directly relevant to its iced coffee products, it can unlock opportunities by encouraging trial of the brand.
"The appetite for pre-store recipe selection is booming," says Alpro marketing director David Jiscoot. Getting involved presents an opportunity to "make plant-based accessible and sexy", he says.
It also helps that plant-based is correlated with health in the minds of consumers. Because brands with better-for-you cues are winning. Overall, functional drinks have seen big gains across the category, adding £38.3m (15.3%) to be worth £288m [Kantar].
Branded yoghurt drinks added £3.8m (12.9%) and those carrying gut health messaging performed the strongest.
Actimel shattered the £100m ceiling last year as sales jumped 23.8% from £91.2m to £112.9m, while Yakult and Biotiful shot up 16.5% and 36.8% respectively [Nielsen].
Even during November and December – the 'off-season' for healthier products – sales were growing for Biotiful, says Bowes. "In comparison to the preceding year, when you had Christmas parties and sales of health products went down an average of 10%-15% in value, but December 2020 eased off 3% and in January there was a significant boost."
"When out-of-home reopens we expect to see more of a pull towards health and immunity"
Bowes remains confident health-focused products will continue to perform strongly beyond Covid, but urges brands to communicate their benefits more effectively – for example, by drawing a clear link between gut health and immunity.
Others agree. Take The Collective. Its kefirs fell £550k (11.6%), with Smart admitting the brand "can do a better job" of explaining the pros of kefir. "Products are being quicker and punchier to say what they're standing for and we're starting to see this come through with gut health and immunity," she says, highlighting Waitrose's own-label entry into the kefir space, which carries the words 'gut health' on its bottles.
"That continued trend of consumers needing a fast-track to what the product's going to deliver, either in-store or online, is only going to become more and more important."
And this offers potential to on the go's recovery, too. Smart believes such health messages will extend to the out-of-home sector when it reopens, where she expects to see "more of a pull towards health and immunity".
Indeed, last month The Collective recruited for an 'out-of-home specialist' to map out possible expansion into that sector.
Such planning makes a lot of sense. After all, if the dairy drinks category wants to win back on-the-go shoppers, it's going to first need to get into fighting shape.
How plant-based is keeping up momentum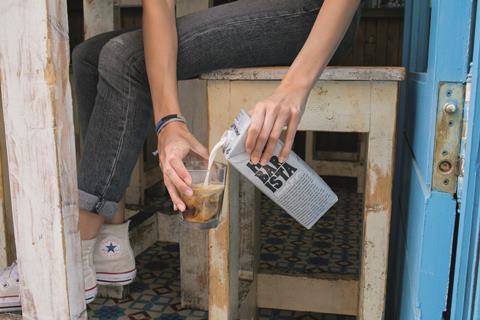 These are halcyon days for plant-based food and drink, which has just marked the biggest Veganuary so far.
No wonder dairy alternative drinks are soaring, with value sales at market leader Alpro surging by 20.9% to £181m on a 15.8% rise in volumes [Nielsen 52 w/e 2 January 2021].
Meanwhile, Swedish distruptor brand Oatly almost doubled its value to £84m with a 91.3% volume sales increase.
So, how do the big players intend to keep up this incredible momentum?
Alpro's own market research found plant-based has currently only 42% penetration among dairy drinks shoppers. And this, says the brand, represents a huge opportunity.
As such, it has collaborated with Tesco and publications such as BBC Good Food, and explored new flavours.
"While plant-based is established as being healthy and sustainable, there's still a gap around taste," says David Jiscoot, Alpro's marketing director.
That's why the brand recently launched a praline flavoured drink in a 250ml bottle to tap the UK's "taste-driven market" he adds.
Oatly, on the other hand, has turned to marketing to grow penetration, courting controversy with its 'Help Dad' TV ad in January.
Showing teenagers challenging their fathers' diets, it was based on Oatly research that found males aged 44 to 75 were the least likely demographic to explore plant-based drinks.
Oatly's ad made headlines, with Grocer columnist Joanna Blythman describing it as "sneering, demeaning, righteous".
Jiscoot is a little more affable in his response to the ad. "I have a lot of respect for Oatly's marketing," he says. "But at Alpro, we believe in positive encouragement – or cheerleading as we call it internally. If I think how I'd love to raise my children, I'd rather gently nudge them than to push them."
Seems there's more than one way to further the cause of alt-dairy drinks.
Innovations in dairy drinks 2021