Meet Steph and Dom, the 'posh couple' from Channel 4 show Gogglebox, who once had such a good night in on the fizz and cocktails they tipped up the sofa. On national TV.
Even if you haven't seen the show, you'll recognise the type, because some of us seem to be becoming more like them. We're drinking more at home: alcohol volume sales have grown 1.3%, with growth in pricier drinks helping drive value up 3.3% to £11.6bn [Kantar Worldpanel 52 w/e 20 July].
Sparkling wine sales have surged 14.8% on volumes up 5.1% [Kantar], making it the strongest performing sub-sector. Prosecco is driving much of this, as is the posher stuff. Veuve Cliquot, the priciest big Champagne brand sold in the supermarkets, is up 26.3% on volumes up 34.7% [IRI 52 w/e 19 July].
"For all our good intentions, we're still drinking more at home…our drinks are bigger"
Meanwhile, spirits sales have grown 3.9% to £3.2bn as volumes have inched up 0.8% [Kantar], the gulf between value and volume reflecting the ongoing premiumisation of the market, as drinkers show a growing willingness to pay more for their tipple.
Drinkers are also trading up in cider - up 7.3% in value, 6.5% in volume [Kantar]. Fruit ciders are fuelling this growth: Kopparberg and Rekorderlig are the two fastest growers, and the most expensive, fetching 75.6% and 85.9% above the average respectively [IRI].
News that Brits have got through an extra 33.1 million litres of booze at home in the past year (only still and fortified wine have seen volumes slide; see p54) might come as a surprise in light of growing awareness of the negative impacts of drinking too much and campaigns such as Stoptober, which encourages the public to give up drinking in October.
Indeed, the health message is getting through: 49.2% of drinkers say they're trying to moderate, with drinking on fewer occasions and having fewer drinks the most popular means of cutting back [Kantar]. Just 5.4% say they're cutting back with low or no alcohol products.
But for all our good intentions, we're still drinking more at home. Even though the average number of drinks we serve at home is falling, according to Kantar, volume sales are going up: this could suggest we're simply pouring ourselves bigger drinks. Steph and Dom, known for their generous measures, would certainly approve.
Growth in alcohol is driven predominantly by an increase in average price in every category, most significantly in wine and flavoured alcoholic beverages.

Almost half of adults are trying to moderate their consumption, but only 4% are doing so through no- or low-alcohol products.

Instead, many are moderating through fewer occasions. On average, we're now drinking one less serving per week across all categories, excluding spirits, although the increase in volume sales suggests servings are getting bigger.

Products such as home kegs, beer fridge packs and cocktail sets are key to helping drinkers replicate the on-trade experience at home.
Emma Roberts, Kantar Worldpanel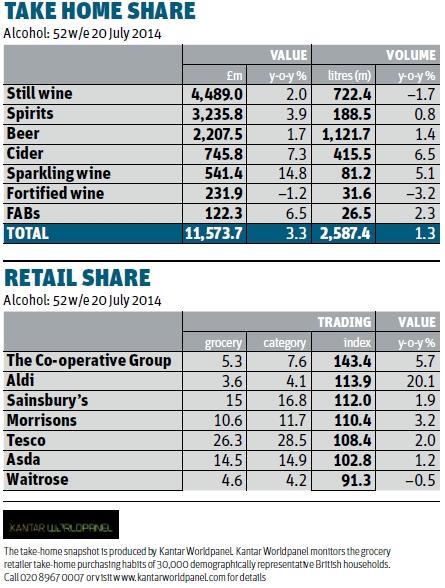 As they would of the increasingly premium tastes of British drinkers. "Consumers have become more discerning when it comes to purchasing spirits, and indeed wider alcohol products," says Amanda Almond, commercial director at Bacardi Brown-Forman. "This is thanks to greater exposure to brands and cocktails in the on-trade and wanting to create the same experience at home."
Premium spirits
Evidence abounds of our increasingly expensive tastes. For example, Bombay Sapphire has contributed £6.3m of the gin category's £21.7m growth in the supermarkets in the past year [IRI] and fellow premium brands Tanqueray and Sipsmith are also both in strong growth. All sell for significantly more than the market average.
In May, Bacardi Brown-Forman relaunched Bacardi Gold with an abv hike from 37.5% to 40% in a bid to re-establish the variant's premium credentials. rum is another sector in which pricier, premium brands are stealing share. For example, Pernod Ricard's Havana Club has realised market leading growth of 16.9% on volumes up 13.7% [IRI], selling for 38.9% above the market average.
"Consumers have become more discerning when it comes to spirits and wider alcohol products"
Meanwhile, Diageo is pinning its hopes on super premium Cîroc vodka (last month it added an Amaretto variant). The drinks giant has managed to convince drinkers to trade up elsewhere, claiming a big win with the August 2013 launch of Baileys Chocolat Luxe, which sells for an average of twice as much as other Baileys variants.
"Baileys Chocolat Luxe has earned over £5m since launch and the product was one of the top five spirits sold on Amazon over the week of Christmas," says Guy Dodwell, sales director for off-trade at Diageo, whose super-premium Smirnoff Gold brand extension has enjoyed similar success and helped boost value sales of the brand by 8.7%, on volumes up 5.7%, thanks to a 3.3% rise in average price [IRI].
Bud scores big in World Cup year
Foster's is hot on the heels of Stella, but the top spot has eluded it as value growth was weighed down by a 4% price drop - the biggest in beer and cider.
Bud scored the biggest value gain, worth £29.9m, thanks in part to its role as official beer of World Cup 2014 and a spike in deals.
Booming demand for fruit ciders continues to fuel the meteoric growth of Kopparberg, which in the past year has overtaken Bulmers to become the UK's second biggest cider brand.
Strongbow is still the number one cider by a mile, however. Growth is being driven predominantly by the Dark Fruit variant, which owner Heineken UK says is attracting newcomers to cider.

Diageo is also hoping the Baileys and Smirnoff effect will work for Guinness. Last month, the brand unveiled two craft beer-inspired porters - Dublin porter and West Indies porter - in a bid to reverse falling value sales of 0.6%, on volumes down 1% [IRI]. "Beer is currently experiencing a 'craft revolution'," says Diageo's Dodwell, who adds the new Guinness range could deliver £58m incremental value to the premium ales category across the on and off-trade in the next two years.
Sparkling wine
Premiumisation is also to thank for the success of sparkling wine: the best-performing sub-category, with value sales up 14.8% to £541m, on volumes up 5.1%, thanks to a 9.3% escalation in average price to £6.70 per litre, more than any other sector [Kantar]. "While some Brits are drinking less, they're not spending less on alcohol," says Damian Clarke, MD of cava brand Freixenet. "Sparkling wine is at a premium compared to still wine and drives category growth."
"Cider has expanded beyond the typical cider season thanks to some game-changing NPD"
Even so, it's not driving growth for Freixenet: value sales are down 10.7%, on volumes down 20.7% [IRI], prompting it to spend £1m launching its 'Be Freixenet' this month. The brand is also focusing NPD on sweeter offerings including its fruity Mia Moscato, which launched in Morrisons in July and Tesco in August. Following the launch, Freixenet says value sales for the Mia brand as a whole are up 42% in the latest four weeks.
Freixenet could be on to something. According to Kantar, sweeter drinks accounted for 25% of adults' alcohol volume in 2013, and 41% of the volume consumed by 18 to 24-year-olds. And if sales of cider and flavoured alcohol are anything to go by, it's a trend that is set to continue.
Cider's growth is being fuelled by fruitier, sweeter NPD. Rekorderlig is the best-performing top 10 cider brand with value sales up 30.6%, on volumes up 26% [IRI], thanks in part to NPD such as the May launch of a limited-edition apple & guava variant. "Innovative flavours have been a key driver of the cider evolution, attracting new consumers, delivering value growth for the category and offering more seasonal choice," says Linsey Adams, customer marketing manager at distributor Chilli Marketing.
Gold helps Smirnoff to 8.7% boost
Smirnoff, the biggest seller in spirits, had another strong year with 8.7% in value growth, driven in part by the launch of premium extension Smirnoff Gold. Own-label vodka had a tougher year as price hikes affected sales.
In whisky, The Famous Grouse continued to push ahead of Bell's, recording more value and volume growth than its rival.
Gordon's, the only gin in the top 10, managed to grow value ahead of volume, pushing up its average price per litre by dabbling with new flavours.
The strongest growth in value (15.5%) and also volume sales was Jack Daniel's, thanks to Tennessee Honey and fierce deals around Christmas.

More seasonal choice has also contributed to cider's success. "Cider has expanded beyond the typical cider season thanks to some game-changing NPD and as a result it has begun to be viewed as a perennial drink," says Ed Shoebridge, head of customer marketing at C&C Group, which produces Magners and launched Hornsby's Blueberry, a US-style hard cider, in July.
"Sweeter flavours have recruited young adults into well-established spirit sub-categories"
Such NPD includes Strongbow's Dark Fruits in June 2013, followed by lemon & lime-flavoured Strongbow Citrus Edge in March, helping the Heineken-owned brand grow 10.3% in value and 8.8% in volumes [IRI]."Half of today's cider consumers have been drawn to the category in the last five years, primarily attracted by exciting flavour innovation," says Martin Porter, MD for off-trade at Heineken.
Flavour innovation
Heineken has also introduced its New Zealand cider brand Old Mout to the UK, in flavours such as summer berries, passion fruit & apple and kiwi & lime. But some cider players have been slow to add fruit-flavoured options, and others are steering clear of the trend. Stella Artois Cidre added its first fruit variant, a raspberry flavour, in June, but the NPD came too late to reverse sliding year-on-year value sales of 7.1%, on volumes down 5.5% [IRI] for the year to 19 July.
And with value sales up 22.8%, on volumes up 19.5% [IRI], Kopparberg is sticking to what it does best. "We believe in innovation, not variation, so for a long time we've avoided the flavour conveyor belt," says Rob Calder, head of marketing. "Instead, we focus on the proven winners in our stable."
Thatchers, which has won listings in Tesco, Sainsbury's, One Stop and Shell forecourts for its Gold, Vintage and Katy lines, agrees. "Our focus has always been on premium apple ciders and we firmly believe this is where the future of the category continues to lie," says MD Martin Thatcher.
The quest for new flavour combinations has also led to a blurring of category boundaries."The impact flavoured ciders have had in regenerating the cider category has sparked a flavour revolution, which is now reverberating across pretty much every alcohol category, from elderflower-flavoured gin to honey-flavoured whiskey," says Debs Carter, marketing director at SHS Drinks.
Own-label sparkling sales fizz
Sparkling wine is booming and people are paying more for it. In fact, we spent £40m more in the past year on own label variants.
Leading wine brand Hardys had a good year, aided by a slight reduction in promotional activity and a £10m boost by parent company Accolade.
Own label still wine leads the way. While volume sales grew slightly, revamped retailer ranges (such as Tesco's expanded Finest Wine collection) helped add value.
In Champagne it's a different story; own label champers is in decline as the big Champagne houses enjoy booming sales. The biggest, Moët, had a particularly strong year.

Bacardi Brown-Forman's Early Times Fire Eater, a blend of Early Times whiskey and hot cinnamon liqueur, Malibu's co-branded Funkin Pina Colada and Diageo's 'freeze and squeeze' Smirnoff Sorbets are all examples of how that flavour revolution has taken hold."New, sweeter flavours have been successful in recruiting young adults into well-established spirit sub-categories, which may have previously been enjoyed by an older demographic of consumer," says Almond at Bacardi Brown-Forman.
Sweeter flavours have also been successful in boosting flavoured alcoholic beverages (FABs). Although still small, with a 1.1% value share of the market, value sales of FABs are up 6.5%, on volumes 2.3% [Kantar], thanks in part to the growth of pre-mix cans such as Gordon's Gin & Tonic and ready-to-serve cocktails such as Parrot Pay.
Premixes
The trend prompted Pernod Ricard to launch mango-flavoured Malibu in cans in Asda in September, and the format rolls out to Tesco and Sainsbury's this month. "Ready-to-drink is a very exciting area," says off-trade channel director Chris Shead. "Sweeter flavours are more appealing to a wider range of palates."
"Wine shoppers are buying less frequently but spending more when they do"
The craze has also fuelled innovation such as The Ice Co's Super Cube, a giant ice cube three times the size of a normal cube, which cools drinks faster and melts up to five times more slowly. It went into Tesco last month.
Whether demand for sweeter flavours can put wine back in volume growth remains to be seen. Although still the largest category in value terms, with a 38.8% market share up 2%, volume sales of wine are down 1.7% as shoppers buy less per trip [Kantar].
"Wine shoppers are buying less frequently but spending more when they do," says Shaun Heyes, head of customer marketing at Treasury Wine Estates, whose brands include Lindeman's, Wolf Blass and Matua. "It's not just about price any more."
Like Freixenet, and with value sales down 1.4%, on volumes down 3.2% [IRI], E&J Gallo is focusing 'significant investment' on sweeter Moscato wine under its Barefoot brand with Ruby Moscato, a blend of 'sweet, fruity red wine with tropical flavours of peach and red berry jam', launched in April. "Moscato is a key priority for E&J Gallo Winery in 2014 as the company aims to further increase the popularity of this lighter style and build the category," says David Mallory, channel controller at E&J Gallo.
As one of the only top 10 wine brands in growth - value sales are up 12% on volumes up 12.2% [IRI] - Lindeman's is successfully building the category by targeting mums at a 'transition moment' at the end of a busy day. The brand's 'It's the sunshine that makes it' digital campaign ran from July to September.
With shoppers buying less but spending more, Gallo is hoping the February launch of Dark Horse will reverse the brand's fortunes. At £8.99 a bottle, the wine comes in cabernet sauvignon and chardonnay varieties. One of the key challenges such products have to face is the continuing growth of own label. Value sales of branded wine are down 1.2% on volumes down 4.9%, while sales of own label are up 8.3% in value, 3.7% in volume [Kantar].
Value
Of course, these days own label wine is often anything but cheap, but it's often perceived as better value than brands, particularly in light of the growing plaudits retailers' offerings are winning in drinks competitions.
'Phenomenal' wines from Aldi and Asda were among 360 own-label offerings to scoop awards at the International Wine Challenge in May. Aldi's £5.25 Caversham Cream sherry and Asda's £6 Koru Sauvignon Blanc won gold awards in blind taste tests and M&S, Tesco, Sainsbury's, Waitrose and Morrisons also picked up gold medals.
Lidl launched a 'claret offensive' this summer after investing £12m in a promotion of more than 50 French wines. The investment comes after the chain said it was 'overwhelmed' by demand for a £19.99 Bordeaux in 2013, which at the time was the most expensive wine it had ever sold.
Competing with Lidl and Aldi, which continue to steal share of the drinks market, will be keeping many at the supermarkets awake at night. Some brands are looking to help. William Grant's recently cut the abv of Green Mark vodka from 40% to 38% to 'help the multiples compete with the discounters,' a move Grant's says will keep prices low. Lamb's has knocked the price of a bottle of its Spiced variant down from £16.50 to £13.99 by cutting the abv from 37.5% to 30%.
"Retailers are increasingly developing their own products to a quality that challenges brand manufacturers' offerings," says Richard Clark, director of innovation at Lamb's brand owner Halewood International. The move has paid off for Lamb's: value sales for the brand are up 6.3%, on volumes up 2.5% [IRI 52 w/e 16 August 2014].
Of course, the other challenge for the drinks industry is the growing scrutiny our alcohol intake and the effect it's having on our health is coming under. This is where Gogglebox's posh duo could help. "We make people feel better about their drinking," says Steph.
Good job a new series has just begun.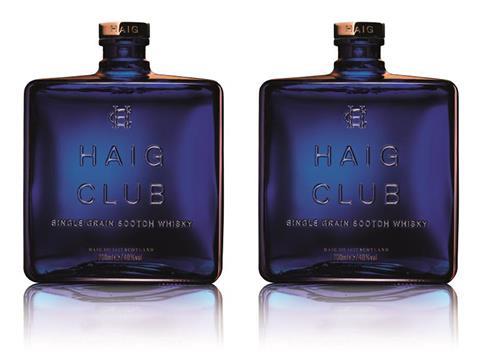 Haig Club Single Grain Scotch Whisky
Launched: July 2014 
Manufacturer: Diageo
Here's more proof of the premium trend in spirits. Earlier this year, Diageo announced the global launch of Haig Club Single Grain Scotch Whisky (rsp: £45/70cl), in partnership with global sporting icon David Beckham and British entrepreneur Simon Fuller. The brand, which has been crafted using a "unique process" combining whisky from three cask types, is expected to appeal to current and new whisky drinkers, the company says.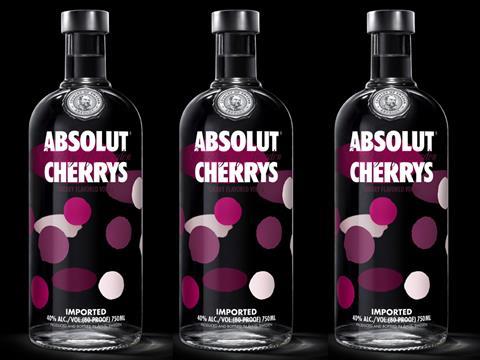 Absolut Cherrys
Launched: October 2014
Manufacturer: Pernod Ricard UK
Cherry is the flavour Absolut has chosen as the latest newcomer to its growing premium flavoured vodka portfolio. The variant is designed to work as a cocktail base as well as a long mixed spirit drink with cola over ice. The launch will be supported with PoS in-store as well as on-pack recipe ideas for shoppers.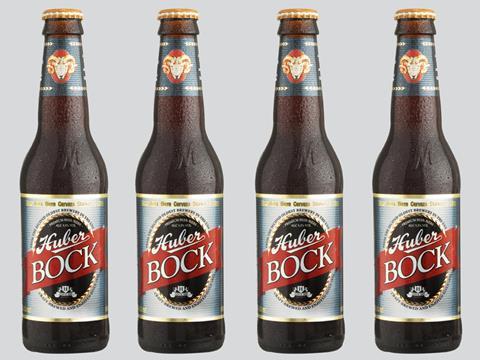 Huber Bock
Launched: September 2014
Manufacturer: Huber Brewery
World Beers has added the 5.5% abv Huber Bock to its portfolio to tap growing UK consumer interest in American beers. This dark lager (rsp: £1.49-£1.99/33cl), which promises hints of coffee and cocoa on the palate, is said to offer a "creamy rich finish" - perfect for the colder months ahead.
Planetbee Cider
Launched: September 2014
Manufacturer: Blue Fruits
Bee-friendly wine brand Planetbee has now moved into the cider category with the launch of Planetbee Cider (rsp: £2.50/33cl). The 6% abv craft cider brand, which is distributed by Morgenrot, has been created by cider expert Tom Oliver. A percentage of sales is donated to the Friends of the Honey Bee national fundraising campaign.