Was it the long winter? The dismal economic outlook? Something in the water? Whatever the cause, one thing's for certain we've been getting particularly… erm… amorous of late.
The birth rate has surged. There were 22% more babies born in Britain last year than in 2007 as the birth rate hit a 40-year high [ONS]. But despite the baby boom, babycare sales have been far from brisk; value is down 0.1% on volumes up 1.7% [Kantar Worldpanel 52 w/e 10 November].
While the performance does represent a slight improvement on the previous year, when value sales slipped 2.3% on volumes down 1.8%, with a few notable exceptions (for example, Ella's Kitchen's impressive results, see right), it still looks as if the baby boom has passed many retailers and brands by.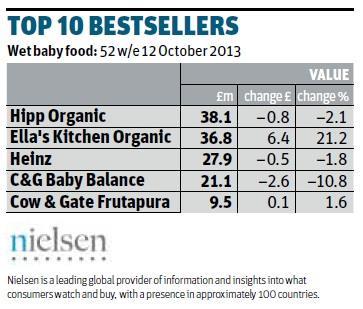 Tesco, Morrisons, Waitrose and the Co-operative have all seen babycare sales fall in the past year [Kantar] while Pampers has seen sales slip 0.8% on volumes down 4.1% [Nielsen 52 w/e 12 October], despite its biggest branded rival Huggies quitting the market in 2012 at a loss of £50.3m to the market.
So what's going on? Why have we spent £1.7m less on our darling little ones in the past year, despite having more of them to look after? And why, with combined sales down 3.7% on volumes down 0.7% [Kantar], have brands borne the brunt of the downturn? How can they turn things around?
Look no further than the huge disparity between the performances of own label and brands (left) for evidence of a key trend that's shaped the market in the past year. Parents have been cutting the cost of caring for their little ones by switching to cheaper own-label products, which have seen value sales surge 19% on volumes up 9.1% [Kantar].
Own label
Retailers have encouraged this switch, with everyone from Aldi to Tesco having relaunched or extended their babycare ranges over the past year. And the savings they're offering are significant: Kantar's analysis shows that a pack of own-label nappies has sold for an average of £4.26 in the past year while brands fetched £6.65. The price disparity is even greater in baby wipes: a pack of own-label wipes fetched an average of 86p brands £1.62.
"We've seen polarisation - the discounters are playing much more heavily in the category"

James McMaster, Ella's Kitchen
The growth of own label in every sector bar one (accessories, the past year's poorest performer, suggesting parents are cutting back on accessorising as they draw in their belts) makes it clear just how important price has become in the market. As does the 68.8% [Kantar] growth enjoyed by the discounters at the expense of mainstream retailers (see left).
"We've seen polarisation in the category in 2013," explains James McMaster, European MD for Ella's Kitchen, which has bucked the general decline in brands with value growth of 21.2% on volumes up 21.8% in the past year [Nielsen]. "You have evidence of a more price-conscious consumer, with the advent of discounters playing more heavily in the category, and by contrast parents are ever-more concerned over clarity of ingredients."
It's a sentiment echoed by Giles Brook, founding partner of Bear, which is carving out a growing market for itself with its fruit snacks for kids, thanks in no small part to its healthy eating message (a consideration that's shaping more and more NPD see pxx). "Trust is an integral part of the relationship between parent and brand," says Brook.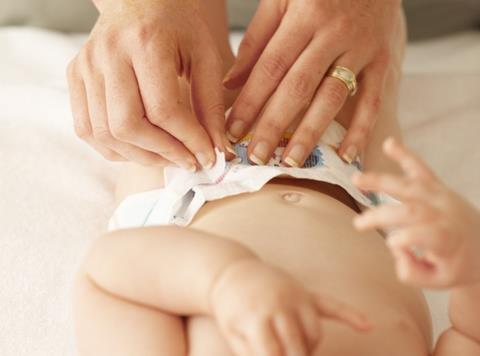 The baby market, previously in decline, is now flat. New shoppers are entering the market (penetration has increased to 74.7%), but shoppers are buying the category less frequently, and average price per pack has fallen, hindering growth. Nevertheless, baskets are no longer getting smaller, and the category looks set to maintain its current upward trajectory and see growth in coming months.
The fastest-declining sector is baby accessories, being shopped less frequently than last year. However, the largest sector, nappies, is growing at 0.6%, with new shoppers entering the category and basket size increasing to 1.6 packs per trip. The average price per pack has fallen to £5.74 as own label makes significant share gains. Own label has benefited from Kimberly Clark pulling out of the UK nappies market, and has experienced double-digit growth after attracting 0.7 million new shoppers in the past year.
The hard discounters may only account for 2.5% of the baby market, but this is an overtrade of 179 against their health & beauty share. They are seeing double-digit growth as penetration climbs.
Heather Littlewood, Kantar Worldpanel
That's not to say own label isn't winning the trust of parents. "We're starting to see a switch in mindset, with mums and how they make their purchasing decisions," says an Aldi spokeswoman, which has reported a 190% surge in sales of its newborn nappies.
"The tough economic climate has forced many to look at alternatives. Once brands were best but now they realise there's no reason to pay a premium price for a good quality product. Previously guided by what their own mums used for reassurance, now many are looking for information online and sharing recommendations with others, removing the guilt of switching to a cheaper version."
While the hard discounters are growing child and infant care sales faster than anyone (up by 68.8%), it's actually Asda that overtrades the most on child and infant care [Kantar], helped by the relaunch and extension of its Asda's Little Angels range into food in 2011.
Last January Tesco followed suit, renaming its baby range Tesco Loves Baby and adding a host of innovative new products, including what it claimed was a category first: newborn nappies with wetness indicators. But this wasn't enough to put Tesco's baby department in the black. Tesco's value sales have declined 0.6% in the past year [Kantar].
Further fuelling the astounding growth in sales of own-label nappies (up 41.5%), Morrisons, Sainsbury's and Waitrose have also revamped their ranges over the past year, with the latter adding eight new nappy lines to its Essential range in August. Sainsbury's buyer Marcus Hughes claims its efforts to carve out more of the baby market have been particularly successful (Kantar puts Sainsbury's growth at 1.5%). "Following the relaunch in 2013, Sainsbury's Little Ones nappies are now the fastest growing nappy brand in the UK," he says.
That Hughes describes Little Ones as a brand in its own right is particularly significant. Own-label 'brands' (such as Lidl's Toujours, winner of The Grocer's Top Launch for paper products in 2013) have rushed in to fill the gap left by Huggies' exit from the market in October, 2012.
Meanwhile, P&G's Pampers has been sidelined. "We knew private label would present strong competition in the category," says a P&G spokesman. "Competition has been intense but we've held up well and have grown value share across the period."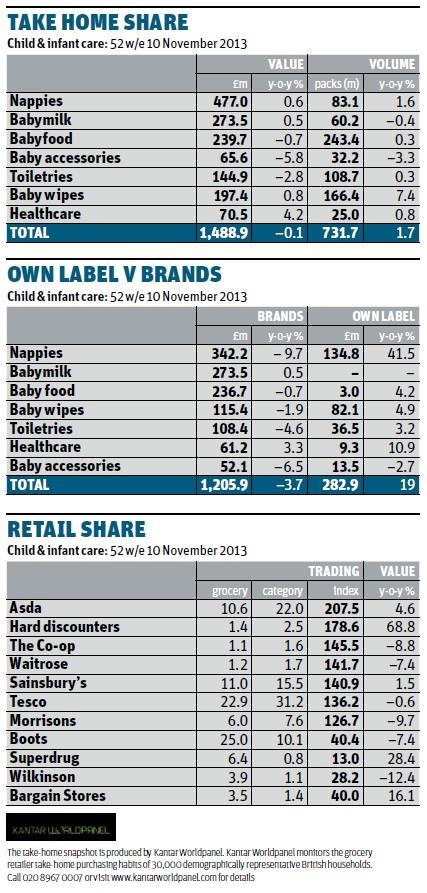 That's a matter for debate. The fact Britain's biggest nappy brand (by a distance of almost £270m, according to Nielsen) has sold 76.3 million fewer nappies at the height of the biggest baby boom since 1972 hardly seems a strong performance. A refusal to ramp up deals to compete with own label - as reflected by Pampers' 3.4% average price increase - has clearly had an impact on the brand's volume sales.
Promotions
Few can afford to be so brave when it comes to protecting their margins. According to Kantar, average prices have declined in all but two subcategories (baby milk and healthcare) over the past year as own label has extended its influence and brands have been forced to promote harder to compete.
Take toiletries. The average price of brands has sunk 3.8% [Kantar] as they've fought to maintain share. "2013 has seen heavy on-shelf promotion," says Holly Davies, marketing manager at H&A, manufacturer of licensed bathtime products including ranges under the Thomas the Tank Engine and Sponge Bob Square Pants brands. The impact on value sales was inevitable: brands have lost 4.6% in the past year. "Many parents wait until their chosen brand is on offer, then bulk buy to last until the next offer."
"2013 has seen heavy promotions. Many parents bulk buy to last until the next offer"

Holly Davies, H&A
As promotions in sectors such as baby toiletries prevent volumes from falling as fast as value, babyfood volumes are being weighed down by the long-term switch away from jars - usually bought in bulk on deal - to smaller pouches, which are generally bought in lower volume but more frequently, according to brand owners, who point to Nielsen's read of the wet babyfood market, which puts it up 3.6% in value but down 2.4% in volume (though it's worth noting that Kantar says the overall babyfood market is down 0.7% on volumes up 0.3%).
Pouch sales have surged 17.3% in the past year [Nielsen 52 w/e 7 December 2013] as more and more brands have brought out new variants in this format. Heinz, which jumped into pouches last January (bagging The Grocer's Top Launch 2013 gong for baby products in the process), now has 20 pouch variants and Annabel Karmel, Cow & Gate and Hipp have all added new pouched offerings to their ranges in the past year.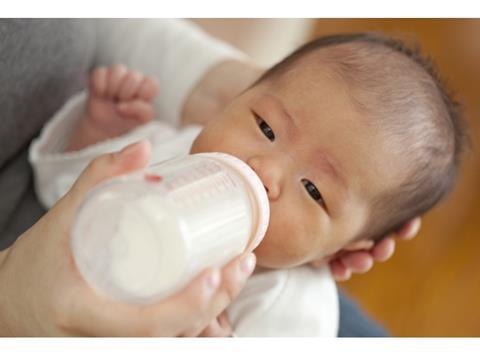 Chinese bulk buying buoys milk formula
It seems baby milk brands are some of the few to be really cashing in on the UK baby boom. Nielsen puts combined branded sales up 9.8% on volumes up 4.3%.
Impressive stuff. But delve deeper and the situation is more complex. Kantar Worldpanel puts value up 0.5% on volumes down 0.4%. Aside from the data sets being for slightly different periods (Nielsen's numbers are for the year to 12 October), the discrepancy is largely due to how the two measure sales: Nielsen analyses EPoS data Kantar uses consumer panels.
As such, Kantar doesn't measure goods bought here for export, an issue after April's global botulism scare, which prompted some Chinese to bulk buy UK formula to sell in China. The big four later began rationing formula. It seems demand from China may have been the difference between growth and decline.

Innovation is key if brands are to return to growth. Plum Baby is hoping the launch of a new range of Greek yoghurt desserts will help turn around a 17.4% decline on volumes down 14.1% [Nielsen], for example. But, as the experience of Hipp Organic shows, NPD is no guarantee of growth.
"Ninety seven new lines were launched into the wet babyfood category last year, with Hipp accounting for 23% of them," says Karen Smith, group product manager at Hipp Organic. Despite this, the brand (the biggest in the wet babyfood market, according to Nielsen) has seen value sales decline 2.1% on volumes that slipped 0.1% in the past year.
Toddlers
However, Hipp's performance would have been markedly different had it not been for the brand's launch of 20 new ambient meal trays (bringing its range of trays to 52) aimed at youngsters aged one and over.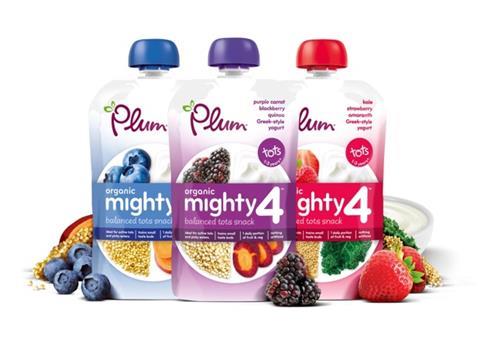 Plum Mighty 4
Launching: Spring 2014
Manufacturer: Plum
Launching between January and April 2014, Mighty 4 is a range of organic pouch snacks designed with essential nutrients. Available in three variants - blackberry, quinoa, carrot and Greek-style yogurt sweet potato, blueberry, millet and Greek-style yogurt and kale, strawberry, amaranth and Greek-style yogurt - each Mighty 4 blend features at least one ingredient from the four core food groups: vegetables, fruits, grains and protein. Rsp: £1.19 per 100g pouch.
Nurofen For Children Cold, Pain, Fever
Launched: September 2013
Manufacturer: Reckitt Benckiser
Newly packaged Nurofen for Children Cold, Pain & Fever gives mums an identifiable product for cold and flu relief for children from three months to nine years. It contains ibuprofen that starts to work in 15 minutes to relieve fever and provides relief for up to eight hours. In strawberry or orange flavours (100mg/5ml oral suspension, rsp £3.99).
Dry Like Me Early Days and Night Time
Launched: September 2013
Manufacturer: Dry Like Me
The pads complement the original Dry Like Me potty training pads to create a complete system of three products from the early days of potty training to night-time training. The Dry Like Me Early Days pad is more absorbent for use in the first few weeks of training, while the Night-Time pad supports night-time potty training. Rsp: £3.49 box of 14.
Sweetcorn Salsa Snappy Crocs
Launching: February 2014
Manufacturer: Organix
The first new launch in three years into the market-leading Goodies range of corn puffs comes in the shape of Sweetcorn Salsa Snappy Crocs. Chris Braitch, customer marketing controller at Organix, says: "Sweetcorn Salsa Snappy Crocs offer toddlers a snack with a unique shape and flavour". Rsp is £1.99 for a 15g multipack.
The market is attracting growing attention. Ella's Kitchen puts much of its growth down to its first foray into the tray meal sector with the launch of Little Big Meals, also aimed at the 12-month-plus age group. The brand looks set to break into further new markets following its May sale to US giant Hain Celestial. Plum also unveiled its Little Foodies range in May, later claiming the launch had been its most successful to date. Little Dish, meanwhile, is setting its sights on older kids with lines for kids aged three plus under trial.
Wet food brands aren't alone in targeting toddlers. Huggies' withdrawal from nappies has allowed it to focus on areas such as potty training, swimming and night-time products. "The biggest potential for growth will be in these smaller markets," says Huggies' brand manager Stephanie Mandrell. "Our increased investment in marketing has led to retailers providing more space on shelf."
Smaller brands are also benefitting from Huggies' change in strategy, says Judith Hough, co-founder of potty training pads brand Dry Like Me, which claims to have grown 174% over the past 18 months. "As the main nappy category gets further commoditised, it will drive innovation on the fringes of the category," she says.
Even infant milk is widening its target age range. Danone has enjoyed stonking growth for its Cow & Gate and Aptamil brands over the past year, helped by products aimed at older kids. "This success has been driven in part by the flourishing UK birth rates, but also through new categories such as Growing up Milk," says head of marketing Claire Parkes, pointing to Aptamil Growing Up Milk's 30.3% growth on volumes up 63.1% [Nielsen].
How long this growth continues depends on four factors: birth rates NHS policy demand from China. And in the middle of it all, suppliers and retailers.