The British summer, that unknowable beast, returned to the damp squib we've all been putting up with for years in 2014.
The weather-dependent barbecue market suffered as a result. In fact, barbecue occasions fell 9.3% to 116.6 million in 2014, down from 128.5 million outdoor cooking extravaganzas the previous year, a spike chiefly driven by a sizzling summer [Kantar Worldpanel 52 w/e 7 December 14].
Still, Brits barbecued on about 10 million more occasions than they did in 2012. Again, the weather is to thank, or blame: last summer got off to a scorching start but fizzled out later on; in 2012, it just didn't happen. So, short of devising a climate control switch for Britain, how can more value be squeezed out of the barbecue, come rain or shine?
Way back in 2013, when the sun was shining, we predicted the rise of 'low & slow' American-style barbecuing, in which a cheaper cut of meat is cooked at a lower temperature for hours at a time over specific woods or coal. And there sure are signs US barbecue culture is taking root over here, in spite of last year's damp barbecue season.
"Pulled pork is now popular in foodservice, inspiring consumers to try it at home…"
Most retailers now boast dishes such as slow cooked pulled pork and beef brisket among their ready meal and packaged meat line ups (Tesco's Chipotle Chilli Pulled Pork won gold in the chilled ready meal category in the 2014 Grocer Own Label Awards) and a host of US sauce and rub brands are touching down in the UK to cater for those who want to cook their own meat.
US-style barbecue festival and restaurant chain Grillstock (slogan: 'Meat; music; mayhem') attracts thousands to the three events a year it now runs across the UK, having set up in Bristol 2010, and has now launched a retail range of low & slow products.
This will be the year low & slow reaches new heights, say experts. Pulled pork is tipped as the hot favourite for this year's barbecue season. "The popularity of long and slow cooking has seen pulled pork become a popular dish in foodservice, which has inspired consumers to want to try it at home," says Keith Fisher, Bpex butchery & product development manager. "Retailers shouldn't ignore the pulled pork trend this summer."
To make sure shoppers don't either, Bpex is promoting pork shoulder as a perfect 'low & slow' option for the barbecue this summer with the Achieve Lazy campaign. The TV ads, which will be hitting screens across the country throughout spring, focus on the lack of effort required in cooking pork shoulder, in a bid to persuade shoppers the cut will free up more time for their social occasions.
Bpex's TV push is well timed. Despite the ongoing American influence on British tastes, there is evidence to suggest pork could do with a pick-me-up when it comes to the barbecue. Pork's share of total barbecue occasions last year actually dipped slightly, though beef's fell even more significantly, according to Kantar. Meanwhile, good old bangers and burgers (represented as a subset of the total pork and beef numbers in Kantar's read of the market) increased share.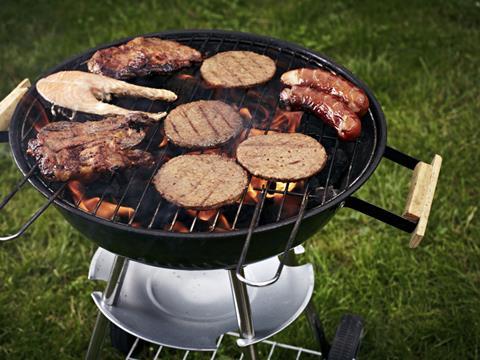 Burgers
Increasingly, we're not talking just any old burger. Low & slow isn't the only bit of Americana hitting the grill - Brits are munching on more premium burgers, according to Eblex, which has found 60% of retailers now sell a variety of flavoured burgers, with a significant number of retailers selling more than five varieties, with the majority of these part of their premium own-label tiers.
"We predict that gourmet hot dogs, along with burgers, will be the next big trend…"
Where Eblex sees room for growth is burgers derived from specific cuts of beef, such as rump or sirloin, which the trade body says are currently only offered by 20% of retailers. These burgers offer increased margin and differ in flavour and texture profiles, appealing to the more adventurous. "With increased margin to be had from cut-specific burgers, the opportunity to profit is there for the taking this summer," says Mike Whittemore, head of trade marketing for Eblex.
Of course, no gourmet burger is complete without a brioche bun or similar bread-based accompaniment. Rachel Shoosmith, marketing manager at baked goods supplier Lantmännen Unibake UK, reports strong growth on the back of Brits' increasingly premium tastes when it comes to barbecuing.
"Americanised menus have dominated UK outlets with beefburgers being the most listed main course in the UK, and the market is seeing a 12% increase in the number of gourmet burger eating occasions," she says. "This trend is set to remain a key revenue stream for businesses looking to sharpen their profit margins by offering exciting and more premium menu options. We predict gourmet hot dogs, along with burgers, will be the next big trend for summer 2015."
There's also some evidence to suggest American barbecue culture is becoming anglicised, with pre-cooked pulled lamb (not a popular or widely available meat in the US) appearing in a growing number of retailers' ranges, according to Eblex. "In 2014, seven out of 10 multiple retailers we visited sold pre-cooked, ready-to-finish products such as pulled lamb shoulder, beef brisket and beef ribs," says Whittemore.
Likewise, lamb is being slung on a growing number of barbecues at home, the meat having enjoyed the strongest growth, albeit from a low base [Kantar]. Of course, this isn't all down to the creeping Americanisation of British culinary tastes; Eblex suggests lamb benefits from having its versatility and value highlighted, pointing to growth in its lamb mini roasts, suitable for cooking outdoors or in, as an example of the trend.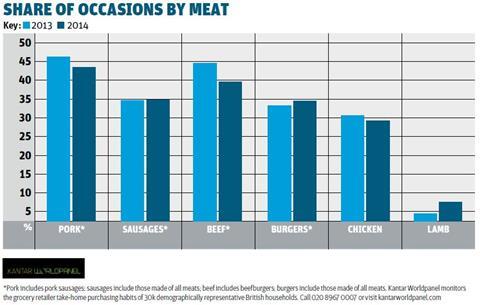 Summer 2014 was expected to be a strong year for barbecue consumption, following the good performance in 2013 and the timing of the football World Cup in Brazil.
However, the summer didn't live up to its billing. After a bright and sunny start in June, the weather faltered later on with unseasonably wet spells throughout August.
England's poor performance in the World Cup combined with the lateness of kick-offs wouldn't have helped shoppers' disposition to fire up their barbecues either.
Barbecue consumption peaked in the 12 weeks to 17 August 2014 at 65.6 million occasions, which paled against the 84.8 million in the same period in 2013, which saw a significant increase as a result of good weather that year. In total there were 116.6 million occasions across 2014.
Burgers and sausages continue to be the most important meat. Share of the occasion has remained fairly static but compared with the figures for last year we saw a 9% drop for sausages to 40.6 million occasions and a 7% drop for burgers to 40.1 million. Of the main proteins, only lamb saw an uplift (an increase of 1.1 million occasions).
Sam Sear, Kantar Worldpanel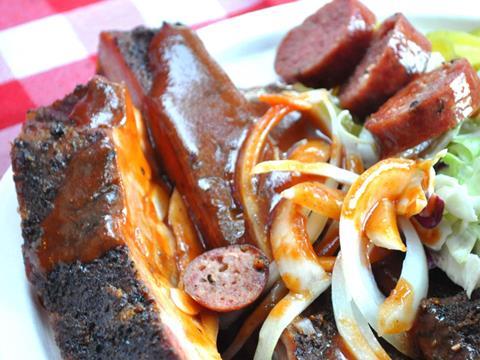 Sauces
Regardless of what's on the grill, many barbecue cooks require a table sauce or two to pep things up on the plate. And the past year has seen strong growth in table sauces' appearances at barbecue occasions, according to Kantar. Again, the influence of Americana is clear to see.
"Barbecue equipment sales tend to track temperature increases almost perfectly…."
Hoping to appeal to romantic notions of the American South and its barbecue culture, many new sauces are looking to recreate the down-home smoky goodness Americans are used to slathering on their meat. Barbecue sauces vary from state to state across America, and the Bone Suckin' sauce range, new to Whole Foods Market and a range of grocers, aims to bring a taste of North Carolina to the British barbie. What's more, the tomato-based sauce is gluten free, tapping recent major free-from trends at the same time as being pulled pork's best friend.
As well as the long-awaited UK arrival of US barbecue sauce legend Stubb's, major sauce players are looking to diversify and offer an ever-increasing range of exotic flavours. Heinz, whose BBQ Heroes campaign will run again in 2015, has such curiosities as a Jalapeño Chilli Ketchup hitting the market this year, to go alongside its Sweet Chilli, Peri Peri and Sriracha Chilli flavours, all of which offer a considerable amount more bite than classic ketchup. "Consumers are looking to try something different at barbecues," says a Heinz spokesperson. "One of the fastest developing trends in barbecue is the growth and popularity of hot and chilli sauce."
Promotions for the brand, always an important part of maximising the potential of barbecue season, will begin in April.
Indeed, promotions are crucial. "They continue to play a vital role within the table sauce sector," says Nyree Chambers, head of marketing for Grace Foods UK, manufacturer of the Encona Sauces range. "Round pound deals are still extremely attractive to consumers, especially when coupled with off-shelf activity. We have seen a significant rise in sales from this promotional mechanic, with sales doubling during promotional periods."
Salads
Even the humble salad isn't immune from the spicy trend, with salad dressings dialling up the spicyness as well. Mary Berry's Red Jalapeño Caesar Dressing has proved such a success a smaller 250ml bottle is launching exclusively in Tesco in time for the summer rush, a development that Samantha Higgins, senior brand manager at distributor RH Amar, says "is strongly aligned to the nation's increasing appetite for hotter flavours".
If you're going to see the healthier foods trend anywhere at a barbecue, you'd expect it to be centred on salad, and so it is, with Hellmann's anticipating the launch of a mayo with olive oil in time for the season. "We're seeing consumer interest in products with a healthy or 'natural' positioning, and expect this will continue to grow - especially at the BBQ occasion," says Kyrie Merryman, senior brand manager for Hellmann's.
Nevertheless, with Kantar's research showing the barbecue is one of Britain's favourite cuisines to enjoy at celebrations (4% of barbecue occasions last year were held to celebrate an event), it's probably fair to say health is not shoppers' number one priority when deciding what to cook.
That the motivation of 28% of the barbecues Brits held last year was for some 'together time' also might help explain the growth in low & slow - after all, there's no shortage of time to spend bonding with friends or family when you're slow cooking a beef brisket or pork shoulder for hours on end over hot coals.
Or indeed coconut shells. One company aiming to challenge the market dominance of charcoal is Natural Barbecuing, which has created a coal-like substance from discarded coconut shells left over from processing in Indonesia. Claiming four hours' cooking time at a consistent 180c, these 'coals' are carbon dioxide neutral and odourless, according to Natural Barbecuing. It also offers a method of 'jet heating' coals for people who want to cut to the chase of meat cooking. A contraption similar in design to an electric kettle is used to heat a concentration of coals, which are then poured into the barbecue, taking only eight minutes and giving a "more authentic" barbecue taste.
Barbecue equipment
There's no lack of shortcuts for those who want to achieve the results of a king of the grill but don't have the time, from Meat Lust's 10-Minute Marinades to Eblex's range of thin-cut steaks.
In terms of equipment, there's also evidence a growing number of Brits are more than happy to forego some of the hassle of cooking over coals. Outdoor cooking equipment supplier Alfresia reports that, as sales of coal barbecues remain static, sales of gas barbecues are cooking with, well, gas, with 50% growth.
"This is a clear trend of more and more people opting for gas," says product director Craig Corbett. "We're also seeing a niche but growing market for masonry barbecues, which consumers build in their own gardens. This category has grown 30% year on year. Pizza ovens are showing steady growth - there is a lot of interest in these types of more exotic outdoor cookers, but they are still an emerging area as commitment to buy develops. We are expecting sales of this kind of product to be up this year."
Others are expecting our choice of meat to become more adventurous when it comes to barbecuing. "It's our ambition to see ostrich become a mainstream line," DB Foods CEO Ben Bayer said last June as the company began a trial of its Mossel Bay ostrich kebabs in Tesco. "It's nutritional, has a great taste and is a healthy red meat."
It seems, for Tesco at least, ostrich didn't have legs. According to BrandView.com, the retailer hasn't stocked ostrich products since the beginning of February, although DB Foods does supply Whole Foods Market and about 2,000 high street butchers with the kebabs. Iceland and Lidl also stock ostrich.
Improving the ranges for the barbecue season is key to maximising its opportunities, contend players in the meat industry. "We're confident the BBQ sector will continue to show strong growth for years to come," says Simon Harrington, senior brand and licensing manager at Tulip. "The barbecue occasion itself is now more about the food, rather than waiting for the sun to come out."
Though, of course, whether the sun is shining is still crucial. "The weather tends to be the biggest factor," says Corbett. "Outdoor cooking equipment sales track temperature increases almost perfectly hour by hour."
The market will be keeping a close eye on the forecasts over coming months…
Will Lone Star Stubb's shine on UK barbecues?
In downtown Austin, Texas, crammed between two of the more prominent music venues that litter a city branding itself 'Live Music Capital of the World', you'll find a unique establishment straddling the divide between live music and authentic Texas barbecue. That place is Stubb's.

The queue to get inside Stubb's at Austin's world famous South by South West music festival isn't just outside the door, it's around the block. Not only has the restaurant been supplying great barbecue for six decades, it's become one of Austin's live music gems, hosting artists as diverse as Kanye West, Lady Gaga and Metallica.

For the first time this year the range of Stubb's sauces, which have become a fixture in every condiment aisle across the American south, are to become widely available in the UK.

"American condiments and cooking aids will be a key trend in multiple retail this summer," says Piers Adamson, head of brands at the sauce's UK distributor Empire Bespoke Foods.

"We are incredibly excited to be launching one of America's leading barbecue brands into the UK just in time for the good weather and grilling season. An awareness campaign will highlight the range's gluten-free and no artificial preservative or colourings credentials."

Stubb's will offer something unique to the UK's convenience barbecue sector - Hickory Liquid Smoke. A few drops of this substance, lovingly considered a 'cheat' in Texas barbecue markets, will impart the flavour of a cut of meat that's been smoked over wood for hours on end.

The brand was launched in 1968 by legendary blues musician CB Stubblefield and is as synonymous with Texas barbecue as the slow-smoked beef brisket the Lone Star state prides itself on. Consumers looking for an authentic taste of Americana could find Stubb's is the winning ingredient for barbecues in summer 2015. At least that is what Adamson is hoping.
Meat Lust 10-Minute Marinades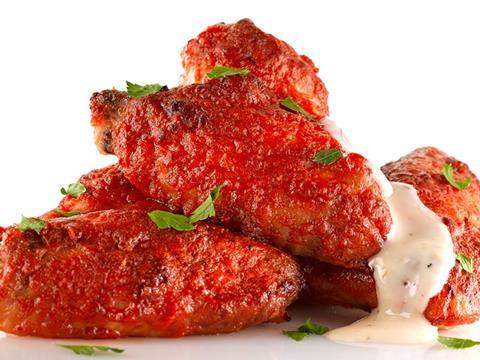 Launched: February 2015 
Manufacturer: Flava-it
Offering the two most prominent US barbecue flavours (Louisiana and Buffalo) by way of a marinade that doesn't require the usual hours of preparation, 10-Minute Marinades (rsp: 95p) offer a convenient way to jazz up a cut of meat before cooking. Accompanied by some pretty aggressive marketing materials, the manufacturer says its products are "just pure thug flavours mixed with a little bit of love and a sprinkling of ego".
BBQ Pride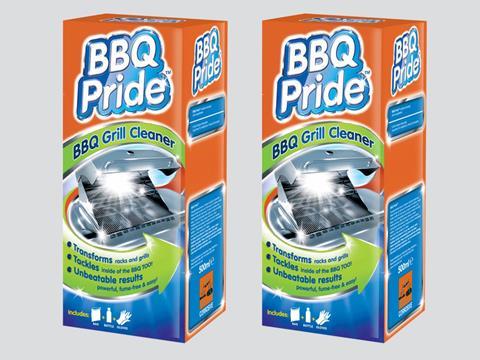 Launched: April 2014
Manufacturer: Oven Pride
A strong cleaner designed specifically for the barbecue unit that's not been touched since last summer's grilling activities, BBQ Pride (rsp: £3.99) even comes with gloves and a bag for disposal. Targeted at the barbecue enthusiast who needs to get the grill gleaming quickly before friends come over.
Americana Brioche Bun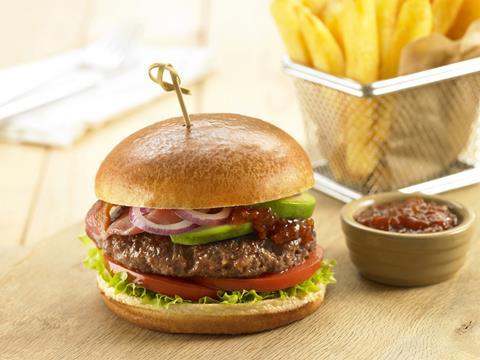 Launched: March 2015
Manufacturer: Lantmännen Unibake
With consumers willing to spend a bit more for a good burger, it's logical the bun should go premium as well. Made with butter and free-range egg, the Lantmännen Unibake product will "deliver a premium solution for retailers looking to stock quality burger carriers", says marketing manager Rachel Shoosmith.
BBQ Gourmet Championship Rubs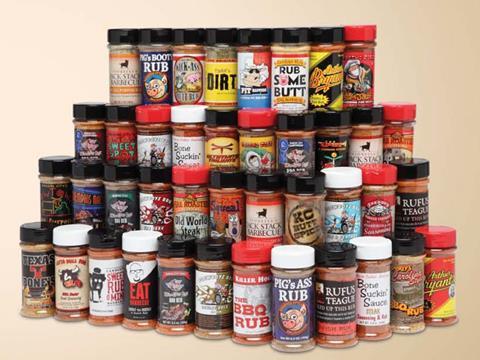 Launched: February 2015
Manufacturer: Various
Gluten free and marketed as a 'year-round meat solution', the 20-strong range, with product names such as Rub Some Butt, includes styles from four American regions - the US centres of barbecue excellence, Kansas City, Memphis, the Carolinas and Texas - and the recipes were developed in competitions (rsps: from £6.95).
Grillstock's BBQ Smokehouse Range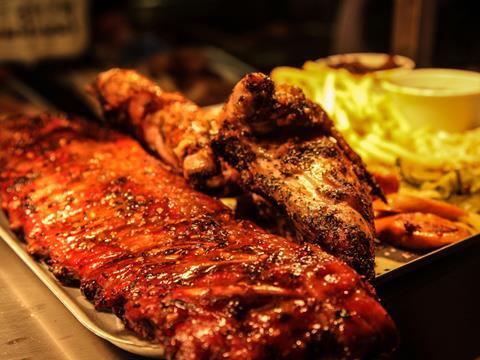 Launched: January 2015 
Manufacturer: Tulip
Comprising a full rack of BBQ Smokehouse Pork Ribs (rsp: £7), Pulled Pork Joint (rsp: £7), Smokehouse Chicken (rsp: £6) and the Smokestack Burger (rsp: £6), these products derived from the wildly popular barbecue festival and small restaurant chain hit Booths stores early in 2015 in a partnership with Tulip. Jon Finch, co-founder of Grillstock, says: "These products are quick, convenient and replicate what you would find in one of Grillstock's Smokehouses."
Thin Cut Steaks range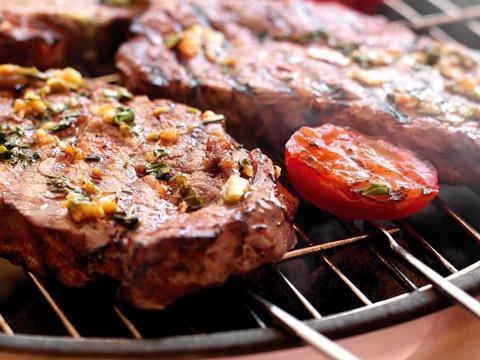 Launched: March 2015
Manufacturer: Various
This range of thinly cut beef steaks based on six different muscle groups is promoted by Eblex as offering convenience in cooking time and innovation in range. Mike Whittemore, head of trade marketing for Eblex, says the initiative will be supported by marketing material designed to educate consumers.
Birds Eye Fish Chargrills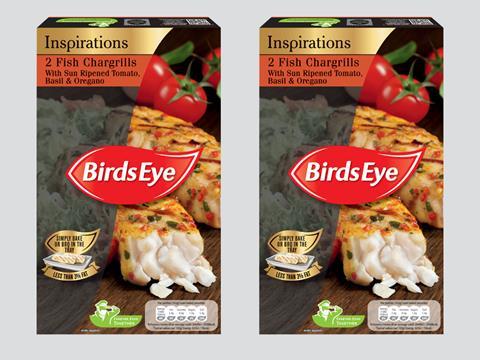 Launched: March 2014
Manufacturer: Birds Eye
Fish Chargrills from Birds Eye come in four flavours: Sun Ripened Tomato, Basil & Oregano; Juicy Lemon, Rosemary & Thyme; Thai Coconut, Lemongrass & Chilli; and Sweet Jalapeño, Red Pepper & Honey (rsp: £3.49). Worth £9m since launch in 2014, Fish Chargrills can be barbecued inside the tray.
Exotic Meat Feast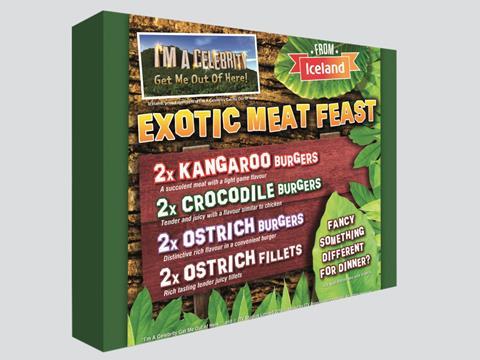 Launched: November 2014
Manufacturer: Iceland
Okay, so the November launch of Iceland's Exotic Meat Feast (rsp: £5) wasn't timed for the barbecue season (in fact, it coincided with the revival of ITV's I'm A Celebrity… series) but what could appeal more to a bunch of blokes standing around a barbie than a selection of cuts of kangaroo, crocodile and ostrich?