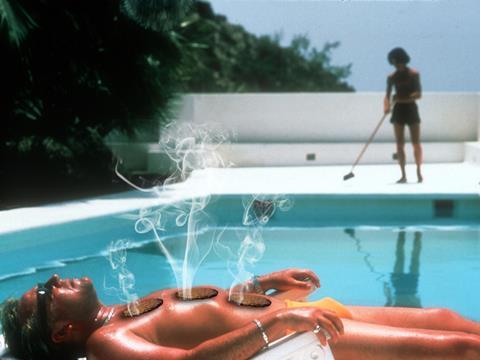 Britain's barbecue brands enjoyed a scorching 2013. With Brits firing up the barbie on 136.8 million occasions across the course of the year [Kantar Worldpanel 52 w/e 15 September 2013], that equates to a 29% increase on the 'summer' of 2012. And, as the driest and warmest BBQ season since 2006, the number of barbecues in the peak 12-week period to 18 August alone was 84.7 million occasions - up a whopping 86.6% against the same period the previous year.

Across the board BBQ brands enjoyed bumper trading conditions, with beef and burgers in particular defying the long shadow of Horsegate to post strong growth - even bread rolls blossomed, peaking at 196.8 million occasions for the 12 weeks to 15 September 2013, compared with a low of 156.9 million for the 12 weeks to 28 April [Kantar].

But there was one large and very significant blot on the copy book. Sauces. HP saw value sales fall 13.6% with volumes down 24.6% [IRI]. It was a similarly depressing picture for Reggae Reggae Sauce, which slumped 15.4% in value and 21.5% in volume. And although price increases and stellar performances by some rivals helped the overall category to modest value growth of 1% [IRI 52 w/e 2 November 2013], volumes fell 3.7%.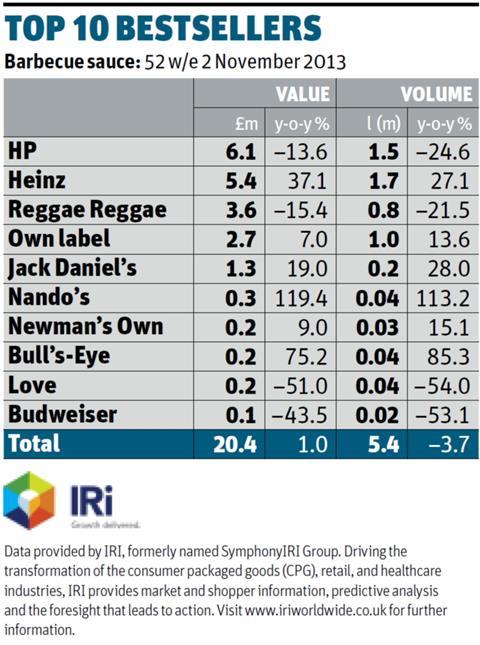 So what exactly happened last year? What are the key trends likely to emerge in 2014? And what are BBQ brand owners - in particular the sauce brands so badly burnt last year - doing to ensure they enjoy a bumper year this time?

Judging by sales of BBQ meat in 2013, it's clear we have short memories. Beef cuts were the best-performing meat, according to Kantar figures, with occasions up 51% year-on-year. Burgers defied the Horsegate scandal to see occasions rise by 15% and sausages - the most popular barbecued meat - also increased, by 14% [Kantar].
" Retailers can drive sales by promoting a wider range of pork cuts suitable for the BBQ" Claire Holland, Bpex
Not all meat grew. BBQ chicken suffered, with occasions down 9%, and pork cuts fell by 3% [Kantar]. On the flipside, Bpex claims marinated pork has shown strong growth over the last four years, with volumes nearly doubling over that period, says Bpex product marketing manager Claire Holland.
"Traditional cuts such as steaks and chops are great flavour carriers, while ribs, pork kebabs and joints such as belly, collar, shoulder and leg deliver succulent, flavoursome meat when marinated and slow cooked," says Holland. "Retailers can drive sales by promoting a wider range of pork cuts that are suitable for the barbecue or grill - marinated pork is perfect for the barbecue."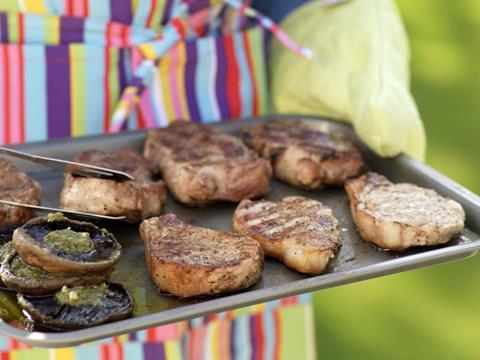 Last summer was the driest, warmest BBQ season since 2006, and Brits enjoyed 84.7 million barbecues in the peak 12 weeks to 18 August 2013, up 86.6% against the washout the same period a year ago. Across the year we had 136.8 million barbecues.
Compared with the previous year, beef cuts were the best-performing category, up 51% to 18.9 million occasions; burgers defied Horsegate, rising 15% to 44 million occasions. Sausages were third fastest-growing, up 14%, and remain the most popular barbecued meat, at 45.1 million occasions. At the other end of the scale, chicken fell 9% to 31.2 million occasions as pork cuts dropped by 3% to 21.3 million occasions.
The presence of children continues to drive barbecue eating, with 55% having kids present. Under-16s have provided strong growth compared with last year, up 34% compared with the 20% growth seen across all ages.
Growth extends beyond meats - bread rolls peaked at 196.8 million occasions for the 12 weeks to 15 September, compared with an annual low of 156.9 million [12 w/e 28 April].
Tom Roberts Kantar Worldpanel
While the sales data clearly shows that consumers continued to shop for meat despite Horsegate, a survey of 1,000 shoppers conducted by Toluna and commissioned by All About Food, which produces Gourmet Burger Kitchen burgers under licence, suggests that the one major downside of the scandal was that shoppers turned against own-label products.

Posh burgers

"Our research revealed that 10% more meat purchasers trusted branded meat above own label - 73.7% versus 64.3%," says James Beaumont, All About Food's marketing manager. "They reverted back to big brands they know and trust due to what they saw in the media about some own-label alternatives. Our research also found that meat content of the burger is the number one purchase driver for consumers ahead of even price. While price may have been more of a deciding factor historically, consumers would rather invest more cash now as reassurance that they are eating quality meat from a reliable source."

That's not the only option consumers took, however. Meat-free products benefited from the fallout from Horsegate, with Quorn reporting a sales uplift of 38% at the height of the scandal. The Vegetarian Society claims 25% of us are eating less meat than a year ago - many of the converts are as a direct result of Horsegate - and Rachel Wicklow, director of Secret Sausages, cites figures from Mintel, which predict the meat-free market will grow by 40% in value sales by 2013, as evidence that this category has plenty of scope for future growth.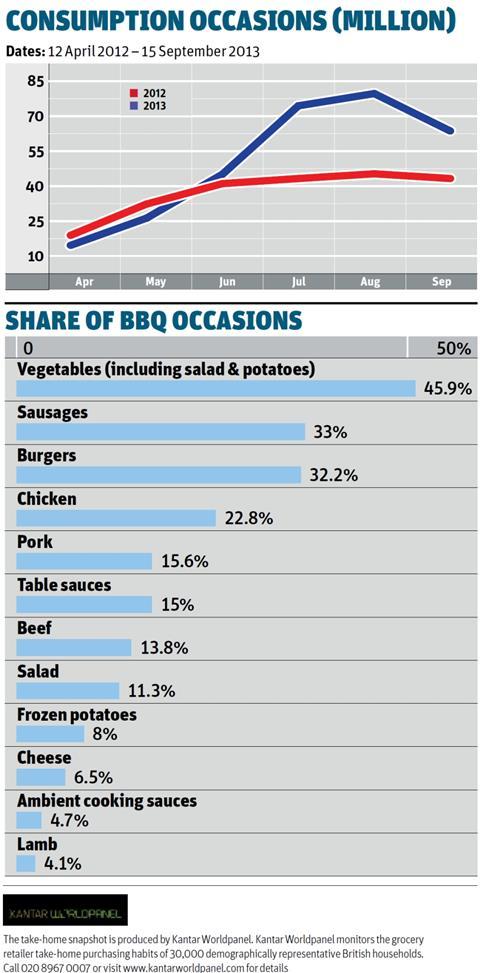 "There is a clear opportunity for NPD to grow sales, both by attracting more flexitarians looking for a healthier, balanced diet, but also among existing users, as more than a third of consumers who bought free-from foods say they'd like to see a wider range of everyday essentials," says Wicklow. "Provenance, honesty on the pack, wider claims than simply vegetarian, British provenance, vegetable-based, etc, are all key consumer needs that NPD can tap."

Instant barbies

Other consumer needs that should be the focus for future NPD include marinades; hotter World Food sauces; and influential culinary trends like US-style low-and-slow barbecuing, all of which continue to grow in popularity in the UK.

Even instant barbecue manufacturer Bar-Be-Quick is trying to get in on the action with a low-and-slow-inspired range of recipes printed on special Schwartz-branded packs that launch in Asda this Easter.

"The new recipes enable customers to create more adventurous barbecued meals," says Caroline Hoare, NAM at Bar-Be-Quick, "allowing them to cook much more than burgers and sausages when they choose to dine al fresco, or away from home."

The low-and-slow movement is also one Baxters Food Group is looking to tap.

"We have recently taken recipe development back to BBQ basics, drawing on the trend for low-and slow and traditional BBQ recipes, including beef brisket tacos and pulled pork," says international sales and marketing manager Geraldine Marks. "Low-and-slow allows the consumer to cook a full joint of meat on the BBQ and allows budding chefs to use a cheaper cut of meat, as the slow cooking allows the meat to tenderise, breaks down fats and infuses flavours."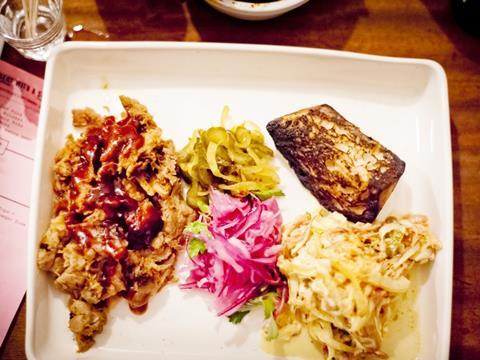 What's hot? Pitt Cue boss picks his top BBQ trends
Tom Adams, chef and founder of the über-trendy central London BBQ joint Pitt Cue Co, which opened around two years ago, provides the inside track on the current hot BBQ trends:
Smoking is hot - we're seeing a lot more smokers and open wood-fired grills out there, both in restaurants and in people's homes, where smokers are starting to play a bigger role. A lot of restaurants are using smoked oil and butters to make purées, and at the other end of the scale people are using smokers to make ribs and buns.
Beans doesn't always mean Heinz - beans are definitely happening at the moment - from burnt end to smoked. We've even been asked by an independent coffee chain to supply smoked beans for their shops, which would never have happened three to four years ago.
Wood tastes good - things taste different depending on the type of wood you use, and there's a real trend towards sustainable, fully traceable charcoal and wood at the moment from businesses like the London Log Company.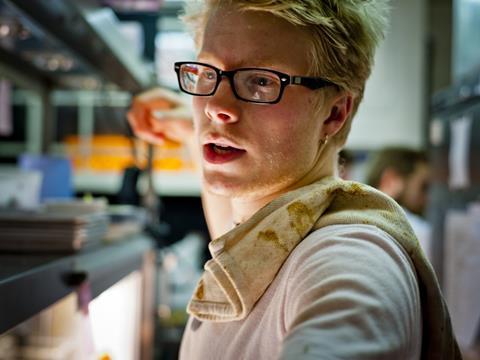 Unusual meat cuts - people are definitely starting to get more adventurous and experiment with different cuts of meat from cows, pigs and sheep. Rather than just chucking a burger and some sausages on the barbie, they're looking to use a rump or lamb or a rack of short ribs.
The hotter the better - hot sauces have been big for some time, but people are still really into them. We get customers coming into the restaurant asking us if we can make sauce for them. Just look at The Ribman - it makes a hot sauce that ships all over the world and that's just taken off in the last couple of years.
Rub it in - we hardly use any dry rubs in the restaurant because there are so many things on the menu that we cold-smoke and then grill, and there aren't many available in retailers at the moment, but maybe that's going to be the next big thing to come along.
The growing popularity of such cooking techniques suggests the barbecue market is growing in sophistication, according to Fran Campbell, marketing director at Bart Ingredients.

"Barbecue is not just fun and easy cooking for blokes who like fire," she argues. "It's now trendy and part of a new and appealing foodie culture. Foodies are no longer a small or elite group shopping in one or two exclusive outlets. Foodies cross every demographic boundary; they love innovation and fresh ideas; and they want value for money."

She adds that "innovation and imagination" will help drive greater value in the BBQ category, particularly amongst sauce brands, which are badly flagging at the moment.

Her inspiration will surely be Heinz. While its HP Sauce brand has relied heavily (and unsuccessfully to date) on new marketing creative, the spectacular value growth of Heinz BBQ sauce (up 37.1% on volumes up 27.1%) clearly shows the value of quality NPD in propping up sales at a time when table sauces and condiments more generally are in long-term decline. A three-strong range comprising Classic, Sticky and Chilli, it only launched in 2012.

Sauce

"There are two key ways we've managed to use our brand strength in this category," says Ian McCarthy, marketing controller of UK sauces at Heinz. "First, we have made an ongoing investment to communicate our brand messages. Second, we've launched key innovation that's helped to drive brand and category growth as well."

It's a similar story for Nando's, which saw value sales grow 119.4% with volume up 113.2%. "While the wider thick and thin sauces category is struggling for volume growth, these statistics show it is not all doom and gloom for the sauces category as a whole," says Samantha Frost, category manager at All About Food which holds the licence for the Nando's brand.

"Consumers are simply looking for different, more innovative ways to add flavour to their meals, and All About Food continues to innovate with its brand partners to keep ahead of these trends."
A key factor behind the brand's success has been its ability to customise flavours and heat levels to suit the family's favourites, adds Frost. "Barbecue-goers now expect a more flavoursome food experience, which is why they're using a wider range of heat intensities to suit the growing British trend towards spicier taste palates," she explains.

It's a view supported by Heinz, which this month launched a new range of Heinz Chilli Sauces, including the new Heinz Sweet Chilli, Heinz Jerk BBQ, Heinz Peri Peri and Heinz Hot Pepper flavour variants.

"The new range provides a chilli taste adventure consumers can trust, offering them the perfect way to enhance barbecues," says Emily Frank, senior brand manager at Heinz. "Each sauce is a great entry point to the chilli market, and the on-pack heat indicator makes it even easier for them to control how hot they want to go."

Baxters Food Group is also spicing up. Last year it launched two limited-edition products - a Jack Daniel's Extra Hot Habanero Barbecue Sauce and a Hot Pepper Steak Sauce. Both proved sufficiently popular to brought back to shelves in 2014.

Encona also launched a fiery range of seasonings in August last year comprising three variants - Hot Pepper, Jamaican Jerk and Chilli & Garlic.

And salad dressings brand Cardini will launch a Red Jalapeño Caesar Salad dressing into Waitrose next month.

"The category will continue to innovate and consumers will grow their repertoire of sauces to showcase at BBQs accordingly," says Kirsty Chalmers, assistant brand manager for Hellmann's. "While the more traditional BBQ sauces, such as ketchup or brown sauce, will still very much remain BBQ staples, they'll compete with more adventurous sauces such as spicier variants and other new flavours coming into the category."
" More traditional BBQ staples will compete with spicier variants and new flavours" Kirsty Chalmers, Hellmann's
This high level of NPD activity is crucial to a category that is otherwise dependent on the weather. At least there are going to be plenty of opportunities for brands to excite and engage consumers thanks to the bumper summer of sport that lies ahead, with the Ryder Cup, the Tour de France and the World Cup all scheduled to take place in the next few months.

The latter in particular is set to "fire up the nation and also the number of BBQ occasions," offering a shot in the arm for manufacturers and retailers alike, according to Simon Fry, marketing director for RH Amar, which supplies Budweiser BBQ Sauces - the drinks brand is an official sponsor of the tournament.

"Ranging table top sauces and salad dressings with a strong association with sporting events or South American cuisine can help retailers tap the national sentiment [around the World Cup] to drive incremental sales," believes Fry.

Summer of sport

A summer packed with high-profile sporting tournaments will no doubt inspire more BBQ occasions, but as we've seen in recent years, the fortunes of the brands in the BBQ category are in the hands of the gods.

The wettest winter for England and Wales since 1766, followed by a relatively mild start to the spring, has provided little clues about what the summer months might have in store weather-wise, although earlier this year scientist Armin Bunde of Justus Liebig University in Giessen announced that he was 75% certain that 2014 will be the hottest summer on record. BBQ brand owners will be praying the scientists have got their equations right - at least when it comes to the UK BBQ season.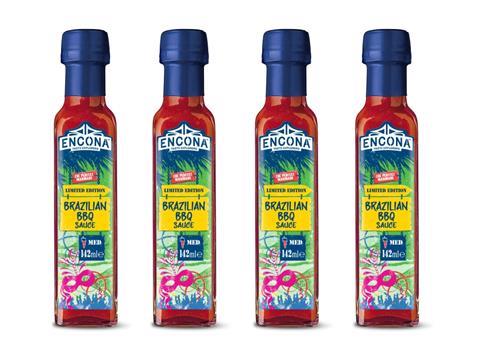 Encona Brazilian BBQ Sauce
Launching: April 2014 
Manufacturer: Encona
With the World Cup due to kick off in June, Encona hopes sales of its limited-edition South America-inspired sauce will explode in the countdown to the tournament. The 142ml variant (rsp: 1.59) features a blend of tomatoes, herbs and spices, creating a "sweet, spicy sauce that's ideal for the BBQ season," says Lisa Leung, brand manager for Encona Sauces. The April launch of the sauce coincides with Encona Sauces' first-ever national TV advertising and programme sponsorship.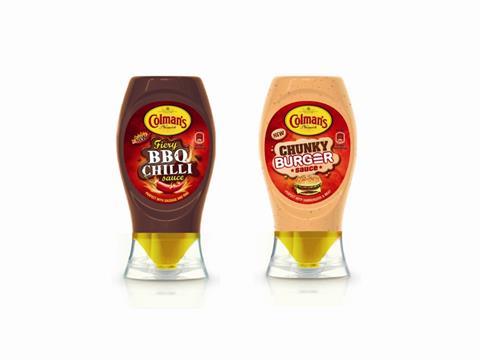 Colman's Fiery BBQ Chilli
Launching: May 2014
Manufacturer: Unilever
Colman's is due to introduce two new flavours to its BBQ sauces range this spring -Fiery BBQ Chilli and Chunky Burger. Lola Danlos, Colman's brand manager at Unilever UK, says the products have been developed to meet consumer demand for strong flavours in the thick sauces category. The 150ml bottles have an rsp of £1.69.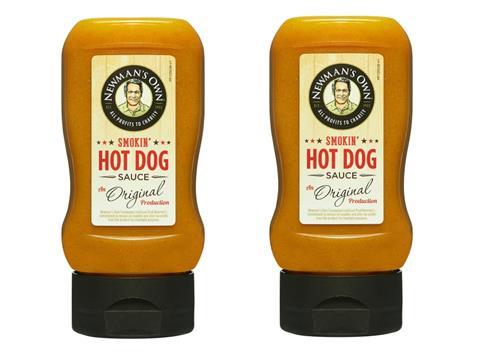 Smokin' Hot Dog Sauce
Launching: Spring 2014
Manufacturer: Newman's Own
Newman's Own's new American-style hot dog mustard with a hint of chilli, which hits the shelves of Morrisons stores nationwide this spring, is part of a new American condiments range the charitable brand intends to roll out throughout the course of this year. The product has an rsp of £1.89.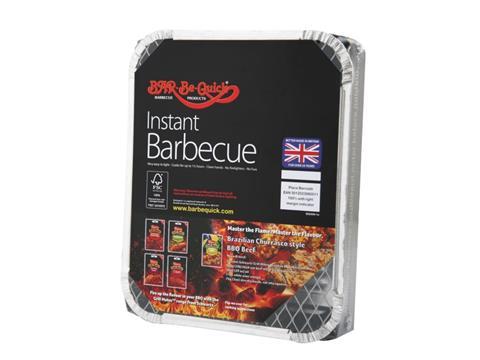 Bar-Be-Quick Schwartz packs
Launching: Easter 2014
Manufacturer: Bar-Be-Quick
The instant BBQ manufacturer has teamed up with Schwartz to offer four 'low and slow' inspired promotional packs launching into Asda this Easter. The quick-lighting BBQs (rsp: 3.99) feature four on-pack recipes: Tennessee Ribs, Brazilian Churrasco Style BBQ Beef, Grilled Salmon and Grilled Rare Tuna Steak.