Enhanced with electrolytes; mixed with juice; sweetened with sugar: it's water, but not as we know it. As bottled water booms thanks to the backlash against sugary soft drinks, water brands are using an increasing array of ingredients to maintain growth.
And it seems to be working. Sales of bottled water through the supermarkets have surged 12.2% to £871.1m on volumes up 9.5% [IRI 52 w/e 3 January 2015]. Further analysis by Kantar Worldpanel suggests the equivalent of nearly half of this, £401.9m, has been consumed at home [52 w/e 4 January 2015].
You might expect sales of water to be doing well in this anti-sugar age. But it's surprising that flavoured water, some containing as much sugar as carbonates, is doing even better. Kantar puts flavoured still and sparkling up a combined 14.3% on volumes up 12.4%; plain is up 12.6% on volumes up 10.4%.
So what's driving the trend? And how is all this impacting the wider soft drinks market?
One thing's for sure: the market is becoming increasingly difficult to measure, as established bottled water players begin to leverage the strength of their brands in new areas. For example, IRI classes San Pellegrino Limonata as a fruit crush due to its high sugar content (10g/100ml) while in Kantar's eyes it is flavoured sparkling water. IRI labels Volvic Juiced as flavoured water, despite its sugar content (6.3g/100ml) being similar to juice drinks such as Britvic's Drench and more than Coca-Cola Enterprise's Oasis.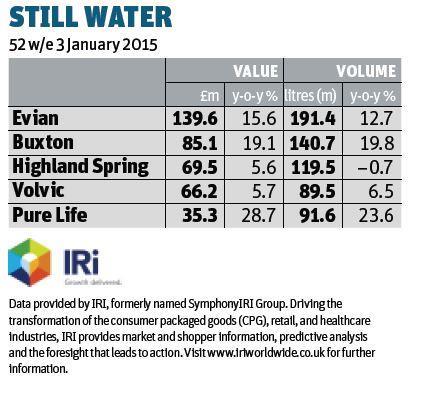 Flavoured 'water'
If the experts seem confused about whether these products are water or not, there's a risk consumers will be too."People won't realise they're taking on all this sugar," warns Action on Sugar chairman Professor Graham MacGregor. "If people are switching from sugary cola to 'water' with almost the same amount of sugar it's completely bonkers."
Bonkers or not, bottled water brands are cashing in. Nestlé Waters' range of San Pellegrino fruit drinks - including Limonata, which accounts for nearly half of sales - are now worth £18.4m, with sales up 107.1% [IRI]. The brand is capitalising on its premium cues here, defying a struggling market with an average price more than twice the average.
Danone Waters is also going down the flavoured path, but rejects any claim drinkers will be confused about sugar content. "Volvic Juiced and Touch of Fruit contain less sugar on average than most full-sugar soft drinks, and we have a sugar free range," says head of category development Christina Medford.
A reformulation of Touch of Fruit has led to a 10% cut in sugar, she says, adding: "We advertise in a responsible way and always make clear Volvic Touch of Fruit Original and Volvic Juiced contain added sugar. Each bottle is clearly labelled with ingredients and nutritional information, giving consumers all they need to make an informed choice."
The move into fruit flavours is tactical. With CCE and Britvic under fire for sugar content, both have made significant moves in bottled water of late. Likewise, as brands such as Coke have become bywords for excessive sugar content in the press, bottled water brands have spotted an opportunity, leveraging their premium, natural, healthy cues in the fruit drinks market.
CCE and Britvic have had mixed success in bottled water so far, with Glaceau and Ballygowan respectively. Glaceau's Smartwater and Vitamin Water lines are now worth £20.3m in grocery [IRI], the brand's 26.7% growth driven mostly by the £3.7m Smartwater has racked up since launch last August. Ballygowan has realised just £600k.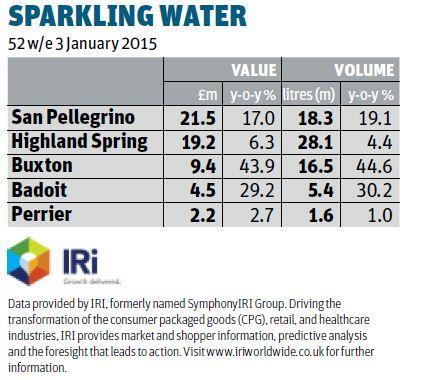 Retail channels
Not that grocery is necessarily where the money is in bottled water, given the low prices and bulk deals of most of the major supermarkets. "You can sell huge volumes of bottled water in the supermarkets and not make any profit," says a senior source at one soft drinks manufacturer.
Ballygowan owner Britvic, which launched the brand in February last year to replace its Drench and Pennine Spring mineral waters, says it is instead choosing to fight the battle for bottled water in the out of home market. "Ballygowan is a great portfolio of products ideally suited for the single-serve and leisure markets," says Britvic MD Paul Graham.
That margins on a 500ml bottle of water are significantly higher in food to go and impulse must be a factor here too. But as many brands are proving, there's more than one way to increase margins. For some, so-called 'plain' bottled water is anything but.
For example, CCE has spent £1.6m on traditional ad space for Glaceau, a more than three fold increase [Ebiquity 52 w/e 30 November 2015], in a bid to attract drinkers to its 'vapour distilled', electrolyte-enhanced Smartwater. CCE is adding sports caps on 850ml bottles soon as it focuses on increasing distribution.
Others are focusing on packaging. Evian Pure Drop, a drop shaped phial containing just 200ml of Evian but selling for an eyewatering £1, rolled into WH Smith in December after the brand teamed up with fashion label Kenzo to create a limited-edition bottle in September. The same month Harrogate Spring introduced 'diamond bottles' across its glass and PET range.
"The bottle creates exceptional standout on shelf and the striking diamond design reflects the enduring, premium nature of the brand as well as the high quality of water inside each bottle," says MD James Cain, who adds value sales for the brand are up 12.2%, on volumes up 12.9%.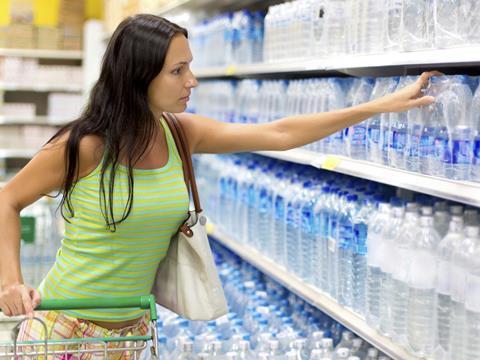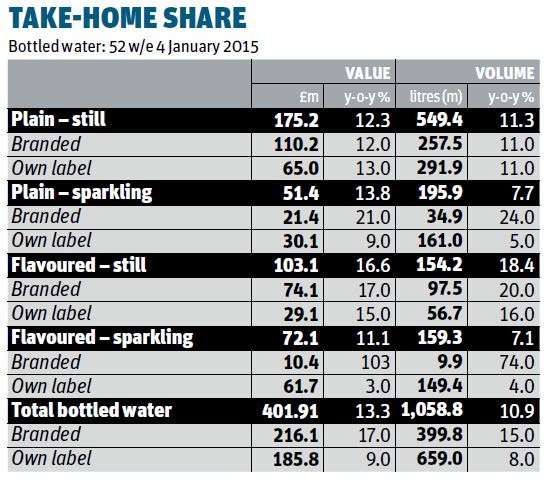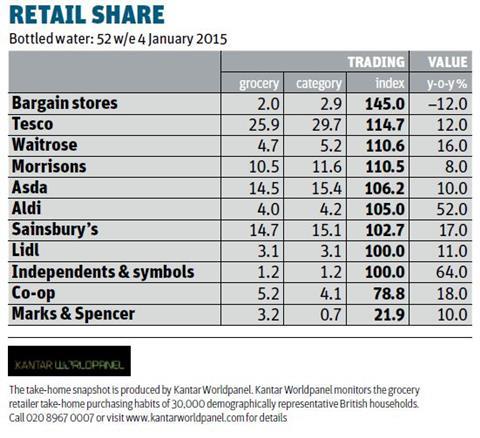 Bottled water continues to show strong growth across all subsectors, particularly flavoured still and plain sparkling.

The remainder of the growth comes largely from existing shoppers spending more, with the average water shopper spending an additional £2.04 (+10%) on water this year and making 0.8 more trips, while the category also benefited from a 2.8% increase in the number of buyers.

Plain still water remains the largest subsector, contributing 43.6% of all value sales and over half (51.9%) of all volume.

Promotional levels have decreased slightly since last year with 37% vs 36% of volume sold on deal, with an increase in average price driven solely by sparkling water, most notably plain sparkling. This is in part due to the increasing significance of premium waters within sparkling.

In contrast with last year, branded water is growing significantly faster than private label, due to strong growth in sparkling brands, most notably flavoured sparkling.
Price
San Pellegrino has used ads to boost sales by 17% on volumes up 19.1% [IRI]. It's ramped up spend on ad space by 46.4% [Ebiquity], the lion's share going on TV ads trumpeting the brand's Italian heritage and premium cues. Selling for more than three times the average, the brand has overtaken Highland Spring to become Britain's biggest sparkling brand.
With pricier brands such as Buxton and Badoit also in strong growth, the average price of sparkling water has risen 4% [Kantar]. No wonder Highland Spring last month launched its first ever campaign specifically for its sparkling variants, offering the chance to 'escape to a sparkling moment' by winning a luxury break at Gleneagles.
Highland Spring's still offerings will continue to support the Lawn Tennis Association. Partnering with sporting events has paid off for Aqua Pura, value sales of which are up 22.8% on volumes up 16.2% [IRI]. The brand is continuing its Race for Life and Great Run series tie ups in 2015 and reckons growth is coming from on-the-go 500ml formats.
With the health trend continuing, some expect more brands to tie up with sports events. Either way, the growth looks set to continue, says Danone Waters' Medford: "If the growth trend continues, bottled water could be the biggest category in soft drinks, accounting for 29% of volume sales by 2017."
Such growth will attract more attention from the giants of soft drinks. And with Danone, Nestlé, Coca-Cola and Britvic all jostling for space in the market, the scene will be set for a real clash of the titans. It seems the battle of the bottle is just beginning…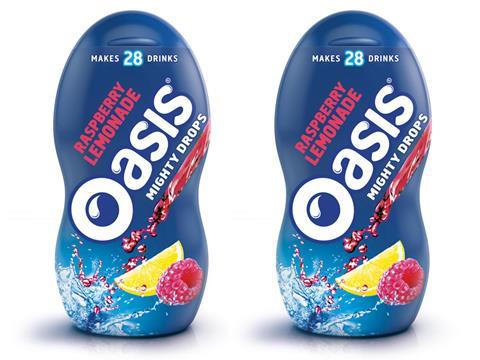 Can squash for pockets help make a packet?
They're designed to make water more interesting and were one of the biggest trends in soft drinks last year. With pocket squashes worth more than $300m in the US and the market tipped to grow to £200m in the UK in the next five years, the fledgling category is proving a major opportunity for brands.

Britvic, the first to enter the super-concentrated squashes market with Robinsons Squash'd in January 2014, says the sub-brand is now worth £8m in retail sales and it is adding citrus, tropical, and pear & blueberry flavours to the range this year.

CCE says the April 2014 launch of Oasis Mighty Drops has helped the brand deliver an additional £10m to the sector, and Vimto says its Squeezy pocket squash, also launched in January 2014, has added about £1m of retail sales.

"The Vimto water enhancer feeds into the three major trends of healthier lifestyles, convenience and customisation by encouraging consumers to drink more water through a low calorie product that is portable, easy to use and gives them control to flavour water to their personal taste," says Emma Hunt, Vimto's UK marketing controller.

Britvic invested £4.8m marketing Robinsons Squash'd in 2014 including a TV ad pushing the idea that Squash'd can make 'water tasty whenever, wherever'.

Despite entering the water enhancer category rather later than others, CCE says Oasis Mighty Drops have helped achieve a value sales hike of 14.7% for the brand as a whole.

When it comes to bottled water there's no shortage of players enhancing their products with functional ingredients and flavours. So how come water players aren't going after portable water enhancers as a means of driving growth?

CCE says it would "consider" partnering its water brands with Oasis Mighty Drops "if the opportunity is there" and Danone Waters claims that it would be open to the idea "if there were a strong brand fit".
Glaceau Vitaminwater Multi-V Zero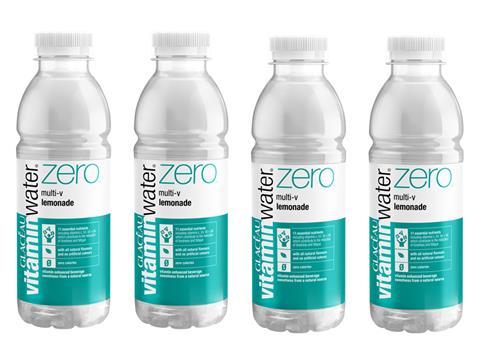 Launched: March 2015 
Manufacturer: Coca-Cola Enterprises
With soft drinks players vying for a greater share of the bottled water category, and sugar under fire from the health police, Coca-Cola Enterprises is replacing its functional Glaceau Vitaminwater Multi-V with a no calorie, no sugar version. Lemonade-flavoured Glaceau Vitaminwater Multi-V Zero (rsp: £1.45/500ml) is made with stevia leaf extract and contains 11 essential nutrients including vitamins B and C, which contribute to the reduction of fatigue.
Volvic Juiced Sunny Orange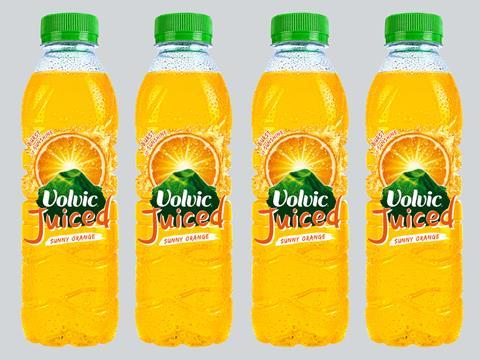 Launched: January 2015
Manufacturer: Groupe Danone
As fizzy pop players cut sugar content, Volvic is going in the other direction with new blends of juice and water for the Juiced sub brand. Sunny Orange contains 40g of sugar per 500ml, not far off the 53g per 500ml red Coke contains. It's joined by a lemonade variant (both rsp: £1/500ml or £1.15/1-litre), which contains 32.5g of sugar per 500ml.
Rockstar Energy Water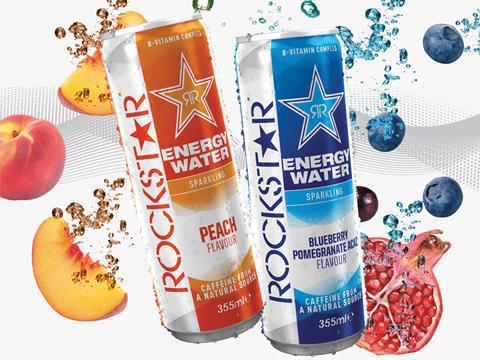 Launched: January 2015
Manufacturer: AG Barr
AG Barr is hoping to create a new category by combining energy drinks and water with Rockstar Energy Water (rsp: £1.69/335ml). The caffeinated drink mixes flavoured water with the flavoured energy drink and comes in blueberry, pomegranate & acai, and peach. With 8.7g of sugar per 100ml it has 50% fewer calories than standard Rockstar.
Evian Pure Drop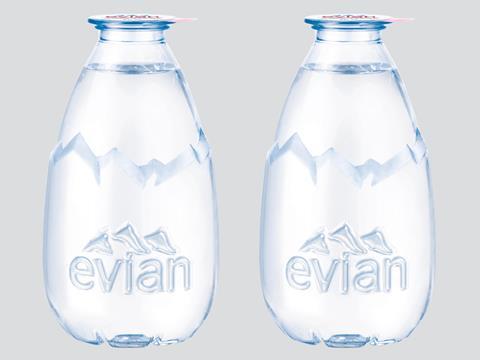 Launched: December 2014
Manufacturer: Groupe Danone
It's won a Diamond Pentaward for its minimalist design and can be bought in Harvey Nichols. Water doesn't get much posher than Evian's Pure Drop (rsp: £1/200ml), which isn't being sold through traditional distribution routes but can be found at WH Smith. The launch is supported by up and coming designers Agi and Sam.