War has been declared on sugar. Just last month new research found that sugar, not salt, causes high blood pressure, adding to the long list of ills linked with sugar, such as type-two diabetes, heart disease and colon cancer.
With a rap sheet like that, it's no wonder sugar is under fire. Just 5% of our energy should come from it, says the World Health Organization, which revised its advice down from 10% in March. The UK Scientific Advisory Committee on Nutrition (SACN) followed suit; and Public Health England has mooted a sugar tax and ad bans.
"Last Christmas and Easter, Brits forked out nearly £250m on confectionery"
In this climate, and with many retailers removing chocolate and sweets from their checkouts (most notably Tesco, which says the task will be complete by the end of 2014), it may come as a surprise that confectionery sales are actually holding up relatively well.
Overall sales are up 2.2% to £3.8bn on volumes up 0.3% Kantar Worldpanel 52 w/e 20 July 2014]. And some sectors are flying: recipe milk chocolate and candy, for example, with combined growth of £31.7m.
So how is confectionery managing to grow in spite of the ongoing assault on sugar? And can the sector continue to dodge the health lobby's bullets in the coming year?
The evidence suggests consumers are not overly preoccupied with confectionery's sugar content. Last Christmas and Easter, for example, Brits forked out nearly £250m on confectionery: Christmas novelties surged 24.5% on volumes up 37.7% [Kantar]; shell eggs were up 15.8% in value, 9.9% in volume.
The current growth in confectionery is primarily being driven by increases in price, with price per kg rising by 2% in the latest year to £7 a kilo.

Around 99% of households buy confectionery over the course of a year, and shoppers on average buy it 54.6 times a year. This has increased slightly, by 0.5%, over the past year.

Volume bought per trip has fallen 1.3% to 377g as a result of pack weight reductions. However, the number of packs bought has stayed constant.

Overall, deal activity has declined slightly (although featured space deals have increased; see p63) , with 49.2% of spend on deal over the past year compared with 49.8% in 2013. This has been driven by reductions in volume-based deals such as multibuys and x for y, but temporary price reductions remain the key deal mechanic.

Previous years have seen a wealth of NPD in block chocolate and sharing bags. Continued government focus on sugar content may impact the category and could see a greater focus on portion control.
Carina Carter, Kantar Worldpanel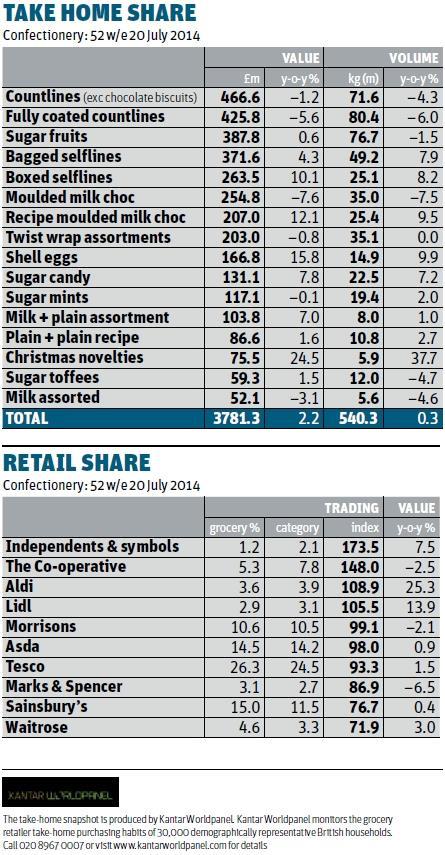 Year-round, we're also tucking into increasingly sweet treats, such as recipe milk chocolate (packed with fruit, nuts, or, increasingly, sweets and cookies), with sales up 12.1% in value and 9.5% in volume [Kantar]. Meanwhile, sales of standard milk chocolate (without any additions) have fallen 7.6%, with volumes down 7.5%.
NPD has been key to the shift to more adventurous chocolate (so much so, we've dedicated five pages of this special report to innovation; Mondelez has led the charge, with its Marvellous Creations range of chocolate-cum-candy and Dairy Milk with Ritz and Lu helping to drive a 5.5% uplift in overall value sales for Dairy Milk, with volumes up 4.3% [IRI 52 w/e 21 June 2014].
Ferrero has also been getting stuck in, with the launch of Kinder with Cereals in July 2013 helping to boost recipe milk chocolate sales, and the rollout of pink and blue Kinder Eggs a month later benefiting the shell eggs sector. In April, shoppers were forking out up to £20 on the brand's 100g Easter eggs - rsp: £5 - on eBay after reported shortages in store.
'Exciting products'
Such excitement has translated into strong growth for Kinder, which is up 25.4% on volumes up 16.7% [IRI]. Proof, suggests Ferrero customer development director Levi Boorer, that innovative, but not necessarily healthier, products are the key to growth. "We're certain the market will grow if we continue to offer exciting products that are of high quality and taste," he says. "These are all essential factors for category growth, with shoppers refusing to compromise on their favourite brands."
"We are certain the market will grow if we continue to offer exciting products"
That said, confectioners cannot afford to bury their heads in the sand when it comes to the health debate. Particularly given that under the WHO's and SACN's revised advice on energy intake from sugar, consumers could hit their recommended daily allowance by eating just one 45g bar of chocolate, which on average contains about 25g of sugar, equivalent to 5% of the energy requirement of an adult with a normal body mass index.
This - and of course the impact of cost inflation - means some confectioners have begun introducing smaller SKUs or shrinking existing products. Last December, The Grocer revealed Mars had shrunk its Mars and Snickers chocolate bars by more than 10%, while keeping their 51p rsps the same.
Can fruit snacks get a clean bill of health?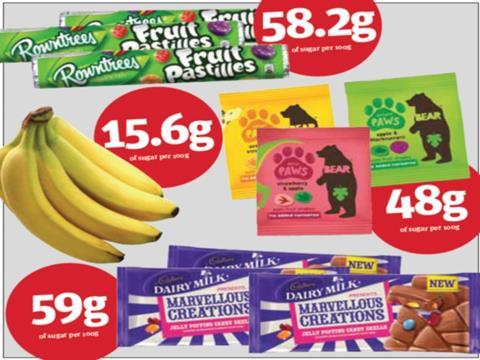 As added sugar has faced calls to be taxed and have limits set for its content in products, natural sugars are ubiquitous in products we assume to be healthy, such as dried fruit and fruit juice. So much so that products that contain natural sugars at levels that would score a red on the FSA's traffic-light labelling system can also form one of your 5 a day.
So why is naturally occurring sugar treated so differently to its refined cousin?
"We are not worried so much about naturally occurring sugars in dried fruit; the sugar is contained in the cells, which is less damaging to teeth than the added sugars in confectionery, and the fibre in dried fruit allows the sugars to be released more slowly," says Kawther Hashem, nutritionist for Action on Sugar.
Bear founding partner Giles Brook says it's misleading to compare the natural sugars found in oranges and other fruits to the refined 'added sugars' used in sweets, biscuits and chocolate bars. "Added sugars only contribute sweetness to our diets and come with zero nutritional value, whereas natural sugars usually come packaged with goodness like vitamins, minerals and fibre," he says.
A 100g serving of Bear's pure fruit Apple Yo Yos contains 48g of natural sugar (a single Yo Yo contains 4.8g). This still compares favourably with 100g of Rowntrees Fruit Pastilles, which contains 58.2g (13.9g per seven sweets) and 100g of Dairy Milk Marvellous Creations Jelly Popping Candy, which weighs in at 59g of sugar (15g per serving). An average banana, meanwhile, contains 15.6g of natural sugars, according to the USDA.
Context is crucial when comparing the sugar content of different foods, says Brook. "People get confused with 100g on baked fruit. A portion isn't 100g in Yo Yos, that is 20g - which is 9.8g of natural sugar - the same as a fresh apple, which is considerably heavier in weight, hence the unfair comparison."
Hashem, however, is not prepared to give fruit snacks a clean bill of health.
"Fruit bars that have been processed or extruded into a 'leather' texture are classed as confectionery," she notes. "This type of processing releases the sugars from the cell walls so it can do more damage to teeth."
Mars, which has been highly proactive in engaging with the health agenda through portion size cuts and reformulation (in 2010 it changed the recipe of Mars, Snickers, Milky Way and Topic to reduce saturated fats), claims the latest size reduction was to enable it to meet its pledge to cut the calorie count of its single serve bars to below 250 under the government's Responsibility Deal.
Now Mars is hoping to appeal to the health and value conscious with 23g Little Treat Galaxy bars. "We know 61% of consumers treat themselves even when budgets are tight, so this format is perfectly placed to fill the gap in the market," says Tony Lorman, Mars retail excellence director.
Health initiatives
However responsible Mars says it's been in cutting portion sizes and reducing calories, these moves haven't so far translated into stronger sales. In fact, just the opposite: Galaxy, Mars and Snickers have suffered combined losses worth an eye-watering £39.8m in the past year [IRI 52 w/e 21 June 2014], although Maltesers has delivered double-digit growth, primarily on the back of a strong programme of NPD.
"We know 61% of consumers treat themselves even when budgets are tight"
Mondelez, meanwhile, says it supports the public health Responsibility Deal (it is one of its founding signatories), and has embarked on a number of health-related initiatives. The company has committed to reduce sodium and saturated fats, although not sugar, by 10% across its global portfolio by 2020 as well as increase its number of portion-controlled products, in order to help consumers better manage their calorie intake.
"We've introduced resealable packaging across our sharing bags and larger bars to enable consumers to eat a portion and save the rest for another occasion," adds marketing director Matthew Williams. Mondelez has also replicated Mars' commitment to meet a 250kcal limit for its single-serve portions by the end of 2015, which will see it discontinue its Cadbury Dairy Milk Bar and Half product.
Ferrero says it has a big commitment around its range in terms of sugar control and formulation. "Our products are aimed and marketed at parents and we believe it is up to them to choose whether their children consume confectionery as a treat," says Boorer. "We do not market our products at children and all our marketing is in line with Ofcom regulations in the UK & Ireland."
Featured deals on sweets surge despite Tesco guilt till ban
Guilt lanes are a divisive issue. Sixty nine per cent of shoppers believe supermarkets should remove all confectionery from their checkouts, according to a recent poll for The Grocer by Harris Interactive.
But we don't seem to mind stocking up elsewhere in store. Tesco may be busy removing sweets and chocolate from all its tills (the only of the big four to go so far), but overall its use of featured space deals on confectionery has dipped just 0.7%.
This is because brands are growing their presence elsewhere in store (see p66), with high footfall areas such as 'power aisles' (main thoroughfares in store) popular.
This has driven a 10.7% rise in featured space promotions in the big four, Waitrose and The Co-op in the past year, with Asda and Sainsbury's leading the charge with respective increases of 38.8% and 25.7%.
Not only are brands promoting more; they're offering deeper savings. The average saving on the 10 most promoted brands stands at 36%, up from 30.8% in the previous year. Swizzels Matlow gave the deepest average saving, of 46.6%; then Mars, at 41.4%; and Bassett's at 40.9%.
The accelerated removal of guilt lanes – a process that began in larger stores back in the 90s – is just one factor driving growth in such deals; the decline of CTN stores means brands need to chase impulse sales in the multiples like never before.
Supermarkets' till lanes may be getting gradually less 'guilty;' the opposite could be true for the rest of the lanes in store.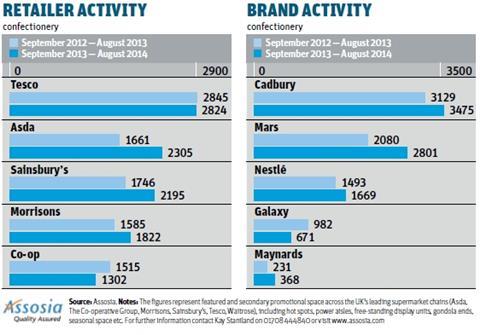 Smaller packs have not been confined to chocolate confectionery, with Perfetti Van Melle launching a Mini Fruittella multipack. "There's been a move towards portion control with the introduction of the Mini Fruittella multipack that allows parents to give smaller stick packs of Fruittella chews out as treats," says a spokesman.
But for all the talk of moderation, sales of larger slabs of chocolate, typically of around 200g, and so-called 'sharing' bags are booming. The former's growth is reflected in the strong performance of recipe milk chocolate; the latter in the 4.3% growth in bagged selflines, on volumes up 7.9% [Kantar].
Such formats may be intended for sharing or consumption on multiple occasions, but of course that doesn't necessarily mean that's how they're consumed. In fact, a recent Harris Interactive poll for The Grocer found 22.1% of people who buy sharing bags of often wolf them down to themselves, in one go.
Guilt lanes
Findings such as this and the continued growth of larger formats have led some to conclude that confectionery has so far got off lightly in the war on sugar. "Confectionery has been given an easy ride if you compare it to soft drinks," claims a senior source at one major soft drinks company.
But it would be wrong to suggest it's all plain sailing for confectionery. There are big challenges facing the category, not least the erosion of impulse sales by the ongoing decline of the independent CTN channel. In the year to 25 March 2014, on-the-go impulse sales of confectionery fell 0.9% in value and 4.5% in volume, according to Kantar.
"Confectionery has been given an easy ride if you compare it to soft drinks"
Then there's 'guilt lanes.' In May, Tesco drew a clear line in the sand, pledging that all confectionery would be gone from its tills by the end of the year. Tesco says the decision was prompted by research that found 67% of parents felt confectionery-free checkouts would help them make healthier choices for their children. Similar research by Lidl found seven in 10 customers would prefer a checkout without sweets, prompting the retailer to roll out its 'Healthy Checkouts' concept - units stocked with fresh fruit, oat cakes and juices - following a trial. In August, Aldi followed suit, pledging all confectionery would be removed from checkouts and replaced with healthier options.
"Healthier foods have proven more popular with our shoppers than the traditional checkout offer of confectionery and sweets," says Giles Hurley, joint MD of corporate buying at Aldi, adding that from January only products compliant with Ofcom's Nutrient Profiling Model will be stocked at checkouts.
Growth doesn't come cheap in confectionery. And the £63.6m the 10 biggest advertisers spent on ad space is just the tip of the iceberg: the numbers don't include production costs.
Some of the biggest spenders' ads have certainly helped. Maltesers and Haribo are in growth and Kinder's value sales have surged 25.4% [IRI 52 w/e 21 June], thanks partly to its £6.7m spend.
But ads don't guarantee growth. Upping airtime for its Why Have Cotton… TV ads didn't do Galaxy much good. A cut in featured space deals probably didn't help either. The brand has pledged to spend even more this year, with an £11m push planned for its Little Treats NPD.

Even though the rest of the major supermarkets' policies fall short of a total ban, it's clear that the age of the guilt lane is now behind us. This means confectioners will have to find new ways to encourage impulse purchases, says Mintel senior food analyst Emma Clifford.
"In-store visibility is particularly important for confectionery, with shoppers not likely to venture down confectionery aisles apart from for the less common occasions when these products are a planned purchase," says Clifford. "A presence in other areas of the store is likely to become more important, for example through end-of-aisle promotions or hanging strips outside the confectionery aisle. The importance of meal deal purchasing is also likely to grow, with the positioning of sugar and chocolate confectionery with sandwiches and drinks becoming more desirable."#
"A strong brand presence and visibility online are crucial for chocolate confectionery"
There's evidence to suggest confectionery has already begun colonising other parts of the store as a result of the phasing out of guilt lanes. According to Assosia, there were just four featured space deals in the foyers and checkouts of the big four, Waitrose and The Co-op in the year to 31 August, down from 184 in the same period the previous year.
Instead, brands have been promoting elsewhere to protect impulse sales. Deals in till aisles have surged 11.7% in the past year [Assosia], back aisles by 29.9% and main thoroughfares or 'power aisles' by 58.3%, resulting in an overall 10.7% increase in featured space promotions on confectionery in the past year.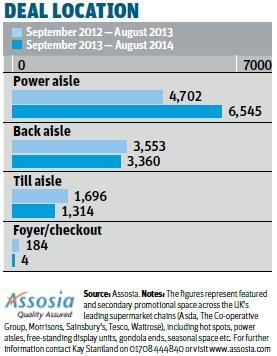 Confectioners have also been pushing to drive sales online, which in the past year passed the £100m mark for the first time, surging 28.4% versus a 20.3% increase in overall grocery's online sales [Kantar Worldpanel 52 w/e 25 May 2014]. Online featured promotions have been crucial, says Mondelez's Williams: "A strong brand presence and visibility online are critical for chocolate confectionery, and so we use featured display space to help achieve that."
Others suggest such efforts will only get confectioners so far; with the tide of opinion turning against sugar, it's only a matter of time before the big confectioners are forced to develop new products or reformulate existing lines to safeguard growth.
Natural products
One trend attracting growing attention is the growth in fruit-based snacks. In the past year Bear has picked up listings within queue management systems across Tesco, Waitrose, Co-operative, Holland & Barrett and WHS Travel, as sweets have been removed. "This is a great example of our challenger mentality as we try to help the nation snack healthier without compromising taste," says Bear founding partner Giles Brook.
"Healthier foods have proven more popular than the traditional checkout offer"
This booming demand for more natural products is influencing the NPD of sugar confectionery manufacturer Bon Bon Buddies, says purchasing & logistics director Justin Thomas: "Considerations include appropriate portion sizing, using natural colours and flavours, products with reduced sugar or added fruit juice, and potentially, in the future, fortification and sugar replacement."
Sugar-free gum and mint brand Peppersmith is already cashing in on demand for less calorific sweets and confectionery's clearance from checkouts, says co-founder Dan Shrimpton. "This is a great opportunity for our sector as it is one of very few products that can fill the void as sugary products are cleared away. Gum and mints like ours can have positive health benefits if made with tooth-friendly xylitol instead of sugar. "
He adds any manufacturer or retailer dismissing the sugar backlash as a passing fad is kidding themselves. "We've been amazed at the extent to which the message has got through to people; not just foodie Guardian-reading types but all consumers from all backgrounds," he says. "And it's going to get much worse for the main ingredient in confectionery, not better."
It seems the war is just beginning.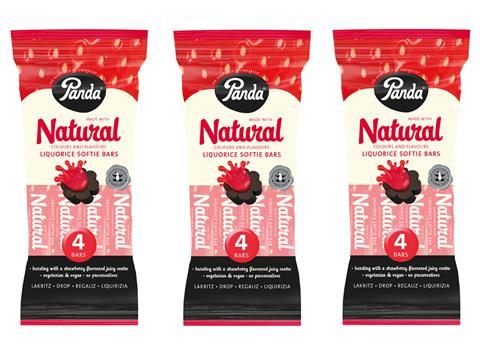 Panda Softies
Launched: September 2014 
Manufacturer: Panda Liquorice
Panda Liquorice has launched a new gel-filled bar (rsp: £1.39) which it claims is a first for the liquorice category. Softies are liquorice bars with a soft strawberry-filled centre and positioned as a mainstream confectionery treat as well as a healthy snack. "Our fans buy our liquorice for the health benefits, but we are also keen to promote the fact that, actually, it is a great-tasting option as well as being fat free and healthy," says Lisa Gawthorne, MD at Panda distributor Bravura Foods.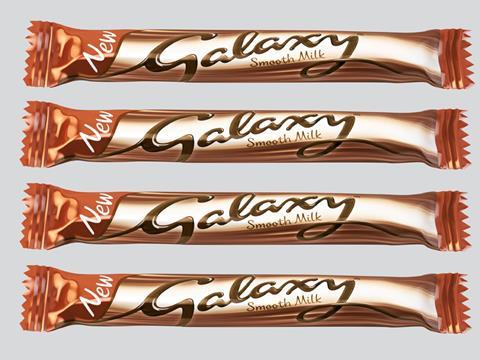 Galaxy Little Treat
Launched: September 2014
Manufacturer: Mars Chocolate UK
Mars is backing its commitment to responsible portion control with the launch of Galaxy Little Treat. The company says the line, at just 23g, taps the dual trends of treating and value for money. The new format will be supported by a £11m media investment across the Galaxy brand. Rsp: 35p.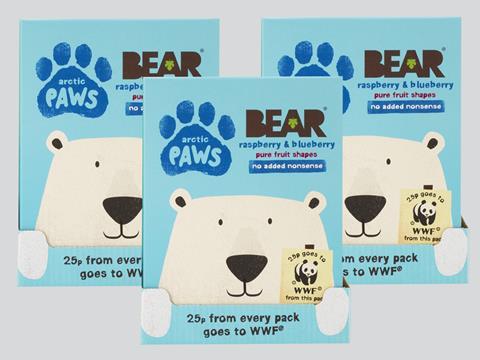 Blueberry & Raspberry Arctic Paws
Launched: June 2014
Manufacturer: Bear
Natural fruit snack brand Bear has added a Blueberry & Raspberry Arctic flavour to its Paws range, launched last year as a healthy fruit snacks brand for kids. Arctic Paws join Dino, Jungle and Safari Paws. "For younger children, Paws have become a firm favourite for their lunchbox," says Bear founding partner Giles Brook. Rsp: 55p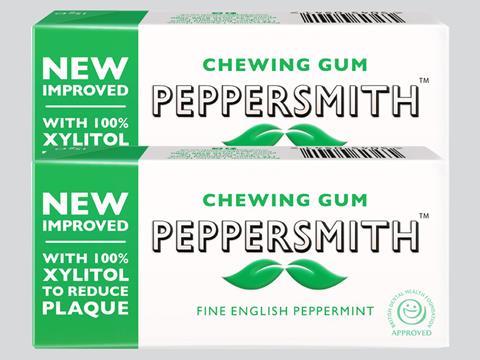 Peppersmith Chewing Gum
Launching: November 2014
Manufactuer: Peppersmith
Sugar-free mints and gum brand Peppersmith is relauching its gum range with an improved flavour and a fresh focus on its dental health benefits. Two SKUs – peppermint and spearmint – launch in November with marketing investment focused on the oral health benefits of natural sweetener xylitol. Rsp: £1.19.