We're becoming a nation of cooking sauce snobs. Fewer and fewer of us are content to slop sauce straight from a jar into a pan midweek these days. As we become a nation of aspiring Jamie Olivers, we're looking for something more adventurous, tasty and authentic, not to mention healthy (salt and sugar levels in ready made offerings are continuing to spark sensationalist headlines in the national press).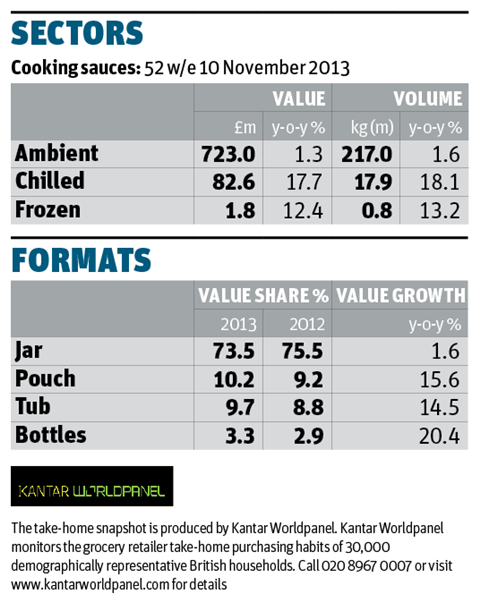 The upshot? While jarred sauces still account for the majority of sales, they have seen their share of this £807.4m category fall below three quarters for the first time, to 73.5% (see right). Meanwhile, value sales of pouches, tubs and bottles have shot up 15.8% [Kantar Worldpanel 52 w/e 10 November].
The rise in such formats reflects the growing popularity of meal kits, pastes and marinades as home chefs attempt to whip up DIY sauces that at least look scratch cooked even if they aren't. The DIY trend has also spawned a raft of new products such as Knorr's Flavour Pots and inspired higher quality - and value - NPD across the category as a whole.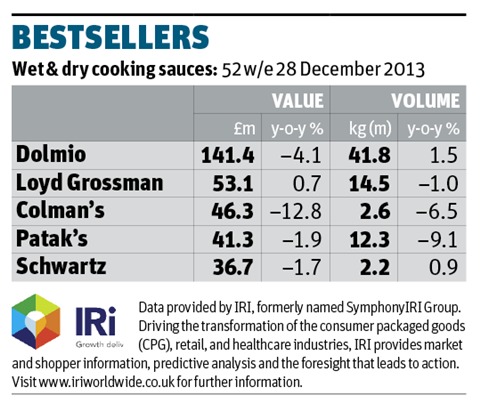 Such innnovation has helped turn the category around. Growth of 2.8% on volumes up 2.7% might not seem much to shout about, but it's a marked improvement on 2012, when the 2.5% value growth was mostly inflationary and volumes fell 2.5% [Kantar]. As ever, though, there are two sides to the story.
While mainstream brands have not fared well over the past year (just one of the top five has posted value growth), traditional sauces haven't had a completely disastrous year. Jarred sales have grown, albeit marginally, and Aldi and Lidl have delivered the affordable options many consumers still want to achieve market-busting value growth of 39.5% and 24.5% [Kantar]. "We've seen great success with our ambient cooking sauces in 2013, with sales increasing sharply over the year as many customers chose to take advantage of the convenience aspect of these lines," says a spokeswoman for Lidl.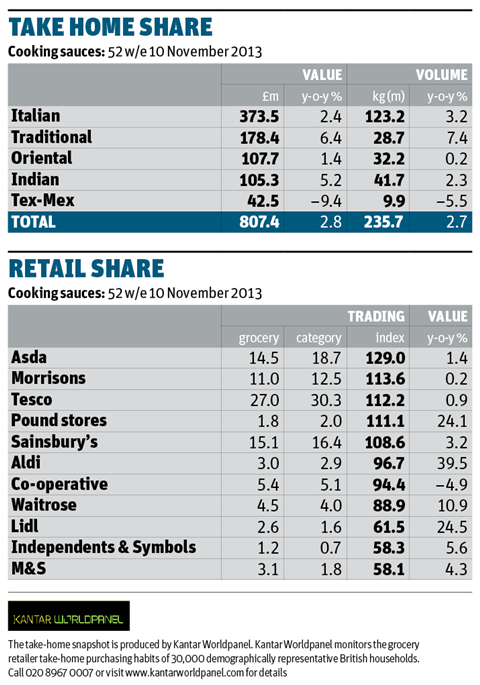 Meanwhile at the other end of the pricing spectrum - and offering yet another example of the nation's polarising shopping habits - Waitrose has tapped into burgeoning interest in a more adventurous and authentic fare to deliver 10.9% growth. Very much at the forefront of the DIY trend, it relaunched its Cooks' Ingredients range in October adding 43 new products, including cooking pastes and meal kits inspired by far-flung destinations such as Malay penang curry and Japanese yakisoba.
"Customers are making a move towards home cooking by using recipe kits, pastes and pouches as the popularity of a dish 'cooked from scratch' goes mainstream," attests buyer Victoria Mason.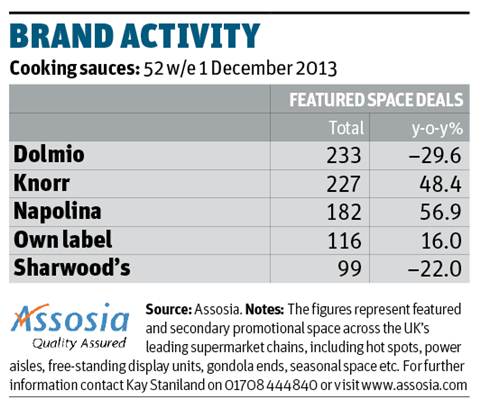 Own label
Waitrose hasn't been alone in ramping up the NPD, however. "We've also introduced a number of new ambient cooking sauces including two Pasta Bake sauces, which have proven extremely popular, as well as two premium cooking sauce ranges: Italian own-label pasta sauce brand Italiamo and the premium curry sauce Kanpur Garden Deluxe brand," notes the Lidl spokeswoman, adding that there's more to come, with further jarred sauce launches on the cards, including honey & mustard and hunter's chicken varieties.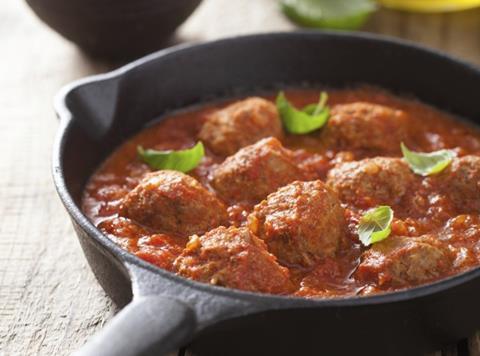 The cooking sauces market is worth £807m and is growing at 2.8%. This market attracts 90.4% of the population and is very unlikely to grow through additional shoppers. Instead, it has grown by encouraging shoppers to buy more frequently - an average household now buys 18 times a year, up from 17.6 last year.
Growth can be seen at both ends of the market. Waitrose and M&S as well Aldi, Lidl and pound stores are growing ahead of the market, reflecting the two-nation effect seen at total grocery level.
However, many of them still undertrade compared with their total grocery share. Waitrose and M&S still have room to grow in ambient, while discounters hardly participate in chilled so have scope to grow there.
Valentins Kirillovs Kantar Worldpanel
This is significant. Firstly, the discounters' greater reliance on own label is driving own label's growth at the expense of the brands. Secondly, the discounters' lines mostly stick to traditional formats, while Waitrose shoppers can cultivate a pretence of gourmet flair with a katsu curry meal kit or chipotle paste. In short, the jarred cooking sauce does have a future - but it may be more own label than branded. The brands, conversely, are likely to focus increasingly on adding value through new formats and flavours. So expect to see more follow the lead of the likes of Spice Tailor,with its range of pouched curry sauces that come with a host of extra ingredients (some also contain additional marinades) and cooking tips.
This changing landscape is also affecting promotional tactics. retailers are promoting their own-label lines hard - featured space deals on own label are up 16% (see above), while overall own-label activity is up 47.1% [BrandView.com 52 w/e 24 December]. Brands, on the other hand, are reducing their activity there's been a 15.2% fall in featured space deals by the 10 most promoted brands [Assosia 52 w/e 1 December].
Brands innovate
Whether they have introduced enough innovation to justify such a move is debatable given that five of the top 10 brands have suffered volume declines in the past year [IRI 52 w/e 28 December]. That said, Dolmio - up 1.5% in volume but down 4.1% in value - has reversed a 10.5% fall in volume in the year to 1 December 2012. NPD has been crucial, it says.
"People now view sauces as scratch ingredients - not something to just plonk in at the end"

Lucy Walsh, Unilever
"NPD, such as Dolmio lasagne kits, which contain pasta sheets, tomato sauce and a creamy sauce, have embraced different formats successfully," says a Mars spokesman. "There's certainly a role for new formats among traditional sauces. Of course, value for money is also important."
Blue Dragon is also trying to offer affordable innovation. In November, it launched a two-step range inspired by takeaway menus such as crispy chilli beef and lemon battered chicken, containing a separate batter coating for meat and a sauce.
NPD will be key to the survival of traditional sauce brands, believe experts. "Ambient jars are still a huge portion of the market, but they're suffering from a lack of innovation," says Lucy Walsh, marketing manager at Unilever, which launched Knorr Flavour Pot seasoning pastes this week. "People now expect a cooking sauce to act as a scratch ingredient rather than something to just plonk in at the end."
Hence Unilever's decision to fork out £3.5m on TV ads for Knorr Flavour Pots this year and Schwartz's launch of a new TV campaign for its Flavour Shots range in January. Although they are concentrated pastes rather than cooking sauces, they're stealing share from their conventional sauce counterparts - which will have to evolve to compete.
Pouches
Traditional sauces also have to contend with mounting Health concerns about their ingredients. "On the back of jars, there's a lot of stuff people aren't expecting," says Emma Forbes, founder of Kent's Kitchen, whose gel-based Stir In Flavour Shots hit Ocado last September. "With meal kits and pastes, you're getting base ingredients that don't define the cooking process and aren't pumped with preservatives."
One brand looking to push a wholesome image is David & Oliver with its venison, wild boar and venison, mushroom & whisky pasta sauces and new chocolate & venison sauce (see left). It's not just the sauces that are on trend, says co-founder Oliver Shute the format is, too. "Companies are starting to see pouches as a cheaper, quicker and more environmentally friendly alternative," he says.
Pouches have other benefits, add suppliers. This week, Premier Foods unveiled two new Loyd Grossman pouched lasagne sauces (in tomato and white variants), claiming the packaging "improves quality and taste" and the Our Little Secret brand won a listing with Morrisons for its pouched curry sauces (see p32). Pouches also provide a convenient format for marinades, says All About Food, which launched Nando's pouched Coat'n'Cook chicken marinade sauces exclusively into Asda in June.
Traditional cooking sauce brands may be able to regain lost share with the help of such NPD, but retailers will need to improve their merchandising, says Jon Burton, cooking sauces marketing director at Premier Foods. "It's imperative the fixture becomes easier to navigate," he says. "There needs to be increased differentiation between cooking sauces, stir-fry sauces and pastes and better navigation of flavours and cuisines."
There also needs to be increased flavour innovation if traditional cooking sauce brands are to continue justifying their premium over a rampant own-label sector.
Knorr Flavour Pot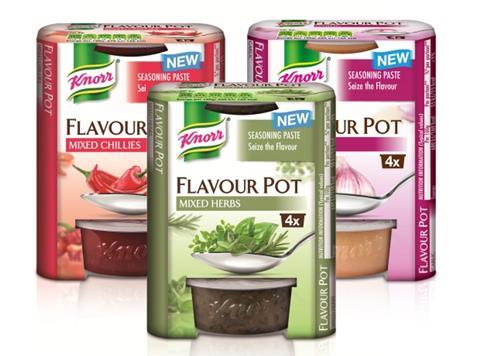 Launching: February 2014
Manufacturer: Unilever
Knorr is the latest brand to latch onto the scratch cooking trend with the launch of Flavour Pot. Supported by a £3.5m TV advertising campaign fronted by in-house chef Cameron Healey, the Flavour Pots will launch across supermarkets later this month, with a price of £1.59. Unilever marketing manager Lucy Walsh believes consumers will use the jelly-based seasoning paste, which comes in flavours including mixed herbs and curry, as the base for cooking sauces.
Venison & Choc Chilli Con Carne sauce
Launching: Spring 2014
Manufacturer: David & Oliver Foods
Things are about to get sweeter for upmarket game foods brand David & Oliver as it prepares to launch this unusual sauce (rsp: £2.99). The brand will launch it into independents in the spring and is targeting supermarkets. "The sector's crying out for innovation we feel this will generate some buzz," says co-founder Oliver Shute.
Yutaka Japanese curry sauce
Launching: September 2014
Manufacturer: Tazaki Foods
Tazaki is set to launch a Japanese curry cooking sauce (rsp:£3) under its Yutaka brand in September. The curry sauce will be packaged in a "traditional Asian plastic tray" so it stands out, says Tazaki Foods MD Ken Furukawa. "Japanese curry is popular in the likes of Wagamama, and we think it can be popular in people's homes too," he says.
Loyd Grossman lasagne sauce
Launching: February 2014
Manufacturer: Premier Foods
Loyd Grossman is to launch two ambient pouched lasagne sauces. The 380g tomato and white sauces (rsp: £1.96) will launch across the multiples on February 28. "We have found that the pouch locks in the vibrant flavours of the white sauce in particular," says Jon Burton, category marketing director, cooking sauces at Premier Foods.