Cooking sauces' biggest brands are up against the wall. Households are getting smaller. More of us are cooking from scratch. The discounters are moving in.
As a result, the 10 biggest players, including own label, are down £26.3m in the mults [IRI 52 w/e 3 January 15]. Ouch.
That doesn't mean brands are waving the white flag just yet. There's been a flurry of NPD backed by hefty advertising support in recent months, with exotic cuisines, meal kits, pouches and stir-in sauces a focus for many. Is there any evidence these efforts are paying off? Or is this a losing battle?
"The 175g pack size addresses the increased trend of smaller households in the UK"
It's not a pretty picture. The overall market might be down only 0.9% to £807m and 0.4% in volume [Kantar Worldpanel 52 w/e 9 November 2014], but brands have slipped 1.7% on volumes down 2.4%. The relative strength of own label, up in both value and volume over the past year, reflects huge gains by Aldi and Lidl, which rely mostly on their own brands, and significant losses for the big four.
In a bid to stem the losses, brands are offering steeper deals. Average deal depth on the five most promoted brands - Dolmio, Sharwood's, Loyd Grossman, Knorr and Homepride - in the big four, Co-op and Waitrose has gone from 35% to 38% in the past year [Assosia 52 w/e 31 December 2014].
This isn't all about piling high and selling cheap, however. Cooking sauces have suffered from fundamental changes in society, such as growth of single and two-person households, our increasingly exotic tastes and the vogue for scratch cooking. Many brands are pinning their hopes on addressing these changes with NPD.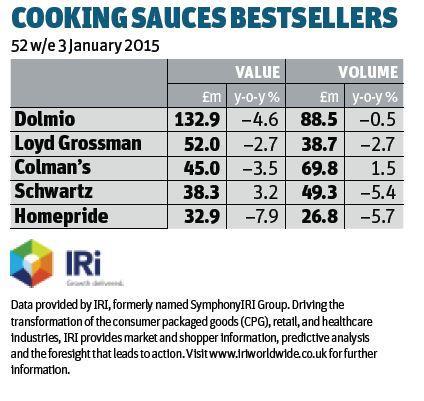 Meal kits
"The clear standout is the meal kit format," says a spokesman for Mars, which is targeting the scratch cooking market with new pouched 'recipe base' products under the Dolmio and Uncle Ben's brands in flavours including spaghetti bolognese and chicken casserole. Colman's entered the meal kits market with the January launch of chicken-based dishes for the whole family.
Such products are aimed at aspiring home chefs without the time to cook from scratch every evening. They include a number of different elements and require the addition of fresh ingredients, and usually come in pouches or tubs, rather than the jars that still account for 60.6% of the market. The development of meal kits, stir-in sauces and pouch sauces is having a clear impact: sales of jarred sauces are down 1.7% in value; tubs are up 5.8%; pouches up 12.6% [Kantar].
Napolina has quit pasta bakes altogether and is instead focusing on stir-through and pourover pasta sauces. The brand launched rustic style stir-through sauces in flavours including arrabbiata and puttanesca in smaller 175g jars in October, and tomato & roasted garlic and cherry tomato & balsamic vinegar pourover sauces in January.
"The 175g pack size of the stir-through sauces addresses the increased trend of smaller household sizes in the UK," says Napolina marketing director Dean Towey. "Our range caters for two distinct shopper needs: pasta and pasta sauce for consumers looking for convenience, and purée and passata for those interested in scratch cooking."
The move makes sense. The only top 10 brand in value and volume growth is Sacla', whose cooking sauces and pestos are up 6.3% to £24.4m on volumes up 3.7% [IRI], driven by its authentic Italian cues and development of convenient stir-in sauces and pestos. The brand returned to TV for the first time in seven years in January.
That's not to say jarred sauces are dead. After winning nationwide listings for its Dine-In meal kits in Morrisons last April, Our Little Secret will enter Tesco this month with its new ethnic Traditional Recipe cooking sauces in jars. Brand owner Indo European Foods is also launching Indo-Chinese stir-fry brand Hakkai! in jars , proving that it's what's inside the packaging, rather than the packaging itself, that really matters.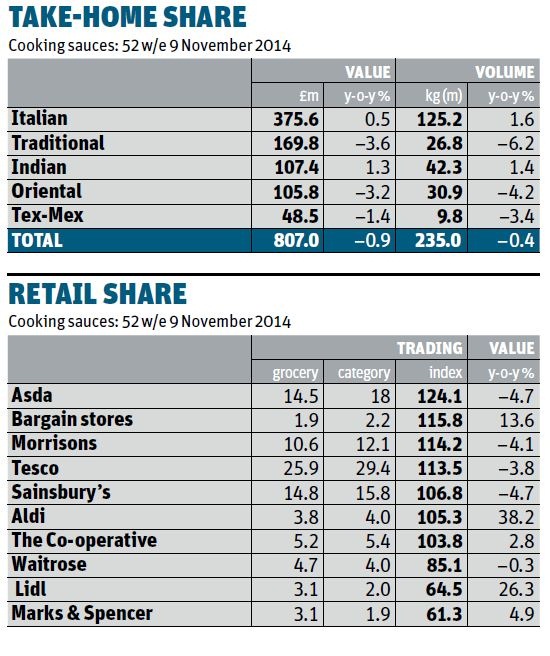 A high-penetration market, the cooking sauce category has contracted through shoppers both purchasing smaller volumes per trip and shopping the category less frequently - a 0.7% decline.
A slight average price decrease in the latest year (-0.5%) is not a result of increased promotional levels driving average price down - promotional levels have decreased year on year - but was instead caused by a price decrease for full-price sales.
As the market's largest brand, a 36p average price drop on full-price Dolmio cooking sauces corresponds to 89% of the market's lost spend through average price decrease.
Own label has gained share (1.2 volume points) through the strong performance of key Aldi own-label ranges.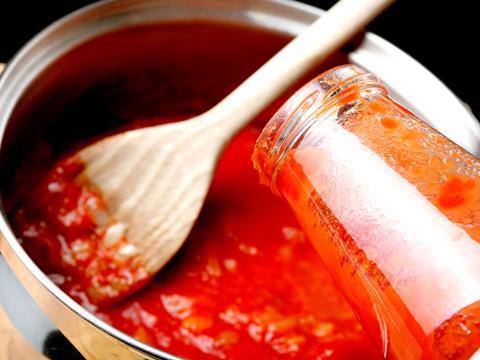 Spicier flavours
"This NPD will help to awaken a dormant population who look for highly specialised regional variations of sauces," says marketing manager Kaushik Dutta. "British consumers' tastes are diversifying, and their ability to eat spicier food is on the rise."
Kantar's read of the market bears this out. Traditional sauces such as casseroles are the poorest performing types of sauce at present, while Indian flavours are in strongest growth (Italian is also bucking the overall decline). Pouched curry brand Holy Cow!, which won Tesco listings for its range of authentic curries last March, can take some of the credit for Indian's growth.
"Growth will come from lone diners, smaller appetites and those who want to avoid waste"
The brand is now preparing to launch two new curries - Goan Xacuti and Jaipur Lal Mas red curry - in September in cases of six (rather than 12) to target the c-store sector. Director Anu Sharma explains this channel is important because it's used more often by the brand's younger target consumer. "We created our range in smaller pouches that serve two people," she adds. "The fact the pack looks different from the traditional larger jars helps position them as a premium product appealing to consumers who wouldn't buy traditional sauces."
Such activity has given the category's stalwarts food for thought. Homepride, whose value sales are down 7.9% on volumes down 8.4% [Nielsen 52 w/e 11 October 2014], added five new flavours including peri peri chicken to its range in April 2014 in a bid to offer 'more modern' meals. The launch was supported by the brand's return to TV screens for the first time in 10 years in September. Brand mascot Fred targeted time-poor mums in a £2.3m campaign with the strapline 'Meals that get finished start with Homepride.'
"Traditional cooking sauces can take inspiration from other cuisines that have become 'anglicised' in recent years to broaden appeal," says Helen Warren-Piper, marketing director for grocery at brand owner Premier Foods. "Homepride's five new flavours have led to recovered distribution and a turnaround in sales, attracting over 100,000 new shoppers to traditional cooking sauces."
Tex-Mex
Flavour and format innovation can certainly pay off. For example, Santa Maria relaunched its entire Mexican range in April with the addition of a two-part season & sauce range - a jar of sauce with a compartment for dry spices in the lid. Although the launch wasn't enough to put Tex-Mex in growth, it's clear the hard work has paid off: the new range has contributed £3.1m to the market, more than any other brand [Kantar].
"While many brands have concentrated on meal kits, Santa Maria has worked hard to build upon its convenient separates and two-part cooking sauce ranges to allow consumers more variety and choice," says Anjul Josan, Mexican manager at Santa Maria.
"Traditional cooking sauces can take inspiration from anglicised cuisines"
Santa Maria isn't the only brand excelling in an ailing category. Although sales of oriental cooking sauces are down 3.2% on volumes down 4.2% [Kantar], Tiger Tiger claims to be in strong growth thanks to the July launch of a four-strong range of stir-in sauces including sweet teriyaki and sticky hoisin. "We've learnt from the pasta sauce stir-ins already available, and set out to produce a selection of oriental stir-in sauces that enable consumers to prepare a midweek meal in just three minutes," says brand head Nigel Parrott.
Such products will continue to be the category's driving force in 2015, suggests Lesley Parker, brand manager at RH Amar, which distributes Sacla', Geeta's and Kikkoman sauces in the UK. "Growth in cooking sauces will come from appealing to lone diners, smaller appetites and those who want to avoid wastage with smaller pack sizes and more convenient formats."
So long as the price is right. Santa Maria has kicked off 2015 promoting the season & sauce range with a two-week deep cut offer in Tesco from 5 February, in which the price will be slashed from £2.29 to £1. "This is the first time this price level has been offered in Tesco since the brand's relaunch," says Josan.
And with prices like that, brands might just win the war.
Brands fuse flavours as Caribbean sales hot up
Everyone has their own idea of what will be the next hot flavour trend. Well, according to Kantar, Caribbean has been one of the hottest performers of the past year, thanks in part to Jamaican sauce brand Dunn's River extension into jerk seasoning, which has driven value growth of 127.6% for the brand.
"It's an exciting time for Caribbean cuisine as consumers continue to expand their taste horizons," says Giuseppe Vullo, brand manager at supplier Grace Foods, which also distributes Grace and Encona sauces. Vullo adds the UK's £87m Afro-Caribbean category is growing at 6%, with the multiples accounting for 68.1% of sales.
But trends are changing fast, and many suggest fusion cuisines and specific regional dishes could prove to be the hottest tickets in the future.
"In the coming years we will see a fusion of different cuisines such as Indian-Chinese, American-Asian and Brazilian-European," predicts Kaushik Dutta, marketing manager for Indo European Foods, which is preparing to launch a new Indo-Chinese brand featuring dry cooking sauce mixes and wet stir-fry sauces. Hakkai! comes in Manchurian and Szechuan variants with an 'Indian twist,' and Dutta hopes the new trend will return the market to growth.
Meanwhile, Indian restaurant Cinnamon Kitchen is pinning its hopes on providing authentic dishes from across the subcontinent. In November it teamed up with Greencore to launch a range of premium chilled cooking sauces. Cinnamon Kitchen at Home includes cashew nut korma, Kerala curry and Goan vindaloo. It rolled into 208 Waitroses and can be heated with meat or veg or used as a basis for more complex dishes.
Mainstream brands, too, are getting in on the world cuisine trend, with Knorr now including Mexican, Paprika, Mixed Chillies and Curry in its phenomenally successful Flavour Pots range. Enough to make any fusion cuisine inspired cook go potty.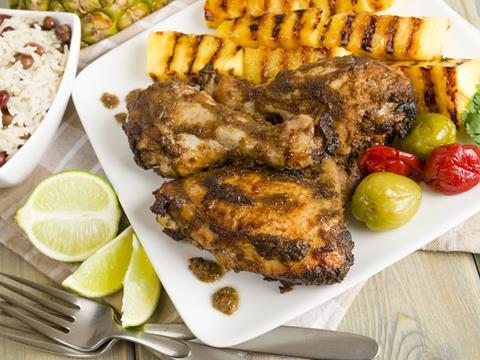 Holy Cow! Goan Xacuti curry
Launching: September 2015
Manufacturer: Holy Cow!
Pouched curry brand Holy Cow! is focusing on regional Indian flavours never before seen in the UK with the launch of Goan Xacuti (pronounced shakuti) and Jaipur Lal Mas red curry (rsp: £1.69/250g). The Goan Xacuti is made with spices including fennel, cinnamon and peppercorns, while the Jaipur Lal Mas is a hot sauce with chillies, garlic and pepper specifically for red meat and chicken. The brand, which is both gluten and nut free, says both curries are popular favourites in India.
Chicken Tonight pourover sauces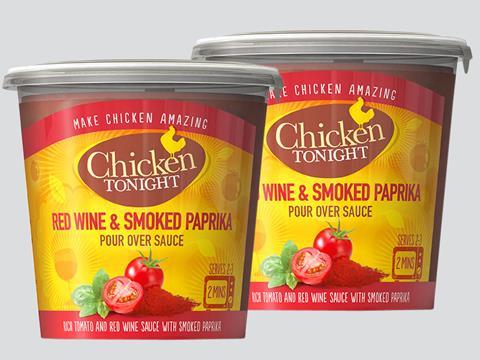 Launched: February 2015
Manufacturer: Unilever
Chicken Tonight is adding a new dimension to its range with three new pourover sauces in garlic & herb, red wine & smoked paprika and Texan BBQ flavours (rsp: £1.69/365g-400g). Launched in Asda this month, the sauces feature new-look packaging. The microwaveable pots heat up in just two minutes.
Hakkai! stir-fry/dipping sauces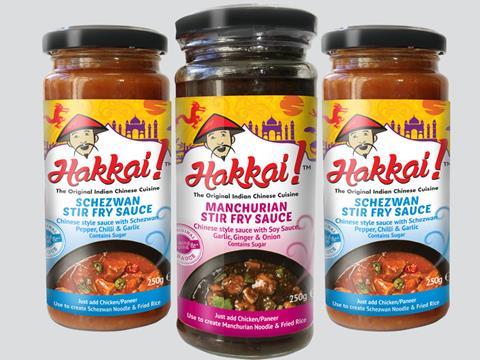 Launched: February 2015
Manufacturer: Indo European Foods
With the rest of the market focusing NPD on meal kits and pouches, Indo European Foods is putting its new Indo-Chinese wet stir-fry sauces in jars, marking its first foray into fusion cooking. Hakkai! Manchurian and Szechuan sauces (rsp: £1.69/250g) have an 'Indian twist' and are designed to be added to chicken or paneer.
Colman's Meal Kits
Launched: January 2015
Manufacturer: Unilever
After marking its 200th anniversary by relaunching its entire range in 2014, the Unilever brand is going after time-poor families, making its debut in meal kits with chicken risotto, chicken tagine and chicken curry flavoured varieties (rsp: £2.49/sachet). The launch will be supported by a £1.1m campaign from April.