With storm clouds gathering for the tobacco sector, and the display ban coming fully into effect in April, the prospect of plain packaging as early as next year and even UK cities declaring themselves smoke-free - now should be the perfect time for electronic cigarettes to start making serious inroads.
"With concerns over product quality and safety, people have become more cautious"
While the category is showing the kind of growth that would be the envy of most suppliers, it has slowed significantly and there are plenty of challenges facing e-cigarette makers and retailers. According to the latest figures from Nielsen, sales of e-cigs through UK grocers grew by 34.9% for the year to 6 December to £125.4m. Category growth for the previous 12 months, however, was 306.3%.
The slowdown seems surprising: media coverage continues to grow exponentially, whether it's the ongoing debate over whether vaping is safe or not or tales of exploding devices. And, of course, the tobacco giants are increasing their influence in the sector.
But then the numbers are really only telling half the story. Natasha Kendall, client team leader and vaping category expert at Nielsen, estimates her figures, which cover grocery retail, only represent about 50% of all e-cig sales in the UK. They do not factor in the growing online market and sales through the specialist vaping stores that are increasingly familiar on our high streets. Kendall estimates there are now about 800 vape stores in the UK, a figure that has doubled in a year.
There are clear reasons why the internet and specialist channels are proving a real threat to traditional retailers in this category. Vaping has fundamentally changed in a relatively short space of time. Growth is slowing in the traditional cig-a-like products that first characterised the advent of the market in favour of more sophisticated devices, which in turn has made purchasing more complex.
Online growth
"You can see why online is becoming more important," says Kendall. "With concerns over product quality and safety, people have become a bit more cautious and we are starting to see Facebook pages and online communities springing up with tips and advice."
This desire for more information is also a key driver for vapers to find their way into the specialist stores. The idea is that once a smoker decides to make the switch to try vaping they quickly want to try different devices and flavours to work out what suits them best.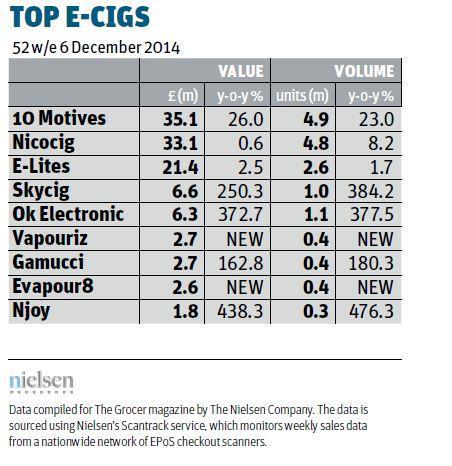 Unfortunately for the c-store operator or supermarket with its kiosk model, while many vapers will buy their first e-cig there, holding on to the business can prove tricky, explains Jill Bentley, European marketing manager of Sky Throne, maker of Truvape.
"Market insight tells us that within three to six months, most of these new vapers will begin to look for more advanced devices and high-quality, complex liquids. Indeed, some will start to move on within less than a month," she explains. "Once they do, they will move to specialist vaping stores - both bricks and mortar and online."
To counter this, Bentley suggests retailers should be prepared to take the vaper through the various types of product on offer as shoppers will be happier trading up with the brand they originally tried. "This market in particular does feel a strong sense of brand loyalty. If the brands they originally buy into offer these customers that something extra they're looking for, they will keep coming back."
Of course, this is easier said than done, and Laraine Jones, trading director for CTN chain Rippleglen, admits it is a struggle keeping up with this market. The company recently stopped selling disposable e-cigs while sales of the rechargeable cigarette-like devices had also slowed dramatically. Cartridges are selling well, but the main growth was in liquids and the vaping pen-style devices.
"We are at a disadvantage over the specialists in this category as our staff do not have the time or the knowledge to talk to customers about how they work," she admits. "However, we are hoping to come up with a different display solution which will allow us to sell a larger range."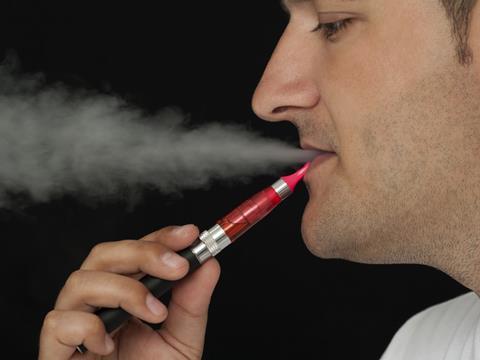 Staff training
Despite the trends towards online and specialists, suppliers remain keen to harness the traditional grocery channels to move their products and are encouraging retailers to educate staff to be able to deal with the increasingly complex shopper requirements.
"Customers frequently start their search online, but that can lead to even more questions"
"We know consumers frequently start their product search online, but that can lead to even more questions," says Nigel Hardy, head of UK and Ireland at BAT-owned Nicoventures. "Well-trained staff who understand how each product works, the charging requirements for their products and details of flavours and accessories will be more likely to secure sales and promote loyalty."
BAT was joined in the vaping sector last year by JTI, which bought E-Lites in June last year; a month later Imperial Tobacco snapped up Blu eCigs to add to the Fontem Ventures Puritane brand it sold exclusively in Boots. Nicoventures has so far looked to operate independently of BAT, and Blu eCigs' CEO Jacob Fuller believes linking into Imperial Tobacco's enviable distribution network could well be a game-changer for his brand.
"Our distribution deal with Imperial has only been in place since the beginning of January, but I think it will allow us to become the dominant player in the UK," he argues.
Fuller recognises the vaping sector is still something of a free-for-all. However, he suggests the picture could become clearer in the next year or two as we move into greater regulation of the sector. Next year is likely to see the UK government require all e-cigs to be licenced as medicines, while there are also a number of further restrictions contained in the EU Tobacco Products Directive, also set to come into force next year. "This market moves so quickly, who knows what can happen in a short space of time but I expect the fly-by-nights will start to disappear," he says.
Nielsen's Kendall adds there are likely to be considerably fewer brands on the market in a year's time. This will no doubt make it easier for retailers to develop their ranges and educate staff. They will be hoping the opportunity hasn't vaporised by then.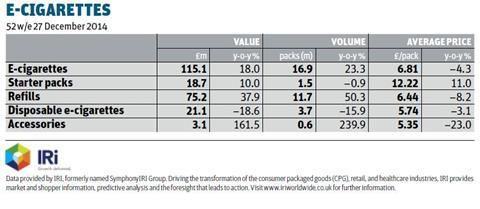 Mature e-cig market will now look to promotions
The phenomenal growth of e-cigs will not continue. First generation e-cigs are in full distribution and the market has matured, and there is heavy price competition between the brands, hitting margins and value growth. Growth will depend less on distribution and more on pricing and promotions.
There has been a lot of consolidation in the industry over the past year, especially as brands have been acquired by tobacco companies seeking to exploit this growing market and also defend their competitive position.
There has been a corresponding improvement in the professionalism of marketing, advertising and NPD. All the main players now have brands (eg Philip Morris owns Nicocigs; BAT owns Nicoventures; Imperial Tobacco owns Fontem Ventures).
Retailers have been ambivalent and often inconsistent in how they have stocked and sold these products, because of the association with tobacco, and the uncertain position regarding quitting and sales compared with existing smoking cessation products. However, there has been remarkably little impact on OTC sales of smoking cessation products, and e-cigs have sold badly in pharmacies.
There is an opportunity for quitting-focused e-cigs brands in pharmacy (assuming licensing) as well as the grocery-based 'alternatives to tobacco,' which are the bulk of the market. Future strong growth is bound to come from the migration of second- and third- generation vaping products into the mainstream channels. The leaders here will be the winners. The brake may be legislation if these products are seen to generate new markets for non-smokers.
Legislation changes will also affect the market. The announcement of plain packaging for cigarette packs in the UK before May 2015 will maybe see more focus on e-cig branding. Martin Wood, IRI head of retail strategic insight