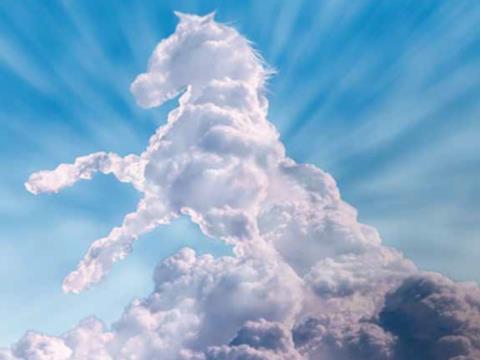 The clouds over the frozen food aisle have taken an unmistakably equine shape of late. The frozen sectors hit by last year's horsemeat scandal are struggling: ready meals are down 5.4% in value and volume, while prepared red meat products are down 7% in value and 11.4% in volume [Kantar Worldpanel 52 w/e 2 March].
Inevitably, this is reflected in the performance of the overall category, which has grown 2.2% in value, lagging the wider grocery industry, and slipped into negative territory volume-wise, declining 0.3%.
Yet as with even the darkest cloud, there's a silver lining. As our appetite for red meat has dwindled in the 18 months since Horsegate, sales of frozen processed poultry have risen 4.7% on volumes up 3.8% and frozen vegetarian goods are also in solid growth.
"From the beginning of 2012 we could see our potato crop would be hit by the terrible weather" Zoe Bannister, Bannister's Farm
Even Birds Eye - caught up in the scandal when three of its ready meals were found to contain horse DNA - is upbeat, claiming its burgers and grills have grown 28.5% in value in the past year [Nielsen]. Though this wasn't enough to offset the impact of its ready meal losses on total brand performance, it shows that brands can and are bouncing back. So how have they done it and can lessons be learned by those in the worst hit sub-sectors - or has the DNA of frozen food been permanently changed by Horsegate?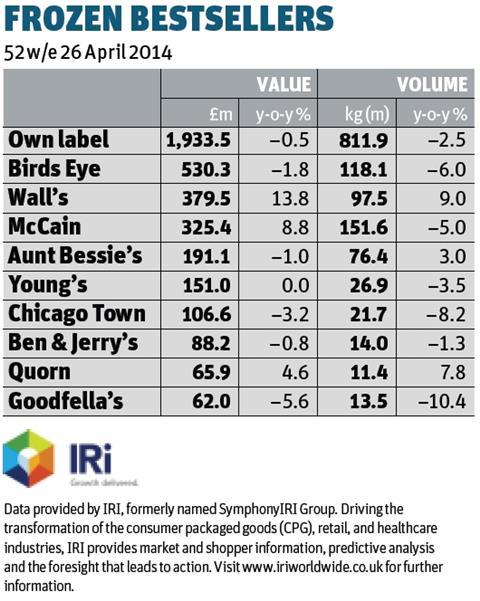 We've used the broadest possible definition of frozen food for this report, encompassing everything from fish, poultry and meat joints to frozen confectionery and prepared food. Although the latter, which includes ready meals and prepared meat, is the largest sector in frozen and has declined in volume, this has been offset by strong growth in other sectors. Frozen confectionery, buoyed by the hot summer and a recent flurry of NPD by ice cream manufacturers, is up 4.4% on volumes up 2.4% and poultry & game has enjoyed even stronger growth, with values up 9.1% on volumes up 10.9% [Kantar].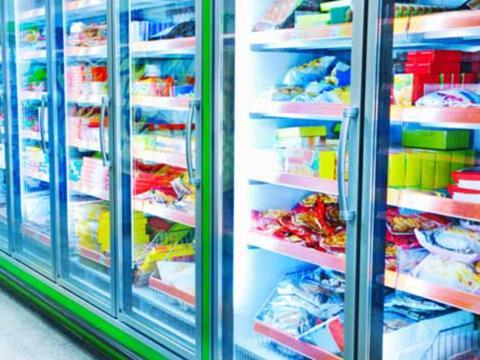 Frozen food is underperforming compared with the total UK grocery market, which is currently growing at 3.2%.
The sector has struggled, particularly in relation to meal centres and meat, as rivals in the chilled fixture have driven value through effective price positioning and attractive promotions.
Brands continue to dominate the frozen market, but own label has grown 3.1% in value versus branded growth of 1.2%. Branded volume sales are actually in decline, having slipped 2.5%. The main drivers of this are pricing and promotions.
Driving the quality perception will be key for frozen food players in the coming year. Demonstrating the benefits of a frozen protein will be key, particularly in areas like fish, which is really struggling as fresh continues to steal share.
James Francois, Kantar Worldpanel
Inflation
That we've spent £42.4m more on frozen prepared food reflects a variety of factors, not all related to the horsemeat scandal. Much of this down to good old-fashioned supply and demand: the average price of frozen potato products has rocketed 10.2% in the past year (brands by an even heftier 13.8%), inflating the overall value of the sector [Kantar], after wet weather in 2012 decimated the UK potato crop. In fact, remove spuds from the equation and frozen prepared food is in value decline.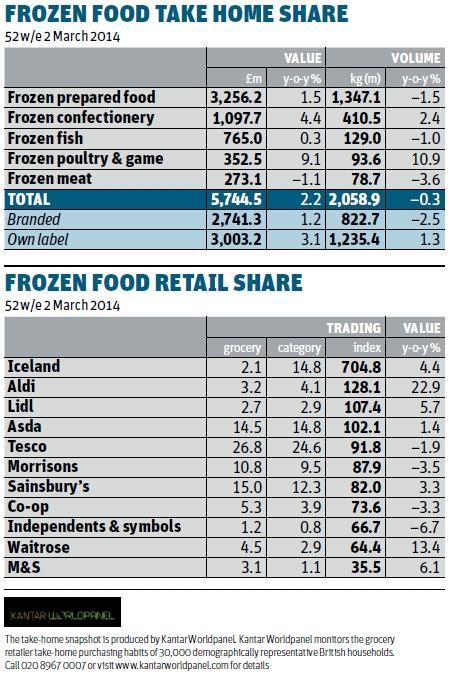 "From the very beginning of 2012 we could see that our crops were going to be dramatically affected by the terrible weather," says Zoe Bannister, commercial director at Bannisters Farm, which entered Asda with its range of loaded frozen jacket potatoes in April after winning listings in retailers including Tesco, Morrisons and Aldi. "When viewing products on the shelves, it can feel quite detached from the world of farming, but it was very real for us at the time both in terms of growing and sourcing potatoes."
Evidence of this can be seen in the performance of market leader McCain, whose value growth of 8.8% is for the most part inflationary and has seen volumes slump 5% despite a brand revamp in January 2013 [IRI]. The brand says it is looking to reverse the decline with the help of NPD including its 'revolutionising' Quick Cook French Fries launched in October 2013, which can be cooked from frozen in just five minutes.
"Our Quick Cook fries have proved to be a big hit with consumers, delivering £2.75m in value sales and 892 tonnes to date, volume that has been largely incremental to the category," says Mark Hodge, marketing director at McCain, which launched its 'biggest ever' marketing campaign last autumn including sponsorship of ITV's Emmerdale.
Bannister, meanwhile, claims her brand has benefited from growing demand for food that can demonstrate genuine provenance, attributing the "significant increase" in listings of Bannisters' post-Horsegate to the trend for food and drink with 100% British credentials. "Provenance has become increasingly important and retailers have consciously made a choice to stock these sorts of brands," she says.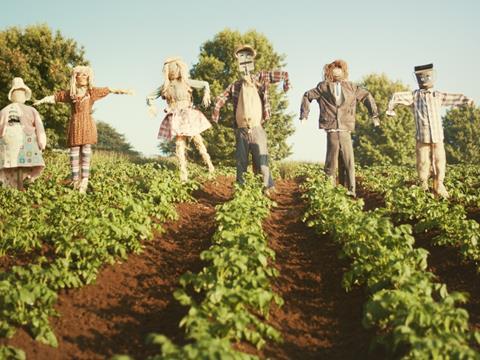 Happy days! This was the slogan for McCain's TV ads in 2013, celebrating the joy the brand says its products prompt. The brand's volume sales weren't quite so joyous. But now McCain has signed an £8m sponsorship deal with Emmerdale. Idents featuring spud-saving scarecrows (left) hit screens in April.
Birds Eye has ditched Clarence the Bear to make way for its new Food of Life campaign. After upping spend last year, the brand promises its biggest spend to date to back NPD in 2014.
Auntie Bessie's is also keeping its snooping auntie characters busy with more outings on our screens in 2014, following a big spike in spend over the past year.

This has been vital for brands present in sectors swept up in Horsegate, too. "The horsemeat scandal was clearly a very big challenge, especially to the ready meal segment and burgers," says Andy Weston-Webb, MD at Birds Eye. "However, the power of trusted brands has been very noticeable. Birds Eye red meat sales soared after we simplified our beef supply chain and added further safeguards including DNA testing."
If any positives can be said to have come out of the scandal, it's steps like these to restore trust and secure supply chains. Trust is certainly a word often used by brands, with those enjoying the strongest growth claiming this reflects the level of trust they have.
"Shoppers turn to trusted brands in times of uncertainty," says Lorraine Rothwell, head of marketing at Aunt Bessie's, whose value sales slipped 1% but volumes rose 3%, making it one of only three of the top 10 brands to achieve volume growth in the past year [IRI]. "Value sales of our Toad in the Hole frozen ready meals have grown by more than 20% while the rest of the category has lost sales."
"The horsemeat scandal was a very big challenge but the power of trusted brands is noticeable" Andy Weston-Webb, Birds Eye
Trust has been fostered with the help of a huge surge in ad spend. But growth isn't just reliant on how trusted a brand is: price is still central. Aunt Bessie's volume growth at the expense of value has been driven by a 62.9% surge in featured space deals, for example. Such deals by the big four, The Co-op and Waitrose are up 17.5% combined and Birds Eye, the most promoted brand in frozen [Assosia 52 w/e 28 Feb), has also upped activity significantly.
Innovation
Maintaining interest with a steady flow of innovative products has also helped players defy the pressures of inflation, the Horsegate consumer backlash and competition from the chilled sector. Frozen fish has been a casualty of the latter factor, its ongoing decline accelerated by the development of fresh fish counters by retailers and fresh brands such as Saucy Fish Co.
The March launch of Mashtags - a reinvention of Aphabites for the dotcom generation, featuring potato hashtags, @ symbol and emoticons - is one way Birds Eye is trying to turn around its performance. "The category needs continued innovation and Mashtags have been created to get people talking around the table and bring a bit of fun to mealtimes," says Weston-Webb. The NPD has certainly attracted attention on thegrocer.co.uk: it was by far our most read story in February after we broke news of its launch.
Poultry
Birds Eye has also been innovating in frozen prepared poultry, launching its premium chicken Inspirations range in March and backing it with a £10m marketing campaign, which includes social media activity and a pop-up restaurant. The four-strong range combines chicken breast with a breadcrumb coating and sauce in flavours including garlic & herb and peri peri.
"Poultry is on trend, healthy and expandable because of its broad appeal and versatility" Andy Weston-Webb, Birds Eye
"Bird Eye's frozen poultry category is currently worth more than £150m and has seen value sales growth driven by more people buying into the category, buying more often and spending more," says Weston-Webb. "Poultry is on-trend, a healthy choice and a highly expandable category because of its versatility and broad appeal."
Bernard Matthews agrees, claiming its total frozen poultry volume sales have surged 9.6% in the past year. "The biggest area of growth was among our trusted favourites such as mini kievs, golden drummers and dinosaurs," says category controller Clement Rouillard. "With consumers turning to brands and products they know and trust and see as good value for money, our mini kiev sales increased by 10.4% in volume."
There's that word again: trust. But there's no denying trust in frozen brands has been battered. Across frozen food, own label has outgrown brands, with value up 3.1% on volumes up 1.3% compared with branded growth of 1.2% on volumes down 2.5% [Kantar].
Waitrose and Wall's alone in bucking rise in frozen deals
All the major retailers have upped featured space deals on frozen food over the past year, leading to combined growth in activity of 17.5%.
Waitrose, was the only exception among the retailers, cutting its use by 19.3% , while Wall's Ice Cream (including Magnum) was alone among the top 10 promoting brands in scaling back activity, also by 19.3%. It didn't do it too much harm, either, with a mix of strong NPD and hot weather helping to drive strong growth.
The performance contrasts sharply with that of Birds Eye, whose overall sales have suffered. Promotions, along with a marked increase in advertising (see p60) and fresh assurances regarding the security of its beef supply chain, have been central to its strategy over the past year.
The brand increased featured deals by 13.7% to a whopping 2,763 – that's almost as many deals as the rest of the top five promoters in frozen combined. Bucking the overall trend of offering shallower deals in frozen food (deal depth has dropped from 37.9% to 36.1%), Birds Eye's average depth of deal went up from 37.9% to 38.9%.
Young's took a similar approach, upping use of deals by 36.3% and depth of deal slightly. However, Wayne Hudson, MD for frozen food at Young's Seafood, cautions against over-reliance on deals.
"Whilst this is an important aspect of frozen food, it has an impact on overall consumer appeal and thus market performance," he says.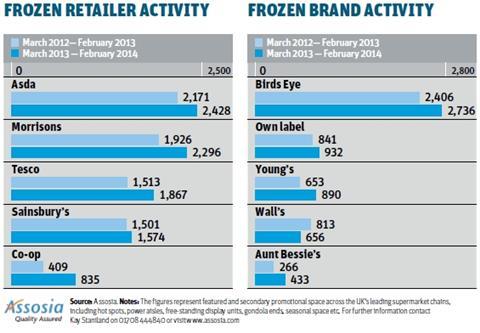 It's worth noting, however, that these numbers are skewed by the discounters' greater use of own label - IRI, which doesn't measure discounters, puts own label in decline - and even the Kantar data shows brands outperforming own label in categories where they've been able to create interest with exciting new products, in prepared poultry, for example.
Canny marketing that focuses on how freezing can lock in freshness and maintain nutritional benefits has also played a role.
"Frozen veg is a really exciting area… we're focusing on innovation in formats and recipes" Lorraine Rothwell, Aunt Bessie's
This strategy has proven particularly successful for Birds Eye's veg range. The company puts growth of its frozen peas down to its Food of Life campaign, which drums home their 'field fresh' credentials, and says it sold enough peas to fill 42 olympic swimming pools in 2013 - a claim borne out by Kantar data suggesting the range has been the biggest winner in frozen of the past year, with value sales up 121.6% to £49.4m.
Frozen veg is also proving a hit for Aunt Bessie's, which launched breaded mushrooms, special vegetable mash, roasted carrots and button sprouts in September. "Frozen veg is a really exciting area for us," says Rothwell. "We're focusing on key consumer trends that have seen shoppers opt for premium products with real product innovation in terms of formats and recipes."
Sweet innovation
NPD has also been key to the £46.5m growth of frozen confectionery [Kantar], with ice cream taking most (but not all; see left) of the credit. Unilever has launched new variants under its Magnum, Ben & Jerry's and Cornetto brands; R&R has brought out new ice cream versions of chocolate brands, the most recent being a Kit Kat cone launched March; Beechdean has high hopes for its new Jelly Belly, Scooby-Doo and Teenage Mutant Ninja Turtles products and Rubicon has is similarly bullish about its Irn-Bru lollies launched in February.
Frozen pizza brands are also hoping NPD will inject life into their sector - down 3.6% on volumes down 2.1% [Kantar], mostly as a result of growth in chilled. Chicago Town and Goodfella's, both down in value and volume, have been busy, the former launching a BBQ flavoured line this month and the latter a Mexican 'Nacho Fella' deep-pan pizza in March. They'll need to keep up the momentum: the Northern Dough Co claims volumes of its ready-to-roll pizza dough are up 400% since winning a listing with Waitrose in October, as more of us opt to make our own pizzas at home.
With the impact of Horsegate now receding, scratch cooking could be the next cloud on the horizon, for ready meal suppliers anyway. Those turning to new areas to find growth are already reshaping the category - whether permanently, time will tell.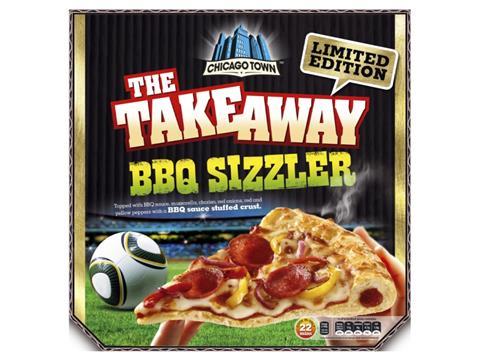 Chicago Town BBQ Sizzler
Launched: June 2014 
Manufacturer: Dr Oetker
Chicago Town is hoping the limited-edition BBQ Sizzler pizza (rsp: £4.29) with World Cup packaging will score with football fans. Dr Oetker launched the flavour under its Takeaway range in March and the football packaging was added this month. The pizza comes with a smoky barbecue sauce base topped with mozzarella, chorizo, red onions, red and yellow peppers and a barbecue sauce stuffed crust. The sizzler is made with a fresh rising dough, meaning the first time it is baked is by the consumer.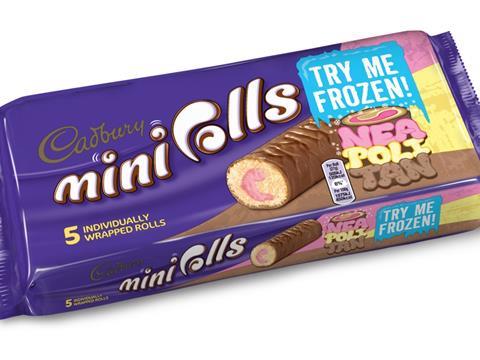 Cadbury Mini Rolls Neapolitan
Launched: May 2014
Manufacturer: Premier Foods
With sales of ice cream booming, Premier Foods came up with the novel idea of encouraging shoppers to freeze its Cadbury Mini Rolls and "try me frozen" last year. Limited-edition neapolitan flavour (rsp: £1/five-pack) hit shelves last month. Premier says the ice cream rolls range has delivered £5m in sales since launch in 2013.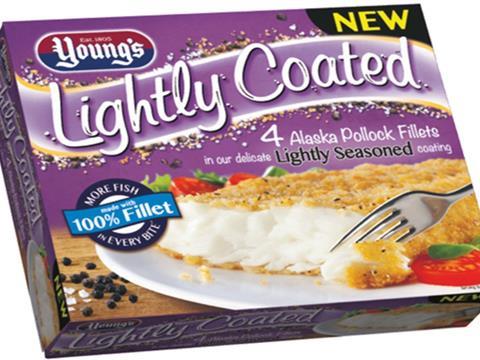 Lightly Coated Alaska Pollock Fillets
Launched: April 2014
Manufacturer: Young's
After launching its Gastro range of gourmet meals for two in 2012, Young's is now hoping to cater for the whole family. Young's Lightly Coated Alaska Pollock Fillets (rsp: £3.99/480g) come in family-sized boxes of four easy-to-cook fillets in lightly seasoned, lemon & herb and limited-edition hot & spicy flavours, which cook in 20 minutes.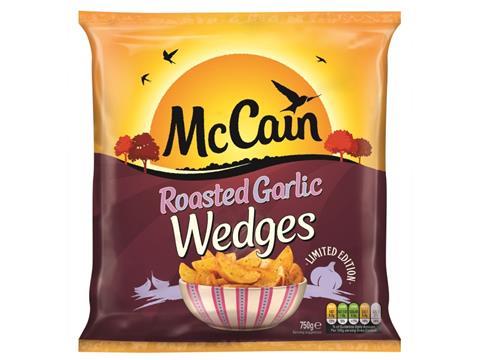 McCain Roasted Garlic Wedges
Launched: March 2014
Manufacturer: McCain
With roasted garlic featuring increasingly on TV and restaurant menus, McCain has added the ingredient to its latest flavoured wedges. McCain roasted garlic wedges (rsp: £2/750g) have been launched in time for the World Cup and barbecue season. The brand describes the NPD as the perfect sharing product for social occasions.