Halloween delivered £325m in sales last year. How are retailers and suppliers planning to exploit its growing potential this year?
Halloween gives everyone the shivers but, for brands and retailers, they are shivers of excitement. It's now established as one of the biggest seasonal events of the year, with latest figures putting the festival's value at £325m in 2013, up 12% year on year [Planet Retail].
This year, a third of UK households and 25% of adults are expected to get involved in Halloween celebrations [Mars]. Throw in the fact that Halloween falls on a Friday in 2014, so the celebrations could stretch out over three days, and it's no wonder fmcg players are looking forward to cashing in.
In fact, for some retailers – particularly the fixed-price discounters – Halloween has become the second-largest sales opportunity of the year behind Christmas, relegating Easter to third place. "Halloween is just going from strength to strength, it's growing like crazy," says Poundland senior buyer Bethan Davies. "Like-for-like growth has been really, really good. Halloween is now our second biggest seasonal event after Christmas. In our biggest stores, Christmas gets 25 bays devoted to seasonal items, Halloween gets nine, Easter gets three."
Fellow discounter 99p Stores reports a similar sales pattern. "Easter provides us with a surge in chocolate sales, but Halloween encompasses more products and it is often rolled into one event with Guy Fawkes Night," says commercial director and co-founder Hussain Lalani. "Buyers from all categories are becoming involved in Halloween, and it is now our second largest holiday of the year."
It's the same story at Poundworld, which has increased its Halloween range by "25% in the past two years," according to trading director Chris Edwards Jnr, who adds that this year Poundworld has "two dedicated buyers working on Halloween instead of one."
One of the things they will be snapping up is adult costumes and props, a growing Halloween market that sees most retailers releasing new and increasingly creative ranges each year (although all will be wary of blundering into an Asda mental patient or Tesco psycho ward costume controversy).
"For 99p, we cannot do much for adult costumes so we focus on accessories such as tridents and hats," says Lalani. "We noticed an upsurge in first aid products around the end of October, which took us a while to work out, but people were buying cheap bandages and gauzes for costume purposes."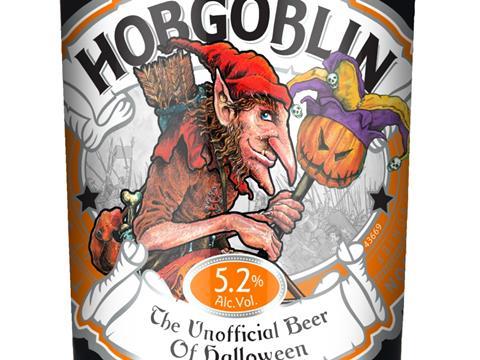 Hobgoblin gets revamp for biggest Halloween
Halloween is no longer just for kids. And with a growing number of adults throwing their own Halloween parties, drinks brands are cashing in.
None more so than Hobgoblin Beer, which will mark its ninth consecutive year as the 'Unofficial Beer of Halloween' this October. And brand owner Marston's is looking to make it the brand's biggest yet.
"Halloween is important to the brand," says marketing manager Chris Keating . "It's the platform that launches the brand activity for the next 12 months. It's great for sales – the mischievous essence of the brand fits perfectly with the spirit of Halloween."
There's plenty planned too. Hobgoblin is getting a complete brand makeover for Halloween, with a new orange design 500ml bottle, themed six-packs and 5-litre mini casks. Drinkers will also be able to spin a Wheel of Misfortune on the brand's website and Facebook page to be in with a chance of winning prizes, including £5,000 cash.
Hobgoblin's not alone in trying to cash in this witching season. WKD will be pushing its cocktail recipe app and running social media activity encouraging drinkers to mix their own Halloween cocktails – including Pumpkin Grin, Goblin Juice and Witches Brew – at home, throughout October. The brand will also roll out festive Cocktail Cauldrons to the on-trade to encourage licensees to mix up WKD cocktails.
Meanwhile, speciality retailer Firebox.com is offering Blavod black vodka – distilled from molases and containing a black Asian herb called catechu – and a "gruesomely amusing" 100ml Blood Energy Drink, packaged in a resealable transfusion-style bag.
There's another reason drinks brands could be howling at the moon with delight this Halloween, adds Keating. "Falling on a Friday this year, Halloween will undoubtedly result in more consumers making the most of the opportunity to celebrate," he says.
Aldi is also ramping up its adult offering. "With Halloween becoming increasingly popular with adults, our buyers have worked hard to ensure we have a range of products that appeal to this market," says MD of corporate buying Tony Baines. "This year's Halloween range includes adult costumes, Halloween themed alcoholic drinks and a huge range of decorations and accessories for the home."
The multiples
There is no way the major multiples are going to miss the fun. Thanks to its American parentage, Asda famously goes for Halloween in a big way. "We've worked with Walmart US and Canada in order to drive innovation through our products to ensure even more exclusivity across GM, confectionery, bakery and dressing up products," says Rowina White, senior buyer for Halloween. Asda is encouraging customer participation with activation centres in stores "centred around signing up to our Spook Squad to catch Fang and Fangle, who are hidden in floor vinyls around each store," says White. "We are also increasing product lines for adults, with adult fancy dress nearly doubled and we've increased our £1 general merchandise party and decorations range."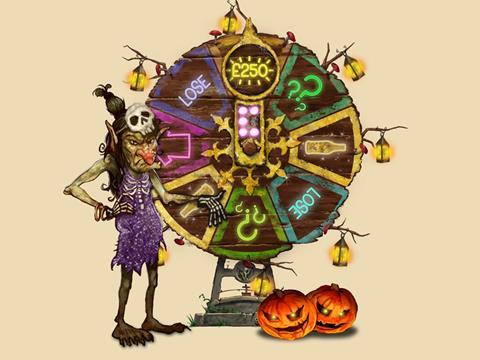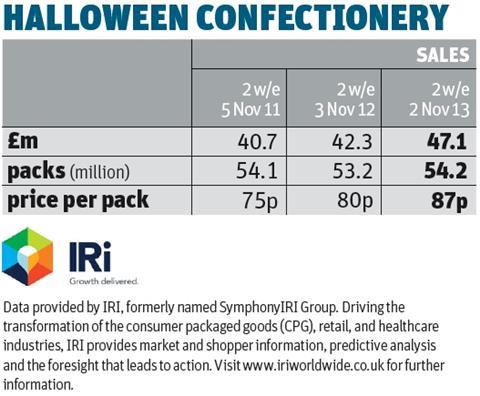 A spokeswoman for Waitrose says it is "really pleased with the non-food products we're offering this year, including beautiful honeycomb decorations, spider and bat felt head bands and cuddly witch and skeleton characters for kids."
At Tesco, a spokeswoman says it is still "working hard on getting things together" but will be "offering our customers a fantastic range of spooky treats, plenty of pumpkins and everything else needed for a ghostly haunted house party."
It won't have any trouble filling its spooky shelves. Many brands are looking to treat shoppers to Halloween-themed merchandise, and confectioners are leading the charge.
Overall, sales of seasonal confectionery were up 11.3% in value to £47.1m last Halloween [IRI 2 w/e 2 November]. Haribo and Maoam are reporting healthy year-on- year growth in volume and value sales, and Mondelez reports strong growth for its Cadbury Screme eggs and Cadbury Crunchy Spiders products, citing Nielsen figures that put their share of Halloween confectionery at a whopping 53%. The novelty factor is key in the Halloween market, so brands are highly focused on NPD. According to Mars, citing IRI, 30% of the value of sharing packs during Halloween 2013 came from NPD .
Many stores have also noticed an uplift in sales of small packs of confectionery. "In 2013, Mars saw its funsize range value share increase by 6.4% during Halloween," says Mars retail excellence director Tony Lorman. "This year Mars is further investing in its strongest Funsize brands, and will be taking advantage of the fact that six of the top 10 chocolate bars are owned by Mars by providing retailers with Have a Funsize Halloween PoS materials in the form of dump bins and free-standing display units."
Maynards, meanwhile, is going big on consumer interaction with a new app. "By scanning the front of each pack, families can unlock new unique augmented reality experiences," says a Mondelez spokesman.
Beyond confectionery, brands and retailers have high hopes for Halloween-themed baking. Helped by the popularity of the Great British Bake Off, Halloween baking is catching on. According to Dr Oetker, cake decorations experienced a 3% uplift in sales over Halloween last year and the colours subcategory saw the highest uplift over the Halloween period of 74%, with the most popular being Halloween classics orange and black. "Consumers are increasingly baking over Halloween, people enjoy making 'spooky' cakes and treats, and we are helping them to become more adventurous," says Gill Davies, Dr Oetker's executive head of marketing for ambient.
And for health-conscious parents looking for an alternative to cakes or sugary treats, particularly in light of the current furore surrounding sugar, toy companies are jumping on the ghost train. Mattel is releasing a new Monster High movie this autumn with an associated toy line, while Aldi is introducing a Halloween-themed Play-Doh. According to Baines at Aldi, "we listen to what our customers want and the mini tubs are the perfect gifting alternative for trick or treaters."
Put it all together and, as Halloween creeps closer, retailers and brands will be hoping to scare away any remaining post-recession jitters by putting a spell on consumers this October, enticing everyone to don scary costumes, drink spirited drinks and trick or treat harder than ever before.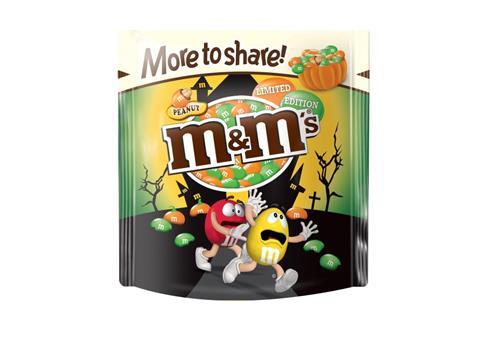 Halloween Limited Edition Peanut M&M's
Launching: September 2014 
Supplier: Mars Chocolate UK
Mars is launching its popular peanut M&M's in distinctive Halloween orange and green colour mixes (rsp: £3.29/300g, £1.19/100g). Limited-edition colour packs have already proved successful with M&M's Peanut Pouch Limited Edition Red, White & Blue, which were released for the Queen's Jubilee, delivering 17% category growth, and Limited Edition Blue and Green Brazilian-themed peanut M&M's, which drove another uplift in sales during the World Cup.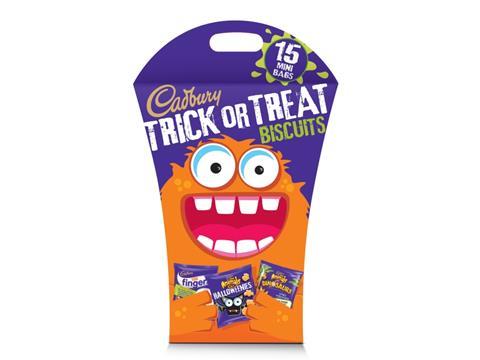 Trick or Treat Biscuit Assortment
Launching: September 2014
Supplier: Burton's Biscuit Company
Burton's range of Halloween biscuits includes a trick or treat biscuit assortment of 15 mini bags of Cadbury Mini Fingers, Mini Animal Halloweenies and Mini Animals Dinosaurs (rsp: £4.49); and Cadbury Halloween Mini Fingers, featuring five mini bags of crisp mini fingers complete with on-pack 'spooky facts' (rsp: £1.89).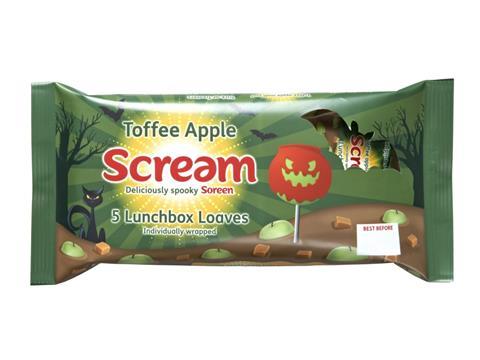 Soreen 'Scream' Lunchbox Loaves
Launching: September 2014
Supplier: Soreen
Soreen is launching two new limited-edition Lunchbox Loaves this Halloween in Toffee Apple and Chocolate (rsp: £1.00/pack). Each pack contains five individually wrapped loaves, perfect for sharing with your entire trick or treat group. The brand says the lines will build on already strong growth in Soreen Lunchbox Loaves.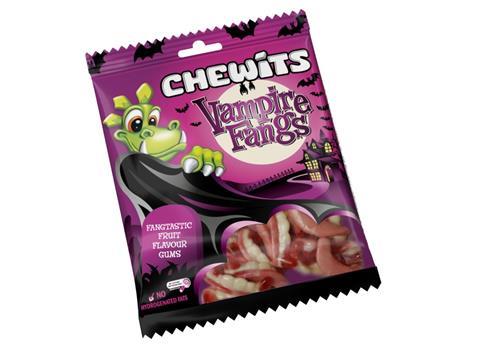 Chewits Vampire Fangs
Launching: September 2014
Supplier: Cloetta UK
Chewits is adding Vampire Fangs, fang-shaped fruit flavoured sweets in sharing bags (rsp: £1.39), to its range. Sharing packs are perfect for Halloween parties while Chewits' newly launched Chewmix Share Bags are ideal for trick or treaters as each are individually wrapped and each packet contains an assortment of flavours.