Britain is becoming a nation of self-medicating pill poppers. But don't panic - we're not talking dangerous pharmaceuticals here; our data suggests Britain is in the midst of a boom in vitamins, minerals and supplements.

Sales through grocers, high street chemists and specialists such as Holland & Barrett have climbed 5% to £382.7m; volumes are up by 2% or 1.6 million packs [Kantar Worldpanel 52 w/e 1 March 2015]. And many say this is just the tip of the iceberg, with these channels dwarfed by sales through online specialists.

Products developed for specific ages and conditions, from joint stiffness to obesity and the universal preoccupation with beauty, are growing at an even faster rate (see p54), with supplements for kids, pregnant women and the over-5os in particularly fine fettle.

What's fuelling the growth? After recent shocking tabloid headlines linking the overuse of vitamins to cancer and heart disease (in April The Mirror warned on its front page that 18 million Brits could be at risk), is the sector's golden age about to be cut short? And is there any weight to the scare stories?

There's no getting away from the fact: none of us is getting any younger. And much of the market's growth is being driven by the development of products with claims regarding their ability to delay the inevitable effects of ageing. For example, multivitamins targeting specific needs, such as joint care or energy levels, have been a key factor in adult multivitamins' 10% value and 5% volume growth.

"In a world of increasing personalisation, consumers seek solutions that best meet their individual needs," says Susanne Bisinotto, marketing manager at Vitabiotics, which has spent £5.5m on traditional advertising space in the past year [Ebiquity 52 w/e 28 February 2015], making it the sector's biggest advertiser. "We don't anticipate a reversal of this and have extremely strong NPD planned."

The brand is widely credited with pioneering supplements aimed at specific age groups and those with specific needs. For example, the brand addresses male health needs through successful brand extensions such as Wellman 50+, 70+ and Skin Technology, and caters for younger consumers with products such as WellKids and WellTeens.

"They started by flagging up ingredients such as iron, and then they moved the market on by highlighting specific health needs," says Paul Kerry, MD at Schwabe Pharma UK, who contends that 'lifestyle specific' health needs is a key opportunity. To tap the trend, Schwabe Pharma has brought the fruit-based Nature's Way multivitamin range Alive - featuring products for men, women, kids and the over-50s - to these shores from the US.
NPD
Multivitamins for Dieters
Launched: February 2015 Manufacturer: Forza Supplements
Developed specifically for women, Multivitamin for Dieters (rsp: £7.49) contains 13 different vitamins and minerals. It also includes six B vitamins to help reduce tiredness and fatigue. "Research showed some women were taking shortcuts in their nutrition when they were losing weight and we felt there was a clear gap in the market," says CEO Lee Smith. "It is rich in calcium, which is great for teeth and bones," he adds. "It is also high in zinc for healthy hair, skin and nails."
Nature's Way Alive!
Launched: January 2015
Manufacturer: Nature's Way (Schwabe Pharma)
The Alive! range came over from the US this year. The fruit-based multivitamin range has five key products: Women's Energy, Women 50+, Men's Energy, Men's 50+ and Children's Chewable. The products (rsp: £8.99 for 30 daily tablets) contain a dried blend of 26 fruits and veg including pomegranate, acai berry and beetroot.
Prime 50 Prime Fifty
Launched: May 2015
Manufacturer: Prime Fifty
This four-strong range of nutritional supplements, designed for over-50s, has recently hit the shelves of Tesco, health food stores and pharmacies. The range, designed by British scientist Dr Max Gowland and including lines such as Healthy Joints (rsp: £16.50), targets bone frailty, joint problems, muscle wastage and fatigue.
Help: beautify skin
Launched: May 2015
Manufacturer: Works with Water Nutraceuticals
The apple-flavoured beauty supplement (rsp: £22.94 for a 14-day supply) contains PravenAGE, a patented blend of Marine Collagen, Resveratrol, CoEnzymeQ10, Aloe Vera and Vitamin C - natural ingredients thought to aid skin health. The company says it the first product on the UK market in 'a handy jelly formulation'.
Premium products
Punters will pay a premium for such products. The development of supplements aimed at the specific needs for the over-50s has pushed up average price per pack to £5.47, versus an average price of £3.78 for non age-specific adult multivitamins [Kantar]. Indeed, rising prices are behind this subsector's growth; volumes are actually down slightly (see left).

"The growing over-50s population is a clear macro trend," says Max Gowland, MD of Prime Fifty, a range aimed at the over-50s comprising supplements formulated to help fight fatigue, promote joint health, keep bones strong and maintain muscle mass.

It's not just the over-50s who are prepared to pay more for the right product. "Consumers understand that 10 or 20 pence more each can give you a more superior product," says Bisinotto, pointing to the growing number of products marketed on claims of high purity and quality. "As a result we are seeing excellent growth in our premium ranges such as Perfectil Plus and the recently launched Wellman Max and Wellwoman Max."

Another area that's seen prices rise, and value and volume growth, bucking the prevailing pattern of falling grocery prices, is multivitamins for pregnant women. The subsector has seen growth of 13% to £19.1m; volumes are up 12%. Merck Consumer Healthcare says it is tapping demand for need-specific supplements with Seven Seas Trying for Baby. It also reports strong growth in its gender-specific Seven Seas Perfect7 range, launched last July, and kids' line Haliborange.

"Haliborange identified a particular opportunity with children aged three to seven, so we introduced a range of Mr Men and Little Miss-endorsed 'softie' products," says market research manager Tony Parkin, pointing to the 10% value growth in kids' multivitamins, on volumes up 6%, of the past year.

There's another factor driving up prices, says Sam Cordwell, category head at Holland & Barrett. "We're seeing a move away from single to combination vitamins," he says, suggesting the retailer's 3.6% value decline in category sales partly reflects this trend. "Our strength to date has been in single vitamins, so this is a trend we need to give attention."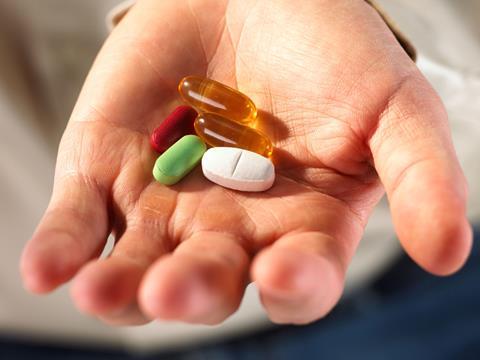 Health claims, and scares

Put simply, more active ingredients mean more claims can be made about a product, so long as its ingredients are on the European Food Safety Authority's approved list. Legislation such as this, and the 2011 introduction of rules governing traditional herbal medicines, is a big influence on the market.

The herbals market, for example, has been transformed. "Prior to 2011, there were many unlicensed herbal supplements on retailers' shelves," says Schwabe Pharma's Kerry. "Once the regulations were enforced, these products had to either be discontinued, remove all health claims or apply for a traditional herbal medicine product licence."

Hence the decline in herbal supplements, although sales of approved herbal medicines such as echinacea and ginseng are in strong growth, says Kerry: "It's an opportunity grocers are missing out on."

Health claims can be positive and negative, of course. And recent stories linking vitamin use to cancer, based on a US paper that as yet hasn't been peer reviewed, clearly could harm sales, although many academics claim the evidence is flimsy, based on an early 90s study of men already predisposed to cancer.

Omega-3 has also been hit by scares. Holland & Barrett says sales of omega-3 fell after a 2013 study linked it to prostate cancer but have since recovered, thanks partly to counter-reports and explosive growth in omega-3 rich krill oil products. Sales of Reckitt Benckiser's Mega Red are up 176.6% to £1.8m [IRI 52 w/e 18 April 2015].

With many heralding krill oil, extracted from the marine crustacean, as the next wonder supplement, things look promising. So long as players can calm concern over the environmental toll many say krill oil takes. In May, Sainsbury's was accused of 'supporting the plunder of the Antarctic' for stocking Vitabiotics' (MSC-certified) Ultra Red Krill Oil.

To quell concern, it's clear krill pill players will need to shout about sustainability.
Kantar Worldpanel analysis
It has been a great year for the VMS market, with value sales growing 5.0%, driven by multivitamins and fish oils in particular. This growth outperforms the total healthcare market, which grew at 3.0%.
Total VMS growth has been fuelled by an increase in shopper numbers and shoppers spending more.
Just over half of packs (53.1%) have been sold on promotion and this has increased from 51.2% the previous year.
Shoppers who enter the category prefer branded over own label and are willing to spend more per pack. This is reflective in the growth of more expensive brands compared with own label, which is down 1.0%.
Adult multivitamins continues to be the largest subcategory in the VMS market and has grown in both value and volume through more shoppers, increased basket size and shoppers paying higher average prices.
The range driving this is, in fact, Aldi and Lidl own label, where penetration has increased to 1.1% and 1.0% respectively. Tesco continues to hold the highest penetration in adult multivitamins of 2.8%, a decrease of 0.1%.
Natasha Lee, Kantar Worldpanel