Hot desserts aren't that hot anymore. We're not talking temperature, we're talking sales. The overall value of the market cooled by 7% this year and the decline was even steeper for sponge pudding, pies and tarts, rice pudding, soufflés and bread and butter pudding.
It's in stark contrast to last year, when Brits went retro in the pudding department, sending value sales of traditional desserts up by 1.6% year on year [Kantar Worldpanel 52 w/e 9 June 2013].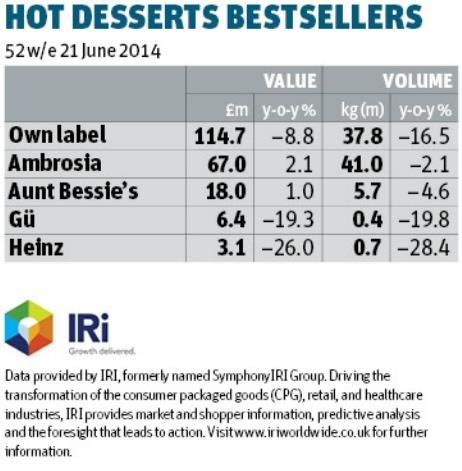 Aunt Bessie's claims seasonality is the critical factor in making sense of why consumers have moved away from hot puds again. "Our research has shown the past year's falling sales of frozen hot desserts are due more to the warmer weather than health concerns," says Lorraine Rothwell, head of marketing at Aunt Bessie's. "Prior to that, frozen hot desserts were in growth."
Others believe the recession was driving consumers to seek nostalgic comfort in the food from their childhood. Now the economy is improving again, there's less demand for such comforts - and retro puds are suddenly in danger of looking old-fashioned.
All this means suppliers need to think outside the traditional can to boost sales. So how can they give their products the makeover they need to excite consumers again?
"Old-fashioned canned puddings have been designed around the traditional nuclear family but that's not how people live anymore," says David Jago, director of innovations at Mintel. "Hot pudding manufacturers need to do the same thing Heinz did with mini pots of beans."
And that's exactly what Premier Foods did. In February this year it launched a mini pot range of its Ambrosia rice and custard brand, targeting the modern family.
"Over the past year there has been a significant shift in the way desserts are viewed as part of a family meal," says Neville Tam, senior brand manager for Ambrosia at Premier Foods. "Mum is often too time-starved to enjoy making a sweet from scratch."
Supported by £1 launch promotions (rsp: £1.49) to drive trial, Premier estimates the new pots will deliver 69% incremental growth to the ambient desserts category.
Premier built on this in June by launching six ambient microwaveable pots of Ambrosia rice pudding twinned with fruit compÔte to put a modern twist on the traditional British favourite. The products' microwaveability shifts them away from the staid old-fashioned image of the can, while the portability of the mini pots opens up the possibilities for consumption in and out of the home.
The chilled 'hot eating' desserts category has seen a 7% decline in value this year, which compares poorly with the 5.1% value growth seen in chilled convenience foods overall. This has been driven by a loss of shoppers, although 50.1% of the population still buy into this category.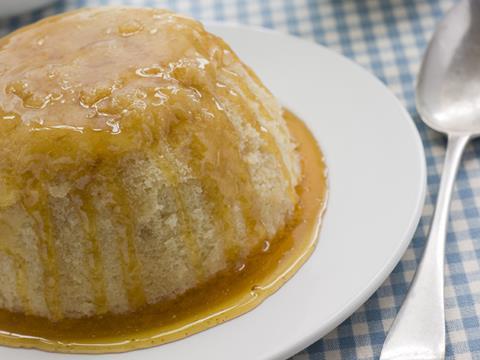 Own label continues to dominate the category, increasing share to 86.8%.
Pricing and promotions remain essential to success. Sectors that maintained or reduced prices all attracted new shoppers and grew value and volume sales. Pancakes and sticky puddings increased temporary price reductions, with sticky puddings also increasing their presence in meal deals. The exception is crumbles, which grew despite reducing volume sold on deal.
Sponges saw the most new SKUs across own-label ranges, with less traditional flavours like cherry & blueberry contributing the most actual value to sales.
Rebecca Dunlop, Kantar Worldpanel
"Formal meal occasions are in overall decline," says Tam. "Consumers are eating out in a more unstructured way. This is subsequently driving snacking occasions upwards, both in and out of home, causing the individual pot sector within desserts to grow strongly year on year."
Smaller portion sizes aren't just easier to carry, they take some of the guilt out of indulging in something sweet, which is an important selling point when targeting today's health-conscious consumer.
Even more critically, smaller units help to keep price points down. This is particularly useful when adding costly premium ingredients to give a product a more indulgent profile, or when making free-from food.
Indeed, some experts believe traditional pudding makers could learn a thing or two from the new crop of free-from players now making a play for the hot desserts category.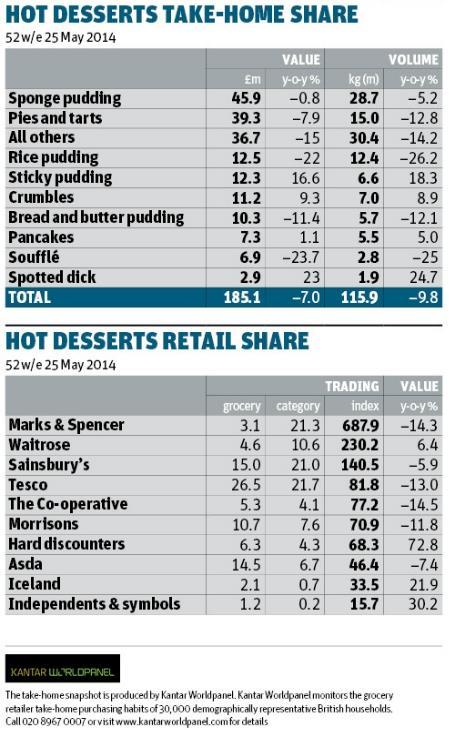 One such player is Glamour Puds, which achieved its first multiple listing in June, with its dairy and gluten-free desserts now sitting on the shelves of 323 Tesco stores. To compete with their mainstream counterparts, Glamour Puds' classic British puddings have an indulgent flavour profile, attractive modern packaging (see panel, right) and, importantly, small portion sizes.
"A lot of hot puddings just don't look pretty and the photography on pack is very boring," says founder Peggy van Rooyen. "Developers need to get in tune with the trends. We all like novelty, and hot puddings are just not glamorous enough."
Driving impulse
Glamour and novelty value aside, strategies for driving impulse purchases are going to be key to the category's recovery. According to research from Aunt Bessie's, frozen hot desserts are an impulse purchase for 45% of shoppers, which is why the brand has used promotions to drive sales over the past year. As hot desserts are more likely to be consumed as a treat at the weekend, Aunt Bessie's has also trialled positioning its products alongside its roast dinner promotions at the end of aisles in store.
"These feature a selection of our products crucial for a roast, such as Yorkshire puddings, veg, potatoes and hot desserts," says Rothwell. "The level of discount is less important than getting the products featured in store - ie at gondola ends."
The key challenge for the future is to get new shoppers to try the product. Promotions alone won't be enough to do this. Brands must innovate as well.
"There has been a significant shift in the way desserts are viewed as part of a family meal"
"There's room for updating some of the staid, more traditional recipes," believes Jago. "The trouble is, there isn't a lead player in the market that's innovative and out there doing stuff with it. Years ago chilled desserts were shaken up by Gü when it first came out in 2003 - the category needs something new and fresh like that to jazz it up."
Indeed, IRI sales figures suggest even the innovative Gü has suffered declining sales in the tough hot desserts market recently. However, the brand says these declines partly reflect its recent portfolio makeover, which has seen it discontinue some lines.
As part of this makeover, Gü has streamlined its offering of products to "keep its range interesting and relevant for the consumer," says a spokeswoman.
Discontinuing lower-performing products resulted in a one-off reduction in annual retail sales value of £2m but the leaner range is now showing value sales growth of 8.7% [Nielsen 12 w/e 19 July 2014].
"We are fully focused and committed to continuing this positive momentum and are confident that the brand will enjoy the benefits of this improved focus in the coming years," the spokeswoman adds.
Looks like having a makeover paid off for Gü. Who's next?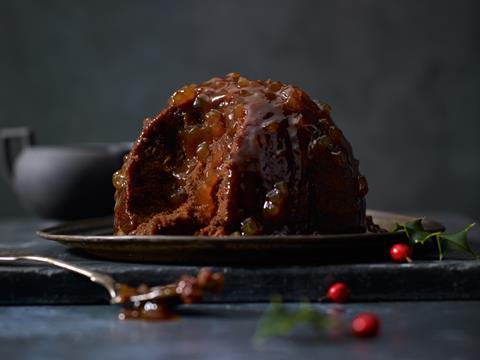 Heston from Waitrose Sticky Toffee Apple Pudding
Launching: September 
Manufacturer: Waitrose
This dark, rich sponge pudding with caramel fudge is Heston Blumenthal's latest creation for his popular desserts range for Waitrose. He's translated the flavour of sticky toffee apples into a hot sticky toffee apple sponge pudding, spiced with the Christmas flavour of candied apple and topped with a caramel sauce that offers an alternative to the traditional Christmas pudding. The pudding will retail in Waitrose for £10.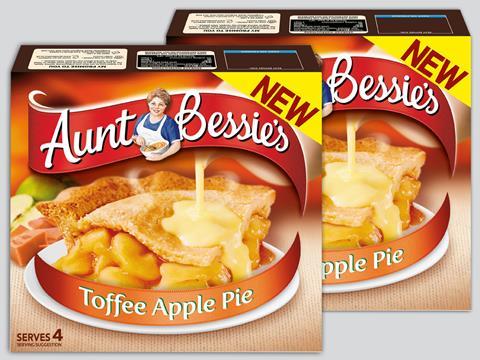 Aunt Bessie's Toffee Apple Pie
Launching: September 2014
Manufacturer: Aunt Bessie's
Following the success of last year's spiced apple pudding, Aunt Bessie's has put a twist on the traditional apple pie this autumn by adding toffee into the mix. Its new Toffee Apple Pie is being launched alongside two new fruit crumble flavours: Cherry & Plum, and Pear. All three will go on sale nationwide for £1.69.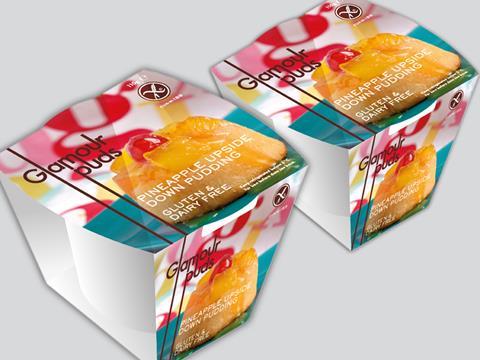 Pineapple Upside Down Pudding
Launching: September 2014
Manufacturer: Glamour Puds
There's more to this traditional classic pudding than meets the eye as it's free from gluten, dairy and soya, but the packaging has been 'demedicalised' to appeal to the mainstream consumer as well as the allergen sufferer. Also launching is Glamour Puds' Banoffee Sponge, which boasts the same free-from credentials. Rsp for both: £1.49.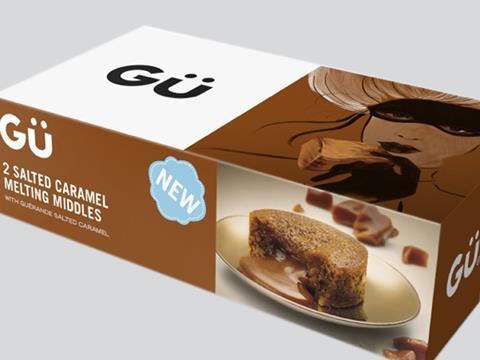 Gü Salted Caramel Melting Middle
Launching: September 2014
Manufacturer: Noble Foods
Gü says its new Salted Caramel Melting Middle hot pud is the first of its kind for UK retail. Also launching this month is its White Chocolate Melting Middle, which contains real white chocolate to satisfy consumers' demands for indulgence, and a twist of coconut for a taste of the exotic. Rsp: £3.59 for a twin-pack.