Pooh would be proud. For the first time on record, Britain has spent more on honey than jam, having got through 20.3 million kg of the stuff in the past year and outlayed £113.2m for the privilege. That represents a 6.2% surge in value sales on volumes up 5.2%, making honey Britain's bestselling spread by value [Kantar Worldpanel 52 w/e 10 November].
We're not just going sweet on honey, however. Chocolate spread, peanut butter and lemon curd have also had a good year, with value and volume sales surging, albeit from a smaller base. Even jam is up 1.8% on volumes up 1%, contributing to total category growth of 4.5% to £439.9m on volumes up 2.2%. Only marmalade and yeast spread have struggled.
The performance is particularly surprising considering that bread volumes have been in decline for years. In fact, our Top Products Survey 2013 revealed that bread's volume slide accelerated to 4.2% in the year to 12 October [Nielsen]. Whatever we're doing with the extra honey, jam and spreads we're buying, it seems we're not putting them on bread.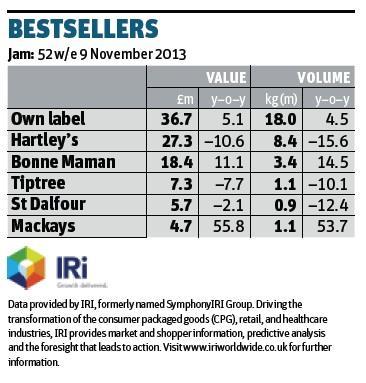 So what are we doing with it? Why are some spreads enjoying such strong growth, while others are languishing on the shelf? Which brands are driving overall category growth and what are the laggards doing to catch up?
When it comes to honey, growing consumer understanding of its versatility has much to do with its recent success, says Kirstie Jamieson, marketing controller at Rowse Honey. Nielsen's analysis (see above) shows that Rowse, which The Grocer revealed last month had toppled Marmite as Britain's bestselling spread, has driven most of honey's growth (Kantar puts own-label honey up 6.8% to £60.7m on volumes up 6%).
Versatility
Honey's versatility leaves it well placed to benefit from the health and home cooking trends, which Rowse sought to tap in last year's £2m TV ads (the focus will continue in its 2014 campaign, announced this week - see p32). "Honey can go on toast, on porridge, in a hot drink," says Jamieson. "Our ads talk about honey being a natural source of energy. We also show consumers can use it in porridge or to baste a chicken. It was important for us to get honey out of the spreads aisle."
And into the home baking aisle, among others. To this end, Rowse launched Baking Honey, in dark & rich and light & mild variants, in September. Rival Gale's will be following suit in 2014 with the launch of honeys marketed as cooking ingredients and for use in drinks, says David Atkinson, MD for grocery at Gale's brand owner Hain Daniels.
Chocolate spread, peanut butter and honey (the category's biggest growers in absolute terms) have contributed an additional £16.7m to category sales, while jam and marmalade continued to struggle.
Branded products account for almost 60% of category sales but have lost share to own label, which has grown by 6.1%.
Peanut butter is now purchased by more than a third of households (34.1%) chocolate spread is not far behind with 28.1% penetration.
Honey appears to be benefiting from its versatility and natural health positioning, with brands and own label both contributing to growth.
Rowse has strengthened its grip on the top spot with strong growth while the sector as a whole has been boosted by premium offerings such as manuka.
Matthew Verity, Kantar Worldpanel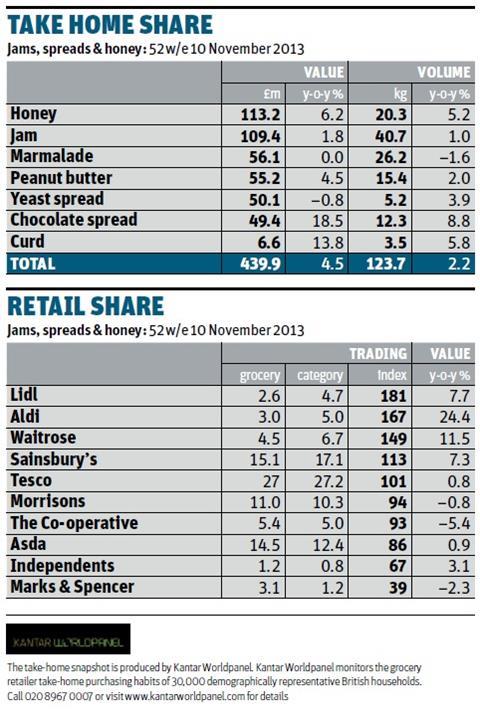 The brand could certainly do with some help after nearly half its sales were wiped out [Nielsen] by distribution losses at Tesco. "For most of 2013 Gale's had very limited distribution in Tesco - in November it went back in and now we can start from scratch," says Atkinson, promising a packaging refresh and NPD to widen honey's usage in 2014.
It isn't the only spread that has its work cut out. One of the reasons Marmite has lost its number one spot in the spread category is that it "suffers from a lack of versatility as it tends to just be put on toast", contends Jamieson. It's a charge Marmite brand manager Joanne O'Riada rejects, pointing to the recipes and serving suggestions on the brand's Facebook page and in The Marmite Cookbook.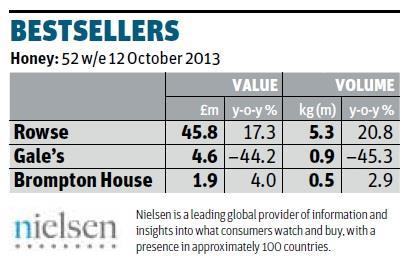 While the End Marmite Neglect TV campaign, which kicked off in August, only features the product being spread on crumpets and makes no reference to any other uses, it has already helped address the brand's 5.2% decline on volumes down 1.3% in the past year [Nielsen], claims O'Riada.
"Honey can go on toast, porridge, in a drink… it was important to get it out of the spreads aisle"

Kirstie Jamieson, Rowse Honey
"The End Marmite Neglect activity helped a 14.1% increase in value and 15.2% increase in volume," says O'Riada. Despite a 3.9% decline in average price [Nielsen] in the past year, fuelled in part by some retailers' decision to ignore Marmite's rsp of £5.03/500g jar and sell for £3 a jar, the brand will not resort to deals to maintain volumes. "We do not promote," she says bluntly.
Chocolate spreads
Advertising has also been key to hazelnut chocolate spread Nutella's growth. And, as with Rowse, the brand has been seeking to establish its versatility in the minds of shoppers with its Wake Up to Nutella TV campaign, which is aimed at getting Nutella on to more of our breakfast tables.
"We're bringing in new families all the time as a result of successful targeting," says Ferrero customer development director Levi Boorfield, adding that the brand has spent £4.5m on TV ads in the past year. "The latest ad started in September. It's tapping into a trend that is all about versatility. We're really looking at expanding usage occasions."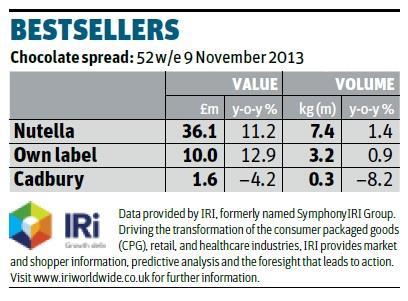 One such occasion is Pancake Day, which Boorfield claims is growing in importance for Nutella - the brand sold almost 1 million jars in one week last February, he says - and will be the subject of more activity this year. But Shrove Tuesday isn't just attracting the attention of Nutella, says Mark Bartholomew, preserves buyer at Sainsbury's, which has led the big four with 27.5% growth in chocolate spread sales in the past year [Kantar].
"We've introduced some exciting NPD that is bringing new customers into the category, for example Lotus caramelised spreads and Galaxy and Milky Way chocolate spreads," says Bartholomew. "We've been running regular promotions (on own-label chocolate spreads) and getting them in front of customers, for example on plinths for Pancake Day."
Such promotions have been particularly important over the past year as brands and retailers have sought to ensure that price increases generated by cost inflation do not deter sales growth. Chocolate spread has undergone by far the greatest price hike in the category in the past year - of 8.9% to £4.03/kg [Kantar]. Around 40% of Nutella's volume has been sold on deal, largely as a result of soaring hazelnut prices.
Innovation vital
"Hazelnut prices have escalated significantly over the last five years," says Boorfield, adding that Nutella has had to swallow some of the cost increases. "We wouldn't be able to grow our brand if we were putting through price increases all the time. It's been a challenging time for us."
Players in other spreads say they're moving away from deals as a means of driving sales. "We haven't been deep-discounting," says Rowse's Jamieson. Hain Daniels' Atkinson adds that £1 deals on Hartley's Jam no longer "make sense for the category or brand".
Hence jam's focus on widening its appeal. In 2014, SuperJam is launching the SuperJam Jr range for kids and continuing to market its products as a baking ingredient. Duerr's, meanwhile, will be launching a 'bake stable' jam designed specifically for home baking.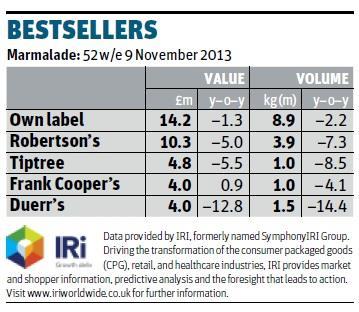 Although details are scant at this early stage, Hain Daniels is even looking to promote peanut butter's versatility with Sun-Pat NPD to establish the product as a dip. Convincing shoppers to use it as a baking ingredient, as many in the US do, is another possibility, says Atkinson. He adds that it's time marmalade saw such innovation: "It's a category that's seen no support for 20 years. No-one's been supporting it with innovation."
That's going to have to change if marmalade-loving Paddington is to stand a chance of wiping the smile off Pooh's face.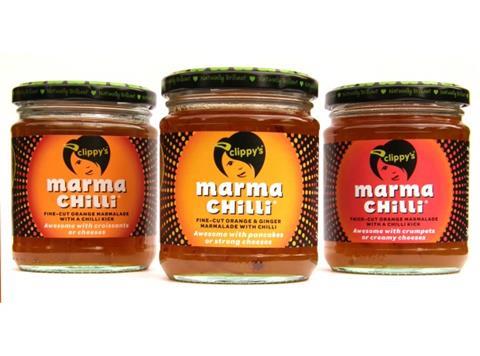 Marmachilli Thick Cut and Ginger
Launching: Spring 2014
Manufacturer: Clippy's
Clippy's claims that none of its products have inspired a greater response than Marmachilli, the fine-cut marmalade 'with a chilli kick', which arrived in Ocado in 2012. Now the company wants to build on that buzz with two new variants - thick cut and ginger. Such NPD could be just what the struggling marmalade sector needs: all three spicy spreads (rsp: £1.99) come with serving suggestions promoting marmalade's versatility.
White Chocolate & Banana Jam
Launched: October 2013
Manufacturer: SuperJam
SuperJam is hoping to bring some fun to jam with the launch of its Ooh Ooh Ah Ah sub-brand. The new range of four lines includes this white chocolate & banana jam (rsp: £2.99), hand-made in Belgium. The other lines are a rum & raisin banana jam, hazelnut spread and a rhubarb & banana jam.
Milky Way Stripey Spread
Launched: October 2013
Manufacturer: Mars
Mars is hoping for success in chocolate spreads with new launches under its best-known countline brands. Milky Way Stripey Spread (rsp: £1.99) launched in Sainsbury's in October 2013 and preserves buyer Mark Bartholomew says it has proved a hit. The squeezable spread comes in a tube and is made with chocolate and skimmed milk.
Streamline reduced sugar jams
Launching: January 2014
Manufacturer: Streamline Foods
Streamline is relaunching its jams and marmalade range with new recipes. The range, which includes strawberry, blackcurrant and apricot jams (rsp: £1.45), alongside three orange variants, has been reformulated and is now free of artificial additives or preservatives. The brand is aiming to capitalise on the baking trend with a new website.