It's carrot or stick time for juices & smoothies. As suppliers try to cut sugar intake by dangling a carrot in front of our noses (literally, almost; they're now putting carrot and other veg in their juices), calls are growing for the government to strike with its regulatory stick.
Sales (down 5% in value and 5.2% in volume, according to Kantar Worldpanel, 52 w/e 7 December) have already been clobbered by press reports prompted by obesity tsar Susan Jebb's calls for a juice tax and mounting demands throughout 2014 for their removal from the government's 5 a day list.
So can 'healthy' fruit and veg juice blends, now touted by all the sector's major players, help silence the health lobbyists and return juices & smoothies to growth? And are the sector's ills all down to sugar anyway?
"People are making an active decision to avoid fruit juice. There's a need to innovate…"
Brands had to do something. Tropicana and Innocent have lost more than 30 million litres (5.8%) from their combined volumes [IRI 52 w/e 8 November]. "People are making an active decision to avoid fruit juice," says Innocent MD Nick Canney. "There's a need to innovate. We're starting to broaden our range and make it more nutritionally dense."
Innocent, which is rolling out its cold-pressed fruit and veg juices Skip to the Beat and Easy Greens to grocery and launching a limited-edition beetroot smoothie this spring, isn't alone. Tropicana has put pumpkin, carrot and beetroot in the mix for its latest NPD, while Asda has added carrot to its Chosen By You orange juice, for example.
Drinkers are being lured by health claims. Although Innocent is down 9.7% on volumes down 13% [IRI], Canney says its Super Smoothies (with ingredients such as pumpkin, wheatgrass and flax seed) are on course to rack up £10m by the end of 2015 and have helped make smoothies the only part of the market in growth. Not bad for a range launched only last March.
Others have cut the sugar content by reformulating with the sweetener stevia. Trop 50, a stevia juice drink launched in January 2013, generated £17.7m last year, up 16.6% [Nielsen 52 w/e 11 October]. Waitrose claims to have cut 7.1 tonnes of sugar annually from the juices & smoothies it sells by reformulating own-label lines and culling brands.
Last April it launched apple and orange juice drinks containing stevia with 30% fewer calories than standard juice. It also unveiled four new smoothies under its Love Life range, including an apple & beetroot variant, and the store's premium juice range saw the addition of an apple, kale & lime drink.
Some are evangelical about the need to wean drinkers off sugary drinks and claim stevia-sweetened juices will not help the fundamental reprogramming of the nation's palate that's needed. "As consumers we've been conditioned towards super-sweet drinks," says John Mulvey, marketing manager at Cawston Press, which is adding carrot and tomato juices to its line-up in Tesco and Waitrose on 16 March. "Simply substituting natural fruit sugars and replacing them with sweeteners is completely missing the point and not solving the underlying issue."
Natural sugar
Others contend the key issue the industry needs to address is the perception that all kinds of sugar, naturally occurring and added, are equal (though, of course, too much of any sugar will cause damage).
"Brands must be more transparent about how their juices and smoothies are made"
"There's a real difference between sugary fruit drinks that use added sugar and genuinely healthy drinks that have only naturally occurring sugars," says Guka Tavberidze, founder of fruit & veg smoothie brand Savse, which won listings in Boots, Waitrose and Ocado in 2014 and entered 423 Asda stores this month."It's up to brands to take responsibility and become more transparent with consumers about how their juices and smoothies are made and what they are actually putting into their bodies to ensure they are regaining that much-needed consumer trust."
This has prompted Coca-Cola Enterprises to add a no-added-sugar range to its Capri-Sun brand. No-added-sugar options of the brand's orange, apple & blackcurrant and tropical flavours will hit shelves in March with 0.8g of sugar per 100ml compared with the 10.2g found in 100ml of regular Capri-Sun. "The addition of a no-added option extends the appeal of Capri-Sun's offering, and we see this as a big incremental opportunity for the sector," says Caroline Cater, operational marketing director at CCE.
Brands aren't just competing on how few calories their products pack, of course. Increasingly they're making claims about the functional benefits of their ingredients and production processes as a means of standing out from the crowd.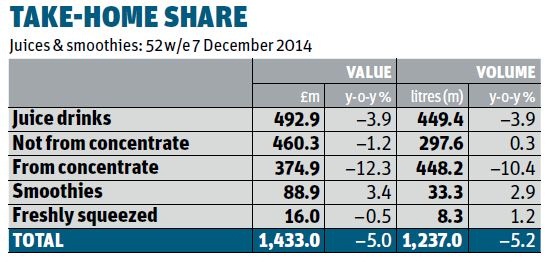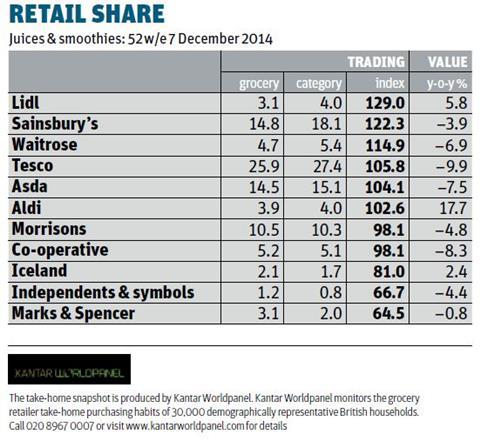 Still juices & smoothies remain in decline as shoppers purchase juice less often and buy less volume per trip. Prices have stayed relatively stable in a grocery market characterised by deflation. Smoothies is the only sector in growth, at 3.4%, driven by the branded products.
Juice from concentrate is predominantly ambient own label, but its long-term decline - which reflects the growing concern about sugar - is uniform across both own label and brands, and chilled and ambient. Most of the decline comes from existing shoppers spending less, as well as 3.5% less of the population buying from-concentrate in the latest year.

Juice drinks have gone from strong growth last year to second worst-performing sector, with 3% of the population stopping buying in the latest year.

Juice not from concentrate is in slight volume sales growth in line with an increase in volume-based promotions at the expense of price cuts over the past year.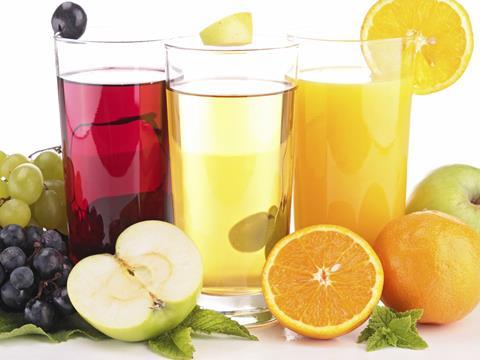 Functionality
Take Tropicana, which has suffered a 5.8% decline on volumes down 11.4% [IRI], fuelled in part by Waitrose's decision to slash the number of Tropicana lines it stocks from 37 to 11 as part of its range review last April (PepsiCo stablemate Copella also suffered in the cull). The brand has revamped its Essentials range with three new vitamin A-rich fruit & veg juices.
"We're going to witness a rise in drinks with nutritionally dense ingredients"
"We've observed a real consumer shift in demand for juices that give additional benefits," says PepsiCo marketing director Jeremy Gibson, adding the new Essentials lines will hit the shelves of Tesco and Asda this month in family-friendly 850ml packs. "Consumers are looking for additional vitamins, minerals and vegetables, and find juice an easy way to get these into their diet."
Meanwhile, high pressure processing (HPP) brand Coldpress - which uses a cold pasteurisation technique instead of heat to preserve nutrients in its juices - is going mass market and taking on the likes of Innocent and Tropicana with a new look and three-strong range of vegetable juices launched in Tesco and Waitrose in January.
HPP juices have traditionally been up to 40% more expensive than conventional juices, but at just £2.79 for 500ml the brand's NPD - in Juicy Roots, Mean Greens and Pumpkin Power variants - is set to give rivals a run for their money. What's more, 250ml bottles will be rolled out later in the year.
There's certainly plenty of evidence to suggest there's a market for products marketed on their health and functional credentials. Raw smoothie & juice brand Nosh Detox is enjoying rapid expansion after winning Ocado listings for two of its wheatgrass juices in November and four of its raw green juices, including a broccoli, parsley, avocado & peach blend, in January.
"We have a forecasted turnover of £1.2m this year and we've just signed deals to open Nosh Detox licences in the US and Egypt," says Geeta Sidhu Robb, CEO and founder of Nosh Detox. "We're going to witness a rise in drinks with nutritionally dense ingredients that offer a higher nutrient profile such as kale, quinoa and chia seeds."
Coconut water
With shoppers seeking out lower-sugar, functional alternatives to conventional fruit juice, we're also witnessing a rise in coconut water. Low in calories, fat free and without artificial sweeteners, coconut water is a rich source of potassium and electrolytes, offering a 100% natural alternative to juices and smoothies, say players in this sector.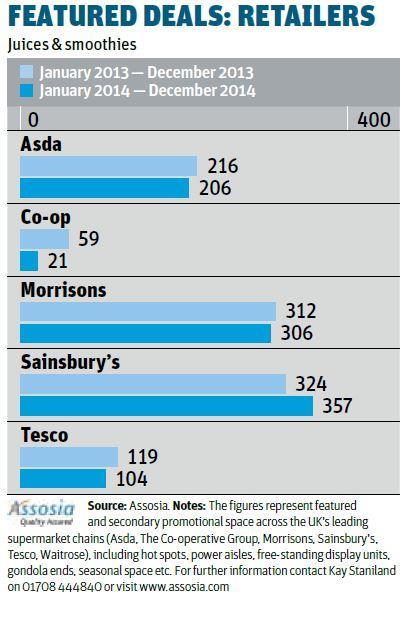 "The UK coconut water market is growing fast and is currently worth £26m, which is double the size of last year," says Adrian Troy, head of marketing for AG Barr, which launched Rubicon coconut water in April 2014. "It is estimated that the market will be worth £100m in the next three years."
In order to secure a share of that market, players are moving away from just plain old coconut water, launching increasingly inventive variants. Jax Coco launched the 'world's first' dark chocolate-infused coconut water alongside a banana variant in Ocado in January, both boasting up to 40% less sugar than fruit juice. And Vita Coco mixed coconut water with lemon purée with the February 2014 launch of Vita Coco Lemonade, before expanding into kids drinks the following month.
But lower-sugar alternatives aren't the only path to success, as not-from-concentrate brand Copella has proved. Despite its Waitrose delisting - and the fact that the not-from-concentrate market as a whole suffered value decline of 1.2% on volumes down 0.3% [Kantar] - the PepsiCo owned brand is going from strength to strength, with value sales up 7% on volumes up 4.6% [IRI].
A spike in promotional activity appears to have helped Copella. The brand more than doubled its use of featured space promotions in 2014, offering shoppers an average saving of £1.23 per unit compared with £1.07 the previous year [Assosia 52 w/e 31 December 2014]. Meanwhile, the wider market's decline can partly be attributed to a decline in featured space deals in some retailers, although some brands say the end of the fierce deals that characterised the market previously has aided their profitability.
Use of featured space deals on has fallen in all of the big six retailers, bar Sainsbury's (up 10.2%) and Waitrose, which has seen its use of such deals surge from just nine in 2013 to 131 last year, in support of the launch of its revamped own-label range [Assosia].
Promotions
Some suggest that we're going to see a return to the high promotional levels of a few years ago as the 'healthier' juice market matures and existing offerings fight to maintain share. "There have been so many deals on juices in multiples historically that people now expect them and continue to seek them out," says James Logan, commercial director at Refresco Gerber. "We're going to see big promotions in the category simply to maintain a following for juice rather than to grow overall sales."
"Instant consumption formats are driving growth and new flavour innovation is vital"
With from-concentrate juice driving much of the market's decline, Princes has a 'robust' promotional plan for 2015, including on and off-shelf activity. "This is key to driving lapsed users back and encourages light users to increase average weight of purchase," says marketing director Joanna Watling.
Deals aren't the only answer, of course. The performance of Ribena's RTD products has been turned around thanks to NPD such as a tropical orange & guava variant and the brand's biggest ad spend in five years. Ribena's cartoon blackcurrant characters returned to TV for the first time since 2011 in a £2m campaign for its no-added-sugar range, helping value grow 5.3% on volumes up 2.6% [IRI] in the market's second worst performing subcategory, juice drinks.
Oasis is also defying the decline, becoming the best performing of the top 10 brands with value up 16% on volumes up 13.2% [IRI], aided by a brand refresh and a new tropical flavour. The CCE brand rolled out a new pack design, launched a Pineapple Rush flavour to independents and targeted the lunchbox market with the introduction of 6x250ml packs in April. The activity was supported by a new TV ad aimed at teenagers from May.
Flavour innovation
"Instant consumption formats are driving growth, and new flavour innovation is vital to keep regular shoppers engaged and drive trial with the juice drinks," says CCE's Cater.
Exotic flavours may have appealed to Oasis' teenage target, but it's a different story for J2O's older audience. In October, the brand brought back its grape, cherry & spice glitter berry flavour with a gold sleeve, giving shoppers a peek at the glittery liquid inside. Still, it's down 6.8% on volumes down 5.8% [IRI].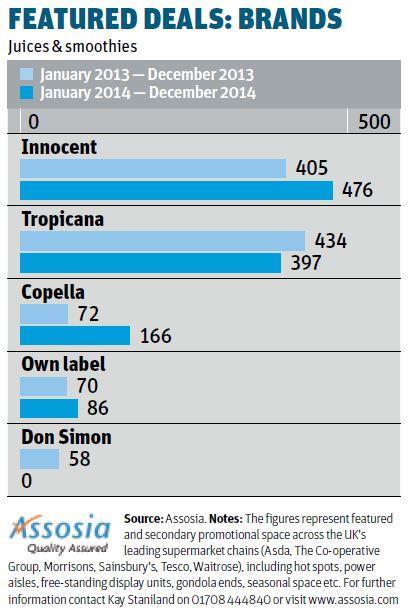 That J2O contains sugar and sweeteners could be putting off health-conscious drinkers. But it will have to tread carefully if it goes down the reformulation route. Some say getting consumers to accept stevia is a challenge given its after-taste. Just look at the continuing decline of Sprite, reformulated with stevia in 2013: the brand has suffered a 20% slump in volumes [Nielsen 52 w/e 11 October].
"Getting people to accept stevia as an alternative to sugar is a challenge as it has an after-taste some people simply don't like," says Logan at Refresco Gerber, which is blending juices with aloe vera to cut sugar. But sugar will always play a part. "If we're going to crack the mass market we need to look at blends that include some sugar for mouthfeel and flavour, not remove it altogether. This is how you begin weaning people off higher-sugar juices and juice drinks."
Pressure to do this is mounting. Last month Susan Jebb told The Sunday Times: "Fruit juice isn't the same as intact fruit. It has as much sugar as many classical sugar drinks. It's also absorbed very fast so by the time it gets to your stomach your body doesn't know whether it's Coca-Cola or orange juice."
Others have even called it the 'new tobacco'. And we all know how regulation has battered that market. To avert the same stick coming crashing down on juices & smoothies, the sector's going to need plenty of carrots.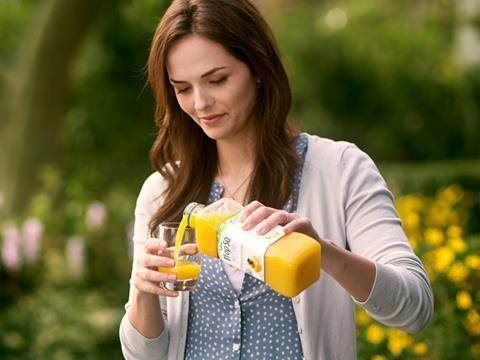 It's not just the backlash against sugar that's taken its toll on juices & smoothies. The fierce promotional warfare between Innocent and Tropicana has come to end, resulting in significant increases in average price and falls in volumes.

Meanwhile, both Ribena and Oasis have justified modest rises in average price with NPD - the former with an orange & guava variant; the latter with a tropical juice - and increased ad spend.

Now CCE's Capri-Sun is hoping to rejuvenate its rather lacklustre performance with the launch of a new no-added-sugar range.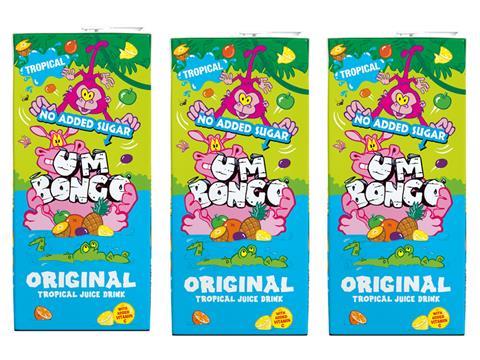 Panda has toned down its packaging in a bid to shake off its fizzy drinks image; Um Bongo is ditching sugar in favour of sucralose: with the war on sugar raging, kids' drinks brands have been forced to shape up.

"The negative headlines in the media are driving a tide of change and awareness will drive away products not suitable for people's health," says Bobby Patel, founding partner at Appy Food & Drinks, which rolled out its lower-sugar Teenage Mutant Ninja Turtles and Peppa Pig drinks sweetened with stevia to Tesco last June.

Vimto-owned Panda says it is enjoying year-on-year value growth of 69% since it introduced clearer packaging with improved descriptions of its no-added-sugar credentials in April 2014, when its flavoured water range was renamed Panda Splash to differentiate it from the juice range.

This month Refresco Gerber is launching a 1-litre no-added-sugar juice drink sweetened with sucralose as an alternative to sugar under its retro kids brand Um Bongo, with just 18 calories per 200ml. "Our innovations team has been working closely with brands to bring down sugar levels, replace sugar with sweeteners, and reduce portion sizes," says James Logan, commercial director at Refresco Gerber, which is also rolling out school-friendly 150ml formats of Sunpride juice this spring.

Appy Foods says its Peppa Pig licensed cartons, made with 50% spring water and 50% natural juice with stevia, are its most successful owing to ingredients as well as the parent-friendly persona. "Licensing partners and manufacturers have a responsibility to work with brands that care what products are created using their licences because what kids put in their tummies is very important."

That responsibility prompted Innocent to add Fruity Water to its kids range, a not-from-concentrate mix of 50% juice and 50% spring water, in January.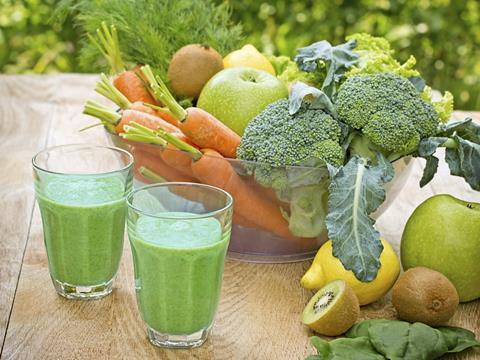 Can quinoa and coconut transform the sector?
Courgette & pineapple and kale & mandarin seem unlikely bedfellows, but they can be found side by side in raw juice and smoothie brand Nosh Detox's latest NPD.

And this is just the start. The war on sugar is fuelling a host of weird and wonderful NPD, from chocolate flavoured coconut water (it was only a matter of time) to low-sugar melon juice.

"We're going to witness a rise in drinks with nutritionally dense ingredients that offer a higher nutrient profile such as kale, quinoa, chia seeds, wheatgrass and alfalfa," says Geeta Sidhu Robb, CEO and founder of Nosh Detox, which launched a four-strong Raw Veggie range of green juices in Ocado in January.

Raw melon juice is another format winning sales for start-up Mello, which launched watermelon and Cantaloupe melon juices last year. As it is cold-pressed and has no added sugar or sweeteners, drinking Mello is essentially the same as eating fresh melon, says co-founder Rose Aldean.

Coconut water brand Jax Coco is playing on purity claims with the market's first dark chocolate flavoured coconut water, combining raw cacao with coconut water and coconut cream, and banana-flavoured coconut water, blending puréed banana and coconut water, offering consumers 100% natural fruit drinks.

For health-conscious shoppers the way the drinks are made is also important.Brands such as Nosh Detox and Mello cold press their ingredients, meaning the fruit and veg are high pressure processed (HPP) instead of heated to preserve their nutrients.

"There are lots of nuances between offerings such as pasteurisation process, weight of veg versus fruit, and juice type, such as pure juice or juice drink," says John Mulvey, marketing manager at Cawston Press. "It will take time for consumers to understand which products best fulfil their needs."
Capri-Sun No Added Sugar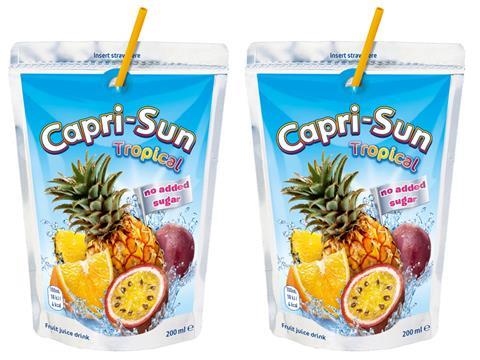 Launching: March 2015 
Manufacturer: CCE
With juice drinks one of the major casualties in the war on sugar, is slashing sugar content in Capri-Sun enough to return the brand to value growth? CCE is adding three no-added-sugar variants to the range for the first time, in orange, apple & blackcurrant and tropical flavours (rsp: £2.99/10x200ml). With just 0.8g of sugar per 100ml compared with the brand's standard 10.2g per 100ml, the drinks also boast just four calories per 100ml compared with standard Capri-Sun's 41 calories.
Innocent Perfectly Pink Smoothie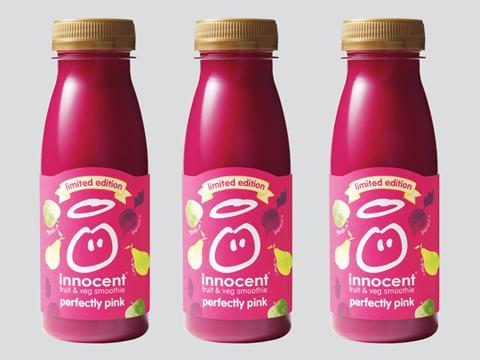 Launching: March 2015
Manufacturer: Innocent
Vegetables are the new fruit when it comes to juices & smoothies. Perfectly Pink smoothie (rsp: £1.83/250ml) blends sweet apple, creamy pear & earthy beetroot. The NPD, which boasts two of your 5 a day, will be joined by cold-pressed Skip to the Beat and Easy Greens fruit & veg juices, initially launched in Starbucks in October.
Tropicana Essentials Fruit & Veg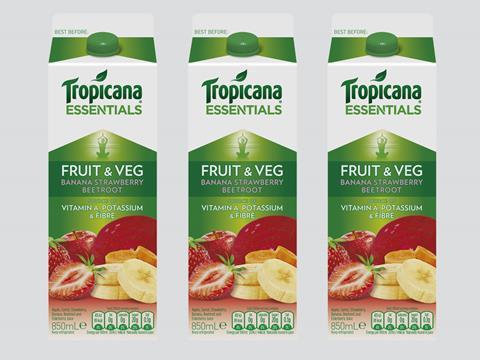 Launching: February 2015
Manufacturer: PepsiCo
Tropicana is entering the vegetable juice market and going after families at the breakfast table with a three-strong range of juices under its revamped Essentials line. Banana, strawberry & beetroot, mango, passionfruit & pumpkin and pineapple, orange & carrot juices (rsp: £2.49/850ml) all boast vitamin A, minerals and fibre.
Nosh Detox Raw Veggie Smoothies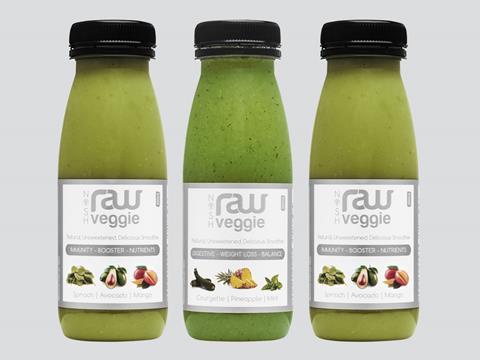 Launched: January 2015
Manufacturer: Nosh Detox
Celebrity favourite raw juice and smoothie brand Nosh Detox has added four new cold-pressed green vegetable juices in Ocado, which include broccoli, parsley, avocado & peach and kale, celery, banana & mandarin flavours. Each 250ml bottle costs £5.49. Presumably that price is not a problem for Gwyneth Paltrow