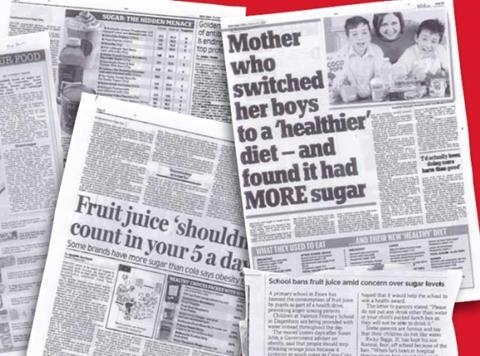 From recent headlines, you could be forgiven for thinking the juice & smoothie industry is out to poison us all.
'Orange juice with as much sugar as 13 Hobnobs,' screamed the Daily Mail last year; 'How fruit juice went from health food to junk food' blared The Guardian; 'Obesity tsar calls for tax on juice' claimed The Sunday Times (Dr Susan Jebb later said she'd been misreported).
Yet, despite the sensationalist headlines, juices & smoothies are actually performing better than a year ago. Overall sales have risen 2.1% to £1.5bn and, although volumes have slipped 0.2%, the decline has been far shallower than the 3% drop recorded a year ago [Kantar Worldpanel 52 w/e 8 December]. So how has the market managed to grow in the midst of such hysteria? And how is it looking to counter the criticism?
No-one is ignoring concerns about sugar, or the fact some categories - particularly smoothies - are struggling. But against this backdrop, the industry has ramped up the development of healthier options and worked hard to ensure consumers are aware of the nutritional benefits of existing products.
"The media has a way of creating stories that scaremonger and don't help consumers make balanced decisions," says Refresco Gerber commercial director James Logan. "A glass of pure juice per day is a healthy drink to consume with a healthy breakfast, providing one of our five-a-day and containing no additives or preservatives."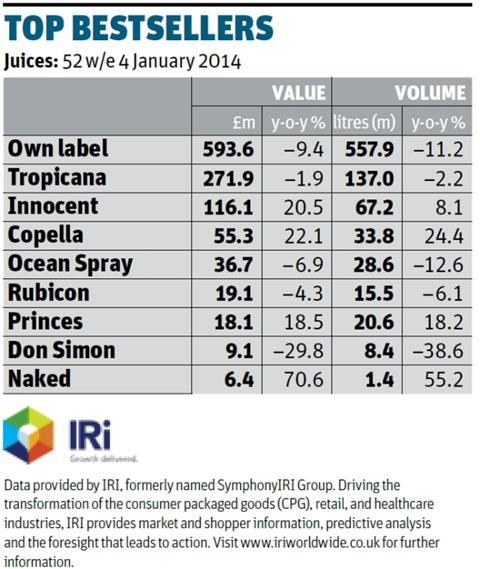 Emphasising the importance of moderate consumption is vital, believes Logan, who advocates more education in schools on the issue. It is a view echoed by kids' smoothies and milkshakes brand Happy Monkey, which has been marketing itself on the health benefits of smoothies when drunk in moderation.
"Retailers are aware of such benefits," says Happy Monkey communications head Simon Gray. "It's all about portion size, frequency of consumption, and what else is included in the diet. We'll continue to push these messages through our social media, marketing and advertising."
Nutrition claims
It is also important to explain the nutritional content of juices and smoothies in relation to carbonates, say suppliers.
The juice & smoothies market continues to suffer from falling volumes, as shoppers buy less juice per trip following a slight rise in average prices. However, the volume decline has slowed from 3.3% a year ago to 0.2%.
Juice from concentrate is predominantly own label and is largely responsible for the fall in own-label sales. However, this is not shrinking the overall market as consumers are switching to branded.
Smoothies are mainly branded. The chief reason for the decline in sales is a fall in promotions, with 6.6% less volume sold on deal.
Juice drinks is the star performer, growing its reach to nearly 77% of the GB population. Chilled juice drinks achieved double-digit growth, fuelled by NPD.
Ksenia Shagabutdinova, Kantar Worldpanel
"Recent criticism isn't justified because the sugar is naturally found in fruit," says Andrew Gibb, MD of juice brand Coldpress, which expanded into smoothies in September. "Juices and smoothies have other benefits such as vitamins, antioxidants and fibre."
Not all juices and smoothies are created equally, with nutritional benefits and sugar content varying between different fruit and processing methods, add suppliers. For example, cranberries are rich in some nutrients but naturally low in sugar and require sweetening - another factor that can vary, notes Ocean Spray MD Tara Levine. "Our aim is to give consumers a wide-ranging choice, which is why we use different ways of sweetening our drinks," she says. "This includes sugar, sweeteners and other, sweeter fruits to offset the tartness of cranberry."
It also includes natural sweetener du jour stevia. Following the launch this January of the Less Sugar range, containing the herb extract, Ocean Spray plans to roll out more than a dozen more juice drinks during 2014, with the majority set to be low-sugar or low-calorie. Levine expects similar NPD from the competition, too: "Manufacturers need to offer greater consumer choice without compromising on taste in lower-sugar variants."
Many argue they already are. Indeed, PepsiCo says Trop50, launched last January with the boast it contains 50% less sugar and calories than standard juice, has driven the £18m growth of Tropicana juice drinks - more than offsetting the £6m drop in sales of Tropicana juices [IRI 52 w/e 5 January 2014].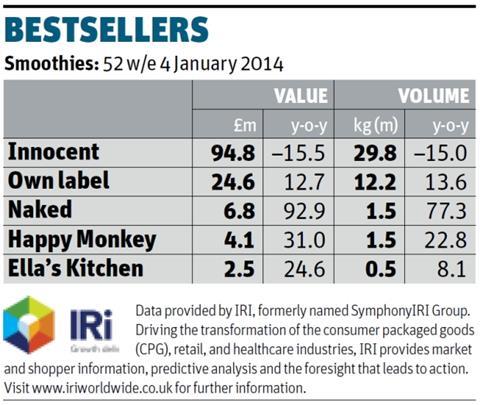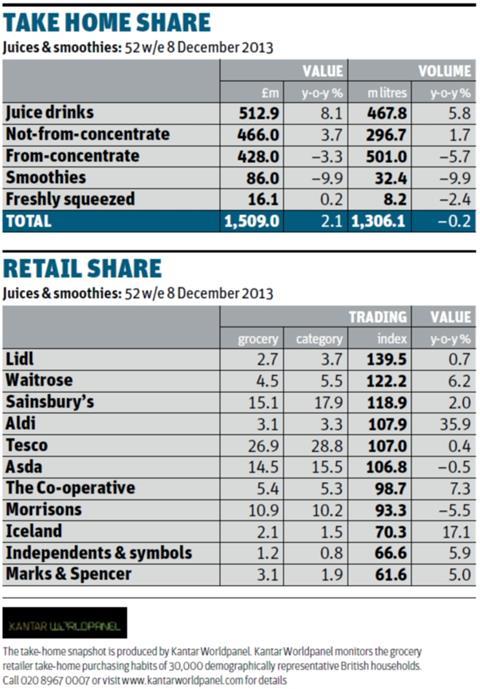 Stevia
The launch has helped bring new shoppers to the category, while increasing purchase frequency among existing juice drinkers, it claims. Gerber is similarly effusive about Del Monte Naturally Light, which was launched in 2012 and, like Trop50, uses stevia as a sweetener. "This is great for some consumers who want to choose lower-calorie versions of products," says Logan, although he adds: "It's not the answer to cut sugar from all products."
Perhaps not, but alongside innovation and keen price points, it hasn't done juice drinks any harm. Value has risen 8.1% to £512.9m on volumes up 5.8% [Kantar] as the sub-category has tapped demand for healthier, more refreshing drinks and more exotic flavours.
Flavour innovation has also played a role, according to suppliers. "Our drinks appeal not only because they are made with natural ingredients, but because of flavour combinations such as pineapple, guava & lime," says Gavin Cox, MD of The Cracker Drinks Co, which sells NFC and juice drinks. "Consumers seem more interested to try out new things and flavours."
"The fixture has become confusing to navigate… people are questioning their soft drink choices" Phil Thomson, Coca-Cola Enterprises
In response to demand for healthier juice drinks, Cracker is extending its range in April with no-added sugar products. The move follows last year's launch of no-added sugar children's range Little Crackers in two flavours (blackcurrant & cherry and pear & vanilla), which is about to be extended with a further four variants.
Ribena has also enjoyed success with new flavours, and claimed its Ribena mango & lime and Ribena pineapple & passion fruit had delivered 75% incremental sales to the juice drinks category. It has also embraced demand for healthier products with its no-added-sugar Ribena Light and Ribena Plus, a range of vitamin-enhanced no-added sugar drinks launched in 2012 and expanded with an Orange & Mandarin flavour this year.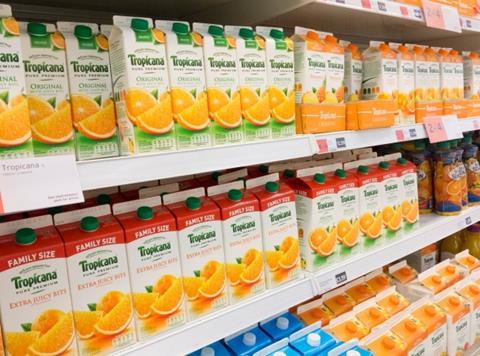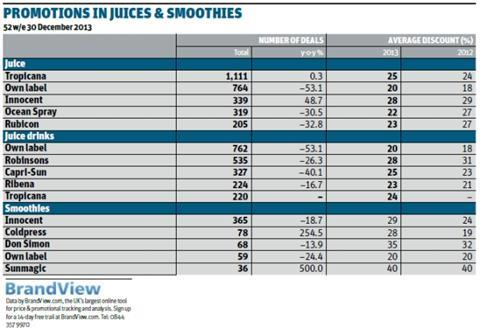 Deal levels remain high for top juices
Although the total number of deals on juices fell, activity has remained intense among the market leaders and the average saving has risen slightly to 27%. Tropicana has run slightly more promotions than last year, while the number of Innocent offers has rocketed 48.7%.
Juice drink sales have grown despite a drop in the total number of promotions and average saving offered by the biggest players. Offers on own-label juice drinks fell particularly sharply and of the biggest brands, only Sunny Delight ran more offers in 2013.
In contrast with juice drinks, deal activity rose but sales continued to fall in the smoothies market. While many parts of the fmcg market have moved away from the bogof, its use has increased slightly in the smoothies category.
Capri-Sun, which last year replaced its 100% juice line-up with Fruit Crush - a mix of 75% juice and 25% spring water that it says contains up to 38% less sugar - agrees health-oriented innovation has played a major role in driving juice drink sales.
Phil Thomson, associate director at owner Coca-Cola Enterprises, adds that retailers have an opportunity to further grow sales - if they address some of the issues raised by the anti-sugar lobby head on.
"The soft drinks fixture has become confusing to navigate," he concedes. "Pure juice has tended to be seen as a healthy option but consumers have been led to question their ingrained soft drinks choices. There is an opportunity for retailers to educate shoppers about the benefits of products that have no artificial additives."
Once considered the unhealthy cousin of juices, juice drinks in particular stand to gain, believe suppliers. Up against Capri-Sun Fruit Crush is Tropicana Kids, which PepsiCo launched in 2009 and claims is benefiting from concern over the sugar content of pure juice. "Our insights showed us mothers were watering down their children's juice," says PepsiCo group marketing director Patrick Kalotis. "So we launched a blend of juice and water in a carton perfect for lunchboxes."
Meanwhile, PepsiCo bottler Britvic says its Fruit Shoot kids' brand has recovered from the 2012 product recall - estimated to have cost it £28m - with the brand back to pre-recall levels in terms of market share, household penetration and brand equity. Sales have risen 31.6% year on year to £67.5m [IRI].
From-concentrate
As in the juice drinks market, flavour innovation is seen as a key growth strategy by players in the from-concentrate sector, which, despite a 3.3% value decline on volumes down 5.7%, remains the biggest part of the market by volume [Kantar].
The drop is down to own-label losses, with overall branded sales up around 3% in value and volume. Promotional activity appears to have played a significant role. The big four's own juice lines show a combined 53.1% decline in deal activity over the past year [BrandView.com 52 w/e 4 January].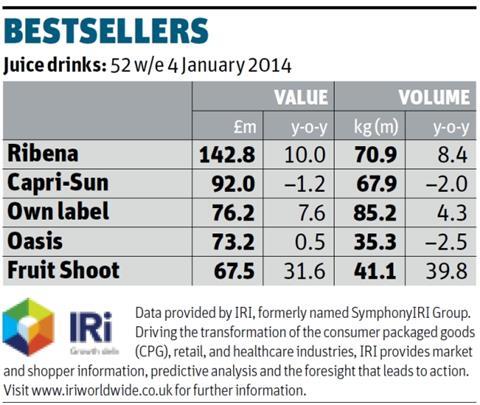 Larger packs, multipacks and smarter merchandising could boost from-concentrate sales, argues Refresco Gerber's Logan. "Many ambient fixtures are visited less as chilled comes first during the shopping trip," he says. "So off-shelf merchandising and creating more excitement within the ambient aisle could also offer a great opportunity for growth."
As in juice drinks, flavour innovation backed up with marketing and promotions is driving branded growth, says Princes marketing director Joanna Watling. The brand has achieved 18.5% growth on volumes up 18.2% in the past year [IRI], thanks partly to a new pack design and a range of new twists on traditional flavours including orange & lime and apple & raspberry.
"Brands should continue to invest in ambient from-concentrate juice to ensure consumer demand and interest in the category," says Watling. "We've used NPD to inspire new consumers to shop the category and increase their usage occasions."
"Shoppers are selecting brands that continue to innovate through new flavours and formats" Patrick Kalotis, PepsiCo
Brands are also calling the shots in the not-from concentrate (NFC) market, driving growth while own-label value sales have dipped slightly. Overall, NFC is up 3.7% to £466m on volumes up 1.7% [Kantar Worldpanel] and, again, much of the growth is NPD-related.
"Shoppers are selecting brands that continue to innovate either through new flavours and formats, or through exciting marketing, advertising and promotional campaigns," says Kalotis. And one of the most innovative recent launches has been PepsiCo's Tropicana Energy, an NFC juice and guarana blend on trial in Tesco. Each 150ml bottle provides one of your five-a-day and 75mg of caffeine, a similar level to a cup of coffee.
Innocent flags up its charity work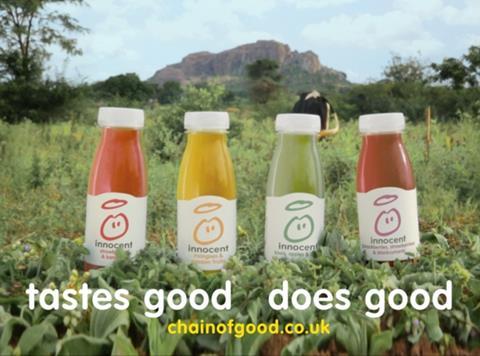 For 2014, Innocent has shifted away from product-focused ads with its "chain of good" push that flags up its contribution to charity.
PepsiCo launched its biggest-ever Tropicana TV and outdoor ad campaign in May 2013 to push its single-serve range. It also supported Trop50 with a £5m push and this year has backed the brand with a Twitter campaign.
Digital activity also played a big role for other brands: Purity Soft Drinks backed its JuiceBurst drinks with a Blippable label that could be used to access games and win prizes, while Britvic teamed up with hit video game Angry Birds to offer an exclusive game.
Kids' smoothie brand Happy Monkey kicked off a TV ad push this January, and also plans to further support charity events.
While sales of PepsiCo's Tropicana juices have dipped slightly, stablemate Copella has grown 22.1% on volumes up 24.4% [IRI] thanks to distribution gains and range extensions. "Copella had a fantastic year," attests Kalotis. "We've demonstrated that the brand works comfortably in new occasions and flavours to drive frequency and penetration."
Innocent
The juggernaut that is Innocent's juice range also continues to grow, by 20.5% on volumes up 8.1% [IRI]. The torrid time own-label juice, particularly in NFC, is having makes clear what effect the intense rivalry and promotional warfare between Coca-Cola's Innocent and PepsiCo's Tropicana is having on the wider market.
It's also affecting smoothies, claims Logan. "There's been so much promotion on the top NFC brands that smoothies are now seen as an expensive option," he says, pointing to the smoothie market's 9.9% value and volume slump [Kantar].
Rough with the smooth
While some of the losses came from own-label, market leader Innocent has lost more than £17m in smoothie sales in the past year and accounts for almost all of the subcategory's decline.
Innocent is nevertheless confident it can reinvigorate the market.
"We have some strong plans to achieve this through NPD, in-store promotions and marketing campaigns," says MD Dave Pickup. "We work with the best scientists and nutritionists to make sure research into our drinks and the benefits of pure fruit juice and smoothies is always up to date and robust."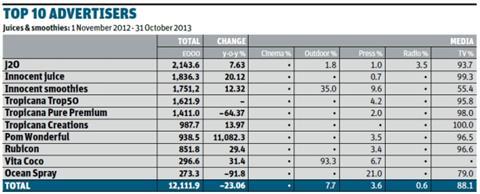 Others are less upbeat. Don Simon last year decided declining sales and the erosion of value had made it impossible for it to sell larger-format smoothies in the UK, so it axed its one-litre products and shifted its focus to smaller lunchbox cartons, a part of the market Happy Monkey is finding success in, with sales up 31% to £4.2m [IRI].
"Consumers realise that juice is still a healthier alternative to other types of soft drinks" Jon Evans, Purity Soft Drinks
And, generally, smaller smoothie brands - in terms of format and sales - are outperforming the market leaders. PepsiCo, for example, pulled Tropicana out of smoothies a few years ago, but the company's niche smoothie brand Naked is performing well, with sales of the four-strong range almost doubling year-on-year to £6.8m. Naked makes much of its antioxidant qualities, which is likely to serve it well in the current climate.
Jon Evans, marketing director at Juice Burst owner Purity Soft Drinks, does not believe overt health claims are always necessary. "Consumers are educated enough to realise that while juice contains naturally occurring sugar, it's still a healthier alternative than many other types of soft drink," he contends.
Not that he or anyone else in juices and smoothies is sanguine after the recent barrage of negative press. And they will continue to pull out all the stops in terms of NPD and communication to ensure the anti-sugar campaign doesn't leave consumers - or the category - with a sour taste in their mouths.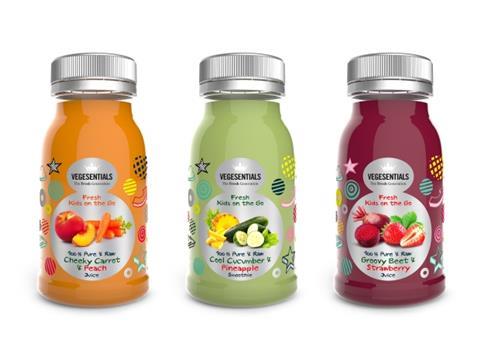 Vegesentials Fresh Kids on the Go
Launched: January 2014
Supplier: Vegesentials
Juices and smoothies supplier Vegesentials - which is this month rolling out its original adults range to Waitrose - recently expanded its line-up with its first kids' products. With a ratio of 20% veg to 80% fruit, they offer a taste profile more likely to appeal to children than the 50:50 split of the adult drinks. They are available in two juice flavours - Cheeky Carrot & Peach and Groovy Beet & Strawberry - and a Cool Cucumber & Pineapple smoothie.
Tropicana Energy
Launched: November 2013
Supplier: PepsiCo
PepsiCo is looking to tap one of the fastest-growing parts of the drinks market - energy products - with this launch. On trial in Tesco, the drink is a blend of Tropicana fruit juices with guarana berry extract and naturally sourced caffeine. Made with NFC juice, each 150ml bottle provides one of your five-a-day and 75mg of caffeine.
Ocean Spray 50% Less Sugar
Launched: January 2014
Supplier: Ocean Spray
Made with natural herbal sweetener stevia, chilled 50% Less Sugar launched in Berry Blend and Tropical Blend in January, and both roll out in ambient this month. The chilled lines have got off to a good start, says Ocean Spray. "Since launching, 50% Less Sugar Berry Blend is matching sales of our number one chilled SKU Cranberry Original."
Del Monte Naturally Light orange
Launching: March 2014
Supplier: Refresco Gerber
Del Monte was a pioneer of lighter juices when it rolled out its Naturally Light range in 2012, and the drink has now been joined in the market by similar launches such as Trop50, also containing stevia. This month, supplier Refresco Gerber is expanding the range with a rollout of an orange flavour to Sainsbury's.