Those of a sensitive disposition, look away now. The Grocer can reveal that one third of your male colleagues may not have brushed their teeth this morning, and one in 10 men only bathe or shower every three days.
These unappetising findings come from an exclusive poll by Harris Interactive, which raises questions as to how well male grooming brands are connecting with men. In fact, of the men who do use grooming products, 14% regularly use products intended for women. That figure rises to 18% for men in a relationship and usage could be even higher: 30% of women in a relationship claim their other halves use their products.
It shows. The £911.1m Brits spent on male grooming products in the past year [Kantar Worldpanel 52 w/e 27 April] pales next to the £6bn value of the total personal care market. And although sales have improved compared with a year ago – when value and volume were down 2.3% and 1.1% respectively – male grooming is still looking less than spruce, with value and volumes currently flat.
So what can suppliers and retailers do to get British men to up their grooming regimes?
Some people will always take a more relaxed attitude to grooming, and men tend to fall into this category more than women. For example, 92% of women use deodorant every day but just 89% of men [Harris]; 47% of men use a fragrance versus 67% of women; and just 29% moisturise (74% for women).
"Some of the basics need to be put right before we can expect to see a take-up of male grooming products," says Lucia Juliano, head of consumer & retail research at Harris Interactive. "The fact 20% men under 25 only brush their teeth once a day, and 23% only shower or bathe every two days is shocking."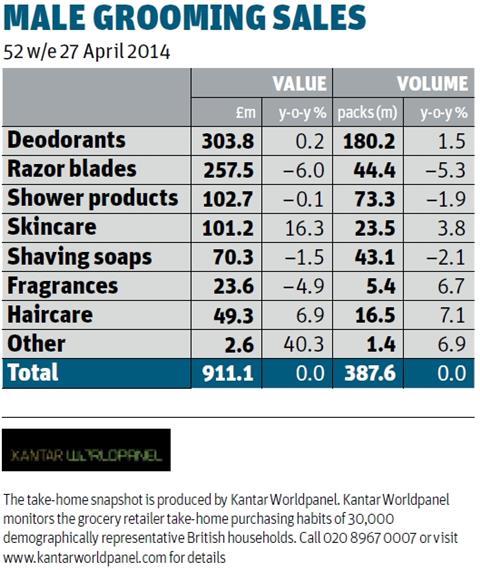 As is the decline of many male grooming brands. The biggest, Gillette, has suffered a 4.8% value decline to £242m [IRI 52 w/e 17 May] as a result of a number of factors, such as the ongoing vogue for beards, the increasing sophistication (and price) of razors, which means men make them last longer, and fierce deal activity from brands and own label.
In fact, five of the category's top 10 brands are in decline, with Unilever 's Lynx down 4.6% to £133m and Adidas down a whopping 12.8% to £12.2m [IRI]. Those that have managed to grow – such as Sure, up 4.9% to £56.9m, and L'Oreal Men Expert, up 15.7% to £37.5m – have a lot to thank deals for.
"This sector is very sensitive to price and promotions, so where we can we'll offer these products on deal," says Jonathan Romans, trader for premium and cosmetics at Lloyds Pharmacy. "Promotions have really helped to grow our male grooming area."
Kantar says men are becoming even more price conscious, with 51% now looking for the lowest price possible versus 42% in 2010. Some lay the blame for such price sensitivity at the feet of the biggest brands, claiming they haven't done enough to differentiate themselves from female brands and have been overly reliant on deals to drive sales.
"On average 80% of sales are on promotion across the multiples, but 54% of our sales come from base sales," says Neil Wilkinson, marketing director at Rockface. "Niche brands are storming ahead, with a 50% increase in volumes year on year [IRI]. Rockface and Bulldog are leading this growth."
Revealed: unsavoury truth about British men
What an icky bunch. Only 63% of British men brush their teeth twice a day and 42% regularly go more than a day without taking a bath or shower, an exclusive Harris Interactive poll for us has revealed.
Of course, this doesn't necessarily mean we've become a nation of soap dodgers. Harris points out that the poll includes those unable to maintain as rigorous a grooming regime as other demographics. And women have a few skeletons in their closets too; disturbingly, 1% bathe or shower less than once a week, and marginally more men shower daily.
Still, our poll is sobering reading for male grooming brands: 16 to 24-year-olds – the target for the likes of Lynx – are second most likely after the over 65s to bathe only every two days. Young men are sceptical about moisturisers too: 20% believe 'real men don't moisturise' (against 19% of men overall).
That 14% of men regularly use women's products, meanwhile, suggests brands need to do more to convince men their products are worth buying, says Stu Jolley, founder of Wingman. "This has to be done in a different way to the female brands," he says. "We can't just copy their marketing techniques."

Indeed male skincare is a rare success story. Value is up 16.3%, pushing it past £100m for the first time. It's no coincidence that Rockface and Bulldog specialise in this area. "Bulldog skincare is growing at more than 71%," claims founder Simon Duffy. "Most men reject female skincare expertise and 'for men' versions of female brands."
Although Duffy points the finger at brands such as Nivea for Men and Dove Men+ Care, it's worth noting both are in growth (the latter by a whopping 23%, according to IRI). And while fierce price deals have undoubtedly played a part, it's not all down to price. "Taking a straight-talking approach backed by trusted skincare heritage clearly resonates," says Peter Embleton, category strategy manager for men's toiletries at Unilever. And although the Harris research shows that the highest proportion of men who moisturise daily (62%) are aged 25 to 34, with moisturiser use dropping off significantly past the age of 45, Embleton says part of Dove's growth has been down to its targeting an older audience.
Nivea, on the other hand, is aiming for younger men. "Penetration continues to grow and trends in male grooming show that young men are increasing their spend on male skincare," says Tim Maas, marketing manager for Nivea Men, which launched the Cooling Sensitive range in May.
Deodorant
With deodorants up just 0.2% in value and 1.5% in volume [Kantar], brands hope NPD will freshen up this market too. Right Guard relaunched its Xtreme range in April with new formulas and modernised packaging, and Unilever introduced compressed formats across its male portfolio this spring. "To date we have converted more than half the purchases made in the male deodorant category to the compressed format," says Nick Wilcher, Unilever deodorants marketing manager.
Unilever's brands also benefitted from fresh claims and technology: a motionsense microspray for Sure Men; new formula with vitamin E for Dove Men+Care; longer-lasting fragrance for Lynx; and new 48-hour protection for Vaseline Men.
Another reason for some sectors' difficulties could be the growth in 'multi-use' products. The trend is reflected at all ends of the market, with Wingman's 3 in 1 shampoo, shave and shower products retailing for £2.49; Champney's Dual Action Face Wash (a shave foam and face wash) fetching £6.00 and Molton Brown's 4-in-1 Sports Wash, for body, face, hair and shave, selling online and in the brand's outlets for £16.00.
Not that all will be shaving with these products. Despite Gillette's Valentine's Day claim that 93% of women prefer to kiss clean shaven men, the razors market is still down 6% on volumes down 5.3% and beards are still most definitely in: Kantar says that in March, 39% of men aged 17 to 44 had facial hair.
We're not talking Grizzly Adams here; Eli Ankutse, creative director of ManCave, whose Natural Shave Gel doubles as a beard shampoo, says the current trend is for manicured facial hair on well cared for skin. "Having a beard has actually raised awareness of the importance of face care," she says. "Hence the emergence of many beard-specific products such as beard oils and beard conditioner."
And, presumably, the growth in male moisturisers. Even if an astonishing one in five men in our poll say you're not a real man if you use it.
Wingman range
Launching: Autumn 2014 
Supplier: Wingman
Wingman will be introducing 14 new lines this autumn. There will be four variants of Showerfuels (hair and body wash) with scents 'inspired by the brand's travelling, lifestyle and action sports ethos,' retailing at £2.49 for 250ml. These will be joined by five skincare products under the Skinfuel range; and there will also be five haircare products under the Rebel sub-brand – Sculpting Wax, Shaping Putty, Moulding Clay, Fibre Paste, and Defining Cream, all retailing at £8.99 for 75g.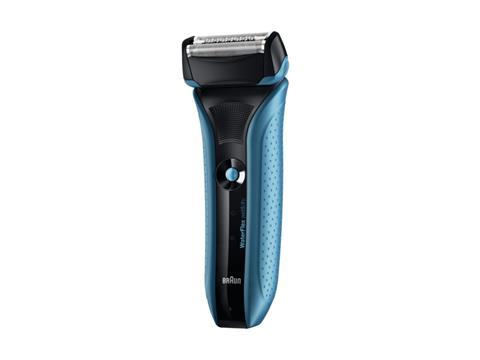 Braun WaterFlex and CoolTecWhite
Launched: July 2014
Supplier: Braun
No need to worry about dropping this electric razor in the bath – it's waterproof up to five metres. Contour-adaptive Braun WaterFlex offers "a whole new sensorial experience." Braun has also launched the Braun CoolTec White with Active Cooling Technology to prevent irritation. Rsps: £159.99 for CoolTec; £199.99 for WaterFlex.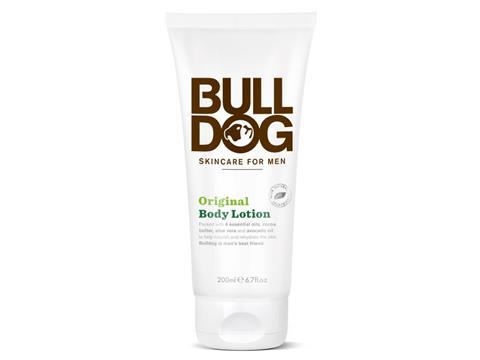 Bulldog Body Lotion, After Shave
Launched: May 2014
Supplier: Bulldog
Bulldog has launched its first Body Lotion into Sainsbury's (rsp: £4.49/200ml) to complement its facial skincare range. It is made from cocoa butter, aloe vera and avocado oil to nourish and rehydrate the skin. In addition, its two after shave balms, Original and Sensitive, have launched in Boots (both rsp: £5.49/100ml).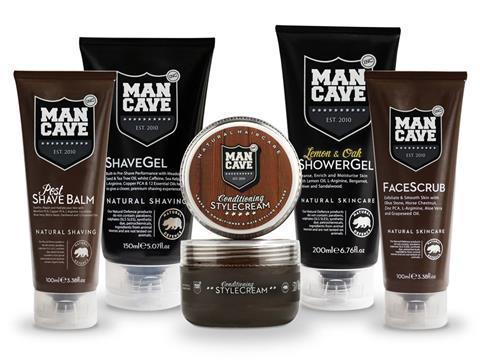 ManCave Gifting Sets
Launched: September 2014
Supplier: ManCave
Two new gifting sets (rsp: £15 and £29.99) will be added in September, incorporating five lines launched in May. Two of these saw ManCave enter the shaving segment of the men's grooming market: ManCave Shave Gel (150ml/£5.99) integrates a pre-shave oil into the shaving gel; its Post ShaveBalm (100ml/£6.50) cools and soothes the skin.