Twelve per cent of British adults follow a vegetarian or vegan diet [Mintel], and one in five 16 to 24-year-olds don't eat meat.

The meat-free sector's size might therefore be a surprise: IRI puts it at £233.9m, up 3.7% on volumes up 4.2% [52 w/e 28 February 2015]; Kantar Worldpanel says it's more or less flat at £252.6m (see p44). Peanuts, considering how many Brits claim to be veggie.

So why is the market still so small? And, given reports that more and more consumers are cutting out meat on health and environmental grounds, why is growth so sluggish?

First things first: the disparities in the data. Most recognise the growth identified in IRI's analysis but some question its market value, as its read is based on EPoS data from the major mults only, and excludes Aldi, Lidl and some specialist and independent retailers.

Others challenge the 0.8% value and 1.1% volume growth identified by Kantar [52 w/e 1 February 2015], claiming its demographically representative consumer panel doesn't reflect the make-up of meat-free shoppers, who tend to be younger and more affluent than the general population. Hence the lower growth rate.

Whoever's version you subscribe to, it still seems grocers aren't doing enough to cash in on the veggie opportunity. "Interest in meat reduction should be a strong motivation for retailers to increase their efforts on marketing meat-free products more strongly," says Vegetarian Society CEO Lynne Elliot. "Without effective promotion, many great meat-free products are left to sit on the shelves undiscovered. Brands and supermarkets should take a lead from companies such as Quorn, which proudly advertise their products and fully engage with consumers."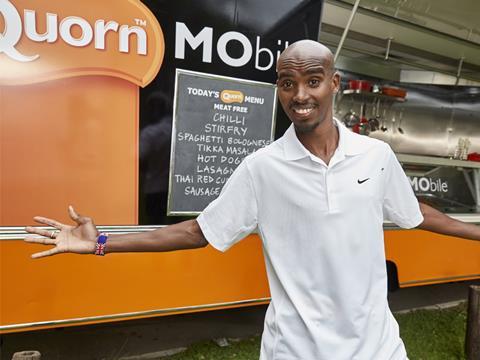 Meal deals missed

Meat-free options are also being missed out of promotions such as meal deals, she adds: "When developing ranges, supermarkets should be thinking 'if a family bought products from our range of Italian, Indian, Chinese or BBQ products, what could they buy for the member of the family or a friend who is vegetarian - have we catered for everyone?' Often the answer is 'no'."

This is changing slowly, says Elliot, who singles out Asda's launch of a Meat Free BBQ Pulled Pork product (see p47) as an example of innovation in this area. Still, Kantar suggests vegetarians are being left out in the cold by many retailers. Only Aldi and Waitrose have seen growth in meat-free product sales in the past year, and even then the rate of growth has hardly been explosive (see left).
Kantar data
Meat free products are purchased by 34% of the population. Each shopper spends £28 a year on average. Just 20% of households are home to a vegetarian, though, suggesting nearly half of shoppers are looking to reduce meat rather than cut it out completely.
The meat-free market was growing well in 2012 and 2013 but growth has gradually slowed to become static in the latest year. This is mainly due to prices increasing for vegetarian products in these years following the introduction of more premium products, which has since stabilised.
Nine of the top 10 meat-free NPD lines this year were either Quorn or Tesco own label. Quorn has launched successful snacking with new product development tending to focus around the chilled aisle. Tesco own label is just in the frozen aisle, and the retailer was particularly active given the range's relatively smaller size, growing it by almost 50%.
It's key for vegetarian brands to focus on presence in growing areas of the trade - notably the discounters Aldi and Lidl, which currently undertrade significantly within vegetarian. Large brands like Quorn have already begun to build partnerships with these retailers.
Clare Davis, Kantar Worldpanel
Quorn questions the unflattering light Kantar paints the meat-free market in, claiming category growth is more or less in line with the 4% rise to £135m on volumes up 4.8% the brand has realised [IRI]. As market leader with the clout to win prime space in store and invest in effective promotions, it's perhaps no surprise that Quorn's experience has been different to others. Indeed, its closest competitor, Linda McCartney, is worth less than a fifth of Quorn, according to IRI [value has dipped 0.5% to £25m; volumes are up 3.2%].

"We're seeing an increase in the amount of in-store space dedicated to the category - 24% in the last two years - which is enabling brands like Quorn to showcase its wide range of products and offer shoppers more choice," says Quorn Foods' head of category management Julian Cooke. "Within frozen, we've seen Tesco, Asda and Waitrose all increase category space as a direct result of shoppers requiring choice in this category. Similarly, in chilled, Sainsbury's and The Co-op are also responding to shopper trends and have increased shelf space for the category."

Tesco, for example, relaunched its frozen meat-free offer last spring to coincide with its sponsorship of National Vegetarian Week, with new products including Paneer, Sweet Potato and Spinach Bakes, and Green Thai Vegetable Bakes.
Innovation

Such innovation is crucial. Quorn attributes its strong performance to continued NPD. Buoyed by 45% growth in snacking products such as Cocktail Sausages and Savoury Eggs, last May it launched Indian Samosas and Pork Pies. It also took its premium chilled Chef's Selection brand into frozen last September.

More recently, it launched a 'Melt in the Middle' Burger under Chef's Selection, as well as a Gammon Steak product, which Cooke claims has seen "huge initial success". Further launches are also planned in snacking. In total, 30 new products are currently under development.

Cauldron Foods, also owned by Quorn, recently launched a Mediterranean-inspired Sicilian Arancini - mozzarella infused rice with roasted aubergine & garlic, in breadcrumbs. Cooke adds that Quorn's biggest launch this year will be a new vegan range.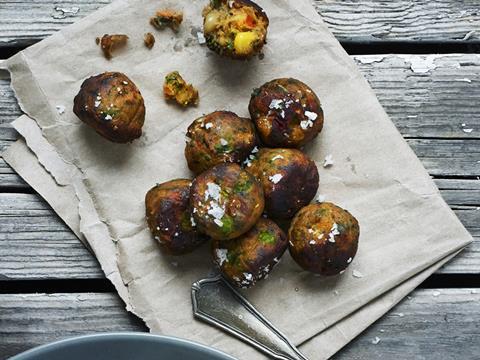 "Veganism is a sector that's growing as an increasing number of consumers consider the ethical, sustainability and health aspects of a product when purchasing grocery," he says. "Category sales have a direct link to number of SKUs stocked and category space. We also know promotions are typically 80% incremental; gondola ends work particularly hard on meat-free promotions. If, collectively, we get both of these key drivers right, it will be another great year."

Other vegetarian brands are looking to step up the innovation in order to kickstart a stronger rate of growth. In September, Amy's Kitchen launched two new frozen products - a gluten-free Breakfast Sandwich featuring a vegetarian sausage patty and a layer of scrambled tofu, and Chinese Noodles & Veggies - for example.

Linda McCartney, meanwhile, launched three chilled products into Waitrose last month - Chicken-style Fillets with Butterbean & Yellow Plum Tomato sauce (rsp: £2.99), Chicken-style Fillets with Ricotta, Leek & Spinach sauce (rsp: £2.99), and Giant Open Ravioli with Multigrains & Lentils (rsp: £3.99). A further two products are being rolled out in Morrisons - Beef-style Stir Fry and Chicken-style Stir Fry (rsp: £2.49).

"Our research tells us that the category is not fully addressing consumer expectations - either by giving them the choice they are looking for or removing existing barriers to entry," says a spokeswoman for brand owner Hain Daniels. "Linda McCartney is working to grow the category by attracting more consumers into meat-free eating and giving existing buyers a reason to shop the category more frequently."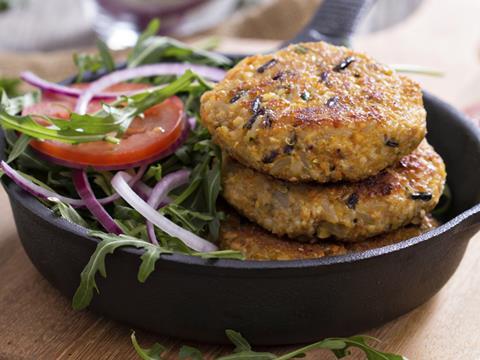 Outside influences

Perhaps they should be looking outside the chilled and frozen food aisles for inspiration. Last year, M&S rolled out veggie-friendly confectionery (see right), in a bid to appeal to consumers put off by the beef and pork gelatine sweets can often contain.

Vegetarian confectionery is an area many say is ripe for development. "We've received a lot of customer requests at Candy Kittens for a vegetarian version of our sweets," says Ed Williams, MD of Candy Kittens, the brand co-founded by reality TV show Made In Chelsea star Jamie Laing. "We've been working hard to develop a suitable alternative that doesn't compromise everything people love about our current product. We strive to make the best gummy sweet in the world, and a vegetarian version would make our products more appealing to an even wider group of consumers. It's a no-brainer."

Foodservice is another sector tapping the veggie trend. Ikea, for example, is launching vegetarian meatballs as part of its People and Planet Positive strategy, which focuses on choice of ingredients, responsible production and animal welfare. "We have high ambitions, and our journey in this direction has just begun," says Michael La Cour, MD of Ikea Food Services. "I'm proud we've taken the first step and are serving veggie balls."

Another interesting development is Not Dogs - a street food concept launched in March last year featuring vegetarian Bratwurst sausage supplied by Quorn. Co-founder Katie McDermott says the brand will open its first pop-up shop in London Bridge next weekend (24 May) before touring music and food and drink festivals over the summer, adding: "There's demand for fun, tasty, vegetarian food in a fast food style, moving away from the usual vegetarian on-the-go food of falafel or cheese sandwiches."

The Vegetarian Society's Elliot agrees. "There are many new meat-free products arriving into the market all the time - frequently these are retailed online, cutting the supermarkets out of the equation, or sold locally at market stalls," she says. "Vegetarians don't want to miss out. They don't want to be treated differently - they expect choice, innovation, delicious products, convenience and accurate labelling."

Retailers and brands, take note.
Innovations
Simply Meat Free!
Launching: June 2015 Manufacturer: Daloon Foods
Frozen ethnic snacks manufacturer Daloon launched Simply Meat Free! into foodservice in April 2013, and is taking the brand into retail for the first time next month. The five-strong range includes burgers, cheese grills, sausages and falafel (rsp: £1.15-£1.89). MD Geoff Burgess says the range has been extended many times, so moving into retail was a natural progression. "This launch represents just a part of our full range and we have ambitious plans to widen our presence," he adds.
Grönsaksbullar
Launched: May 2015
Manufacturer: Ikea
Meatballs are synonymous with Ikea, so the Swedish furniture giant has launched a veggie version. The move, it says, is its first step in including a wider variety of healthier and more sustainable foods in its cafés. "Our goal was to create something as appreciated as the loved meatball," says food product developer Annika Pettersson.
Meat-free BBQ Pulled Pork
Launched: April 2015
Manufacturer: Asda
Pulled pork is a food trend that shows no sign of stopping and Asda is taking it into the meat-free sector. Meat-free BBQ Pulled Pork is part of the retailer's new Spring/Summer frozen range Summer Made Simple and is available at £2.28 or two for £4. The product is approved and developed in conjunction with the Vegetarian Society.
Veggie Colin the Caterpillar
Launched: Autumn 2014
Manufacturer: Marks & Spencer
Following the success of Veggie Percy Pigs, M&S has expanded its range of vegetarian-friendly sweets. The move has seen its entire Colin the Caterpillar range become veggie-friendly, as well as gums and pastilles and further Percy lines (rsp: £1.30-£1.50). The lines contain a pea protein instead of beef and pork gelatine.