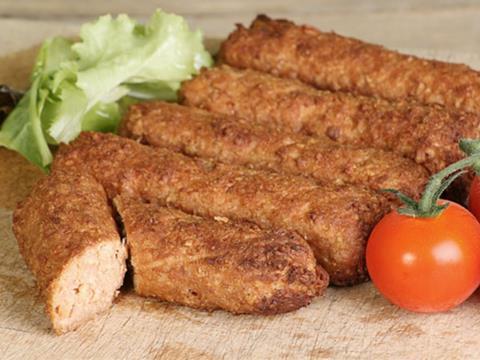 It should have been a golden year for meat-free, what with the horsemeat scandal raising concerns over the identity of the meat in our burgers and ready meals, and more of us flirting with vegetarianism on health grounds.
But things haven't quite gone to plan. The total meat-free market has inched up just 1.3% in the past year to £253.5m and volumes have actually fallen 1%, dashing hopes of any long-term Horsegate-generated uplift [Kantar Worldpanel 52 w/e 2 February 2014].
What a difference a year makes. Kantar data for the year to 22 February 2013 - a few weeks after the scandal came to light - revealed value growth of 6.6% on volumes up 3.8%. So why has there been such a spectacular reversal of fortunes? And what can be done to try and rejuvenate sales - other than continuing to flog a dead horsemeat scandal?
The first point to note is that the surge in meat substitute sales prompted by revelations last January of what was really in some burgers and ready meals was not as great as some had expected. Nor was it as long lived.
"The market takes a leap every January, driven by promotions and possibly by the fact people are making resolutions to eat less meat," says Tim Eales, head of insight at IRI. "It's surprising how important the January peak is. Sales drop almost continually throughout the year after that and that's been almost continuous for the past four years."
In short, the horsemeat scandal came at the busiest time of the year anyway for meat alternatives. According to IRI, in January 2012 sales of meat alternatives through the major multiples were worth £18.1m, up 15.2% on the previous month; the following January, sales hit £19m, up 21% on the month before.
"There is definitely much more that can be done by retailers to support the meat-free category" Julian Cooke, Quorn
Given the scale of the scandal and the public outcry it prompted, year-on-year growth worth less than a £1m hardly suggests the market fully exploited the opportunity (although fiercer promotions during January 2013 probably didn't help the overall value performance either) - especially when this January, sales were actually down 0.4% year on year.
Product recall
There's more than one factor behind the volume decline, however. The mixed fortunes of brands have to an extent been influenced by matters outside their control. In May, Hain Daniel was forced to withdraw seven Linda McCartney products and a number of own-label soya mince products after tests revealed "specific soya-based raw material had not met microbiological standards during routine sampling". The recall lasted six months.
After a strong performance last year, driven in part by the horsemeat scandal, the meat-free market remains relatively flat having seen slight value growth and a slight volume decline.
Household penetration has fallen, although this has been mitigated to a certain extent by price rises and increased purchase frequency.
Ingredients and sausages saw the most significant growth in absolute terms. Strong growth in ingredients suggests more people are now cooking with meat-free products.
Snacking options are also in significant growth and driving margin growth in the meat-free category.
After growing strongly last year, own-label sales have declined significantly this year, while brands are in growth.
Chilled and frozen are in growth, but frozen is growing faster and from a higher base.
Sainsbury's has seen the most impressive uplift in sales of the retailers. Asda made significant gains last year, but has seen sales slide as the benefits of the Netto conversions have worn off.
Despite frozen accounting for 61% of shopper spend in meat-free - and this spend growing in value - Iceland has a relatively small share of the market.
Nicholas Philip Dykes Kantar Worldpanel
Volumes sales of Linda McCartney have since plummeted 6.1%, although value sales are up 11.2% [IRI 52 w/e 1 March] thanks to factors including: the December 2012 launch of new chilled ready meals and burgers ranges at a higher price point; a base price hike in February 2013; and a drop in deal depth throughout the year.
At the time of the recall, Hain Daniel made all own-label soya mince on the market, so the impact was also felt in the wider own-label meat-free market, sales of which slumped 12.3% in value on volumes down 10.4% [Kantar], though the numbers are skewed somewhat by a strong performance in the previous year.
Hain's loss was, however, Meat the Alternative's gain. The meat analogue brand and own-label supplier, which launched in January 2013, stepped in to fill the gap left by Linda and Hain's own-label lines. "We picked up some of that business," says founder and MD Tony Watson, pointing to the listings won at Hain's expense at Tesco and Asda. "We capitalised fairly quickly."
The recall also prompted the company to pull out of chilled to focus on filling the freezer space vacated by Hain. "Frozen is also easier to manage than chilled both from a wastage point of view and dealing with supermarkets because frozen buyers don't change as much as chilled buyers," adds Watson. MtA now has five frozen lines, including Beef Style Mince, Chicken Style Pieces and Big Eat Beef Style Burgers.
While supplier issues and an easing of the initial backlash against processed meat have played a part, retailers should also take some of the blame for the market's lacklustre performance. "We've seen a couple of retailers reduce category space and their sales suffer as a result," says Julian Cooke, head of category management at Quorn Foods.
Retail squeeze
"Asda reduced chilled category space in the second quarter of 2013 and is seeing declining category sales as a result. We've been working with them to fix this and this will happen within the next month On the other hand, Tesco significantly increased chilled category space and its sales [of Quorn] are up 10% year on year."
Asda has indeed turned in the weakest performance of any of the major retailers in the past year, the squeeze on category space contributing to a 2.4% fall in value sales [Kantar]. Morrisons has also seen value sales slide, by 1.2%, and even Waitrose has failed to replicate its strong growth across total grocery over the past year, suffering a 0.8% dip.
Not that anyone else's showing was particularly impressive. It's a rare occasion when Lidl and Aldi do not show double-digit category growth in Focus On reports, but in meat-free they've posted respective value growth of just 0.3% and 0.6% [Kantar]. And despite the growth of Quorn in Tesco, the retailer's overall category sales are up just 0.1%.
"Frozen is easier to manage than chilled from a wastage point of view" Tony Watson, Meat the Alternative
Sainsbury's has enjoyed the strongest growth of the past year, albeit of a modest 1.9%. "Sainsbury's is the only big four retailer to grow in own label, driven by an increase in buyers of the Love Veg range, partly as a result of a successful range review," says Kantar analyst Nicholas Philip Dykes, adding that increased investment by brands has had a major impact on own label's general performance in the past year.
It's not just a question of the amount of space dedicated to meat-free, but of how it is used, according to Cooke at Quorn. "There is definitely still much more that can be done by retailers to support the meat-free category, notably with in-store disruption or a 'store-within-a-store' type approach," he says, giving a hint of what could be on the cards for Quorn's coming activity in Asda. "Sainsbury's has noticeably introduced a Healthier Choices section, which gives great category brand standout."
Brands could be doing more to support the overall category too, believes a spokeswoman for the Vegetarian Society. "The category needs to start marketing itself, moving away from just products in the freezer aisles," she says. "Companies need to seriously consider promoting their products more and making sure they're in a good position in stores."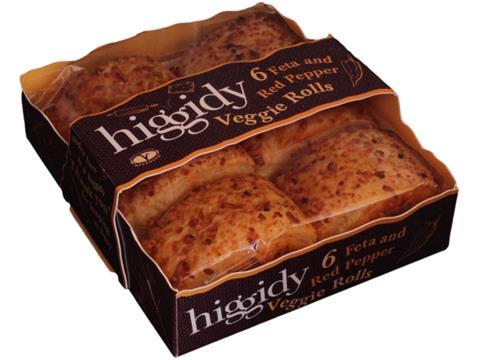 Veggie Rolls
Launched: May 2014 Manufacturer: Higgidy
Pie expert Higgidy is heading into cold-eating convenience foods in time for the picnic season with Veggie Rolls [rsp: £2.49]. A survey by the company of 1,000 customers found 25% were vegetarian but 50% valued meat-free food just as much as meat. "The success of vegetarian products is driven by the 'flexitarians' as much as it is by vegetarians," says commercial director Mark Campbell. "We're starting to see really exciting innovation, with taste and quality of primary importance."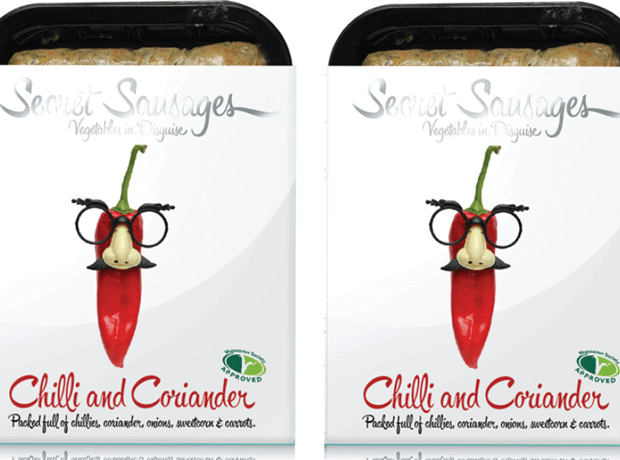 Vegan Chilli & Coriander Sausages
Launching: July 2014
Manufacturer: Secret Sausages
The Vegan Society says there are 150,000 vegans in the UK and that number continues to grow. To tap this market, Secret Sausages is soon to launch a vegan variant of its already popular chilli & coriander sausage. "We will look to integrate a vegan approach to our NPD to respond to this key segment of consumers," says founder Rachel Wicklow.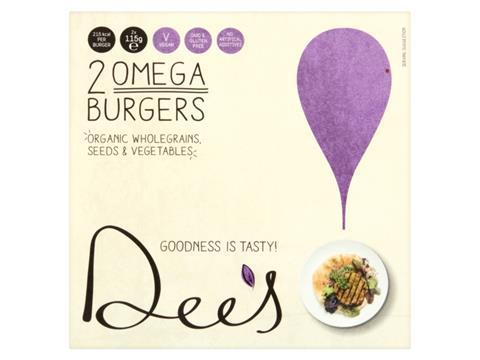 Organic Omega Burgers
Launched: March 2014
Manufacturer: Dee's Wholefoods
Irish vegan brand Dee's Wholefoods made its debut in the UK in March with listings in Waitrose and Booths for its Organic Omega Burgers [rsp: £3.49] and Traditional Vegan Sausages [rsp: £3.49]. "For those buying meat-free, the main things they look for are the health factor and the taste," says MD Deirdre Collins.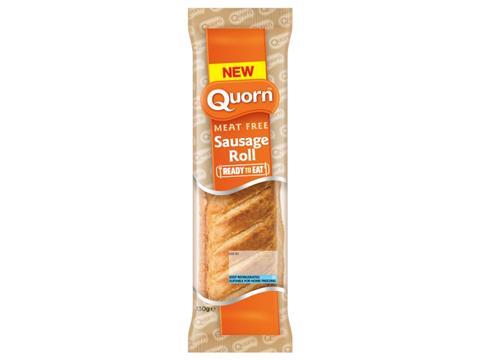 Quorn Sausage Roll
Launched: January 2014
Manufacturer: Quorn Foods
Meat-free, flavoured with sage, onion and thyme and wrapped in flaky pastry, Quorn Sausage Roll [rsp: £1.59] was launched initially in Tesco. In 11 weeks it racked up sales of £91,000 and is soon to launch into all other retailers. Quorn has predicted annual sales of £3m for the line, and plans another meat-free snack later this year.
There is evidence that retailers are starting to take notice. After seven years of sponsorship by Quorn-owned Cauldron, this year's National Vegetarian Week, which kicks off on Monday (19 May), is sponsored by Tesco. "To celebrate our sponsorship we'll be running a co-creation project on Facebook where we'll ask customers what flavour combinations they'd like to see in our ranges," a Tesco spokeswoman says. "We will then put out five flavours to be voted for by customers and the new product will launch next year."
Not that Cauldron, which has enjoyed growth of 4.1% on volumes up 5% in the past year, will be going quiet after cutting its ties with the event. "The next 12 months will see us really focusing on new product innovation and investment, in order to broaden our product range and drive even greater shopper demand," says Cooke.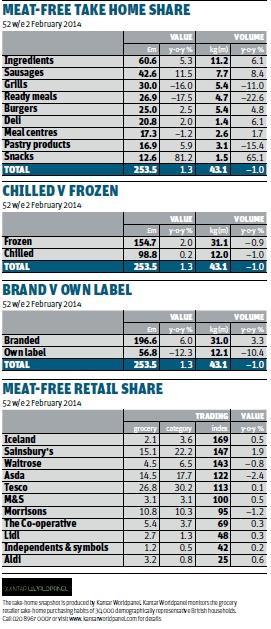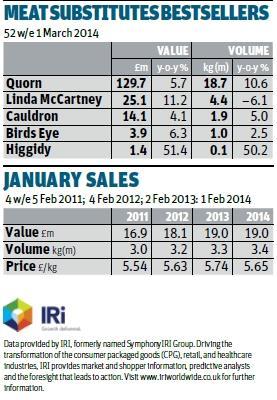 Away from the established players, many new brands are reporting good progress. Daloon, the company behind Simply Meat Free, launched into foodservice in April last year and has since moved into retail by supplying 11 own-label lines to "major retailers". Secret Sausage gained listings with Ocado in August and later with Whole Foods Market. Irish vegan brand Dee's Wholefoods is now listed by Waitrose and Booths.
While many smaller brands are sticking to smaller, specialist and independent outlets, larger players are reporting growing sales through the discount channel. And this is having an inevitable impact on price and promotions, says Meat the Alternative's Watson.
Price pressures
"Own-label SKUs are on ongoing two-for-three deals to influence larger weight of purchase," he says."Recently, Quorn has allowed discounters to sell its key mince and chicken-style pieces lines at £1.50 a pack, resulting in the big four matching these prices. This means own-label is selling at the same price, which has resulted in the volumes of these own-label lines reducing dramatically."
Growth could be stymied further over the coming year, adds Watson: "Further price pressure will slow growth as retailers try to compete with the discounters at one end stealing customers on price, and customers at the other end leaving the big four for quality reasons as price eventually leads to recipe reformulation."
Unless the likes of Mo can boost not just the fortunes of an individual brand but the whole category.
Brand beacon Quorn pushes on with global expansion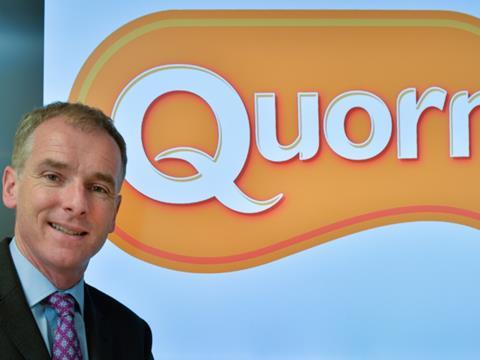 Quorn Foods is on a roll. It has been working at full capacity since the horsemeat scandal and that's reflected in its performance - sales rose 13% last year and by 13.5% in the first quarter of 2014.
Last month, it also announced plans to invest £30m in its factory in Billingham, near Middlesbrough, so it can increase its production capacity by 50%. However, this isn't just to meet the extra demand generated by Horsegate, insists chief executive Kevin Brennan; there are other factors behind the meat-free brand's success.
"Our view has always been very clear that Horsegate was not something that anyone should exploit," he says. "It was a food industry issue. We did run extra promotions, but our sales were already running 8% up before then."
He believes Quorn has benefited from an increased marketing spend and clearer packaging. These have given the brand greater visibility both among vegetarians and meat eaters since the business was acquired from Premier Foods by Exponent in 2010.
The activity has also coincided with greater consumer awareness of sustainability and meat pricing and the associated rise of meat reducers or 'flexitarians' - shoppers who don't necessarily want to give up meat entirely but do want to cut down on their intake.
With this audience in mind, the brand signed up double-Olympic champion Mo Farah last December to push the benefits of Quorn as a 'healthy protein'.
"Mo is very popular and a great role model," explains Brennan. "He does eat Quorn and is generally interested in the brand. He's asked us to integrate it into his training regime."
Quorn has always been the market leader in meat-free, but with greater visibility it is now also the signpost for the category in supermarkets. "With our strong orange branding on packs, Quorn is visible from 20 yards away," Brennan says. "This makes a huge different in not only making us stand out, but also improving the layout of the fixture. We're the brand beacon - we know we drive sales."
But with that comes responsibility. Brennan is fully aware that it puts a lot of pressure on the brand to deliver "because other companies in the sector don't have the scale to advertise. The challenge is that the sector can only grow through us."
To continue fuelling its growth, Brennan is investing at every turn. In the past year, he has put extra resources into both the convenience and discount sectors to drive sales.
He also has global ambitions for Quorn. The brand is already in 13 countries and its international sales grew 12% last year and by 21% in the first quarter. "We can double the number of markets we are in," Brennan says. "Over 40 countries have a meat-free fixture. We're in 13 so there are many more to go."
The brand's success internationally has been driven by its decision to work with local partners. In Sweden, for example, it teamed up with Findus, resulting in double-digit growth.
The "weird" brand name has helped, too, Brennan admits. "The best thing about having the name Quorn is that it doesn't translate into anything awkward anywhere in the world. It's distinctive because it means absolutely nothing, so it works in our favour."
Brennan is confident that sales will hit £150m by the end of the year and Exponent has long-term ambitions to double this to £300m. "There's not reason we can't do it," Brennan says. "The wind is certainly in our favour."