Three may have been the magic number for hip-hop trio De La Soul, but it is losing its influence with retailers.
As shifting pricing strategies and the growth of the discounters transform the UK retail landscape, supermarkets are moving away from the established three-tier 'good, better, best' approach to own-label ranging.
Although premium products continue to play an important - or even more important - role in differentiating between retailers' offers, the boundaries between lower tiers are blurring. And own-label offers are becoming more sophisticated, as retailers and their suppliers roll out new ranges thatd are, in effect, brands themselves and offer specific cuisines or target special diets.
Exclusive research by The Grocer using BrandView.com data shows that, in the past 12 months, each of the big four has reduced the number of SKUs in its bottom-tier 'value' range. The change has been reflected in a drop in sales of value-tier products, from £3.5bn in the year to 2 March 2014 to £3bn in the year to 1 March 2015.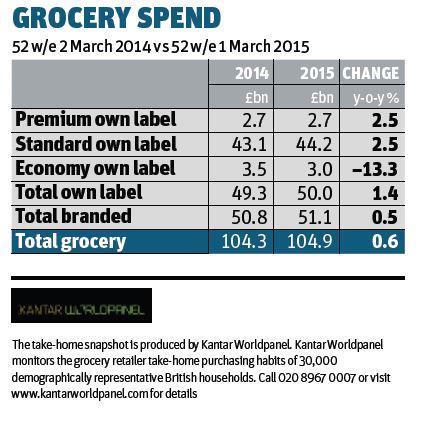 So with the PLMA's World of Private Label trade show just weeks away, what key category changes should attendees be thinking about, and how can they address them?
"The three-tier approach is outdated," says David Price, vice president of retail consultants Daymon Worldwide. "The relationship of quality and price resonates, but tiering only makes sense from the perspective of a retailer, not necessarily from the perspective of consumers."
His views are echoed by Kim Van Elkan, MD of Hornall Anderson, the brand and design consultancy behind Asda's Chosen by You range. "Three-tier ranging has been a legacy all major supermarkets have adopted, but the relevance of this structure is questionable in the current climate. Good, better and best people do not exist; there are simply people choosing to buy products of various quality levels."
And, when doing so, they do not want to be reminded they are buying value products, suggests Hilary Boys, strategic planning director at Lewis Moberly, the design agency that developed the Waitrose Cooks' Ingredients range. "The price on the shelf can communicate the value," she adds. "Waitrose was astute in naming Essential - capturing the role without emphasis on price."
Merging of tiers - and reduction in number of SKUs - can have economic benefits for retailers by enabling them to utilise longer production runs, says Clive Black, head of research at Shore Capital stockbrokers. "Such work should make for a lower cost and ultimately more sustainable mass supermarket industry and supply chain," he adds.
Impact of discounters
And, of course, help the big grocers compete with the discounters, which have transformed the way consumers perceive pricing.
"Everything seems expensive if you can buy a whole filleted salmon for under £10 in Lidl, or a 500g box of premium muesli from Aldi for £1.59," suggests Paul Beresford, MD at Cambridge Market Research (CMR), the agency responsible for consumer testing in The Grocer's Own-label Food & Drink Awards. "The discounters' emphasis on good-value premium products has increased focus on to the top tier as a way of demonstrating a retailer's foodie credentials," he adds.
With retailers offering quality alternatives to brands at knockdown prices, branded players defend their market shares with price activity. This long-established tactic has meant that some categories where own label once dominated - such as yoghurts - are now primarily branded.
Pricing activity has intensified this year as retailers focus on branded products, with Tesco boss Dave Lewis announcing, for example, he was slashing the price of 380 key branded lines. This has combined with a sharp drop in own-label prices and a slowdown in the growth of the own-label dominated discounters to see growth in branded value sales outstripping own label for the first time in four years.
"The pricing battle between brands and private label has been an ongoing see-saw ride for decades," says PLMA president Brian Sharoff. "Brands attempt to reassert themselves by lowering prices, but this can only be a short-term tactic for them."
Daymon Worldwide's Price suggests the overall idea of thinking in terms of 'own-label versus brand' is outdated. "Private brands are brands in their own right and need to be managed according to the competitive environment like any other brand," he says. "They offer opportunities for retailers to engage with consumers by bringing them offerings they can't get elsewhere, from new flavour profiles and packaging options to more affordable but high-quality organic offerings."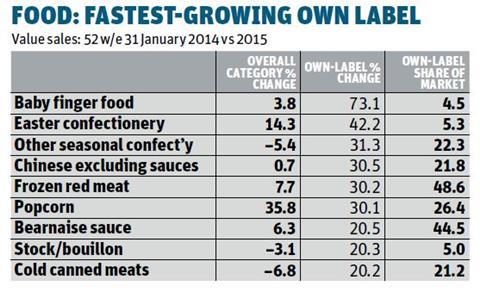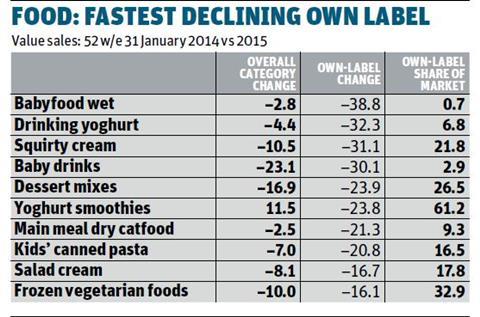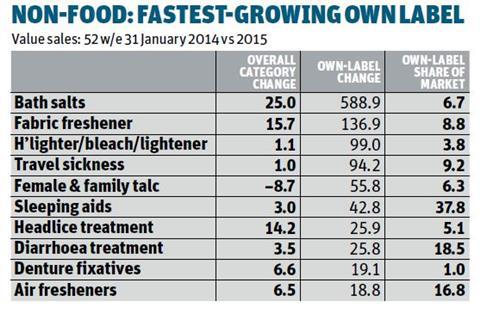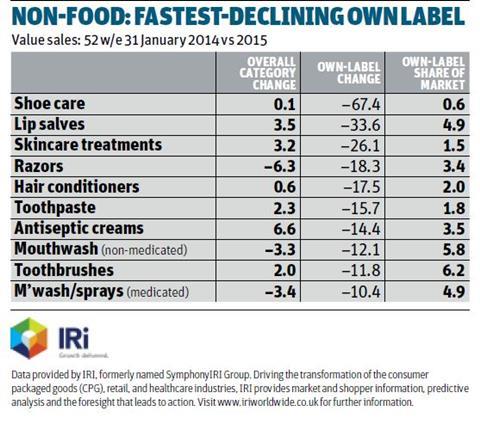 The price gap between own label and brands has been closing for some time and we continue to see this, thanks to high promotional activity by brands.
Shoppers are responding, often preferring to buy a national brand, partly because it is easier to compare prices between different channels and retailers.
We also continue to see aggressive growth of the discounters who survive on their own label alone. They have also been quick to innovate to attract shoppers, an example being Aldi's Swap & Save. Rivals are expanding or improving their ranges in response.
The winning own labels will be the ones that can innovate and differentiate themselves from national brands to fulfil shoppers' needs - being like brands, but at a lower price point.
We've seen some great examples of own-label NPD, such as Waitrose's Seriously Intense own-label premium ice cream (a category that doesn't tend to do well in own label) launched last year.
Others have tuned into current trends like Tesco with its My Fit Lifestyle healthy eating range.
We expect to see retailers focus on the premium tier in private label where they can win over discounters and challenge brands for shopper loyalty.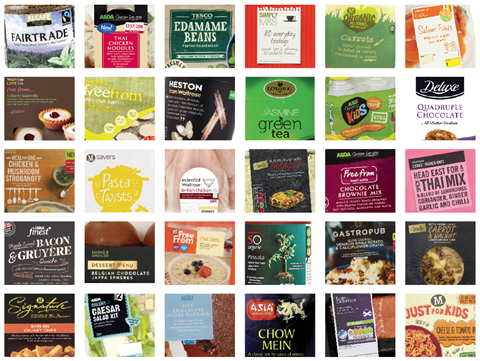 Increasing stratification of tiers
Such opportunities are being embraced by retailers offering increasingly specialised ranges - activity that is helping to further erode traditional tiering.
"We're seeing increasing stratification of tiers," says Nick Martin, senior vice president at own-label collaboration specialists Trace One, as retailers realise specialised products, such as gluten-free lines, can attract shoppers. "Their pricing may vary, but their core role is to encourage shoppers to spend their money on other own-label ranges while in the store," he adds. "Providing a tier of such specialised products that will only appeal to a narrow margin of consumers could be prohibitively costly for national brands or discounters, but is a valuable tool in the arsenal of the traditional retailer."
"Good, better and best people do not exist, there are simply people buying products"
The most successful own-label NPD delivers distinctive characteristics and operates as a brand in its own right, says Chris Blythe at The Brand Nursery, which worked with a division of Samworth Brothers to develop a range of tapas products for Tesco.
"The development process used exactly the same principles and techniques as would be employed for any brand creation project - market analysis and consumer research identified the opportunity for smaller sharing ready meal products and the appeal of Spanish cuisine to a UK audience," he says, adding the launch prompted other retailers to introduce their own Spanish food, tapas and sharing products.
"Treating own label as an opportunity to build a new brand, and following the established disciplines of brand development will pay real dividends," he adds.
But despite increasing specialisation, own -label ranges are shrinking in some areas. The number of own-label SKUs identified by BrandView as part of 'healthy' ranges has fallen 12.6% year on year, for example. Industry insiders suggest shoppers are opting to change their diet and scratch-cook rather than rely on products badged as healthy.
Also, adds Hornall Anderson's Elkan: "Supermarkets do not have the same health credentials as established brands, which have marketing support and expertise to allow them to have an opinion on health."
When it comes to innovation in general, own label often performs ahead of brands. The high standard is reflected in research by CMR. Seven of the top 10 products it tested in 2014 were own label - versus just two in 2013.
Looking to the future, innovation should go beyond product design and look across the supply chain, says Martin at Trace One. "As communications become more fast-paced, so will changes in taste. New products will need to be developed in quicker timeframes, in response to consumer demands, to capitalise on any new niches."
Retailers must also be ready to react to food scares such as horsemeat and the recent discovery of nut protein in spices. "Those retailers that can identify and remove potentially affected products and relaunch ranges in the wake of consumer pressure will keep the trust of their customers," says Martin. "Retailers can validate the origins of their ingredients, and provide such information on packaging using QR codes or other tools."
And he's by no means alone in thinking the future looks rosy for own label. "Established brands may have the advantage of reputation but own-label products, in general, are seen as offering better value for money," says CMR's Beresford. "We see the influence of own label as stronger than ever in defining a retailer's identity, expressing its values and attracting savvy shoppers."
PLMA gets set for its biggest-ever showcase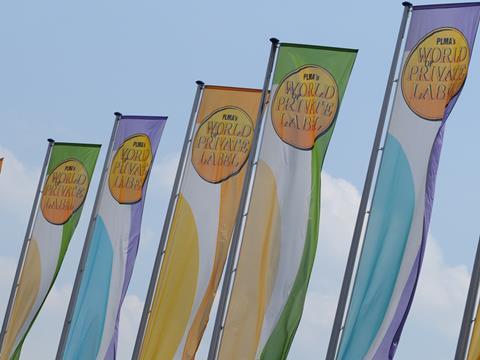 Key facts
Where: RAI Exhibition Centre, Amsterdam
Dates: 19-20 May 2015, pre-show seminars 18 May 2pm to 4pm
Opening hours: 9am to 6.30pm (until 4.30 pm on 20 May)
Website: www.plmainternational.com
Long before the discounters transformed the face of UK retail, Britain's supermarkets had recognised the value of a strong own-label offer in differentiating themselves.
And with the stakes higher than ever in the UK, buyers from every part of the grocery market will be heading to Amsterdam next month for the PLMA's World of Private Label Show in an effort to steal a march on the home-grown and European competition.
The show is expected to attract more than 11,000 buyers and visitors from 115 countries, who will have 2,400 exhibitors to view from 70 countries, including 56 national and regional pavilions.
"This year's show, the PLMA's biggest ever, provides a unique opportunity for retailers and manufacturers to work together to capitalise on the growing popularity of private label across Europe," says PLMA president Brian Sharoff.
Among the show attractions are the PLMA's Idea Supermarket, which displays private-label ranges from more than 60 retailers in Europe, the US, Latin America, Africa and Asia. Visitors can walk the 'aisles' and take a world tour of private-label development, says the PLMA. The Idea Supermarket is also the place to see the winners of the PLMA's 2015 International Salute to Excellence Awards, given in recognition of outstanding food and non-food products introduced by supermarkets, hyper­markets, discounters, drug stores and speciality stores in the past year.
Also in the same area as the Idea Supermarket is the New Product Expo that showcases more than 600 of the latest innovations in the private-label industry in production fields from marketing to packaging.
On Monday 18 May manufacturers and retailers can attend pre-show education events and seminars on subjects including consumer trends, new product development, packaging, and manufacturer-retailer relations.
Own label innovations
Today, own label is often leading in terms of innovation, and here we reveal consumer views on four own-label products highly rated in terms of innovation and overall delivery in testing by Cambridge Market Research (CMR).
All four scored 20 out of 20 for innovation in CMR's Fast Foodfax service, which offers consumer assessments of new products and allows comparisons with more than 17,000 products.
CMR is judging partner in The Grocer's annual Own-label Food & Drink Awards, which will this year recognise quality, value and innovation across 69 product categories. The awards will be given at a lunch on 8 May at London's Park Lane Hilton. To book a table call 01293 610439.
Aldi Chicken with Bacon & Cheese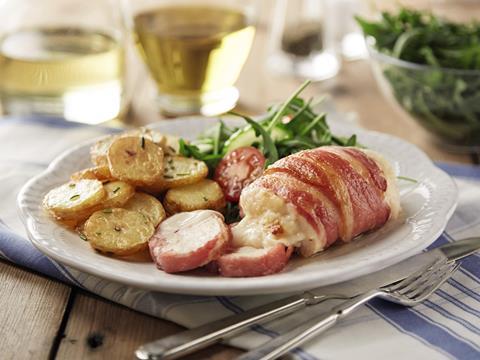 Product: Aldi Ready to Cook for the Chef Experience at Home - Chicken Breast Fillets Wrapped in Bacon & Cheese (£2.99/396g)
Overall score: 48/50
Outer packaging scored well for allowing shoppers to see the uncooked meat, but it was the quality of the chicken that was ultimately key to the product's success. Cooked in its foil tray packaging, this was viewed as convenient while appearing less processed than a ready meal.
Sainsbury's Lamb & Mint Burgers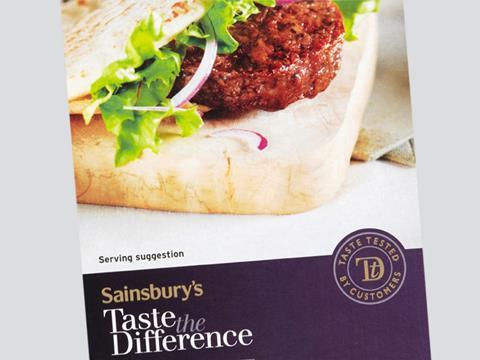 Product: Sainsbury's Taste the Difference Lamb & Mint Quarter Pounder Burgers (£3/454g)
Overall score: 47/50
These frozen burgers were seen as a different twist on the usual beefburger, prompting a high level of interest before tasting. They continued to impress after sampling, though the inclusion of mint put a few testers off. A third of testers said they would buy them at least fortnightly.
Tesco Sweet Chilli Chicken Baskets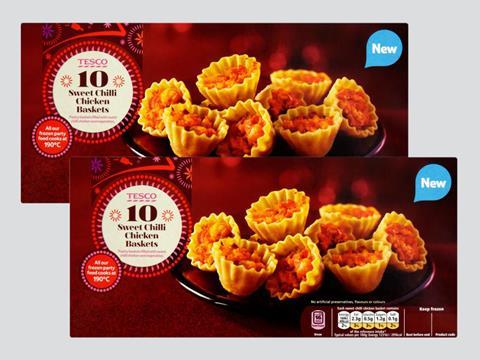 Product: Tesco Sweet Chilli Chicken Baskets (£2/150g)
Overall score: 49/50
This seasonal line, part of Tesco's Party Food range and not currently in store, scored well above the category average throughout testing. Considered new, novel and better than what is out there, 85% of testers claimed they would definitely buy this product. The pack of 10 baskets was described as "fun" and a "good size".
Asda Chocolate Orange Cheesecake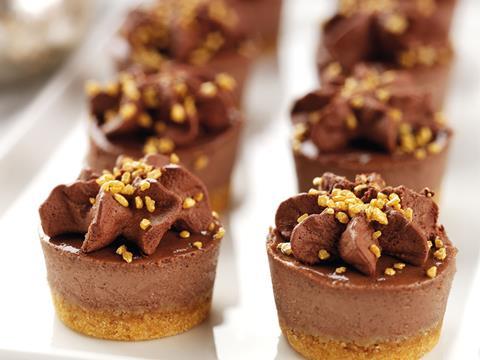 Product: Asda Mini Chocolate Orange Cheesecake (£2/340g)
Overall score: 48/50
Another seasonal line, this pack of 12 Mini Chocolate Orange Cheesecakes achieved a good level of interest ahead of testing. High expectations were met, and the dessert attracted comments such as "lovely taste and texture". Some 85% of testers said they would buy them - almost twice the average for the category.