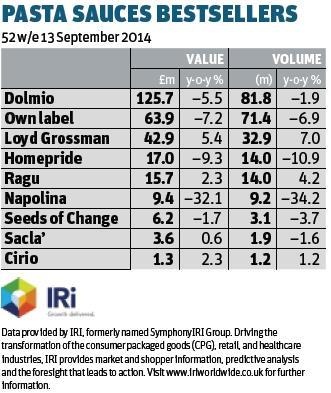 Britain's pasta suppliers have been living la dolce vita. No surprise, really, given the £394.3m pasta category is growing at a healthy 2.9% year on year and outperforming the overall grocery market [Kantar Worldpanel 52 w/e 17 August 2014].
There's no sign of a slowdown in pasta's popularity either. In fact, the category has attracted more shoppers over the past year, and our trolleys are bulging with more packets of the stuff than the year before. Volumes across the pasta sector are up by 1.8% year on year, with some sub-categories – such as dried fusilli – showing double-digit growth.
All this shows Italian dishes continue to be firm staples of our weekly menus. "Family favourites such as spaghetti bolognese remain one of the most consumed evening meals in the UK as the average consumer's repertoire has reduced to just four dishes per week," says Dean Towey, marketing director at Napolina. Half of all households purchased a bolognese cooking sauce in a jar in the past year, and a third of all households purchased a pasta sauce, adds a spokesman for Mars brand Dolmio.
But behind the scenes of the pasta and pasta sauces categories, there's an intense battle for territory brewing. Spaghetti bolognese requires a pasta and a sauce, yet pasta is outperforming pasta sauce. And within pasta sauces, many of the sector's biggest names have suffered sharp losses over the past year, according to figures from IRI.
Meanwhile, in pasta, brands are up 11.2% but own label sales are flat. Unravel the pasta sector further, and you see a polarised picture. Branded has added nearly £11m to its books, but not all pasta brands have fared well. Winners are Cook Italian, up 123.2%, and Giovanni Rana, up 70.1%, while losers are market-leading Napolina, which has seen an 11.6% drop, and Buitoni, which has shed 10.4% [IRI 52 w/e 13 September 2014]. Pasta Reale was knocked out altogether, going into administration in August 2014, blaming a depressed market and rising costs.
With value growth of 2.9%, the pasta market is performing ahead of total grocery. The sector is also seeing increases in volumes and price per kilogram, and is managing to attract more shoppers. Pasta sauces, meanwhile, have stagnated, with just 0.5% value growth.

Fresh filled and fresh cut pasta, as well as also fusilli in dried pasta, are driving growth within the pasta sector. Fresh filled pasta is driven by branded growth and higher prices. Fresh cut pasta, meanwhile, is being driven by growth in own label.

Ambient sauces dominate the pasta sauces category, and it is this sector that is pushing growth in total pasta sauces. This includes attracting more shoppers. Chilled sauces, on the other hand, are in decline. The cost of pasta sauce has gone up in the past year, reflected by value growth in contrast to very little growth in volume sales.

The discounters have recorded strong growth in both pasta and sauces, while Waitrose has also done well in pasta over the past year. Aldi in particular overtrades in sales of pasta sauces.
Joseph Highet, pasta, Clement Manger, sauces, Kantar Worldpanel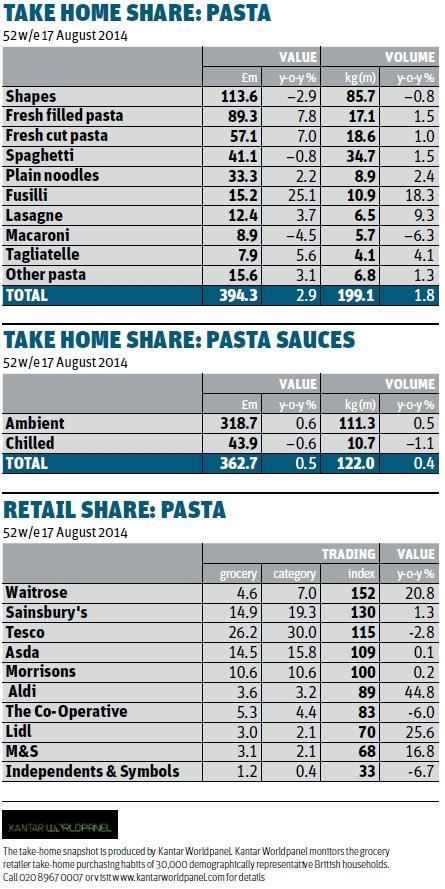 So what's the secret to success? How can brands and retailers make the most of Brits' continuing love of all things pasta?
A strong programme of investment in innovation and in-store activity has been key to some brands' performance. At Cook Italian, for example, increased promotional frequency and growth in distribution has helped grow the brand, says marketing manager Debbie Thomassen.
Meanwhile, Giovanni Rana has brought a number of new products to the market, with the launch last winter of its Italian Indulgence range of four ravioli lines, and six Simply Italian stuffed variants. It claims that 67% of its growth is incremental to the category.
The future's premium
The recent launches from Giovanni Rana tie in with a wider trend in the pasta category: a growing move towards premium options. This is partly driven by consumer demand for such products but also by suppliers' desire to move beyond the increasingly competitive standard-tier pasta category.
The heat is on in the standard pasta sector, says Napolina, suggesting a better future for brands in premium. "The dry pasta market is down 4.9% in volume and 5.2% in value as shoppers increasingly migrate to the discount sector," says Towey. "In addition, there has been increased focus from retailers on their own-label and standard-tier pasta."
In Napolina's case, these trends have led the company to place greater emphasis on the premium tier, including bronze die (more porous pasta that allows more sauce to cling on to it), egg and regional pasta, "as a way of adding value back into the category."
"The heat is on in the standard pasta sector, suggesting a better future in premium"
Italian pasta giant Barilla is also showing keen interest in the premium UK dried pasta market. The brand began a major push into UK supermarkets in July, following a 10-year absence from our shores. "We believe Barilla can add significant value to the UK market by offering a true Italian pasta and pasta sauce brand that will encourage consumers to trade up," says Barilla CEO Claudio Colzani. He predicts Barilla will generate up to £10m in UK sales by the end of next year.
Gluten-free pasta trend growing at 23% per year
Pasta with a health kick has been high on the NPD agenda this year. It's been a big year for gluten free, and Heinz, which launched pasta and sauces into this sector in 2013, thinks there's more mileage in it.
"The total gluten-free market is worth £220m and growing at a rate of 23% per year," says Bobbie Staden, marketing executive, soups & gluten free at Heinz. "With three-quarters of people with coeliac disease not yet diagnosed, there's reason to believe the gluten-free market will continue to grow."
The chiller cabinet may see the next wave of innovation. "We've seen a few suppliers moving into chilled products such as pasta, an area which has been under-represented in the past, so it will be interesting to see if this is the next growth area within gluten free," says Staden.
Garofalo describes gluten free as its "big focus" for 2014. It launched a nine- variant line of bronze die gluten-free pasta at the end of 2013, with new shapes key to its popularity, according to marketing manager Sally Assinder. "We launched cuts that were not available in the UK, which has proved a success. Our shapes include casarecce, mafalda corte, and linguine."
Tied in with the gluten-free trend is a growing move towards pasta made from alternative grains, such as spelt, or Ezekiel pasta products made with sprouted grains.
Elsewhere, the protein trend is starting to make inroads into pasta. High-protein pasta products have been sold through specialist sports nutrition outlets for some time, and are now starting to pick up mainstream listings.
Tesco added a high-protein penne to its own-label pasta range earlier this year, and Dr Zak's launched a high-protein, low-carb pasta last winter, in which half the wheat flour is replaced by pea protein isolate and eggs. This delivers 50g protein per 100g serving while reducing carbs by 50%.
While premiumisation is still a relatively new trend in dry pasta, it's been an important part of the fresh pasta category for some time.
Indeed, fresh pasta has fared better than many dry pasta categories over the past 12 months, with fresh filled pasta up 7.8% by value and fresh cut pasta up 7% year on year [Kantar]. "Over the past 12 months, we have seen better quality and premium offerings drive the fresh pasta market. This is reflected both in our consumer insights, where shoppers are clearly telling us that quality matters, and also in the growth of our premium range," notes Beverley Singer, senior account handler at Dell'Ugo.
Singer adds Dell'Ugo's top-tier Tipo Artigianale range – with fillings such as Wild mushroom & Truffle and Crab & Crayfish – has grown by 16% in the past 12 months, and the brand will be looking to boost the range's premium credentials further with a design refresh later this year.
On the own-label side, meanwhile, the profile of fresh pasta has been boosted with launches such as Waitrose's Menu range, which includes premium pasta SKUs including hot smoked salmon & asparagus ravioli. "Waitrose offers a good example of market value growth through premium," says Singer. "It is committed to taking people into the fresh pasta category."
High-quality pasta grades and indulgent fillings are one strategy for driving premiumisation in pasta, but brands and retailers are also increasingly keen to add value by tapping key healthy eating trends, particularly interest in wholewheat, alternative grains and protein.
Cook Italian launched its Bronze Die Wholewheat pasta in April, which is shaped in the traditional way through forms, known as dies, made from bronze metal.
Napolina has also identified wholewheat as a sector with great potential. "There has been significant growth within the wholewheat pasta category, with more than £1.2m added in the last year," says Towey. "We believe this trend will continue as consumers are becoming more health-aware and understand the benefits of wholewheat within their diet."
Heinz is also set to go big on health, with its upcoming communications to centre on the health benefits of its gluten-free and tinned pasta ranges. "Since 2012, Heinz has seen a shift in consumer understanding that Heinz Pasta provides one of your five a day," says Bobbie Staden, marketing executive for soups and gluten-free at Heinz. "This has been driven through clear on-pack messaging throughout 2013 and will continue as a key communication to shoppers in the immediate future, with insight showing that consumers are increasingly health-conscious. There are further plans in the pipeline to dial up the goodness credentials of the pasta range in 2014 and beyond."
Brands turning to social media to educate customers
There's been a big drop-off in ad space bought this year, with Loyd Grossman and Sacla' nearly halving their spend, and biggest spending Dolmio cutting the cloth by one-third. That's not to say there's been less communications activity: as brands shift towards the premium end, they see more need to educate consumers - but many are opting for social media over traditional media to do this.
Heinz debuted a campaign for its gluten-free pasta and sauce lines on its YouTube channel in October. This uses 15-second recipe videos to counter concerns that gluten-free recipes are complicated. Napolina also plans to feature step-by-step recipe videos on its brand website.
Meanwhile, Garofalo will be bringing its Unforketable initiative to UK consumers in 2015. Called a 'video encyclopaedia of taste,' it showcases Italian recipes, demonstrated by chef Niko Romito.Dell'Ugo also has plans for a 2015 recipe push, using QR codes to link to a recipe video on its website.
It's not all over for traditional media, though - Homepride is bringing back Fred, off our screens for a decade, who'll be promoting its cooking sauces, including Cheesy Pasta Bake, during The X Factor.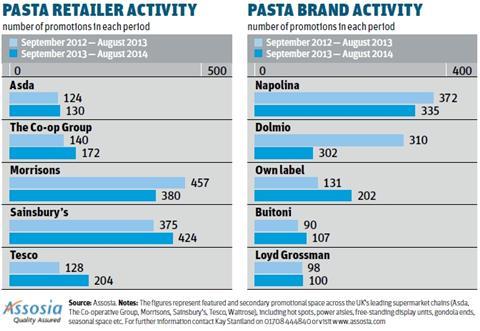 Others, meanwhile, are seeking to make the most of Brits' growing interest in gluten-free eating and alternative grains such as spelt, while Tesco added a 'protein penne' to its own-label dry pasta range this summer to tap consumer demand for higher-protein products.
However, not all growth stories in the pasta category are down to health credentials or premium ingredients. The humble TV dinner has also played a part in driving pasta sales over the past year, some experts believe.
Dried fusilli has delivered value gains of 25.1% [Kantar], and Singer says: "Many more people eat with their food on their lap, and fusilli is perhaps less likely to splash sauce than long shapes."
In addition, the growth is likely to be down to increasing use of pasta bakes recipes and the fact fusilli looks attractive and is often the hero in advertisements and promotions, suggests Thomassen at Cook Italian.
Sauces stagnate
While the overall pasta market has grown ahead of total grocery over the past year, sales of pasta sauces have looked rather less appetising – according to Kantar, the sector has stagnated with value growth of just 0.5% and volume growth of 0.4%. Of the leading nine pasta sauce brands, only four are in growth, according to IRI figures.
"Italians would not approve of the English habit of slathering filled pasta with sauce"
Napolina has suffered a 32.1% value drop on IRI figures, which Towey attributes to "a combination of exiting the pasta bakes market and declines in the overall market." The overall Italian pourover sauce market is down, he adds, "driven by shoppers migrating to the discounters and competition from other cooking sauce sectors." In addition, the rise of more convenient stir-in formats has put pressure on traditional sauce players, as consumers are looking for quick meal solutions.
This has prompted Napolina to fight back with the launch of a new range of stir-through sauces, which will also target smaller households with a 175g pack size.
Other experts suggest more fundamental changes to how Brits consume pasta could be to blame for sauces' woes: as consumers become more confident in using pasta, they are increasingly making their own sauces or just eating it Italian style.
"British consumers are learning to use fresh pasta in the same way as Italians – choosing a high-quality pasta and dressing it simply with a butter or oil, some seasoning and maybe a sprinkling of parmesan. Italians would not approve of the very English habit of slathering a delicious filled pasta with sauce, and as UK consumers up-trade from entry-level filled pastas to premium filled pastas, they're realising they don't actually need the sauce," says Singer.
Giovanni Rana has been pushing this approach through its Ravioli di Verona sampling tour, where its premium Italian Indulgence pastas were served with a drizzle of olive oil and a shaving of parmesan cheese.
Also playing a part is the fact that sauce brands are coming under pressure from some very non-traditional products that have started appearing atop pasta. Mary Berry's has recently produced a range of recipe suggestions such as the use of its Caesar Dressing as a pourover pasta sauce. And soft cheese brand Philadelphia introduced a Simply Stir Creamy Peppercorn in April, and promoted recipe ideas such as prawn and peppercorn pasta on its website.
But there are bright spots. As evidenced by Napolina's latest move into the sector, stir-ins are a part of the sauces market that is doing well. Meanwhile, Mars says stir-in products have helped its Seeds of Change brand deliver value growth, with a spokesman adding: "This can be attributed to a strong performance from our Sun Dried Tomato & Basil Stir Through sauce, which has shown good growth since winning the Great Taste Award in 2013."
Meanwhile, Loyd Grossman's 5.4% value increase makes it a stand-out performer in sauces, with brand owner Premier Foods pointing to packaging innovation as a key part of its success, having introduced two lasagne sauce pouches in March. "Pouches produce sauces that have a better quality because you don't have to heat the product as much," explains Jon Burton, category marketing director for sauces. "This is particularly so with dairy sauces, and we've been able to produce a white lasagne sauce which is the best on the market."
Success stories like these suggest that although the pasta sauces market is undoubtedly facing some challenges, innovative brands will continue to find a market – especially if they manage to tap growing consumer interest in premium pasta. And with Brits' love for Italian fare showing no sign of cooling down, pasta sauce brands should have every opportunity to match the growth rates already seen in pasta.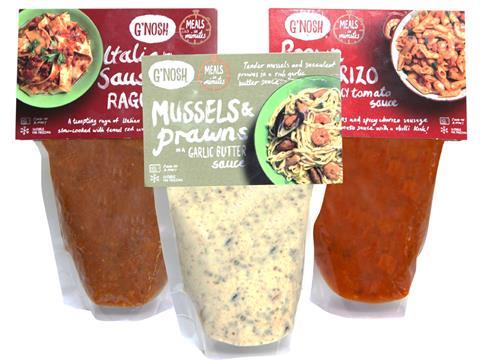 G'Nosh Meals in Minutes
Launched: September 2014 
Supplier: G'Nosh
Packed in a pouch, G'Nosh Meals in Minutes can be microwaved and slapped on pasta within a couple of minutes. The three varieties - Prawn and Chorizo in a Spicy Tomato Sauce; Mussels and Prawns in a Garlic Butter Sauce; and a slow-cooked Italian Sausage Ragu using Northern Italian sausage studded with fennel seeds in a rich tomato sauce - are available exclusively in Waitrose and Ocado for six months. Rsp is £3.49 for a 255g pack.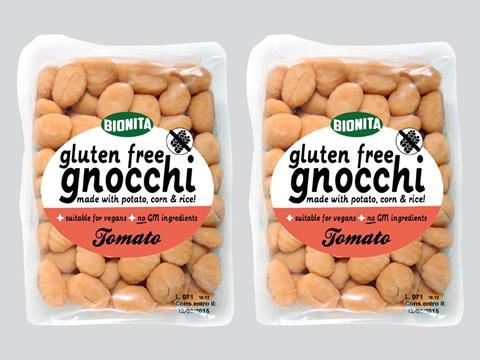 Bionita gluten-free flavoured gnocchi
Launched: July 2014
Supplier: Bionita
Bionita has introduced two flavoured gnocchi, tomato and spinach, to join its plain version. Gluten free, the wheat flour in the gnocchi is replaced with rice and cornflour. The 250g packs (£1.99) are listed in Ocado, independents and health stores. A line of gluten-free quick cook pasta-based ready meals will launch in January.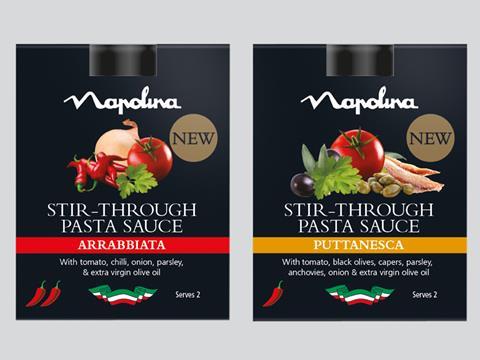 Napolina Stir-Through Pasta Sauce
Launched: October 2014
Supplier: Napolina
Napolina joins the premium Italian cooking sauce market with the launch of a range of rustic-style stir-through sauces. Available in Waitrose in Marinara, Arrabiata and Puttanesca versions (£1.79, 175g), each pack suggests a Napolina regional or bronze die pasta to pair with it. It will be supported with a £1m brand campaign.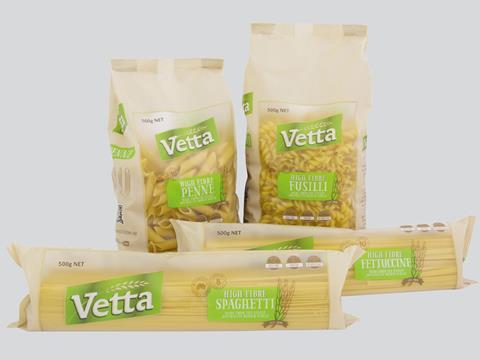 Vetta pasta
Launched: October 2013
Supplier: Byron Bay Cookies Distribution
Australian brand Vetta is launching its range of healthy pastas into the UK, at £1.89 for 500g. The High Fibre pasta is white but marketed on having the same fibre content as wholemeal. Also available are Smart Pasta (cholesterol lowering and high in protein) and Hidden Veg (a kids' pasta with added vegetable extract).